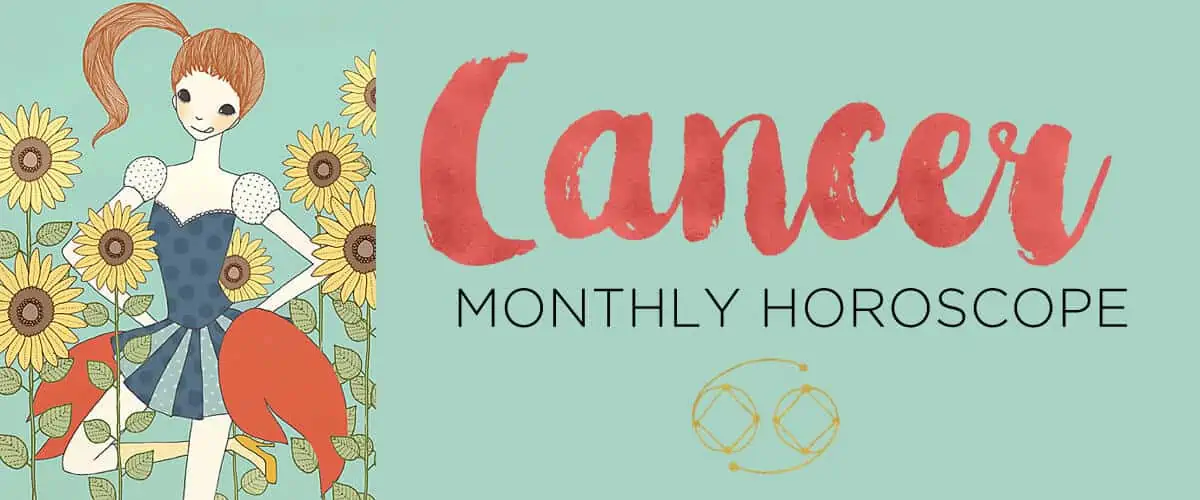 April 2019
Keep your eye on those goals, Crab! The Sun is soaring through the top of your chart until April 20, blazing its annual trail through Aries and your tenth house of career and ambition. If you've been a little halfhearted about where you truly want to focus this year, Aries season can help you create a solid structure. At the April 5 Aries new moon, a professional or leadership opportunity might set you on an exciting path that unfolds between now and mid-October. All the more reason to prioritize—what you put your dedicated effort and grit into could seriously pay off before the decade ends!
Jupiter will be the first planet to shift into reverse, backing through Sagittarius and your sixth house of health, organization and work from April 10 to August 11. While Aries season could inspire a clear vision for your goals, spend some Jupiter time carefully mapping out what it will take to get there. Could your skills use a polish? Do you need to partner up with new players? Might you position yourself for better opportunities if you had certifications or upgraded your technical savvy?
On April 19, the full moon lands in Libra and your domestic fourth house (the natural terrain of Cancer), putting the spotlight on home and hearth. This is the second consecutive full moon here—the first was the March 20 Libra supermoon—so look back a month to see what might come together today. Buying and selling property or moving or changing roommates could be on the agenda. A gentle but powerful woman may also figure into events.
Your enthusiasm returns the next day, when the Sun swings into Taurus and your social, group-centric eleventh house for a month. From April 20 onward, your mission is to get out and connect with your people—and that includes folks who are different than your usual set. This is an excellent time to network and join your superpowers with out-of-the-box thinkers
The April 22 annual meetup of the Sun and changemaker Uranus could spark a fascinating new friendship out of the blue. An avant-garde collaboration could add a whole new twist to your agenda. You might also have a shocking moment of truth with a friend or colleague since Uranus is famous for its curveball pitches. In some cases, you could break ties from a stale or stifling squad to follow a more authentic path. Hey, if you can't be yourself around your so-called closest friends, what's the point? This Sun-Uranus conjunction could rouse your inner geek: A heavy emphasis on technology from both Uranus and the eleventh house makes this a bold day to launch a digital venture or amplify your online presence.
A couple days later, you'll start giving more serious thought to the people you spend the most time with. From April 24 to October 3, transformational Pluto turns retrograde in Capricorn and your partnership house, followed by cautious Saturn's backflip here from April 29 to September 18. All of your closest ties, from business to romantic, may come up for evaluation. Are you having second thoughts about a commitment? Some old fears about trust and betrayal could surface over the next few months. Whatever they are, take this time to view them objectively.
While Pluto retrograde could churn up painful old memories—or bring back a tempting but toxic ex—heavy-handed Saturn will remind you of the exact "structural issues" that made it impossible to keep this person in your life, no matter how strong the attraction. For longtime couples, some authentic but tough conversations may be in order to get back on the same page. If you find yourself drifting toward a clandestine attraction (it can happen with Pluto back-spinning here), don't get caught in moralistic self-judgment about it. Rather, examine what it is about this person that compels you so much. Perhaps it's a quality YOU need to develop in yourself.
A friend of ours had a love interest she couldn't quit, even though the guy was as flaky as a croissant. But he was also the lead singer of a band, and she was in awe of his unapologetic stage presence. Turns out what she was really longing for was to connect to her own abandoned performer dreams. She made an "envy map"—charting and pinpointing exactly what kept her hooked on this negligent dude—and decided to start taking voice and guitar lessons. Soon enough, her interest in him started to wane. This Saturn-Pluto retrograde is your cosmic reminder to stop disowning your gifts or looking for them in other people. Want to truly find harmony in your relationships? Invest in yourself instead!
Check out what's going on for…