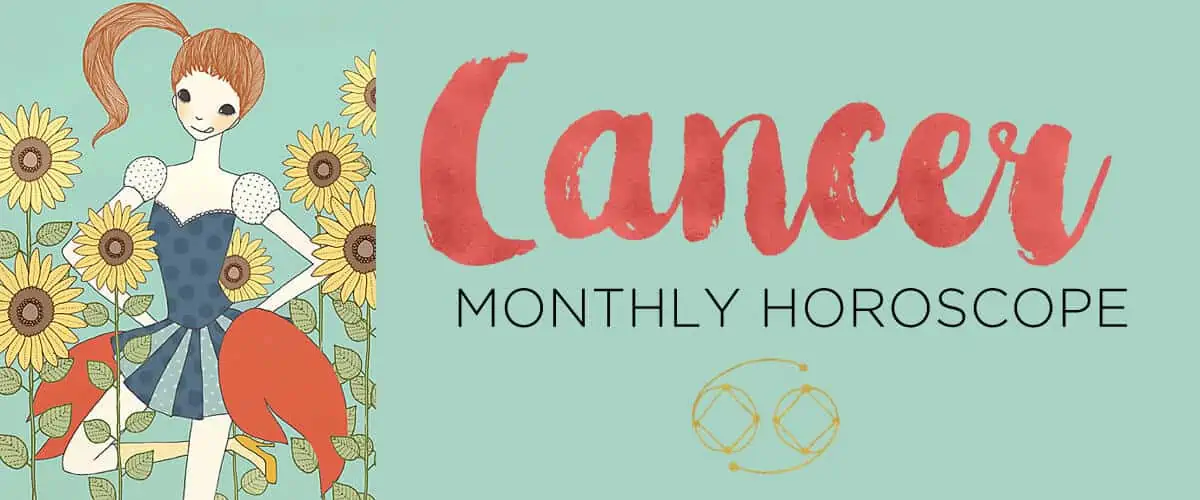 February 2019
You've got a lot going on behind the scenes this month, Cancer. The Sun is making its annual deep dive through Aquarius and your intimate, merging-minded eighth house until February 18. During this time, you might crave more privacy, and you've got permission to hibernate in your trademark shell. You'll be plenty busy in your chambers, Crab, intently focused on emotional processing, a research project or a sexy someone who might just have "soulmate" written all over them. Relationships of all stripes can go to profoundly vulnerable places, hopefully forging deeper trust.
The eighth house also rules long-term finances, particularly the money that we share with others, be they individuals or an institution. Debt, taxes, settlements, passive income, real estate: All of these areas deserve a closer look. Set aside your jitters and, if you need the support, reach out to a professional adviser. As you focus on the health of your wealth, you'll feel so much more secure.

The February 4 Aquarius new moon will jump-start the action. Use this catalyzing day to be proactive about a financial or emotional matter. Ask friends to refer a great accountant if you're shopping for a CPA. Single Crabs could meet someone and feel palpable sexual chemistry. Coupled? Open up dialogue about your next big moves together, such as a joint investment, engagement or a major life change you could undertake as a duo. Over the next six months, a connection could build toward more permanent status. Have you gotten to a sticking point? Working with a coach or therapist might help you both get vulnerable and move through this block.
The goal of this new moon is to get past pretenses. But don't drop your guard for just anyone. In your strategic eighth house, la luna helps you draw others out bit by bit. You might reveal JUST enough information for them to comfortably open up and shed their defenses. With your already-sharp intuition dialed up, you could negotiate like a boss today. The eighth house also rules your body's internal systems. If you haven't been feeling your best, consider getting a hormone panel or trying a digital detox.
February 5 is the Chinese Lunar New Year, marking a shift to more pleasurable times. Bring on the Cancerian comforts! Today we'll welcome the jovial Earth Pig and bid adieu to the territorial Earth Dog. The more-is-the-merrier Pig loves to cuddle, commune and indulge. Perfect: So do you! Your sign's consummate hosting and bonding skills will be put to great use in the coming 12 months.
Before you throw that epic dinner party, make some professional power moves. Your career is a heat zone for the first half of the month thanks to motivator Mars in Aries igniting your tenth house of goals and success. Mars has been here since January 1, traveling in tandem with unpredictable Uranus, which will wrap up an eight-year visit to Aries on March 6. Since November, your career has been fast-paced but all over the place. You may have been racing to keep up with the demands or navigating curveball changes in your company. A steep learning curve, paired with a tight timeline, could load on the pressure. Yet, meeting these impossible demands with grace and gusto could give you a competitive edge. This could be your chance to prove that you're in it to win it!
On February 13, Mars and Uranus will make an exact conjunction in your career zone, which is not only rare but the last time this will ever happen in your lifetime. This could signal a sudden professional breaking point—or a moment to strike while the iron is hot. An opportunity to work for an innovative and cutting-edge firm could arrive. The energy today is dynamic yet impulsive. Make sure that if you leap into (or out of) anything, you've really considered the whole picture.
Valentine's Day may be a moment of fantasy…or an epic outpouring of emotions. The moon is in Gemini and your nostalgic twelfth house. If you're in a relationship, this is the day to pull out all the romantic stops. But watch for guilt trips (giving AND receiving them) since the twelfth house can be a deceptive and delusional realm. With the moon forming a tense T-square to conflating Jupiter and hazy Neptune, you might need a reality check. Your expectations may be impossibly high—for yourself and a partner—and perfectionism could sap all the fun out of this silly, sentimental holiday. Try your best to go with the flow, Cancer. If you're single, go dance and dine with friends instead of wallowing in self-pity. Head to a live concert, a show or someplace you can shake off excess stress.
Besides, Mars will make a sign change on February 14, moving into Taurus and your eleventh house of groups and friends until March 31. Your inner circle will be inspiring and energizing—lean on them for motivation! While you might experience some tension around a team project, this fast pace will also be exciting. Choose your collaborators wisely and you could have something big to celebrate by the end of March. You'll never know unless you take the risk, though, so try not to play it too safe.
Later this month, your career will continue to be an area of transformation—but in a new way. On February 18, "wounded healer" Chiron will move into Aries, staying until April 2027. Chiron made a brief pit stop here from April to September 2018, then receded back into Pisces. While Chiron is in Aries, we'll collectively mend old scars around visibility, self-esteem and identity. According to mythology, Chiron was a healer who couldn't heal himself. Under his influence, we transform by helping others overcome struggles that we've dealt with (and may still be muddling through). It's the ultimate act of service, where the giver ends up receiving an unexpected karmic gift.
Do you love what you do for a living? If not, you can look forward to a remedial period ahead. Chiron sweeps through your career house until 2027, prompting you to infuse purpose into your goals and plans. As a caring and intuitive Crab, you might start doing work that helps OTHERS find their path. Conscious and sustainable business could become a passion. Healing old wounds related to men and your father may become a core part of this transit.
These themes won't be entirely new because radical Uranus has been in Aries since 2011, shaking up the status quo in this zone of your chart for years. On March 6, Uranus will permanently exit Aries, passing the transformational baton to Chiron for the next nine years.
The same day that Chiron makes its shift (February 18), the Sun moves into Pisces and your adventurous ninth house. The intensity lifts and your focus shifts to the big picture. If you've been consumed by work or big goals all year, now's your time for a well-deserved vacation. The next month is ideal for a getaway. If you can't literally leave city limits, expand your horizons with a staycation or by signing up for a class. From personal growth classes to a skill-building workshop to a metaphysical meetup, an outlet for your curiosity is in order. Got an entrepreneurial itch? Use the next month to scratch it by exploring possibilities.
On February 19, the Virgo full moon—also a potent supermoon—illuminates your third house of communication. Is there a conversation you've been putting off or an answer you've been awaiting? Keep your devices charged because news could speed your way. Got a project idea brewing or a message to spread? With la luna lighting up your local-events zone, don't overlook your neighborhood as a resource. A kindred spirit in your community could turn out to be an amazing partner. Who knows what could happen when you team up? Start with a small trial project to test your synergy and see where it takes you.
Want some more?
Check out what's going on for…