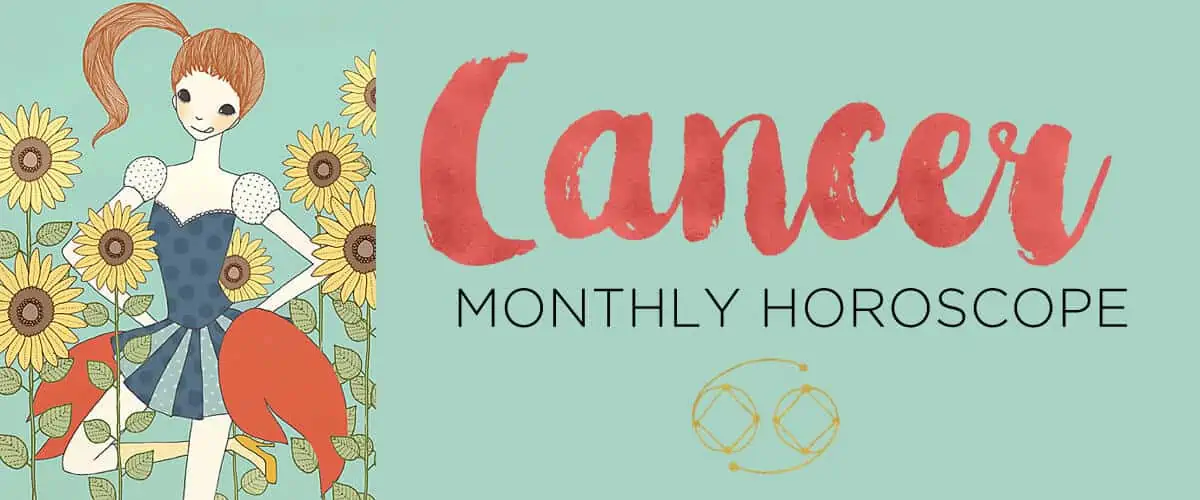 January 2020
Make it a double for the new decade! Partnership power is running high this January thanks to FIVE planets hanging out in your opposite sign of Capricorn as the calendar turns. Not only is the Sun making its annual visit here until January 20, you've got communicator Mercury, risk-taker Jupiter (all the way through December 19), accountable Saturn and transformational Pluto all gathered in this zone. Your self-protective sign doesn't always like to lean on others—and when you do finally trust, you might put the lion's share of it on a small, select group. Well, Crab, it's time to spread that love around and widen your inner circle.

Perhaps a few key relationships are due for a "brand refresh." Have things gotten imbalanced with your romantic partners or closest colleagues? Do you find yourself playing a familiar role—one that feels pre-scripted or overly taxing? It's easy enough to fall into the caretaker position, but before you know it, you're doing your job AND everyone else's. January's stars arrive to shake things up!
On January 12, a
historic alignment of Saturn and Pluto lands in Capricorn
. Saturn-Pluto conjunctions (meetups) happen every 33 to 38 years, but there hasn't been one in THIS zodiac sign since 1518. This once-in-a-lifetime moment prompts you to get serious about the people closest to you—and to deeply inspect quality of those bonds. You may have an opportunity to join forces financially with a well-connected person. With the bold Sun AND messenger Mercury making contact with both planets, you'll find the courage to ask for what you want.
Just make sure the balance of power feels even and expectations are clear. If you're in a long-term committed relationship, this could be a pivotal turning point. Is it time to make this thing REALLY official...or maybe to go your separate ways? Perhaps you've been ignoring some deeper work that needs to be addressed, both as a couple and individually. Dare to go there, Cancer.
Reviewing your priorities could be inevitable, because two days before—on January 10—the decade's first lunar (full moon) eclipse arrives in YOUR sign. The spotlight is on your passions, desires and talents now. This has been building up since the July 2, 2019, solar (new moon) eclipse in Cancer and really as far back as July 2018, when a series of game-changing eclipses began on the Cancer/Capricorn axis, reinventing your identity AND closest ties in the process. You've been in that process for a year and a half and will continue to be until mid-2020. Where do YOU fit into the picture, Cancer? Resetting the balance between "me" and "us" will be your most important mission.
If you've got a talent to share with the world, get your game face on! The Cancer lunar eclipse will thrust you onto the main stage, ready or not. It's time to show everyone what you're made of, Cancer, even if it feels scary to be this vulnerable. Eclipses only come to your sign every decade, so don't miss the chance to let the world see what you're made of—it's about time!
Also on January 10, shock jock Uranus will end a five-month retrograde in Taurus that began back on August 12, 2018. The side-spinning planet has been awry in your eleventh house of group activity, creating ripples in your social circles or making you pull back a bit from certain alliances. As Uranus stations direct (forward), you'll either seal your loyalty with a new squad or start being more authentic with the people in your life. A cutting-edge collaboration that stalled could pick up speed again, especially one that involves digital media or technology.
You can dart back behind the scenes (sort of) starting January 20, when the Sun slips into Aquarius and your private, intimate eighth house for a month. Burrow into your cocoon and focus because your powers of concentration are high. Maybe you'll aim that radar at a research project or plot out a master plan. Or, since the eighth house rules all things erotic and entwined, you might slip off the grid with a sexy, scintillating plus-one. Let the (well-heated) hibernation begin!
There could be a disturbance in your bubble on January 23, when the Sun forms its semiannual
square
to unpredictable Uranus in your eleventh house of groups and friends. Someone may voice disapproval for your relationship, or you might get a moment of cold feet if things are moving too fast. If you're feeling suffocated or lost in a relationship, step back for some breathing room. You don't have to call the whole thing off (though this radical and freedom-seeking transit might tempt you to do just that). Try not to react to any intense emotions under these moody and volatile skies.
Besides, the next day (January 24) brings the first new moon of 2020, which is in Aquarius and your eighth house of permanent bonds. This is also the zone of joint ventures and shared wealth, so your mind could turn to money plans for the year. Think in terms of investments. Where would you like to put your time, energy and hard-earned funds in the next six months to you see growth and returns? Today also kicks off the Lunar New Year as we welcome the industrious and resourceful
Metal Rat
. It's time to get scrappy and strategic, Cancer. Whatever you focus on and tend to will grow, so set your sights on the right target. Then put your attention there!
Want some more?
The AstroTwins' 2020 Horoscope—your ultimate guide tot the year that kicks off the new decade—is available now! Get your copy and a special bonus gift at https://www.astrostyle.com/2020-horoscope.
Check out what's going on for…