Here are the zodiac signs that will find love this year. Hint: it's all of them! Your 2023 love forecast and horoscope contains endless possibilities for your love life, if you allow the stars to help you navigate!
We're not gonna lie—our journey into astrology began from the heart. When will I find love? Is this the right person for me? How compatible are we, really? There's no better magic decoder ring that astrology for understanding what makes each of us tick and what tickles us and turns us on.
Each year, the planets assemble in a unique formation in the sky, creating new conditions for love that we all can tap into. And guess what? We've deciphered these for all 12 signs. You're welcome!
Planet transits shaping your 2023 love forecast
Let the stars guide your love and sex life this year. Use our 2023 love forecast to navigate relationships, including any challenges, the major astrology transits bring this year, including:
Lunar Nodes in Taurus and Scorpio until July 17 (then Aries and Libra until January 11, 2025)
Lunar eclipse in Scorpio on May 5
Venus in Leo: June 5 to October 8, Venus retrograde in Leo: July 22-September 3
Mars in Gemini, January 12 to March 25 (after a retrograde ends January 12, 2023)
Jupiter in Aries until May 16, 2023, then Taurus (to May 25, 2024)
Saturn in Aquarius until March 7, 2023 (during a 3-year cycle in Pisces, until February 13, 2026
Pluto's brief visit to Aquarius (March 23 to June 11, 2023)
Which planet is for love in astrology?
The official "love planet" in astrology is Venus, the ruler of beauty, attraction and yes, seduction. But the truth is, when you're in an actual relationship, every aspect of your personality comes into play. Here's what all the the planets mean in astrology, what they rule and how they influence your 2023 love forecast:
Sun: your personality
Moon: your moods and emotions
Mercury: your mind and communication
Venus: love and attraction
Mars: your drive and energy
Jupiter: luck, growth and wisdom
Saturn: discipline, fears and challenges
Uranus: change and originality
Neptune: your dreams and healing
Pluto: power and transformation
We also include the Nodes in your 2023 love forecast. They aren't planets, but rather mathematical points of the moon that fall in two opposite zodiac signs. In astrology, your life purpose is encoded in the North and South Nodes.
The AstroTwins' 2023 Horoscope guide and planner deep-dives into everything you'll read about in this article about love; you can get your copy clicking on the image below.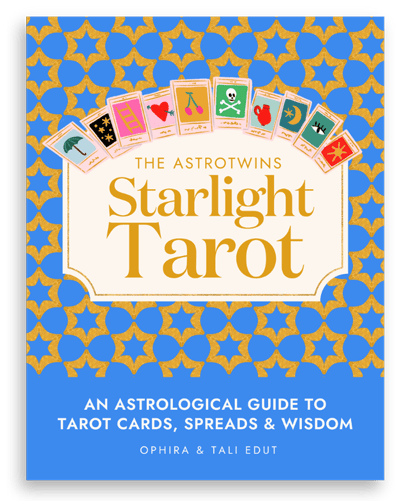 An Astrological Guide to
Tarot Cards, Spreads & Wisdom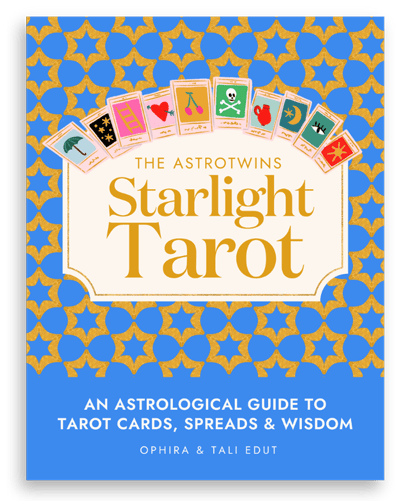 The AstroTwins bring your Tarot journey to life with Tarot spreads, history and empowering guidance.
Get the starlight Tarot
2023 Love Forecast and Horoscope
Your love horoscope for the year, influenced by the planets
Aries (March 21-April 19) 2023 Love Forecast
High-stakes, high-intensity loving is on deck for Rams while the karmic South Node rolls through Scorpio until July 17.
You could cement a long-term bond or break it apart (at least for this lifetime) at the May 5 Scorpio lunar eclipse. Whatever you decide, you won't be at a loss for summer lovin'!
Peak romantic experiences and passionate playtime are served when ardent Venus sashays through Leo from June 5 to October 8. While Venus is retrograde from July 22 to September 3, you could reconnect to "the one that got away" or finally sort out drama with your plus-one.
Peaceful balance is restored once the karmic lunar South Node shifts into Libra on July 17 and helps you negotiate your needs. That sweet serenity could lead you straight down the aisle before January 11, 2025.
Taurus (April 20-May 20) 2023 Love Forecast
Where's the balance between me and we? That's the question for your 2023 love forecast as the North Node hovers in Taurus until July 17. If you've been hyperextending yourself in relationships, rein that in. In 2023, developing your own interests makes you highly attractive—and it might be the "warning shot" your S.O. needs to step up their game.
Could you connect to a meant-to-be mate in the meantime, while the karmic South Node is in Scorpio?
Has a relationship been rocky? The May 5 lunar eclipse delivers a critical "choose or lose" moment.
You'll enjoy a sentimental summer while your ruler, romantic Venus, gets cozy in Leo from June 5 to October 8. Cohabitation or other home matters could be on the table, but brace for speedbumps while Venus is retrograde from July 22 to September 3.
Gemini (May 21-June 20) 2023 Love Forecast
You'll be hotter than a boiler room in early 2023, thanks to lusty Mars powering forward through Gemini from January 12 to March 25. Mingle with new crowds, swipe liberally and experiment to your heart's content.
Push the romantic envelope in exhilarating ways (add some new toys to the arsenal?) while bawdy Jupiter hangs out in Aries until May 16.
You'll have your hands full of admirers while Venus swings through your coquettish third house from June 5 to October 8. Attached? Fill up the cultural calendar with playdates to keep your attention from wandering—a definite risk while Venus spins retrograde from July 22 to September 3.
It's peak season for attracting a soulmate or taking a big next step with your meant-to-be mate when the South Node settles into Libra and your fifth house of romance and fertility from July 17 to January 11, 2025!
Cancer (June 21-July 22) 2023 Love Forecast
Soul-stirring romance is in your 2023 love forecast while the South Node hovers in Scorpio and your passionate fifth house until July 17. Get proactive about creating magic by picking up tickets to shows and exhibits and planning vacations.
A milestone moment that's worth sharing in a teary social media tribute could come at the May 5 lunar eclipse.
Don't wall off your heart! For some Cancers, it's the love affair with yourself that feels richest this year. Pluto's brief visit to Aquarius (March 23 to June 11) is the beginning of its 20-year trek through your sultry, spiritual eighth house. As much as you love your alone time, the urge to merge is heating up, too.
A lovely, romantic summer's in store while Venus luxuriates in Leo from June 5 to October 8. Spoil your partner (and yourself!), but watch your cash flow. Divergent financial perspectives could become a sticking point while Venus is retrograde from July 22 to September 3.
Leo (July 23-August 22) 2023 Love Forecast
Passion without action? No, thank you! Serious Saturn plunges into Pisces on March 7, activating your eighth house of soulful sexuality and permanent bonding for three years.
You want wholehearted commitment, but here's a curveball: Your relationship needs could spin in a totally new direction, thanks to Pluto's preview pass into Aquarius (March 23 to June 11), an evolution that will continue for 21 years. What's a lion to do? Slow down, appreciate the moment and put one bejeweled paw in front of the other.
You'll have more fawning admirers than perhaps you know what to do with when love planet Venus spends four rare months in your sign, from June 5 to October 8. During that time, Brace yourself: Venus spins retrograde from July 22 to September 3. Unresolved issues could rear up and you might get tangled up with an ex. Confusion may not dissipate until after October 8, so go easy on yourself—and everyone around you.
Virgo (August 23-September 22) 2023 Love Forecast
A sex-positive year is on deck for Virgos, which will be more of a "private screening" than a public display. Expand your erotic borders while bawdy Jupiter slinks through Aries and your scintillating eighth house until May 16. Since you need both lust and trust, exploration may happen within a relationship—or in flexible agreements with clear-set boundaries. Good thing, candid Jupiter makes it easy to talk about everything from protection to fantasies to consent this year.
Relationship matters become weighty at the time time as serious Saturn moves into Pisces and your partnership zone on March 7 for a three-year cycle.
You may take on a big responsibility with a partner, like a mortgage, marriage or a lifestyle change that impacts you both, before 2023 is through.
Libra (September 23-October 22) 2023 Love Forecast
No one is clipping your wings while free-spirited Jupiter roams through Aries until May 16–partnerships are always a priority for you. To keep relationships from devolving into a power struggle, your 2023 love forecast calls for you to fill shared calendars with active adventures. Novelty releases dopamine, which might be your primary bonding agent this year!
New erotic terrain may be found while the lunar North Node continues its tantric trek through Taurus until July 17.
Your turn-ons may evolve before your eyes, especially once Pluto dips into Aquarius and your fifth house of romance from March 23 to June 11—the beginning of a 20-year cycle. Get ready! The snug vibes that warmed your heart (and other body parts) for the past 15 years could suddenly feel like a too-tight suit.
There's no denying your urges once the karmic South Node lands in Libra from July 17 to January 11, 2025—its first visit here since 2004-06. Developing your personal passions is the quickest way to bringing sexy back…not trying to "fix" your partner or find a new one.
Scorpio (October 23-November 21) 2023 Love Forecast
Serious relationships could get so heavy you forget the romantic parts! Be careful. Serious relationships are your jam, but with weighty Saturn plunking down in Pisces on March 7 for a three-year cycle, you're tasked with making magic, one conscious action at a time.
Breathing room in your bonds comes May 16 when adventurous Jupiter soars into Taurus and your coupled-up seventh house. It might also open your mind to new arrangements: long-distance, cross-cultural, LAT (living apart together).
Get yourself back into a seductive headspace this year, so that you're in the right "vibration" to attract amour. Start by moving your body and planting yourself in social situations where you can make friends who know someone they can fix you up with! If you're on the fence about a union, you could hit the make it or break it point by the October 28 lunar eclipse.
Sagittarius (November 22-December 21) 2023 Love Forecast
A romantic renaissance or reckoning? Your 2023 love forecast is sure to bring both. You'll have your hands full of admirers while your ruler, bountiful Jupiter, rolls through Aries and your fifth house of amour until May 16. During this heavenly high season, squeeze as many playdates on the calendar as you can. Proposals, weddings or baby-making could be on deck for Archers through mid-May, or perhaps a renewed relationship chapter that feels like a second (or third) honeymoon.
Summer is ideal for a baecation or a long-distance romance when Venus goes on an extended tour through Leo and your global ninth house from June 5 to October 8. But be warned! While Venus spins retrograde from July 22 to September 3 you could rebel against anything that feels challenging or restrictive. The truth could get slippery then. Don't make promises you can't keep—or change your entire life based on a charmer's sweet nothings!
Capricorn (December 22-January 19) 2023 Love Forecast
Nonstop insights about dating and relating comes when the destiny-driven North Node lingers in Taurus and your romance house until July 17.
You'll be Cupid's darling—and ready to cash in on all your self-discovery work–once lucky Jupiter arrives in Taurus on May 16. Single Caps might mesh with someone from another culture or spark up a long-distance love affair. No matter what, bring on the decadence, pleasure and playtime.
A sexy summer is in store as Venus simmers in Leo and your intensely seductive eighth house from June 5 to October 8. Schedule any "state of our union" conversations before Venus turns retrograde from July 22 to September 3—a time that could spin up jealousy and lovers' quarrels. If you're ready for that next big step, this Venus-in-Leo cycle gives you the courage to leap.
Aquarius (January 20-February 18) 2023 Love Forecast
Enjoy thermostat-raising mojo while Mars zips through your fifth house of showstopping amour until March 25. Dating could be your favorite winter sport; then get ready for a summer of love!
If you're serious about someone—or need to renegotiate the terms of engagement—the diplomatic, enchanting Venus has your back. The love planet takes a long, sultry sashay through Leo and your relationship house from June 5 to October 8. Longing for the one that got away? Venus retrograde from July 22 to September 3 could bring a much-awaited reunion or the closure you need to finally move on.
Pro tip for the happily hitched: Save up for a luxury baecation to take before the year is through.
Pisces (February 19-March 20) 2023 Love Forecast
Love without limits might be the Pisces preference, but as boundary-hound Saturn settles into your sign on March 7, you'll be singing a different tune. The ringed taskmaster hasn't visited you since 1994-96, so this is a new groove! During this three-year cycle, everything must be weighed, measured and meted out wisely, including your affections. Your 2023 love forecast calls for you to keep your heart open, but embrace Saturn's lessons of discernment and energy conservation.
Healthy relationships get a boost when Venus takes an extended tour through Leo and your mindful, revitalizing sixth house, June 5 to October 8. Prep yourself! Venus will be retrograde from July 22 to September 3, a time when clear relationship rules are a must.
You'll be ready to deepen a special bond—while also sorting through a few demons like negative thinking, fear and jealousy–when the karmic South Node swings into Libra from July 17 to January 11, 2025. It's gonna be intense—but also damn sexy!
Find out in The AstroTwins 2023 Horoscope — and plan it by the planets all year long!
Keep an eye on Venus in 2023
Venus, the planet of love, beauty and luxury, lends its decadent energy to every zodiac sign for three to five weeks each year.
Venus began 2023 in Capricorn but switched to Aquarius on January 2, quickly turning the tide in a frisky, experimental direction. This could be the year that you rewrite the rules on relationships with a progressive flourish that suits 2023 you.
Where will Venus be in 2023?
AQUARIUS: December 9, 2022 to January 2, 2023
PISCES: January 26-February 20
ARIES: February 20-March 16
TAURUS: March 16-April 11
GEMINI: April 11-May 7
CANCER: May 7-June 5
LEO: June 5-October 8 (RETROGRADE: July 22-September 3)
VIRGO: October 8-November 8
LIBRA: November 8-December 4
SCORPIO: December 4-December 29
Venus in Leo and a Venus retrograde
The headline for Venus in 2023 is really its time spent in Leo. The love planet parks in this sign from June 5 to October 8, but rolls retrograde from July 22 to September 3.
This Venus in Leo transit is happy news for all the die-hard romantics out there reading their 2023 love forecast. The love planet lingers in loving Leo four times longer than the planet's usual visit to a sign (about four weeks).
Spring fever could spill over into the most passionate summer lovin' anyone has felt in years!
Caveat: The reason for this protracted Venus in Leo transit is the dreaded "r" word. From July 22 to September 3, Venus is retrograde, a cycle that comes around every 18 months.
Passion or provocation? This six-week phase will be quite the storied one. Venus retrogrades are not always easy. They can exhume ghosts of relationships past…or provoke sudden ghostings just when connections are heating up. Long-lost lovers may reunite but struggle to find their footing when it's time to produce an actual "sequel."
Our advice? Enjoy the dopamine rush of attraction but wait until Venus corrects course on September 3 before doing any future planning. And if you're already otherwise engaged when that old flame hits you up on Snapchat? Keep lines as clear as possible and just remember that it will all shake out by October. Remember that "new love energy" can be intoxicating—but with Venus in reverse, it can also screen out someone's toxic traits.
You can read about how all the planets transiting in 2023 affect your love life, not just Venus, in The AstroTwins' 2023 Horoscope guide book; get your copy here!
Want to look at the big picture, beyond your 2023 love forecast? Love horoscopes for the zodiac signs.
Can you get along with any zodiac sign?
We say yes! By understanding the astrology of what makes every Sun sign tick, you can be compatible with anyone—even the people most love matchers wouldn't pair you with. Hey, there's a soulmate connection here too that transcends your horoscope. And "easy" isn't always "good." While some astrology love matches will take more work than others, you might also grow more from those connections. Learn the unique relationship horoscope blueprint for every sign in our love horoscopes.
Did you know your relationship has a zodiac sign?
It's created by blending both of your birth charts into one high-powered composite we call "the Supercouple Chart!" It's the key to unlocking the magic of your connection—with any zodiac sign. Single or coupled, Supercouple is your go-to guide.
Feature art by Rosie Dienhart