The AstroTwins led a discussion about their love astrology book, Supercouple, before a live audience at The 92nd Street Y in New York City.
The AstroTwins, Tali & Ophira Edut, are authors of more than 20 astrology books. Their newest book, Supercouple, was explored during a discussion at the iconic 92nd Street Y in NYC on Valentine's Day 2023.
The well-attended discussion led by the twin astrologers shared how to use the astrology of the year to shape and manifest your love life. Participants also learned astrology secrets for discovering how their unique birth charts guide romantic fulfillment.
The conversation in its entirey was recorded at The 92nd Street Y and is available as a 92NY Talks podcast for playback anytime, here: Craft Your 2023 Love Story with The AstroTwins: 92NY Talks Episode 342.
"A lot of the love advice we've gotten, for years, from our magazines and books, just isn't applying that well anymore," Ophi told the audience at The 92nd Street Y. "We like to say we've moved from the Agrarian Age, when people were hunters and gatherers and had to settle up and couple up for survival's sake, to the Aquarian Age where relationships are more of a choice, and moving from the three-dimensional universe to the five-dimensional universe."
Supercouple's relationship astrology system replaces well-worn solutions to dating and relating in the modern age. Instead of a one-size-fits-all technique, your Supercouple chart gives you access to a third, neutral space, a higher octave for your relationship to reach.
The Supercouple chart takes the midpoint of planets in two charts to create a third chart. Think: your chart + someone else's chart = your Supercouple chart!
Cast a free Supercouple chart on Astrostyle, here.
Start here if you're not familiar with astrology birth charts.
Craft your love story (or any story!) using astrology
Use your Supercouple chart to decode your relationship, and it can be any relationship, not just a romantic one! Your zodiac sign, combined with another person's zodiac sign, creates a third sign and those combined energies that can inform you about how to navigate your dynamics.
"All those things you've been bickering about, arguing about, trying to become less of, or more of, or compromise on, can kind of go away, because it can be so jarringly different, because of your Supercouple sign" Ophi explained to The 92nd Street Y participants.
It's a new way to approach your relationships. It gives you a lot of information about the purpose of your connection. Why are you together anyway?
"It's a personality that you'll take on when you're together," Tali said. "It can tell you how to keep your relationship thriving." (Though it's also helpful to do a Supercouple chart for exes, so you can see what that relationship was there to teach you!)
Try a Supercouple chart to find your shared priorities and how to find common ground, even when you're out of sync.
Astrology elements (fire, earth, air, water) help you read your Supercouple chart
It's helpful to know the elements of astrology when reading your Supercouple chart, The AstroTwins old The 92nd Street Y audience that you can hear on the podcast.
Once you discover your Supercouple sign, match it to an element (all the zodiac signs are divided into elements: fire, earth, air, water).
For example: One person may have their Sun independent fire sign with a partner who's Sun is in an air sign. On their own, they may be commitment-shy, but they blend together as a stable Supercouple earth sign and suddenly, they're packing up their downtown studios and moving to the suburbs to start a family.
Get your copy of Supercouple for a full explanation of the astrology of Supercouple, your Supercouple chart and its power, plus how to decode every planet in the chart to know how to navigate your relationships! Everything discussed at The 92nd Street Y and captured in the podcast is detailed in the Supercouple book!
What zodiac sign is your relationship?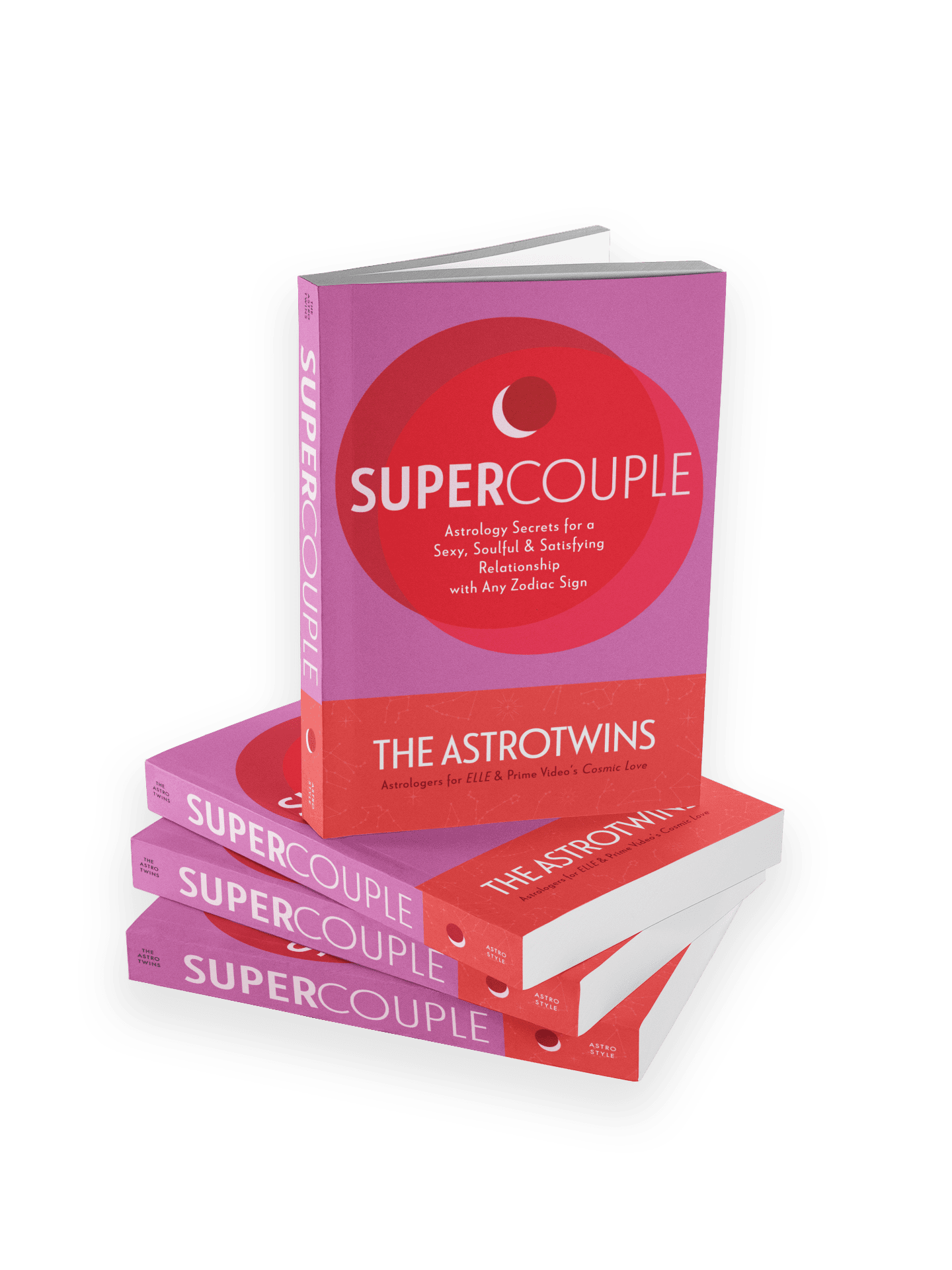 What zodiac sign is your relationship?
Learn the secrets of the composite (blended) chart in SuperCouple, a cosmic care and feeding manual for any relationship. Written by The AstroTwins, astrologers and matchmakers for Amazon Prime Video's Cosmic Love.