Whoever said Aries are better at starting projects than finishing them hasn't met the 2020 version of you! This could be your most successful year in over a decade—provided you make the right moves.
Your Aries 2020 horoscope is a success blueprint that revolves around setting one or two epic goals and giving that mission all of your blood, sweat and tears. Resist FOMO and narrow the field, Aries. That's how you'll finish out the year with a fedora full of feathers!
Can-do Jupiter has officially joined disciplined Saturn and transformational Pluto in Capricorn, and this persevering trio supplies the unwavering focus to take it all the way. This year, you'll have bottomless refills of stamina, provided you don't spread yourself too thin.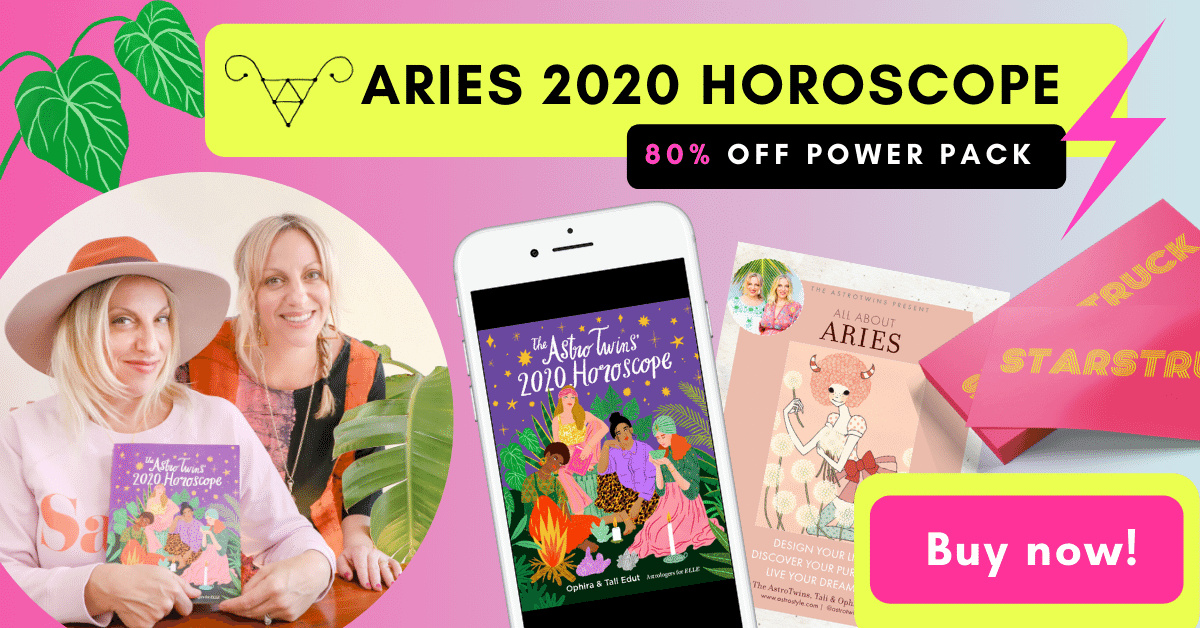 Pin
Bottom line: 2020 is a huge year for success, Aries —but you'll have to make the right moves. Get our 2020 Horoscope book, bundled in a special Aries 2020 Power Pack with 3 bonus gifts to keep you aligned all year. Get your future now >

Aries 2020 Horoscope: Career and Money
Since Capricorn rules your tenth house of career, you'll be obsessed with figuring out your soul purpose. If you're already marching along your path, scale up your mission or expand into new territories. Long hours at the office won't bother you at all. You might just set up a workspace at home this year so you don't have to sacrifice all your family time to achieve your goal. 
That said, nailing the elusive work-life balance will be a worthy challenge in 2020. With three final eclipses hitting the Cancer/Capricorn axis between January and July, you could get pushback from loved ones if you skip too many family gatherings—or bring your laptop to the kitchen table so you can work through dinner. 
With all this high-profile energy afoot, renegade Rams will have to set aside punk-rock ways and learn to play by the corporate rules…at least some of the time. But from March 21 to July 1, sensei Saturn lunges into rebellious, team-spirited Aquarius, giving you a chance to bend (or rewrite) a few of those laws. Before you go there, push yourself to gain a fundamental understanding of these directives. They do have a purpose, even if you consider it archaic. Saturn will return to Aquarius again from December 17 until March 7, 2023, so don't get overly hung up on changing the game this year. It's more important that you learn how said game is played—and what makes the players tick! 
On December 19, 2020, daredevil Jupiter will join Saturn in Aquarius until December 29, 2021. Just in time for the holidays, your popularity shoots through the roof. You'll find yourself at the center of a buzzing community of activists, thought leaders and disruptors. (Home sweet home!) Your charitable holiday donations may be heftier than usual, as this Aquarian energy stokes your idealistic nature.
---
Aries 2020 Horoscope: Love and Relationships
Romance gets a revamp for everyone in 2020, too. Venus turns retrograde from May 13 to June 25, a cycle that happens every 18 months. This time, the love planet backs through Gemini and your friendly, flirty third house. Lines could blur in ways that are both beguiling and a tad troubling, so don't let your rash nature guide your moves.
The third house is the realm of coworkers and neighbors, two groups of people you should think twice about fooling around with. What might feel like a convenient spring fling could leave you feeling beyond awkward around your office or apartment complex. On a positive note, Venus' backspin could give you the courage to admit that your feelings go beyond friendship for someone who makes you swoon. Coupled Aries can use Venus retrograde to strengthen communication. Are you insisting on autonomy at the expense of harmony? See where you can compromise and cooperate more.
If love feels like a low-priority (or sidelined) agenda item in the first half of 2020, no stress! On June 27, your ruler, lusty Mars, pops off an extended tour through Aries that lasts all the way until January 6, 2021! Your "sex magick" will be a strong brew, Aries, and without even trying, you'll have fans clamoring for your attention. Use this magnetism judiciously. The goal is to attract multi-dimensional people into your orbit—the types who won't bore you once the flattery wears off. 
Besides, Chiron (the "wounded healer" comet) is spending its first full year in Aries, where it will hover until April 2027. Since April 2018, when Chiron briefly popped into your sign, you've been deepening your connection to your shadow nature, learning how to powerfully turn some of your so-called stumbling blocks into your own healing gifts. For this reason, it's even more important to surround yourself with people who won't let you get away with being anything less than your fullest, truest self!
Pin