How we went from "cosmically curious" to becoming the astrologers for ELLE magazine, founders, authors and the creators of the Amazon Prime Video TV show Cosmic Love.
1972-1990: Detroit childhood, immigrant family life and…Space Camp
Well hello there! We're Tali and Ophira Edut, also known as The AstroTwins. We are indeed identical twins, born in Detroit Michigan on December 2—at 10AM (Tali) and 10:04 (Ophi). Proud Sagittarius Sun signs, we also have Capricorn rising plus moon, Mercury, Venus and Mars all in mystical Scorpio. 
There are no accidents, but we have to be honest…Working as professional astrologers wasn't our childhood aspiration. But looking back at our history, there were always signs, like the 6th grade trip to Space Camp, the stack of Lois Duncan books about girls with supernatural powers…and the self-development titles that joined the collection a few years later.
But it wasn't until we were undergrads at The University of Michigan that the real astro-obsession kicked in. More on that in a minute…
---
Different languages, common ground
We grew up in a home where everyone had a different accent. Our parents met in Jerusalem while our mother was studying abroad. When she was 7-months pregnant, our mom moved back to the States with our Israeli dad—who learned English by watching Sesame Street with us.
Adding to the language layers, we lived with our grandparents, both Holocaust survivors, until age 4. Our grandfather had a guttural German accent, our grandmother, a melodious French one. To communicate with these primary adults, we learned to shift our tone and adopt a vocabulary of non-English phrases.
Little did we know, this was the perfect preparation for becoming astrologers! Just as no two people have the same chart (including identical twins), no one in our childhood sounded the same. Essentially, we raised to celebrate the nuances between people. And learning about the 12-sign archetypes and how they fit with the planets and houses only made that clearer.
---
1990-2000
Sassy Magazine: Our first taste of media-making and publishing
When we were 18, Tali won a contest with the legendary Sassy magazine. Sassy was a different kind of vibe with its proudly feminist perspective, no B.S. reviews and major edge. Models stomped across the pages in Doc Martens, vintage and DIY gear. The editors wrote hilarious notes in the margins of their columns. As if that wasn't revolutionary enough for the early 90s, Sassy published an annual reader-produced issue, handing the reins to a select few teens to "replace" the staff and create the December magazine.
Using her budding graphic design skills, Tali pulled together an entry. Much to her shock and delight, won the Art Director role. She spent a life-changing August in New York City working alongside media icons Jane Pratt, Andrea Linnett, Kim France and Christina Kelly. It was a dream come true and a crash course in media making. (And of course, Ophi came to visit!)
---
HUES: Publishing our own magazine for diverse women
While Sassy was a game-changing experience, we remained hungry for media that was inclusive and body positive. While we've always loved fashion, flipping through the pages of our favorite magazines was devastating to our self-esteem. As curvy, Israeli-American teens, we spent many hours comparing ourselves to ultra-thin models with homogenous features.
In 1992, we gave birth to HUES magazine, along with our Aries partner-in-crime Dyann Logwood. HUES, which began as a Women's Studies semester project, was an acronym for Hear Us Emerging Sisters. Our mission? For women of all races, cultures, sizes and sexualities to see themselves represented as beautiful, valuable and powerful.
We imagined how differently girls would grow up if they had self-worth being pumped into their psyches from an early age. This was absolutely not happening in the early 1990s. The fresh-faced Barbie doll look was de riguer on runways. The closet door on gender and LGBT issues was firmly shut and feminism was just beginning its third wave.
With university grants and a few local ads, we published a half-sized, black and white issue of HUES that lit a fire on campus. A talented, multicultural team quickly assembled to participate in producing this labor of love. With funds from our legendary hip-hop parties and a small business loan, we evolved from Kinkos to a 4-color press. We wanted HUES to look like any other glossy on the stands, but with content that called to a far wider audience. A few years later, HUES was sold on national newsstands!
And here's where astrology comes in. Gathering women from such vastly different backgrounds for a common cause wasn't an easy feat. But there was one common language that united us all: our zodiac signs. Our Bronx-raised Nigerian editor and the suburban Jewish ad sales rep might not have otherwise clicked until discovering that they were both total Virgos. Under the heavenly influence of the stars, all surface barriers melted away. 
Our first astrology chart: minds blown!
For our 21st birthday, Ophi's college boyfriend Calvin gifted her a 30-page printed natal chart and interpretation—which she immediately shared with Tali. It was then that we discovered that we had four planets in Scorpio and FINALLY understood why we were way more intense, devoted and consistent than the average Sagittarius.
The accuracy astounded us! And with a stellium in Scorpio, naturally, we needed to know how it worked. We invested in Solar Fire software (there were no apps back then) and quickly started doing all of our friends' charts. Knowing their moon and rising signs was a must! Our brains began storing every celebrity's sign—the patterns became so obvious. And naturally, we used this secret decoder ring to figure out what was going on with the romantic interests in our life. Astrology is the ultimate tool for navigating relationships.
2000-2010
A return to New York City and Ms. magazine
In 1997 we sold HUES to New Moon Publishing in Duluth, MN as a big sister to their empowering girl's magazine. Alas, HUES folded a few issues later, but the hands-on experience was priceless! We like to say that we earned a PhD (Publishing HUES Degree).
The heartbreak of losing HUES was immeasurable but it opened the door for us to move to New York City—something we'd longed for since the Sassy summer. Ophira was tapped by Gloria Steinem to be an editor at Ms. magazine, which had just been purchased by a group of female investors.
Tali went to work for the activist organization Do Something, helping to create a magazine called BUILD which featured people under 25 who were transforming their communities in incredible ways. She was also teaching herself web design and teamed up with BUST magazine's multi-hyphenate Scorpio co-founder Debbie Stoller (also a knitting genius and coding wizard) to build the first ever website for Ms. Magazine.
Our first major astrology column: Teen People Magazine
At Ms. Ophi worked with a writer to publish an article on becoming a woman alongside her father, who transitioned when she was 13. The writer, Noel, was moonlighting as a copy-editor for Teen People magazine. She knew about our parallel obsession with the stars and urged us to meet the editor-in-chief about taking over their astrology column.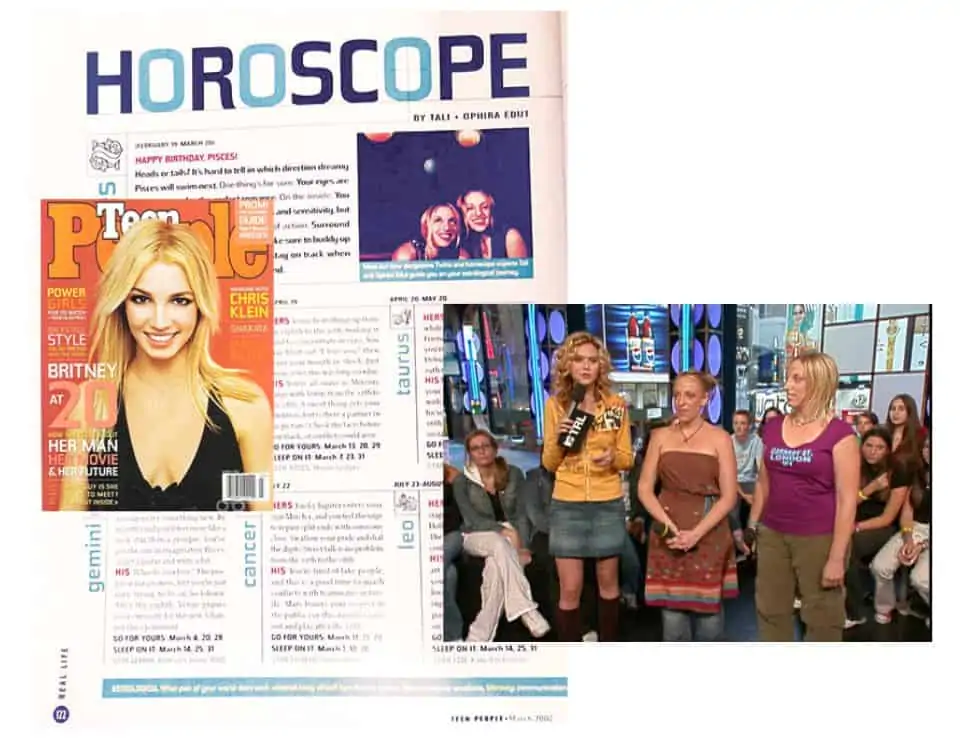 We were reluctant at first. Teen People was quite a departure from our feminist roots. But the publishing world was shifting. Larger companies were picking up on the fact that this new generation cared about making the world a more inclusive place. And that if they wanted an audience, they would have to wake up. Teen People was publishing pieces about teen activism and identity politics. Since our love of astrology kept expanding exponentially, this was too juicy of an opportunity to NOT explore.
As if we needed a sign that this was the right direction, the first issue our horoscopes were printed in had Britney Spears on the cover, who shares our birthday of December 2. The column appeared on page 122: our shared birthday. Seriously, you can't make this stuff up!
The cosmic floodgates: Astrologers for Refinery29, ELLE, Lifetime and MTV
A few months later, a literary agent approached us about writing our first astrology book, which was titled Astrostyle, which we got to launch on MTV's Total Request Live—a major aughts moment. A friend who worked on HUES brought us into Lifetime media to create an astrology section. Another connection led us to Refinery29 to do the same. Before we knew it, we weren't just astrology enthusiasts, we were published authors and media consultants!
What was most amazing about this career transition was the similarity we discovered between writing horoscopes was to creating content for HUES. We were able to give empowering advice, help people accept their own quirks and better relate to others who weren't like them—but through the lens of the zodiac.
Writing astrology columns became our almost full-time gig after a couple years—with supplemental income from web design. (Building a dream sometimes requires a second skill during the development phase.) In 2006, we decided to turn Astrostyle into its own brand and dedicated website. In 2008, we published our second book Love Zodiac and began writing all the horoscopes for ELLE magazine.
2010-2020:
Building a global astrology brand at Astrostyle.com
Since then, it's been all astro, all the time—well, besides time with our families, dachshunds, beloved friends and karaoke mics. More books followed: Shoestrology and Momstrology (right after Ophi's daughter Cybele was born in 2010), plus a series of self-published annual guides. Amazing collabs rolled in along with some of our favorite brands like Nordstrom, HBO Max and Homesick candles.
Astrology retreats in Tulum: Uniting diverse groups with astrology
And here's where HUES came full circle—with a star-powered twist. From 2013-2019, we hosted an annual Become Your Own Astrologer retreat. We kicked off our shoes for a week in Tulum, Mexico to teach 20 women how to read their own charts. We let our hair down, danced, swam unabashedly in bikinis no matter our size and bonded into the wee hours of the night. The setting was different, but the same scenario could easily be transposed to a kitchen table HUES meeting back in the 90s.
2020 and beyond
Sharing the Cosmic Love: Our Amazon Prime Video show!
By 2018, astrology was already taking the world by storm. Apps like Costar made charting easy and accessible. The unmooring political climate left people searching for spiritual answers, an evolution that continued to swell through the pandemic. As "O.G. astrologers," as we've been called a lot since then, it's exciting to watch people embrace this modality as a path for self-love and relationship-building.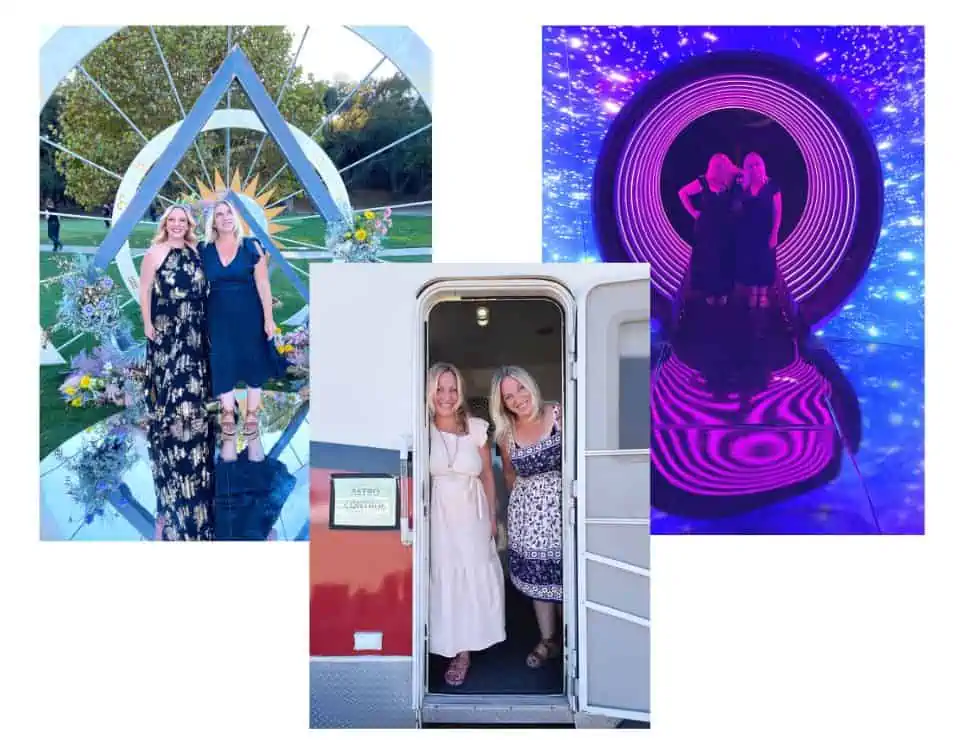 With these new gates opening, we began creating signature programs, like our Astropreneurs coursework and membership platform supporting astrology-obsessed entrepreneurs.
In 2021, Amazon Studios and Hudsun Media partnered with us to create our idea of a Bachelor-meets-astrology reality dating. We headed to Malibu to film Cosmic Love for Amazon Prime Video, and produced the first streaming reality TV dating show to use astrology as the matchmaking tool.
We spent months poring over casting reels and charts, writing scripts and advising the final cast on set from our secret control booth. There are many more adventures to come, but in a world so divided, it gives us joy to be part of a show that brings people together in love.
Astrology as a career: It's not so random after all.
Looking back on this collection of experiences, it doesn't seem so random after all. But finding one's passion often emerges after a series of trial-and-error attempts. And if we'd known as kids what we know now about astrology, we might even have been able to predict that we'd wind up working in publishing (Sagittarius Sun), owning our own business (Capricorn rising and North Node) and focusing on a mystical subject (Scorpio stellium). Our Saturn—which we call the personal trainer planet because it reveals where you work hard for mastery—is in Gemini, the sign of writing (and twins too).
Whether you "believe" or not, astrology is an incredible tool for decoding your personality archetype and uncovering your direction and path. We believe that everyone has a purpose on this planet. And that hey, maybe finding that purpose is the answer to world peace. When you're consumed by what you love doing, you don't have time to hate.
Our mission is keep on "bringing the stars down to earth," interpreting ancient wisdom with a practical twist.
Thanks for reading our story—and our 'scopes!
With Love and Starlight,
Tali & Ophira
The AstroTwins