Homecoming! The Sun is in Cancer, the zodiac's first water sign ruled by the emotional, intuitive and nurturing moon.
June 20 was a big day for the stars, marking the solstice, a rare double Sagittarius full moon AND the Sun's shift into sensitive Cancer. Since the sign of the Crab is ruled by the moon, your moods will also be more affected during this starmap. Cancer season is a nurturing and domestic time for all 12 zodiac signs, and is an opportunity to open your heart and come home to yourself—especially after the chaos of chatty Gemini season.
Your dreams could also be especially vivid now, which you may have noticed during the solstice full moon earlier this week. Because there is a tendency to get moody during Cancer season, you'll want to feel more comforted than usual, or perhaps left alone entirely. Just like the Crab, you may find yourself clinging—or pinching!—when you feel threatened or vulnerable. Cancer season is all about surrounding yourself with comfort: a cozy sweater, a favorite book, trusted friends, and a stash of your favorite goodies.
To help you tap into the motherly, feminine energy of this star sign, we've asked our friend Terri Cole—a psychotherapist, meditation expert and awesome Aries—to give you a guided meditation to help open your heart chakra and also hone your intuition, to make the most of this tender season.
To get started: Find a quiet, private nook or set up a sacred space in your home. Simply press play, and enter the "Zen Den" with Terri, allowing her soothing voice and words of wisdom to ground you in stillness. Be sure to check back next month for the continuation of this ongoing series for more guided meditations with Terri.
Meet Terri Cole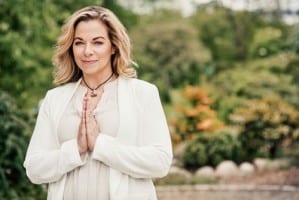 Pin
Terri Cole is a licensed psychotherapist, transformation coach, author, speaker and meditation teacher. For almost two decades, Terri has empowered celebrities, professional athletes, and individuals alike through television, radio, her popular TEDx talk (What if FEAR was just a Feeling?), workshops, and a thriving private practice to redesign limiting mental blueprints to create extraordinary lives. Terri's strategies combine practical psychology, Eastern mindfulness practices, and harnessing the power of intention to create sustainable change. Her wicked "tell it like it is" sense of humor and razor sharp insight combined with deep empathy and understanding gives her a unique ability to reach people and inspire transformation. Her upcoming Real Love course will give you all the tools you need to attract & create juicy, healthy, long lasting love in your life. As Terri says, "It all starts with YOU."
Cover art by Holly Chastain via Tumblr