Is a Virgo woman right for you? How do you make a Virgo woman happy?
If you follow astrology, you may hear some misleading match-up advice. Maybe you've heard that you should "never" date a Virgo. The truth is you can make it work with any zodiac sign. Your so-called imperfect match could become your life partner if you take a chance.
Astrology is a helpful tool for "decoding" people. No matter what you believe, it's always helpful to have another tool in your romantic arsenal.
So if you're interested in a Virgo, how do you make a Virgo woman happy—and find yourself happy with a Virgo woman?
The Virgo woman
Virgo is the sixth of the 12 signs of the zodiac, which begins its cycle late summer every year during Virgo season—which falls around August 23-September 22.
Detail-oriented Virgo is ruled by Mercury, planet of the mind and communication. The Virgo woman analyzes everything, forming opinions and judgments. On the outside, she may seem sweet and innocent, but her quick mind never misses a detail.
Virgo is the sign of service, and she's always there when help is needed. She's an amazing, careful listener, and as a result, she gives the best advice. The Virgo woman is a perfectionist who sees every flaw, and at times, she's a little too critical.
As an earth sign, the Virgo woman loves the outdoors, to chill out in nature.
Is the Virgo woman your "dream girl?"
Ruled by the nurturing, orderly and rule-abiding Virgin, the Virgo woman's energy focuses on control, purification and organization. Imagine a bookshelf that needs sorting, and you'll find a Virgo woman categorizing by color, book title, and author, usually just for fun.
The Virgo woman helps us to maintain a sense of efficiency and conduct in our physical realities, and can be very supportive. Perfectionism can be an issue. A Virgo pitfall is "analysis paralysis," wanting to make a million decisions down to the last detail but unable to make a move.
Ways to describe the Virgo woman include: dedicated, resourceful, helpful, hardworking, health-conscious, analytical, clever, witty, and practical. In its negative state, Virgo energy can be preachy, self-destructive, anxious, overwhelmed, self-pitying, uptight, and critical. Virgo pickiness and sky-high standards have their uses, but can wreak havoc on relationships. Since Virgo rules the sixth house of health and fitness, wellness and all things "green" (from kale smoothies to cleaning up the planet) fall under her domain (she will probably encourage you to eat your veggies).
How to spot a Virgo woman
From work ethic to wardrobe, the impeccable Virgo woman is the epitome of #flawless. She can pull off the "I Woke Up Like This" look—even if she'd rather spend a couple of hours primping and putting themselves together in the mirror.
Because Virgos can get stressed from micromanaging their lives (and maybe yours!), downtime is crucial. She cherishes solitude and can spend hours reading, writing, planning, decluttering or dreaming up creative projects. But she will always spring into action for a friend in need.
Because observant Virgo women can quickly spot the flaws in everything, they can come across as critical or judgmental. They're only trying to help! But when they lapse into preachy mode, they may need a reminder that they don't have to "fix" everything.
As hard as the Virgo woman may be on loved ones, she's even harder on herself. This giving sign is in continuous education about learning the art of receiving—a lifelong struggle for a lot of Virgo women.
The "natural habitat" for a Virgo woman
Anywhere that needs cleaning or anything that needs organizing is where you'll likely find the Virgo woman. She can't help herself! The Virgo woman can also easily get lost in thought, going for a drive or a long hike. She also likes to host parties, try out new things in the kitchen (usually health conscious) tend to a garden or houseplants, bring a remedy or a home cooked meal to a friend, engaged in one-on-one conversation or visiting relatives (really anyone who needs help).
What a Virgo woman does for a living
The Virgo woman is an excellent planner and organizers, has strong verbal and communication skills, and is a good listener. She is also a creative problem solver and helpful and supportive to her co-workers and/or employees.
The types of jobs that attract a Virgo woman include: therapist, life skills coach, social worker, nutritionist, nurse, veterinarian, religious leader, accountant, database specialist, programmer or developer, horticulturist, botanist, critic, office manger, journalist, lawyer, architect, interior designer, acupuncturist, lab tech or music producer.
What a Virgo woman wants in a partner
As the zodiac's sign of selfless service, the Virgo woman need to feel needed. Relationships give a Virgo woman a sense of duty and pride. She is rarely single for long, unless it's by choice, since she does have incredibly high standards. Still, the Virgo woman is lost without a project, so she tends to be hands-on and a little controlling, she may view you as a project, if you're open to being molded a little!
A Virgo woman's maternal energy can be directed toward children or before that, pets or, as stated above, projects. Codependence can be a Virgo woman's co-pilot, which is a relationship pitfall more than a character trait she is looking for in a partner.
the Virgo woman wants a bigger cause than patching up strays, she wants someone who cares as much as she does about mankind. Her ideal partner will have a mission, a job, and a calling.
Flirting with a Virgo woman, "romantic stuff"
The Virgo woman believes in soul mates and won't settle for less. She wants to love you slightly more than you love her so she knows she's scored the real prize.
Flirting & dating and your first date
The Virgo woman connects through conversation and mind chemistry. Flirting comes natural through communication for a Virgo, and your first date could be anywhere together the music isn't too loud to hear one another. She loves to flirt, so you'll know she's interested if the conversation builds. If answers become one-word, she's bored.
Sex with a Virgo woman
She loves to be the caretaker and in this role is a total giver in bed. She is skilled with her hands and your pleasure is her pleasure. A Virgo woman loves foreplay. She's tender and she may give meaning to "make love" more than you've ever experienced. She's patient and nurturing and provides a safe space for her partners to explore their sexual sides and desires.
The Virgo woman has fantasies in mind, she may want to share with you or keep them to her imagination. If you're the right partner, she might let you in on them. Some Virgos are well known for their kinky sides.
A Virgo woman's turn-ons and turn-offs
If you want to keep a Virgo woman happy, it is helpful to know here turn-ons and turn-offs!
Virgo woman turn-ons: being sophisticated, classy and a little bit wacky, needing her, being an adventurous foodie and explorer, hygiene, stimulating conversation about a range of issues, showing interest in analyzing human behavior, valuing healthy living (and practicing it), growing food or being connected to the earth in some way
Virgo woman turn-offs: criticizing or judging her, try to make her the punchline of your joke, flirting with others (even a little bit), having bad taste in clothing, music, food, books, etc., taking her for granted
Dating a Virgo long-term
The Virgo woman has a formal and a traditional side, and she likes to be ceremonial about special occasions.
If she… 
Gets quiet, she's analyzing and observing you, or processing something. Ask her what she's thinking about, she might need to talk.
Doesn't call, it could be a passive-aggressive backlash. You may have offended her and she's letting you figure it out on your own (good luck!). You could call her to find out what you may need to apologize for.
Calls a lot, it means she's into you, and if so, she could talk to you for hours.
Doesn't make a move after a couple of dates, it means she's still analyzing you and making sure she knows you well enough to gain the upper hand. Or she thinks you're fragile and doesn't want to offend or scare you. You could reveal a little more about yourself to build her trust. Or touch her slightly to signal it's okay to make a move.
Doesn't make a move after a few weeks, it means she's scared you'll break her heart. Ask yourself if she's right.
Moves fast, it means she wants to lock you in as her next monogamous partner. Move at your own pace (she's cool with that).
Gives you gifts, it means she's considering you as a long-term partner. She usually likes to go Dutch on things, so don't read anything into that or talk about where you're coming from when it comes to paying for things, especially on dates. She is used to being taken for granted and doesn't want to felt she's being taken advantage of.
Introduces you to her family and/or closest friends, it means she's soliciting their opinions. Think of the meeting as an audition. Follow her lead, she wants to feel in control of the interactions for the first impressions.
Compatibility with a Virgo woman, by zodiac sign
If you're an… your common language is:
Aries: fussy habits, picky appetites
Taurus: food, wine, fussy taste or culture, budgets
Gemini: books, music, ideas, conversation
Cancer: family, food, nesting, financial security, living happily ever after
Leo: family, children, tradition, health and fitness, hard work, old fashioned romance and religion
Virgo: health, hygiene, family, kids, low-key living
Libra: music, art, long conversations, food and wine, taking your time to finish a project, having a critical eye
Scorpio: analyzing everything, obsession with control and details
Sagittarius: philosophical conversations, clever jokes, marveling at your own intelligence
Capricorn: tradition, friendship, family, habits and just about everything
Aquarius: sex, love of animals and kids, instant attraction that could devolve into fiery wreckage
Pisces: health, healing, compassion and spirituality
Famous Virgo women and female celebrities
Beyoncé, Lea Michele, Zendaya, Catherine Paiz, Cameron Diaz, Blake Lively, Pink, Sommer Ray, Jenna Marbles, China Anne McClain, Shania Twain, Lilly Tomlin, Amy Poehler, Mary Shelley, Agatha Christie, Melissa McCarthy, Jennifer Hudson, Amy Winehouse, Salma Hayek, Rose McGowan, Jada Pinkett Smith, Zendaya, Michelle Williams, Lea Michele, Joan Jett, Foxy Brown, Keke Palmer, Lili Reinhart, Pia Mia, Rachel Bilson, Shannon Elizabeth, Gloria Estafan, Padma Lakshmi, Evan Rachel Wood, Taraji P. Henson, Emmy Rossum, Alexis Bledel, Holly Robinson Pete, Sanaa Lathan, Nicole Richie, Lily Tomlin, Rosie Perez, LeAnn Rimes, Greta Garbo, Coco Rocha, Lauren Bacall, Twiggy, Claudia Schiffer, Sophia Loren, Raquel Welch, Pippa Middleton, Sheryl Sandberg, Rachael Ray, Faith Hill, Ricki Lake, Stella McCartney
See our Love Matcher for more on the compatibility of your zodiac sign with others, here: https://astrostyle.com/love-matcher/
Never miss another important date! Have your free monthly horoscope delivered to your inbox. Join our mailing list for VIP invitations, earlybird access, monthly horoscopes and much more. Subscribe >
Photo credit: Anna Baker via Unsplash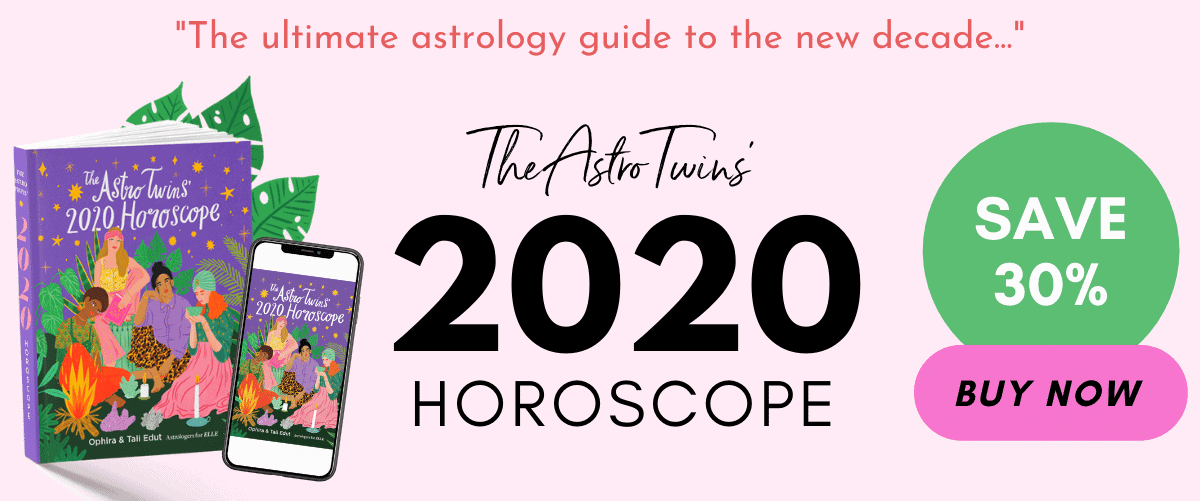 Pin
Praise for The AstroTwins
"Priceless information about yourself and your business that is both grounded and inspiring. Their intuition is off the charts and they've become one of my 'secret business weapons'. I cannot recommend them enough!"
—Marie Forleo, Founder of Marie Forleo's B-School
"The AstroTwins are my go-to guides for astrology. Their knowledge is incredible and their intuition is always spot on! I check in with them monthly for her guidance and support."
—Gabrielle Bernstein, Author of Spirit Junkie
"I'm a corporate type who thinks astrology readings are for parlor games. However, as I followed The AstroTwins' horoscopes, I found them uncannily accurate. Although I can't explain it, their readings have been laser accurate and provided profound insight.  They have been totally right about business, medical issues and relationships. The AstroTwins' approach is anything but a parlor game."
— Linda, Executive Coach and Professor, Virgo
"I've been a follower of the AstroTwins for years first through Elle.com, and then directly through their site. Their intuition and timing is always spot on! Their insight has allowed me to time decisions and transitions perfectly, both personally and in launching my company. Business, life and love—they're my go to gals!"
—Nicole, Paleo Coach and Chef
"The AstroTwins' book (Love Zodiac) is among my favorites. As a fellow Sagittarius, they are so positive and they always open my eyes to my many wonderful options and the fact that I have much to be grateful for."
—Sonja Tremont-Morgan, Real Housewives of New York City
"If you pay attention, you will get some very valuable information to help guide your path.  I have recommended The AstroTwins to many friends who all thank me. You will too!"
—Rochelle Schieck, Founder of Qoya