Express yourself this Leo season with a zodiac-inspired meditation from psychotherapist Terri Cole.
The bold Sun is in live-out-loud Leo, the zodiac's second fire sign ruled by the blazing Sun. Leo season connects us to our higher selves. RAWR!
All the world's a stage during Leo season, as the show ponies and theater geeks among us embrace the spotlight. Pitch, perform, present! Whether you embrace a fierce AF style upgrade, dive into your creative gifts or flaunt your magic so the world can see what you're really made of, this confidence-boosting solar cycle wants us to showcase our offerings, through shameless plugs or the good 'ol humblebrag.
The downside of this fiery phase? Ego trips. Keep a proverbial lion's paw planted on planet earth to avoid losing touch with reality. This guided meditation for Leo season can help us with that. It can also rekindle the flame of our most heartfelt passions.
Relax, Relate with this Leo Season Meditation
Leo rules the heart and spine. This meditation is about having a "spine" and speaking your truth.
This Leo season meditation is eleven minutes in length. Listen as Terri Cole helps you focus on how to be courageous and authentic instead of "nice."
To begin:
Find a quiet, private nook or set up a space that feels sacred to you, indoors or out.
Optional: rub a calming essential oil onto your temples or palms, light a scented candle or plug in an aromatherapy diffuser.
You may want to keep a journal closeby to record any inspirations that arise during your meditation.
Then, simply press play, and enter the "Zen Den" with Terri.
Allow her soothing voice and words of wisdom to ground you in stillness.
(Later: put energy on speaking truthfully!)
Photo credit: Nabi Tang from Stocksy
---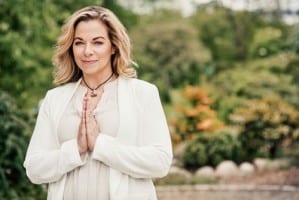 Pin
Terri Cole is a licensed psychotherapist, transformation coach, author, speaker and meditation teacher. For almost two decades, Terri has empowered celebrities, professional athletes, and individuals alike through television, radio, her popular TEDx talk (What if FEAR was just a Feeling?), workshops, and a thriving private practice to redesign limiting mental blueprints to create extraordinary lives. Terri's strategies combine practical psychology, Eastern mindfulness practices, and harnessing the power of intention to create sustainable change. Her wicked "tell it like it is" sense of humor and razor-sharp insight combined with deep empathy and understanding gives her a unique ability to reach people and inspire transformation.