Certainty, security, predictability…what the heck ARE those things anymore? Disruptor Uranus has been rocking the boat in methodical Taurus since 2018, making our collective grip on reality shaky. The 2023 Uranus retrograde in Taurus begins August 28. Here's how to minimize the impact while this cycle wages on, until January 27, 2024.
Uranus is the planet of the future. Like a mad scientist in a lab, its role is to break us free from restrictive thinking so we can progress as a society. Like all of the outer planets, Uranus has an annual retrograde cycle that lasts for approximately five months each year.
Uranus retrograde dates: August 28, 2023 to January 27, 2024
Jump to
Surviving Uranus retrograde in Taurus
Uranus is in "fall" in Taurus, meaning it's in its least comfortable position. It makes sense! The side-spinning planet rules all things rebellious and futuristic, while earth sign Taurus is a conservational traditionalist. Uranus wants change, Taurus seeks to limit it and create predictability. That stark contrast will stand out more during the retrograde from August 28 to January 27!
Here are some workarounds for the Uranus retrograde in Taurus:
Check your tech. Technology, which is ruled by Uranus, can be the source of trouble. Devices break down and classified information stored online can be subject to security breaches. The best way to deal? Strengthen your passwords, then step back to reconnect to the analog world.
Pay attention to environmental impact. While Uranus is retrograde in Taurus, cutting-edge developments can slow to a grinding halt. Frustrating as this can be, it's also a chance to take stock of the impact fast-moving innovations have on the natural world that earth-sign Taurus protects. How can we unite science with sustainability?
Increase mindfulness. With the metaphysical planet snoozing, developing mindfulness practices can help you stay alert and aware. Slow down and get conscious about your every move—and your impact! Your interest in community work and activism may blossom as you do.
Honor the analog. With machine learning, smart devices, edge computing and other technologies doing the thinking for us, Uranian developments seem to be far outpacing the abilities
of our Taurus-ruled physical capacities. While ChatGPT might write a half-decent term paper, it can't hold your hand in the literal sense. Step away from your devices more often to cherish the human connection.
Vote with your dollar. Money-minded Taurus rules our material security. While idealistic Uranus backs up through this sign, we have an opportunity to rethink the way we spend our hard-earned cash. While you might have to sacrifice an overnight delivery here and there, how can you support companies that give back to the community and share your values?
You can read more about the Uranus in Taurus transit in our article: Uranus In Taurus (2018-2026): Balancing Progress and Tradition.
Your Uranus retrograde in Taurus horoscope
Below are horoscopes for every zodiac sign for when Uranus is retrograde in Taurus, from August 28, 2023 to January 27, 2024. You can read for your Sun sign or your rising sign (ascendant). Visit our Cosmic Calculator section if you want to calculate your Rising sign or discover more about your personal astrology.
Remember, your scope is for the entire five months of the Uranus retrograde in Taurus. Be sure to follow your daily horoscopes at Astrostyle.com for daily guidance on the stars.
Aries (March 21-April 19)
Mind your wallet, Aries, and go easy on the spending, even if you're using AfterPay. Money could get a little funny between now and January 27, and we're not talking Amy-Schumer-style. On August 28, disruptive Uranus slips into its annual retrograde, backing up through Taurus and your second house of work and finances. Because some unexpected expenses could crop up, plan ahead by cutting back on your spending now. Feeling restless at your current gig? Retrogrades rule the past, so reach out to an old boss or colleague and see if they might have an opening for someone with your unique skill set.
Taurus (April 20-May 20)
If you're pondering a renegade move, Taurus, stop yourself in your tracks! Unpredictable Uranus turns retrograde from August 28 until January 27, and since it's backing up through YOUR sign, you'll want to tone down any bluster before it burns down bridges that need to stay intact.
Before you shoot off that blunt email or send that racy Snapchat, think through possible ramifications. When in doubt, do: nothing! Steamrolling ahead is not your best strategy for the next five months of the Uranus retrograde in Taurus. Better to retreat a little and reflect on your grander goals. With tech-savvy Uranus off-course, update the security settings on your apps and consider a home VPN to guard your sensitive data against a hack.
Gemini (May 21-June 20)
Slow down and turn inward? We realize that's not the usual speed for you, Gemini, but as high-minded Uranus turns retrograde in your twelfth house of introspection from August 28 until January 27, your psyche is the most interesting "venue" in town. Some Twins will use the Uranus retrograde in Taurus to deepen their meditation practice or work on their volume of poetry.
If you've been veering into any self-destructive habits, it's time to make a U-turn before the retrograde pulls you further off the wagon. The happiness you seek isn't found at the bottom of a martini glass—or in the arms of a part-time lover. Instead of self-medicating, turn to therapy, coaching or energy healing to strengthen your inner resolve and find long-lasting happiness.
Cancer (June 21-July 22)
We don't usually have to tell an intimate Cancer to tighten up the radius of your inner circle. But that advice is especially salient beginning August 28 as volatile Uranus turns retrograde in your collaborative zone until January 27. While you love people who wear their hearts on their sleeves (no guesswork for you!), you can also get swept into the role of the rescuer, clocking hours as their unpaid "therapist." Over the next five months of the Uranus retrograde in Taurus, back off from people who continually self-destruct while refusing to change their own harmful behavior. Meanwhile, reconnect with a soulful squad who can help you elevate. You are influenced by the company you keep!
Leo (July 23-August 22)
You've been charging full speed ahead at work, Leo, but when's the last time you stopped to consider whether you're still interested in those same goals? Progress-driven Uranus turns retrograde in Taurus, temporarily slowing progress in your tenth house of career, August 28 until January 27.
Over the next five months, seriously review where you're headed—and whether you still like that destination! Don't stay the course during the Uranus retrograde in Taurus just because you've invested time in it. Better to revamp your long-term strategy and shift gears now than waste more precious time. Love your work? Research technology and AI that can help you work smarter, not harder.
Virgo (August 23-September 22)
You're the zodiac's uncompromising realist, Virgo, but even you can float into the clouds sometimes. Bring it back down to earth beginning August 28 as innovator Uranus spins into its annual, five-month retrograde. As the celestial thought leader backs up through your ninth house of study, travel and entrepreneurship until January 27, you might take one of your big ideas back to the drawing board for a serious review.
Retrogrades are an opportunity to refine your strategy and adjust course if it's warranted. You may decide to go back to school, explore new territory or brush up on some technical or marketing skills. Got a book or essay to write? The heady Uranus retrograde in Taurus can give you the discipline to finally sit down and pour your ideas onto the page.
Libra (September 23-October 22)
Get ready to process some Big Feelings, Libra, Uranus spins into its annual five-month retrograde on August 28, putting you in a philosophical groove until January 27. And because it's moving backward through Taurus and your eighth house of intimacy and strong emotions, one or two personal relationships could be the focus of your emotional excavation.
You've been keeping it together admirably, but in the weeks ahead, a tsunami of suppressed feelings could sweep you away. What you DON'T want to do is unleash a torrent of anger, jealousy or possessiveness on your S.O. or a close friend. Keep a journal in your bag—and your supporters on active DM threads! Think of the pain you feel as a cloud cover. The sunlight is still there, you just have to wait for this to blow over in order to see it.
Scorpio (October 23-November 21)
Fasten your seat belt, Scorpio: Relationships are going to get a little bumpy over the next five months as volatile Uranus turns retrograde in Taurus, August 28 until January 27. As the disruptive planet backs up through your seventh house of partnerships, you may find it challenging to get on the same page as the people you share your life with. More frustrating? The choppiness could come out of the blue, like a squall you didn't know was brewing.
But don't panic! Though the Uranus retrograde in Taurus won't be fun or easy for your deeply sensitive sign, it will shine a light on issues that need attention. A dispassionate approach is necessary to get through the storms. Plan to call timeouts regularly and don't attempt to sort out conflict in the heat of the moment.
Sagittarius (November 22-December 21)
Do your very best to get stress under control, Sagittarius, even if that means becoming a meditation devotee. Erratic Uranus turns retrograde in Taurus, flowing back through your systematic sixth house from August 28 until January 27. Work will be busy and demanding, but if you don't have a solid structure in place for staying on top of the flow, the details alone could do you in.
Rule No. 1: don't try to keep everything in your head. Get some good tracking apps—or assistants—and share the workload. Be aware that normally dependable helpers might drop the ball during the Uranus retrograde in Taurus transit, so when something is super-important, make sure you have a Plan B lined up.
Capricorn (December 22-January 19)
Fame or notoriety? When disruptive Uranus turns retrograde in your fifth house of drama on August 28, it might be hard to tell where that line should be drawn. Under normal circumstances, you're not a diva, but with this chaotic planet in reverse until January 27, you might not realize that your demands are making things difficult for others.
Your best Rx for these next five months of the Uranus retrograde in Taurus is regular decompression. Spend time doing YOU, and delve into a cathartic creative outlet. You won't be able to switch off your love light, but keep it dim enough so you don't attract any energy vampires.
Aquarius (January 20-February 18)
Home sweet…headache? Disruptive Uranus turns retrograde in Taurus and your domestic fourth house, August 28 until January 27, stirring up some good ol' family drama. With your ruling planet off duty for five months, try not to fan the flames by bringing up ancient (and should-be-buried-by-now) issues. If there's an unresolvable problem—especially with a relative or roomie—let it be. Distract yourself and redirect your attention to things you can control. How about a little bedroom makeover—or an earnest search for your own space?
Pisces (February 19-March 20)
Open mouth, insert bejeweled flip-flop? If you don't want to wind up eating your words (let alone your footwear), think long and hard before you speak, Pisces. With disruptive Uranus turning retrograde in Taurus and your communication house from August 28 until January 27, your teasing jabs could hit below the belt. Friends, coworkers and siblings may put more demands on your time during the Uranus retrograde in Taurus, and you'll need to set clear boundaries. But consider that your independent nature might also come across as a little "my way or the highway." Work harder to cooperate—and don't just preach at people. Ask questions and listen.
Want more? Here's your Uranus in Taurus deep dive
Uranus is considered a generational planet because of its longer transit span. It shapes the mindset of an entire age group, influenced by the zodiac sign it visits.
The astrological rulership of Taurus includes money, work, material objects, security, farming, the food supply, the arts and music. From cashless transactions to green energy to the post-pandemic WFH movement, Uranus already has given many of its realms extreme makeovers.
Uranus in Taurus is an "uncomfortable" position
When the planet of rebellion cruises through conventional Taurus, it's in its least comfortable position, astrologically speaking. Uranus is in "fall" in Taurus. Put simply:
Uranus rules all things rebellious and futuristic and wants change.
Taurus seeks to limit change and create predictability. Earth sign Taurus is a traditionalist.
Unconventional Uranus pushes for radical evolution and progress, while nostalgic Taurus upholds time-tested traditions, resisting change at every turn. Definitely a mismatch!
If this kinda stresses you out, there is good news: We are past the halfway mark of the Uranus in Taurus transit! We now have a more clear-eyed view of this transit's impact on the world.
Until 2026, we are tasked with resolving this planetary paradox: Can we create much-needed progress without erasing timeless traditions that still hold value and utility? But first, let's get through the Uranus retrograde in Taurus.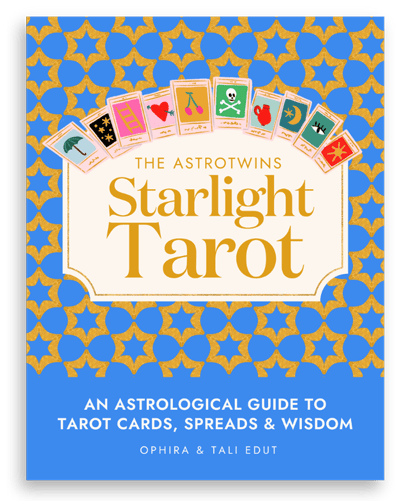 An Astrological Guide to
Tarot Cards, Spreads & Wisdom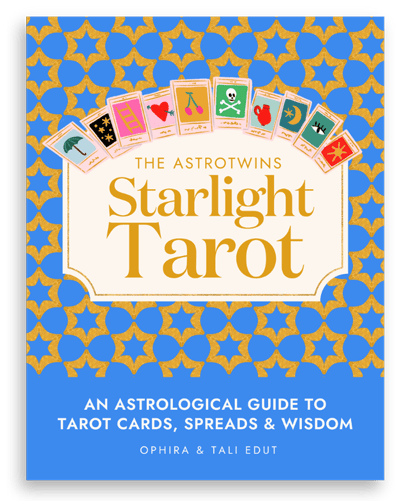 The AstroTwins bring your Tarot journey to life with Tarot spreads, history and empowering guidance.
Get the starlight Tarot