Summer lovin' heats up so fast, thanks to the Venus in Leo transit from June 5 to October 8, 2023! The romance planet luxuriates in this theatrical sign for four months (instead of its typical four weeks) and here's why: Venus is retrograde from July 22 to September 3. Brace yourself, 'cuz Leo's "lights, camera, action" energy could spin your fairy tale into a dramatic soap opera in the blink of an eye. Uh, wherefore art thou, Romeo? Check your Venus in Leo horoscope!
The Venus in Leo transit is June 5 to October 8
Venus struts into glamorous Leo on Monday, June 5, draping summer's cosmic catwalk in eye-popping colors and sexy, sequined sizzle, until October 8.
Colossal courtships are on Cupid's menu—and not just for a night or two. The love planet lounges in Leo for an extra-long, four-month showcase instead of the usual four weeks. The reason for this extended visit, however, might not be your favorite announcement…
Venus is retrograde in Leo from July 22 to September 3
Venus retrograde is a disruptive cycle that occurs every 18 months. Love could imitate art while Venus retrogrades through Leo from July 22 to September 3—but this may not be a "midsummer night's dream." In the sign of the fiery, dramatic lion, affairs of the heart could feel more like an immersive theater performance. Or maybe a three-ring circus!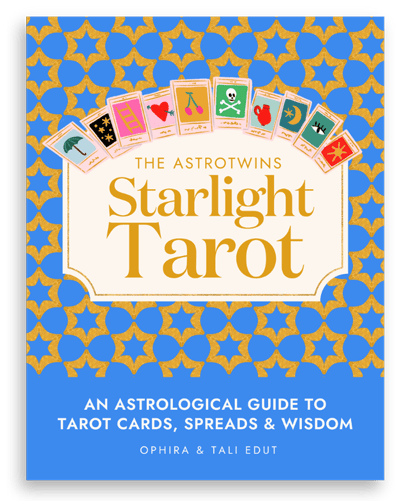 An Astrological Guide to
Tarot Cards, Spreads & Wisdom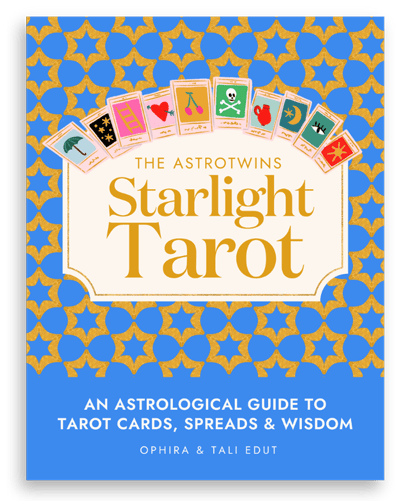 The AstroTwins bring your Tarot journey to life with Tarot spreads, history and empowering guidance.
Get the starlight Tarot
What happens during a Venus retrograde?
Every 18 months, Venus turns retrograde, a cycle that has its pros and cons. On the plus side, these "review periods" can help us cool down and reconfigure any messy parts of our love lives. Couple's therapists will be busy this summer!
Careful though: A Venus retrograde can exhume ghosts of relationships past…or provoke sudden ghostings just when connections are heating up. Long-lost lovers may reunite but struggle to find their footing when it's time to produce an actual "sequel."
How can I make the most of Venus in Leo?
By all means, enjoy the dopamine rush of attraction! There will be plenty of high-key opportunities for romance this summer, as you'll read in your Venus in Leo horoscope later in this article. Dates can be epic and enjoyable events, lasting for hours with more stops on the itinerary than a Manhattan bar crawl. But wait until Venus corrects course on September 3 before cementing anything super new.
What to listen to while Venus is in Leo!
Try our curated playlist, curated by our in-house DJ, Astralselector, on The AstroTwins's Spotify
What challenges can I expect during Venus in Leo 2023?
When Venus struts through scene-stealing Leo, we'll all want attention in megadoses. But when our friends, family and lovers can't give it, look out! Tantrums can get reality-show ugly. Plus, who is going to play the role of the cheering supporter?
The big challenge this summer is remembering that love is a two-way street. Nothing wrong with wanting to be cherished and adored, but if you treat your date like the on-demand president of your personal fan club, things could take a nasty turn. Remember to step back and share the limelight! Helping others shine is so rewarding.
And, uh, how about that Venus retrograde?
Although the word retrograde may strike fear into your heart, this can be a productive time! Think of the July 22 to September 3 Venus in Leo retrograde as a personal 40-day "reset" period.
A retrograde is a welcome opportunity to:
– Reawaken slumbering desires
– Get crystal clear about what you really want and need in love
– Say any necessary goodbyes
– Clear the decks for a brand new, 584-day cycle in your love life!
Competition could get fierce during the Venus in Leo retrograde. Get ahead of the curve by working through any brewing lovers' quarrels now.
Here's something to distract you from the drama. Use the summer to refresh your personal branding! Venus is a design star, so make sure your visuals are on-point and send out the right message to the world (read sign-specific tips in your Venus in Leo horoscope below)!
Here's a Venus in Leo horoscope for every zodiac sign!
Below are horoscopes to help you navigate Venus in Leo relationships during:
– The entire Venus in Leo transit (June 5 to October 8)
– Its disruptive retrograde (July 22 to September 3)
Aries (March 21-April 19) Venus in Leo horoscope
Your passions get a next-level reboot starting June 5 as vixen Venus struts into flamboyant Leo and your ardent fifth house—an extended cycle that lasts until October 8. Reinstate classic rituals, like dressing up for dinner or hand-writing love letters. (And don't be shy about PDA.) The fifth house rules fame and glamour, which could turn Rams into public figures—especially while your ruler, make-it-happen Mars co-pilots through Leo until July 20. Take heed: Lovers' quarrels could get fierce while Venus is retrograde from July 22 to September 3, which is even MORE reason to get obsessed with a creative distraction.
Going deeper on the Venus retrograde, for Aries: If life (and love) imitates art, things could get downright Shakespearean for you during this retrograde—at least if you let your tempestuous emotions spiral out unchecked. Rein in competitive urges and remember that beauty is more than skin deep. Focus on what lies below the surface and discover chemistry that bubbles beyond looks and style alone. Yes, the physical attraction matters, but so does the emotional, mental and spiritual connection.
Taurus (April 20-May 20) Venus in Leo horoscope
Your ruler, peace-seeking Venus, settles into Leo and your domestic quarters for an extended stay, June 5 to October 8. While this lends cozy vibes to your romantic life, shared space could feel too close for comfort while Venus spins retrograde from July 22 to September 3. With your nesting (and nest-feathering) instincts dialed up, what little tweaks can you do to make home feel like a sacred space? Clear clutter, hang fresh art, create a meditation altar in a quiet, private corner. Over the next four months of the Venus in Leo transit, staying IN for chill time might be your idea of a perfect date. Slow down and give the family-oriented type a chance to woo you.
Going deeper on the Venus retrograde, for Taurus: The magic happens behind closed doors, but you can't rely on the same old charms to cast a spell. Sharing tender emotions will be necessary in order for you to bond. You need to feel safe opening up…and heard. Trouble is, you may forget the old maxim that timing is everything. And don't forget that it goes both ways: Make sure you're an equally compassionate listener to others. Cohabitation initiatives could stall; or, if you live with your love, you may need to reconfigure your floor plan so you both have the space you need.
Gemini (May 21-June 20) Venus in Leo horoscope
How ideal Gemini! Your sapiosexual side gets fired up as love planet Venus swoops into Leo and your expressive third house for an extra-long visit, June 5 to October 8. Attractive "window dressing," is a turn-on for your style-conscious sign, but more importantly, you'll be drawn to eloquent people with well-formed opinions. This Venus in Leo cycle, which includes a potentially disorienting retrograde from July 22 to September 3, can ultimately help YOU articulate what's in your own heart. Attached Twins can bolster bonds with lots of playtime and a co-created summer project.
Going deeper on the Venus retrograde, for Gemini: Hold your fire—and your tongue! And your social rants! Every word counts while Venus is retrograde in your communication sector. Brace yourself: Resentment, suppressed feelings and other ignored needs could bubble up, and you need to get all those feels out of your system.
This raw material is NOT the best fodder for a public post, so scribble in your (locked) journal instead of unleashing a hashtag-laced diatribe. If you let yourself cool down, then talk it through AFTER, new ways of cooperating could emerge. You may also discover an attraction with someone who was formerly in the friend zone. Explore! The common ground you share could be a great foundation for love.
Cancer (June 21-July 22) Venus in Leo horoscope
Amorous Venus leaves your sign (sniff) June 5, which is always bittersweet. But here's some news you'll like hearing: For the coming four months of the Venus in Leo transit, love gets a "security update" as the planet of amour grooves through your second house of sensuality and security. If you've grown tired of texting three "meh" connections, clear the decks to create space for a person who DOES light your fire. Even if it starts off virtually—and stays that way longer than usual—you could find someone with keeper potential between June 5 and October 8.
Attached? Sprinkle in lots of romantic flourishes, like making special playlists and organizing weekend beach getaways. Note: The love planet will be retrograde from July 22 to September 3, so try to make your boldest moves before or after those dates.
Going deeper on the Venus retrograde, for Cancer: Vagueness breeds contempt during this Venus retrograde, so spell it out and leave no doubt. Make sure you're giving people the clearest signals possible. Insist on straight answers from others in your life. You may suddenly realize that you want a more traditional dating arrangement instead of keeping things casual.
Money matters could become a hot (and charged) topic for couples. Deal with other brass-tacks issues, like coordinating schedules and figuring out who is handling responsibilities around the house. Putting a weekly date night—or singles mingling night—on the calendar can keep you in a romantic groove.
Leo (July 23-August 22) Venus in Leo horoscope
Get ready for a social and romantic summer, Leo! June 5's stars kick off a provocative four-month cycle that puts you in your flamboyant element. Love planet Venus swaggers into your sign and amplifies your charm and magnetism. Use your imagination liberally as you flirt, super-connect and get your work into the zeitgeist. If anyone's up for the task, it's you, Leo—and you have four times the usual amount of visitation rights with Venus. La love planet is hanging out in Leo until October 8. Caveat: This includes a low-power retrograde from July 22 to September 3. Do your level best to smooth over relationship tension before then!
Going deeper on the Venus retrograde, for Leo: As RuPaul says, "If you can't love yourself, how the hell you gonna love someone else?" This Venus retrograde is all about pumping up the adoration for the person in the mirror: you! Practice radical acceptance, embracing the skin you're in and banish negative self-talk from your lexicon. Have you prioritized the needs of your romantic interest over your own? Reclaim your time! Have you allowed others to critique your appearance or weigh in on your personal passions? Put a stop to that. Listen to YOUR heart and adore numero uno. In the process, you'll teach the world how to treat you right!
Virgo (August 23-September 22) Venus in Leo horoscope
Long hammock naps could officially become your thing starting June 5 as pleasure-planet Venus nestles into your restorative twelfth house until October 8. If your heart needs healing, devote this extended cycle to processing grief and crystallizing the lessons. Warning: The love planet spins retrograde from July 22 to September 3, making it hard to discern fantasy from reality. If you find yourself falling for someone, go slow and make sure their words align with their actions. Coupled Virgos will benefit from a shared spiritual practice or sessions with a counselor to improve relationship dynamics.
Going deeper on the Venus retrograde, for Virgo: Fantasy or reality? Unnecessary drama or a legit concern? You may struggle to discern during this Venus retrograde. Take off the rose-colored glasses when your instincts are screaming, "red flag!" That said, your suspicious mind could spiral out of control as old hurts come up to be healed. Swaddle yourself in empowering support: therapy, group healing, soulful/spiritual counsel. You could finally get to the source of past pain. Setting clear boundaries may be tough—but start practicing! Saying yes and no honestly (instead of waffling or people-pleasing) will keep relationships intact.
Libra (September 23-October 22) Venus in Leo horoscope
If you're looking for love, the best way to find it over the coming four months is to stop searching so hard! Romantic Venus, your celestial champion, beams into Leo and your friendly, experimental eleventh house. When you are relaxed and having fun, you present the best you—and you may be surprised by the array of interested parties you attract. Dating apps could be rewarding, so give 'em the old tap and swipe.
But take heed: This extended Venus in Leo cycle, which lingers until October 8, includes a challenging retrograde from July 22 to September 3. Old flames could return, but their longevity may be questionable.
Going deeper on the Venus retrograde, for Libra: Too close for comfort? During this retrograde, you may feel resistant to intimacy, preferring to hang in a group setting instead of dealing with the intensity of one-on-ones. But a promising connection could seriously cool off if you distance yourself, arousing jealousy and anger in your partner. Digital dating can be a crutch. Stop hiding behind that screen name and test connections in real time. You don't want to string people along or lead them on, so if you're not looking for anything serious, be transparent about it from the jump.
Scorpio (October 23-November 21) Venus in Leo horoscope
Summer vacation plans could evolve into something more along the lines of a "work-cation," but that won't bother you! Enchanting Venus shimmies into your career corner, flooding you with divinely inspired downloads for your professional life.
For the coming four months, be fluid, nimble and imaginative as you find your fortune. And since Venus IS the love planet, Scorpios could meet their match at a work function or have fun power-coupling with your S.O. The planet of radiance and connection will hover here from June 5 until October 8, which is four times its usual duration, thanks to a retrograde from July 22 to September 3. Embrace the process and be patient with yourself as you test and try new things.
Going deeper on the Venus retrograde, for Scorpio: While the future is fun (and important) to plan, this retrograde could make you uncharacteristically goal-oriented in love. Be honest with yourself: Are you trying to achieve some societal ideal or operate according to someone else's timeline? Dial down the pressure or let things flow organically. By the same token, don't allow yourself to be strung along. If someone keeps forcing you to play the waiting game, you may realize that it's time to bow out and get your kicks elsewhere. Coupled? Aligning on shared goals could require some deep compromising. Begin unpacking this but be patient with the process.
Sagittarius (November 22-December 21) Venus in Leo horoscope
Love is in the air—and that stretches across the planet! Even if you're itching to act locally, you're encouraged to make an impact globally as charm-agent Venus grooves into innovative Leo and your worldly ninth house (AKA the Sagittarius house) from June 5 until October 8. How can you use technology to expand your reach? If you have something to teach, the Venus in Leo transit is the time to learn how to create an online course. Attached? How about doing some virtual learning together? Anything from tantric massage to terrace gardening will do.
Going deeper on the Venus retrograde, for Sagittarius: Honesty is the ONLY policy during this Venus retrograde. Avoid secrecy—or even telling half-truths because you're afraid of the "consequences" or perhaps, hurting someone's feelings. Though timing is everything when it comes to your revelations, Venus' backspin can help you get nakedly honest with the one you j'adore—and also, allow others a safe space to get real with you. If single, give priority to people who lay all their cards on the table. The mysterious types will drain you and leave you obsessing.
Capricorn (December 22-January 19) Venus in Leo horoscope
The urge to merge heats up starting in 3, 2, 1…On June 5, fervent Venus swan-dives into Leo and your zone of eroticism and intimacy for an extended cycle that lasts until October 8. Whether you're in close proximity or long distance, you'll still be in your seductive element. Keep your discernment filters high while Venus is retrograde from July 22 to September 3. Couples should find time over the next four months to talk about their hopes for a shared future. Some big steps might be around the corner. During the retrograde, you have a golden opportunity to clear up issues piling up under the rug.
Going deeper on the Venus retrograde, for Capricorn: Pay attention to jealousy, competitive urges or possessiveness—and don't act upon these feelings in the heat of the moment. Try to use envy as a compass that is pointing to an unexpressed need or desire. Then, instead of getting angry, see if you could ask for it in a playful (and sexy!) way. Seduction is the art form to hone now, and pillow talk could get spicy! How you share—and merge—resources could come up for review. Make sure everything is fair and out in the open.
Aquarius (January 20-February 18) Venus in Leo horoscope
Juicy news for your love life, Aquarius! On June 5, vivacious Venus embarks on a four-month circuit through Leo and your seventh house of committed partnerships. While romantic relationships get a burst of momentum, this transit could also jumpstart a creative venture. Tend to budding synergies and watch what blossoms.
Bookmark this, Water Bearer: From July 22 to September 3, Venus spins retrograde. A love interest from your past could return to your orbit. Been struggling with your S.O.? This six-week timeout will force you to deal with the tension for once and for all.
Going deeper on the Venus retrograde, for Aquarius: This Venus retrograde can teach you the meaning of being a true partner. You always go out of your way to listen to other people's input, but how about sharing your own more readily? Notice where you're being overly accommodating rather than stating your tastes, preferences and desires. You don't have to wait for permission; in fact, this quality information can help your love interest feel greater confidence in pleasing you. An attractive "opposite" could captivate your attention, even if they failed to woo you before.
Pisces (February 19-March 20) Venus in Leo horoscope
When you feel good, you look good—AND you do some of your best work. So when radiant Venus bounds into Leo and your wellness sector beginning June 5, get ready to implement new self-care rituals. Yes, summertime's almost here, but try to think of hand-dipped cones and frozen margaritas as treats rather than food groups. Venus here helps you make conscious decisions to replace the energy-zapping habits (endless social media scrolls) with life-affirming ones (heart-pumping evening strolls). This also helps keep stress at bay—which will be extra essential for relationship health while Venus is retrograde from July 22 to September 3.
Going deeper on the Venus retrograde for Pisces: Bring the spirit of wellness into your relationships. We've heard of clean eating—how about clean dating? What would happen if you kept everything real and transparent from the get-go? Or had clean, honest communication with your S.O.? Aim for clarity and transparency. If your relationship needs a seasonal cleanup, get all those unspoken issues onto the table. And while you're at it, delete the distractingly toxic exes, ghosters and game players from your profiles and contact lists. This is a great time for a couple's health kick. Buddy workouts, anyone?
A Venus in Leo soundtrack
Here's a soundtrack you can enjoy for the Venus in Leo transit, compiled by Astrostyle's resident mixologist, Jennifer Newman, AKA Astralselector!
Where will Venus be next in 2023?
After the Venus in Leo transit and Venus retrograde 2023, Venus is in:
– Virgo, beginning October 8
– Libra, beginning November 8
– Scorpio, beginning December 4
– Sagittarius, beginning December 29
Read more about Venus
Cosmic Calculator: Where's My Venus Sign?
Venus Signs: Were Your Born Under A Morning Or An Evening Star Venus?
What zodiac sign is your relationship?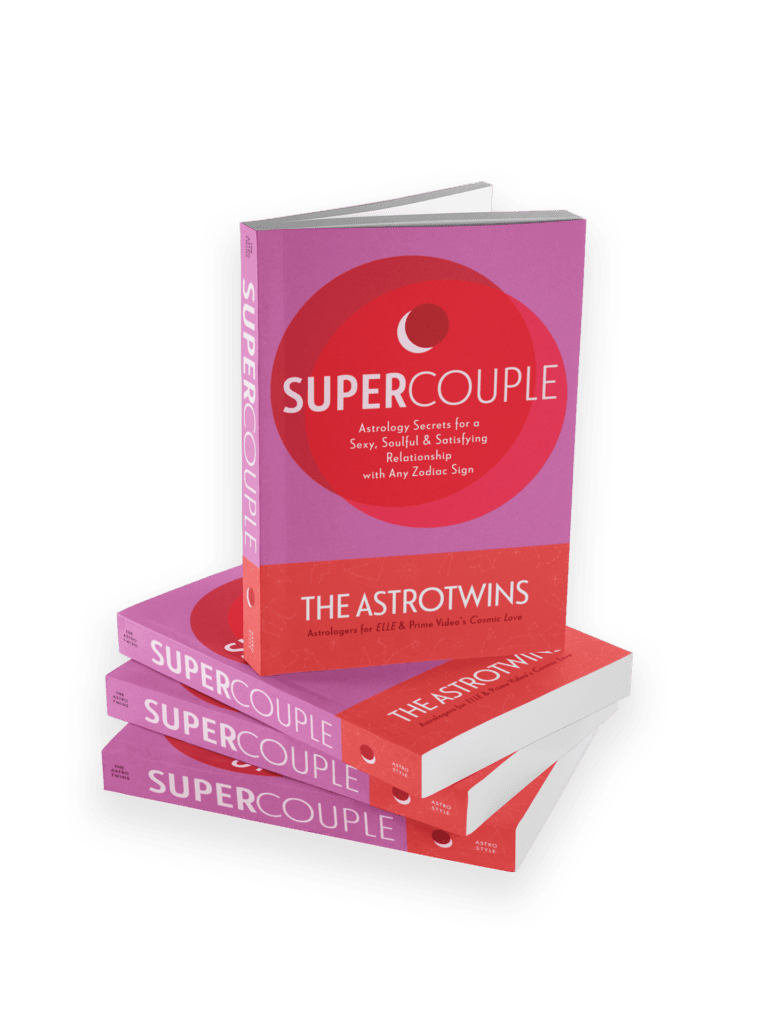 What zodiac sign is your relationship?
Learn the secrets of the composite (blended) chart in SuperCouple, a cosmic care and feeding manual for any relationship. Written by The AstroTwins, astrologers and matchmakers for Amazon Prime Video's Cosmic Love.