Stay calm and curb your inner micromanager with this Virgo season meditation from psychotherapist Terri Cole.
Virgo is the masterful helper of the zodiac, the star sign that teaches you to serve, do impeccable work and care for the planet. As one of the three earth signs, Virgo is an adaptable, intellectual mutable sign. This cosmic energy inspires discovery, especially when it comes to new healing techniques that are practical and eco-chic.
Ruled by buzzy, articulate Mercury, this analytical star sign gets our brains firing on all pistons. The big ideas we dreamed up in Leo season start to crystallize into a plan. The only trouble? This can shift us into overthinking, overdrive.
A Virgo season meditation can help you slow down
During this zodiac season, it's essential to capture moments of stillness where you can. To slow down, get grounded and shake off stress. That way, you can be of service to the world—one of charitable Virgo's favorite things!
This guided meditation will help you get centered and receptive. so you can delegate and create space for other people to add value to your life. It's a give and take…that's how you stay in the flow. 
Relax, Relate with this Virgo Season Meditation
This Virgo season meditation is 11 minutes in length. To begin:
Find a quiet, private nook or set up a space that feels sacred to you, indoors or out.
Optional: rub a calming essential oil onto your temples or palms, light a scented candle or plug in an aromatherapy diffuser.
You may want to keep a journal closeby to record any inspirations that arise during your meditation.
Then, simply press play, and enter the "Zen Den" with Terri.
Allow her soothing voice and words of wisdom to ground you in stillness.
(Later: be able to say "thank you!" and "yes, please" and "I appreciate your help!")
Photo credit: Sergey Filimonov via Stocksy
---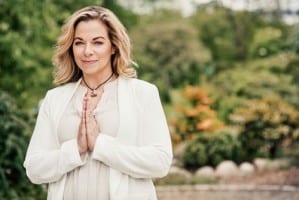 Pin
Terri Cole is a licensed psychotherapist, transformation coach, author, speaker and meditation teacher. For almost two decades, Terri has empowered celebrities, professional athletes, and individuals alike through television, radio, her popular TEDx talk (What if FEAR was just a Feeling?), workshops, and a thriving private practice to redesign limiting mental blueprints to create extraordinary lives. Terri's strategies combine practical psychology, Eastern mindfulness practices, and harnessing the power of intention to create sustainable change. Her wicked "tell it like it is" sense of humor and razor-sharp insight combined with deep empathy and understanding gives her a unique ability to reach people and inspire transformation.