Ophi and Tali explore birth charts, 2023 predictions & astrology with Julie Reisler, host of The You-est You podcast.
The You-est You episode, "What You Need To Know About 2023 With The AstroTwins," can be heard on major streaming services and watched on YouTube (links provided in this article).
The AstroTwins, Ophi and Tali, cover a lot of topics of interest for all zodiac signs, including birth charts, rising signs, and 2023 astrology that affects everyone.
"Astrology is the ultimate permission slip and roadmap," Ophi tells Julie Reisler, The You-est You podcast host. There are two approaches and both are very effective:
1. personal astrology: the deep dive into how you're wired
2. timing/predictive astrology: what's happening this year? what's happening next year? and how it affects us all
The You-est You explores birth charts
Everyone has a unique birth chart, a snapshot of the planets in the sky at the time you were born. Your unique birth chart can be created by knowing the time, date and location you were born. (The You-est You listeners were invited to make one for free at Astrostyle.com/birthchart). Once you know where your planets are, in which zodiac signs and houses, you can learn about your strengths and weaknesses.
"You aren't going to find a neatly put together package," Ophi cautions about birth charts. Instead, "you'll find complexities and contradictions [and] where you're challenged as a person to learn something new to compensate for weakness. You have natural strengths, but [astrology encourages us] not to rely on them at the expense of your own growth.
"It's a cool system to develop consciousness and become a more elevated soul and human."
2023 predictions convo on The You-est You
2023 is the year of "what if?" after 2022's "new abnormal"
2022 was the "Year of the New Abnormal," Tali explains to Julie, and "we're not going back."
In 2020 when the pandemic began, we could say "I can't wait till things go back to normal!" Tali says. But now we know, normal ain't happening!
"We need to adjust, but we don't know what we're adapting or adjusting to," she says.
In 2022, we had to "be with things, sit with things" to process trauma. So, now what? We know we don't want things "the old way."
The AstroTwins are calling 2023, "The Year of What If," which Tali says you can view two ways: you can hand-wring, or, you can ask: what if we did this…
For example, Jupiter, the bountiful planet, will be in Aries and Taurus in 2023. It will be good for money and the economy, Tali says; good news may be coming in, starting in May. A lot of novel ideas and solutions are on the horizon, too.
Plan it by the planets: 2023 astrology hotspots
Check out where all the planets are in 2023 and how you can plan for their energies in our article:
2023 Astrology Forecast: How the Planets Shape Your Life, Love and Money This Year
The AstroTwins reveal 2023 predictions by zodiac sign on The You-est You podcast
Before Ophi and Tali dove into their predictions for the zodiac signs, they highlighted two themes, or things to consider, for 2023:
Mental health: This is the year to seek a therapist or someone professional to support your mental health, if that is needed, versus a "DIY" route or self-care road you may have traveled to this point.
Relationships: This is the year to focus on relationships (the North Nodes moving into Libra). Ask: how do we create partnerships to fit this new world we're in? Tali says we've almost "outgrown" the need for each other. But, what about the beauty of human interaction? Additionally, Venus, the planet of love, turns retrograde in the middle of the summer, which is annoying if you have a wedding planned! In Leo, the most romantic sign, you can use this time to get introspective and write a new love story for yourself. (And if you have a wedding planned, don't call it off! You may want to renew your vows a year later!)
"There's comfort in this," The You-est You podcast host Julie said. "With everything you're saying, there's an opportunity to grow, to learn, to expand awareness, consciousness, and to be connected. We are connected to these planets…there's so much wisdom that was dropped, I feel so full!"
as_toc style="list" title=""]
Aries (March 21-April 19)
2022: Wanted more independence.
2023: It's a year for money and security, achieved through your talents.
Taurus (April 20-May 20)
2022: Released the old, and sought support.
2023: You'll want more independence and freedom.
Gemini (May 21-June 20)
2022: Wanted more community and were more social, may have had a big career year.
2023: Want more solitude, reflection and introspection, and more quality connections.
Cancer (June 21-July 22)
2022: Wanted more achievement.
2023: Move toward more teamwork. You've proved you can be in charge, now learn how to delegate.
Leo (July 23-August 22)
2022: Wanted more adventure, trying things.
2023: Relationships will seek structure. Career-driven.
Virgo (August 23-September 22)
2022: Wanted more connection. May not have been the most exciting year, but learned to say "no!"
2023: Boundaries lead to freedom.
Libra (September 23-October 22)
2022: Partnership evolution. Learned independence.
2023: Learning sense of autonomy but with intimacy. Getting more vulnerable but engaged.
Scorpio (October 23-November 21)
2022: Pushed you '"underground" or into admin, getting routines in order.
2023: Moving toward partnership and companionship, letting people in.
Sagittarius (November 22-December 21)
2022: A mix of being a homebody but fun and glamor.
2023: Show the world your colors again, be out there. Self-care and self-expression.
Capricorn (December 22-January 19)
2022: Wanted comfort and fun on rotation.
2023: Back into excitement. Focus on home and family.
Aquarius (January 20-February 18)
2022: You wanted structure and authority. Got clear.
2023: Opportunity to flex leadership muscles, make new friendships and allow support.
Pisces (February 19-March 20)
2022: You were trailblazing and trying on identities.
2023: Build career path and find kindred spirits.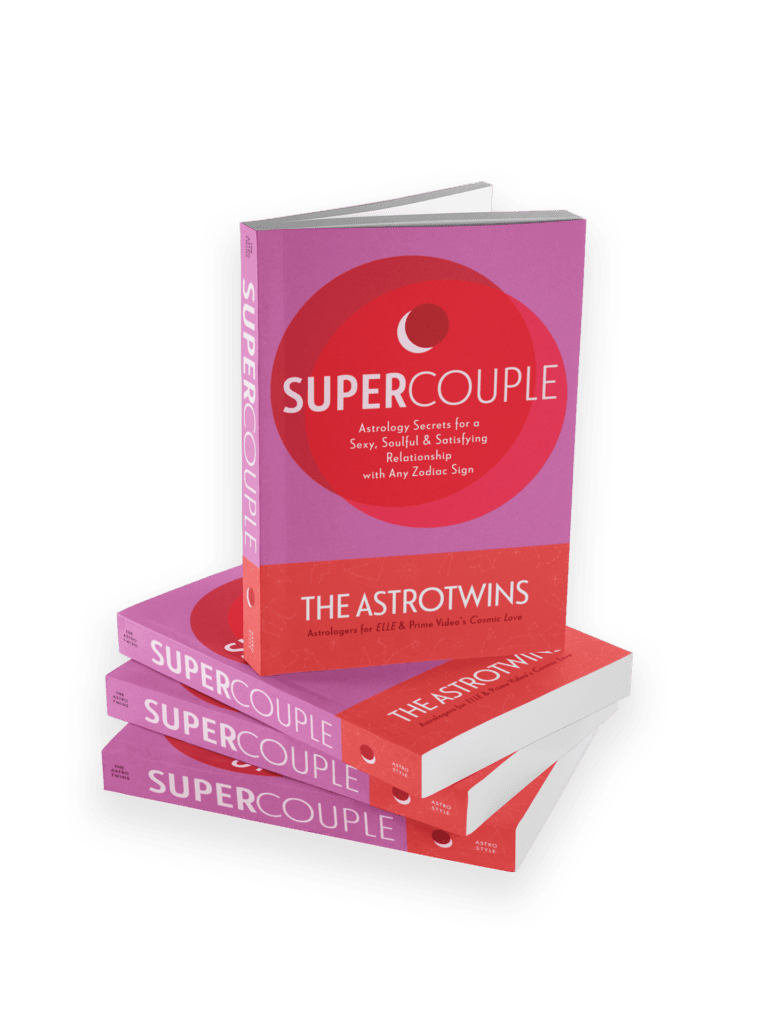 What zodiac sign is your relationship?
Learn the secrets of the composite (blended) chart in SuperCouple, a cosmic care and feeding manual for any relationship. Written by The AstroTwins, astrologers and matchmakers for Amazon Prime Video's Cosmic Love.