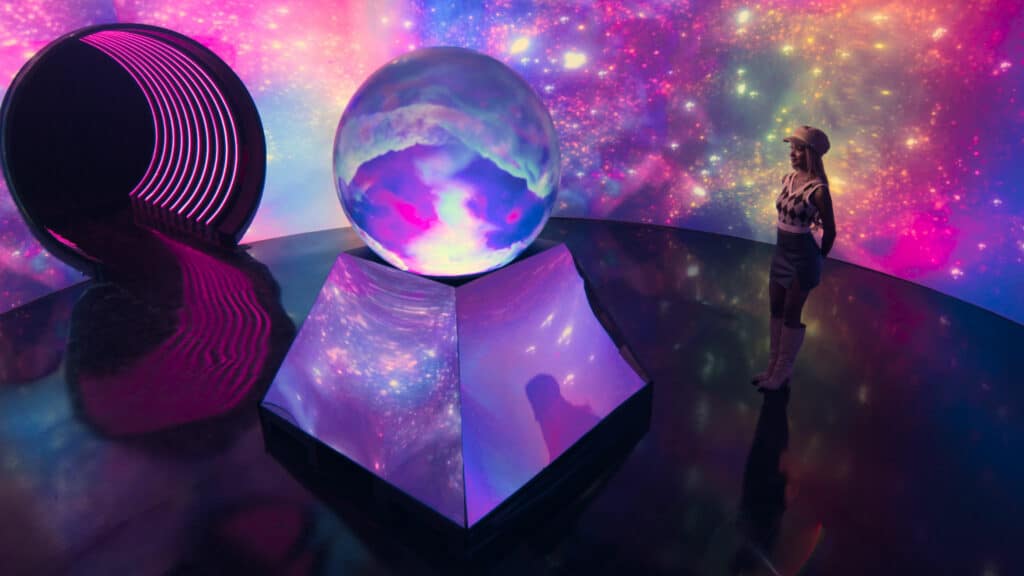 Learn all about The Astro Chamber on Cosmic Love, the Amazon Prime Video series that matches singles based on the astrology predictions of The AstroTwins.
It's one thing to allow astrologers choose your best romantic partner But what happens when that advice is delivered by a glowing orb that lights up with special effects and eerily knows intimate things about you, just by looking at your birth chart?
That's what happens when four single people, one of each astrological element, enter The Astro Chamber.
The Astro Chamber is an ethereal space on Cosmic Love where the four Elements, Connor Shennan (Gemini), Maria Rodriguez (Capricorn), Noel Allen (Pisces) and Phoebe Davis (Leo) go to hear the astrology advice of The AstroTwins.
In the Astro Chamber there's mystical orb that guides the elements/singles on their romantic journey, giving them a new piece of advice each time they visit.
Originally voiced by The AstroTwins, with post-production voiceover by actress Cree Summers, The Astro Chamber synthesizes information from The AstroTwins, who analyzed the birth charts of the 4 main cast members (The Elements) to discover their astrological compatibility with the Cosmic Love cast of potential matches.
The actionable advice heard in The Astro Chamber is used (or not used!) by the Elements as they date and get to know their matches.
Will the advice of astrology match what these hopeful singles feel in their hearts? Find out on Cosmic Love!