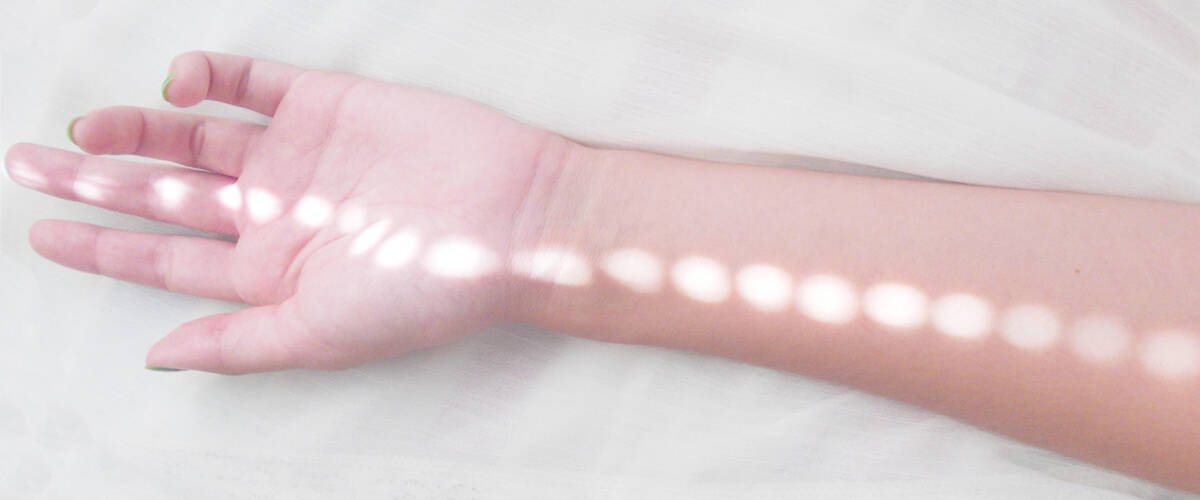 In like a lion…out like a lamb! Eclipse season is already in full swing, with a lunar (full moon) eclipse in fiery Leo that illuminated the skies on February 10, and a Pisces solar (new moon) eclipse arriving Sunday, February 26. But what do eclipses really mean? Here, we explain their powers and benefits.
A lot of fear and misunderstanding accompanies these supercharged moon moments. And indeed, they can bring curveballs or unexpected change. The full Snow Moon eclipse in dramatic Leo marked the first eclipse in a series that falls on the Leo-Aquarius axis until January 2019. Since eclipses can signify endings, it's possible that you've already begun to release yourself from an outmoded situation that no longer serves you. Leo is the star sign of theatrics and passion, while Aquarius errs on the cool and collected—focusing on collaborations over individuality. Towing the line between these two opposing cosmic forces will be a challenge for all of us in for the next two years.
When the solar (new moon) eclipse in ethereal Pisces lights up the skies, we are presented with a great opportunity for healing. This is the final eclipse in a series that began March 20, 2015, and we could finally get clarity to some foggy situations that have left us befuddled for the past two years. Pisces rules the seas and this eclipse may reveal more information that's been hidden in the fathoms below. This eclipse also marks the beginning of a fresh romantic and creative cycle that culminates with the full moon on September 6, 2017.
So ready or not…the winds of change are indeed blowing! Eclipses bring the unexpected, forcing us into action and taking us into new, unchartered terrain. Repeat after us: Change can be a good thing! Procrastination is part of the human condition. We avoid what's painful and stay in our comfort zones. That's why we occasionally need a little cosmic kick in the pants to push us off the fence and into action.
Eclipses are these agents of change. They fall four-to-six times a year and turn things as we know it upside-down. In this disoriented state, we may act out of character or see turbulence in the world. Eclipses can also help break patterns and shift dynamics. However, most astrologers suggest waiting a week or so before taking any drastic action, allowing the eclipse energy to settle down first.
Solar Eclipses
During Solar Eclipses the Moon is directly between the Earth and Sun (known as a conjunction between the Sun and the Moon). During this brief time the Moon can "block out" the Sun, temporarily turning off the lights, if you will. We have a finite focus as human beings, and it's natural to concentrate on what's in front of us. At times, this can limit our perspectives on the world, and even cause us to miss out on opportunities. Solar Eclipses might snatch away the familiar temporarily, forcing us to consider options we would never otherwise explore. Although this can cause temporary upheaval, eclipses are "cruel to be kind." Major growth can happen during these cosmic power outages. This is when we should leap into new (and generally improved) terrain, even if we feel forced there by circumstance.
Lunar Eclipses
During a Lunar Eclipse, the Earth is exactly between the Sun and the Moon (known as an opposition between the Sun and the Moon). For a brief spell, we can see the Earth's shadow turning the luminous Full Moon intense shades of reds, browns and grays. According to astrology, Lunar Eclipses give us a glimpse into what Carl Jung referred to as the "shadow self." We all want to think of ourselves as good, kind people, but c'mon—we're also human! What we discover about ourselves and others during Lunar Eclipses can be tough to swallow, even shocking. Still, this gives us the opportunity to embrace our wholeness, and see where we have room to grow in new directions. Owning the fact that we have emotions like fear, anger, jealousy and rage is the way to get a handle on them. Trying to pretend we're Polly Pure or Sam Straightlaced? That's when our feelings creep up and overwhelm us. If we're willing to accept the good along with the bad, Lunar eElipses can be magical moments of discovery.
TABLE OF ECLIPSES (2013-2020)
2003

Lunar

May 16 2003

3:40

24° Scorpio 53′

Solar

May 31 2003

4:07

09° Gemini 19′

Lunar

Nov 9 2003

1:18

16° Taurus 13′

Solar

Nov 23 2003

22:49

01° Sagittarius 14′

2004

Solar

Apr 19 2004

13:33

29° Aries 49′

Lunar

May 4 2004

20:29

14° Scorpio 42′

Solar

Oct 14 2004

2:59

21° Libra 07′

Lunar

Oct 28 2004

3:03

05° Taurus 02′

2005

Solar

Apr 8 2005

20:36

19° Aries 06′

Lunar

Apr 24 2005

9:55

04° Scorpio 19′

Solar

Oct 3 2005

10:31

10° Libra 19′

Lunar

Oct 17 2005

12:02

24° Aries 13′

2006

Lunar

Mar 14 2006

23:47

24° Virgo 15′

Solar

Mar 29 2006

10:10

08° Aries 35′

Lunar

Sep 7 2006

18:50

15° Pisces 01′

Solar

Sep 22 2006

11:39

29° Virgo 20′

2007

Lunar

Mar 3 2007

23:20

13° Virgo 00′

Solar

Mar 19 2007

2:32

28° Pisces 07′

Lunar

Aug 28 2007

10:37

04° Pisces 46′

Solar

Sep 11 2007

12:31

18° Virgo 24′

2008

Solar

Feb 7 2008

3:55

17° Aquarius 44′

Lunar

Feb 21 2008

3:25

01° Virgo 52′

Solar

Aug 1 2008

10:20

09° Leo 32′

Lunar

Aug 16 2008

21:10

24° Aquarius 21′

2009

Solar

Jan 26 2009

7:59

06° Aquarius 30′

Lunar

Feb 9 2009

14:37

20° Leo 59′

Lunar

Jul 7 2009

9:38

15° Capricorn 25′

Solar

Jul 22 2009

2:35

29° Cancer 27′

Lunar

Aug 6 2009

0:39

13° Aquarius 43′

Lunar

Dec 31 2009

19:21

10° Cancer 15′

2010

Solar

Jan 15 2010

7:06

25° Capricorn 01′

Lunar

Jun 26 2010

11:37

04° Capricorn 46′

Solar

Jul 11 2010

19:33

19° Cancer 24′

Lunar

Dec 21 2010

8:16

29° Gemini 21′

20011

Solar

Jan 4 2011

8:49

13° Capricorn 38′

Solar

Jun 1 2011

21:15

11° Gemini 02′

Lunar

Jun 15 2011

20:11

24° Sagittarius 23′

Solar

Jul 1 2011

8:38

09° Cancer 12′

Solar

Nov 25 2011

6:20

02° Sagittarius 37′

Lunar

Dec 10 2011

14:31

18° Gemini 11′

2012

Solar

May 20 2012

23:52

00° Gemini 21′

Lunar

Jun 4 2012

11:03

14° Sagittarius 14′

Solar

Nov 13 2012

22:12

21° Scorpio 57′

Lunar

Nov 28 2012

14:33

06° Gemini 46′

2013

Lunar

Apr 25 2013

20:06

05° Scorpio 46′

Solar

May 10 2013

0:24

19° Taurus 31′

Lunar

May 25 2013

4:09

04° Sagittarius 07′

Lunar

Oct 18 2013

23:49

25° Aries 46′

Solar

Nov 3 2013

12:46

11° Scorpio 16′

2014

Lunar

Apr 15 2014

7:45

25° Libra 16′

Solar

Apr 29 2014

6:02

08° Taurus 51′

Lunar

Oct 8 2014

10:53

15° Aries 05′

Solar

Oct 23 2014

21:44

00° Scorpio 25′

2015

Solar

Mar 20 2015

9:36 am

29° Pisces 27′

Lunar

Apr 4 2015

12:00

14° Libra 24′

Solar

Sep 13 2015

6:41 am

20° Virgo 10′

Lunar

Sep 28 2015

2:47

04° Aries 40′

2016

Solar

Mar 9 2016

1:54 am

18° Pisces 56′

Lunar

Mar 23 2016

12:01 pm

3° Libra 17′

Solar

Sep 1 2016

9:03 am

9° Virgo 21′

Lunar

Sep 16 2016

7:05 pm

24° Pisces 20′

2017

Lunar

Feb 11 2017

12:33 am

22° Leo 28′

Solar

Feb 26 2017

2:58 pm

8° Pisces 12′

Lunar

Aug 7 2017

6:11 pm

15° Aquarius 25′

Solar

Aug 21 2017

6:30 pm

28° Leo 53′

2018

Lunar

Jan 31 2018

1:27 pm

11° Leo 37′

Solar

Feb 15 2018

9:05 pm

27° Aquarius 08′

Solar

Jul 13 2018

2:48 am

20° Cancer 41′

Lunar

Jul 27 2018

8:20 pm

04° Aquarius 45′

Solar

Aug 11 2018

9:58 am

18° Leo 42′

2019

Solar

Jan 6 2019

1:28 am

15° Capricorn 25′

Lunar

Jan 21 2019

5:16 am

0° Leo 52′

Solar

Jul 02 2019

7:16 pm

10° Cancer 37′

Lunar

Jul 16 2019

9:38 pm

24° Capricorn 04′

Solar

Dec 26 2019

5:13 am

4° Capricorn 07′

2020

Lunar

Jan 10 2020

7:21 pm

20° Cancer 00′

Lunar

Jun 5 2020

7:12 pm

15° Sagittarius 34′

Solar

Jun 21 2020

6:41 am

0° Cancer 21′

Lunar

Jul 5 2020

4:44 am

13° Capricorn 38′

Lunar

Nov 30 2020

9:30 am

8° Gemini 38′

Solar

Dec 14 2020

4:16 pm

23° Sagittarius 08′
Image via Tumblr. Eclipse tables from Skyscript.co.uk