An adventurous Sagittarius moon shines on Valentine's Day 2023 and a bonus day-after pairing of the solar system's dreamiest co-stars, Venus and Neptune, extends the supply of Cupid's arrows.
Valentine's Day 2023 serves up a Sagittarius moon, making us all even MORE adventurous and independent than usual. Decadent Sag happily inhales the chef's tasting menu, sparing no expense.
But this is more an environment of laughter and fun, not heavy sentiment or tearjerker trappings. If you've got the time and the dime to travel, a quick romantic getaway could be lovely under these globetrotting moonbeams.
Fear not: You can still get sentimental!
Venus and Neptune kiss in Pisces
The day after Valentine's Day 2023, on Wednesday, February 15, two of the solar system's dreamiest co-stars—Venus and Neptune—spoon shamelessly in poetic Pisces.
Reality? Take a pass on that.
This cosmic connection only comes once annually, opening hearts everywhere. Think of it as a bonus Valentine's Day where the warm-fuzzy feelings just gush out with artistic flair. (That ought to compensate for the Sagittarius moon making everything into a crass, fifth-grade joke right when someone makes an earnest, heartfelt confession!)
What this bonus Valentine's Day means
February 15's heavenly heart-to-heart brings a fairy-tale quality to all romantic interactions, so feel free to pump up the volume like a retro boombox. While it's easy to get swept away in Cupid's trance, try to keep one glass slipper planted on solid ground. The risk of this fantasy-fueled energy is that you could get sucked into a charming player's undertow.
Since Pisces is the sign of forgiveness, this peacekeeping mashup supports all fence-mending activities. If you're the one extending the olive branch, why not sweeten the deal with a flower arrangement?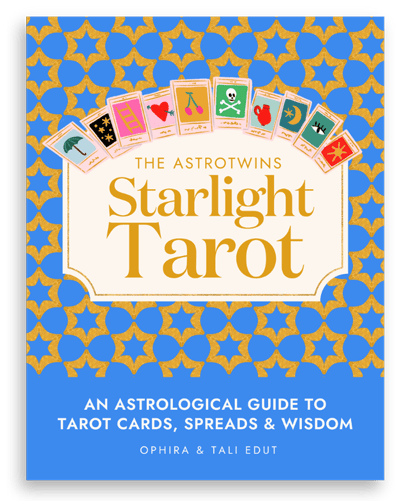 An Astrological Guide to
Tarot Cards, Spreads & Wisdom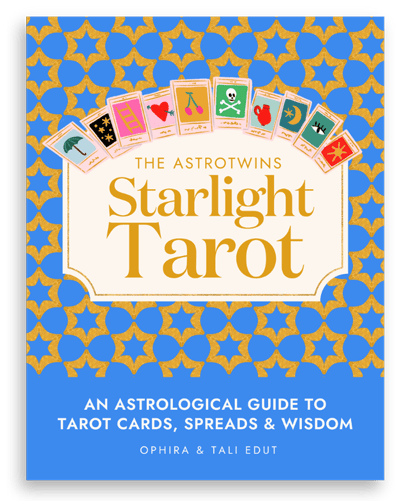 The AstroTwins bring your Tarot journey to life with Tarot spreads, history and empowering guidance.
Get the starlight Tarot
What zodiac season is Valentine's Day in?
Valentine's Day 2023 occurs during Aquarius season! While the Sun visits this sign from approximately January 20 to February 18 each year, it's time to get weird, to experiment and build camaraderie.
Record scratch!
It's always struck us as astrologically incorrect for Valentine's Day—at least in its traditional form—to fall during liberated, independent Aquarius season. Is it somehow karmic that humans should celebrate love during a time that we're meant to focus on our individuality? Just four short days later, the Sun moves into dreamy, fantasy-fueled Pisces. A teensy calendar nudge and this Hallmark holiday would be right on brand!
Valentine's Day 2023 astrology
Our feelings aside about which zodiac season should host the holiday, the skies are forecasting plenty of heat for your Valentine's Day 2023 horoscope.
What sign is the moon in on Valentine's Day 2023?
As mentioned earlier, the moon is in Sagittarius, and it's trine Jupiter in Aries, a free-flowing angle between two of the most indie-spirited fire signs. But that doesn't mean there won't be plenty of passion to tap into. Under these "live for the moment" skies, our normal defenses melt away. If you're picking up on a vibe, stop hesitating and shoot your shot (with consent)! If you're normally shy about initiating, start practicing this line in the mirror, "May I kiss you?" Prepare to turn yourself on!
Venus is in Pisces for Valentine's Day 2023
Venus, the planet of love, beauty and luxury, lends its decadent energy to Pisces until February 20. This lends a fairy-tale quality to all romantic interactions, so feel free to pump up the volume like a retro boombox. While it's easy to get swept away in Cupid's trance, try to keep one glass slipper planted on solid ground. The risk of this fantasy-fueled energy is that you could get sucked into a charming player's undertow. Since Pisces is the sign of forgiveness, this peacekeeping mashup supports all fence-mending activities. If you're the one extending the olive branch, why not sweeten the deal with a flower arrangement?
Venus connects to Neptune, exactly, on February 15
One day after Valentine's Day, you can enjoy a sultry sequel to the holiday as ardent Venus pairs up with enchanting Neptune in poetic Pisces. Expect to be weak in the knees! This annual cosmic connection brushes relationships with a rose-tinted glow.
The only trouble? Blithe optimism can screen out everything but people's brightest potential.
Tap the brakes on your pumpkin carriage before you get swept along in a fantasy. (Or forgive someone's egregious misdeeds before they've even apologized.) Boundaries might be the last thing on your mind right now, but unless you're sure that it's safe to surrender, work extra hard to keep sensible ones in place.
And don't forget: Mars is in Gemini!
All hands on deck…and, um, maybe some other naughty places? Lusty Mars is in Gemini (the ruler of our digits) until March 25, making everyone touchy—a nice accompaniment to Venus in Pisces' "feely" contribution. And please…talk dirty to me! With bawdy Mars in the sign of the cosmic communicator, those sweet nothings could turn into sexy somethings really fast.
Looking for love for Valentine's Day 2023? Don't overlook that sign.
Keep your options open, astrologically speaking, for Valentine's Day 2023!
Rather than evaluate a relationship in the traditional terms of "Are we a good match?" or "Are we meant to be together?" we take a completely different and modern approach in our relationship astrology book, Supercouple. Our system takes your zodiac sign and another person's to determine your Supercouple zodiac sign. This new way of thinking of your blended signs means you don't have to cross any zodiac signs off your list! Learn more about Supercouple here.
You can also try our Love Matcher calculator for a quick way to see where you click and where you clash with another zodiac sign, romantically.
Your Valentine's Day 2023 horoscope
How to spend Valentine's Day, and what to expect, by zodiac sign
Aries (March 21-April 19)
Love knows no borders for the adventurous Aries. Good thing, since on Valentine's Day 2023, Cupid could whisper sweet nothings in a foreign accent, or perhaps could sling his arrow from a distant zip code (if not country code!). Keep your eyes and ears peeled for potential amours from all categories or someone who just might need a local tour guide. Coupled Rams: the moon in your travel zone is the perfect excuse to pack a bag for a sultry staycation—or plan one of your legendary last-minute weekend getaways that always hit the mark.
Taurus (April 20-May 20)
You've been saving those scented candles and fancy dishes for an occasion like this, Taurus, and not JUST because St. Valentine's in town. The moon in temperature-elevating Sagittarius shines a sexy spotlight on your sensual eighth house, writing you a permission slip to transform Taurus Central into a scene straight out of a romantic movie. Duck out early from work and do some impulse shopping at your favorite lingerie department and natural wine shop. Whether you're entertaining a guest star or enjoying an evening with besties, make sure you celebrate the spirit of amour in all its forms.
Gemini (May 21-June 20)
Lucky you! You couldn't ask for a nicer Valentine's Day 2023 gift than a Sagittarius moon in your seventh house of partnerships. This holiday comes but once a year, Gemini, and this year, lasting love is on the menu. Get clear about the traits that can hold your flittering interest for more than a few nights. (Hint: It's as much about the person's core values as their personality. Single Twins could finally see the path to true love illuminated. Don't be surprised if someone shows up who fits those newly clarified qualifications. Found someone who fits the bill? Share your appreciation vocally—and otherwise!
Cancer (June 21-July 22)
Earth to Cancer! Don't get so hung up on the details of your ideal Valentine's Day that you miss the most important stuff, like how much your amour cares for you. In other words, don't sit around waiting for wild romantic gestures or ostentatious and impersonal gifts if you've got the best prezzie of all (true love). If you're still searching for your match, double down tonight, when Cupid is your wingman. Attend an event that speaks to your cultural interests, like a concert or workshop, and you increase your odds of meeting someone who treads on common ground.
Leo (July 23-August 22)
Bring on the crimson roses, handmade playlists and—what the heck—a giant, heart-shaped box filled with the gift of your choosing. February 14's moon in Sagittarius, which lands in your romantic fifth house, demands a Valentine's Day 2023 celebration with all the bells and whistles. Let your sweetie know a card and ordering in takeout is NOT going to cut it tonight! Single? No need for a pity party since Cupid's clearly got an arrow with your name on it. Glam up and hit the town for some live entertainment, like a burlesque show. Or go see a band play in a venue where it's easy to talk to fellow fans in the crowd.
Virgo (August 23-September 22)
Don't wait for tonight to get the bubbles chilling. And while you're at it, what special feast could you whip up (or pick up) for dinner, avec wine pairings, perhaps? The moon in Sagittarius is lighting up your domestic fourth house, making Chez Virgo an ideal setting to capture Cupid's magic for Valentine's Day 2023. Understandably, you might want to dress up and get out for this special occasion. If so, pick a fun but intimate venue where you can gaze adoringly into your date's eyes or kick back with friends while you give Cupid a clear shot.
Libra (September 23-October 22)
Of all the zodiac signs, Libras are most likely to be unapologetically excited about celebrating Valentine's Day. This year, though, you're not in the mood for an endless evening glued to a chair in one place. You've got energy to spare, and much more interested in hitting a few events and painting the town crimson with your date. Single? With your flirting talents in fine form, get out and circulate. You could meet someone at any time throughout the day, perhaps via mutual friends or at a low-key spot like the espresso bar or dog run.
Scorpio (October 23-November 21)
Valentine's Day 2023's indulgent Sagittarius moon lands in your sensuous second house, providing the perfect excuse to shower yourself with love. A date, while a lovely bonus, is not required for you to knock V-Day out of the park. Start with some 101 pampering, like a pedicure, massage, blowout or all three. If you haven't made dinner reservations, see what last-minute luck might serve up a table for two. Or go meet friends at a posh hotel bar. With the moon in the sign of the traveler, an admiring out-of-towner could keep you entertained!
Sagittarius (November 22-December 21)
You're St. Valentine's favorite on February 14 as the moon rolls through Sagittarius and gets a passionate booster from your ruler, Jupiter in Aries and your fifth house of amour. Set an example for everyone by celebrating the festival of love the way it's meant to be done. Dress to the nines, shower everyone you adore with affection and, come evening, pull out all the stops—or let your sweetie pull out all the stops for you. Single? The mantra is a single syllable: yes. Whether the cutie sitting next to you at the bar offers to buy you a drink or you're thinking of asking that intriguing stranger to dance, answer—and think—only in the affirmative.
Capricorn (December 22-January 19)
Don't be surprised if even you—pragmatic, rational Capricorn—get a little swept up in the emotionality of Valentine's Day 2023. With the moon in big-hearted Sagittarius lighting up your idealistic twelfth house, you could find yourself speaking and acting most uncharacteristically. If you're in a relationship, we're betting your partner will lap this moment up. Presently unattached? Organize an impromptu get together with a few single friends or head out for some live music. If you're feeling especially creative, ethereal energy is ripe for making a vision board to help manifest your 2023 love goals.
Aquarius (January 20-February 18)
V-Day always arrives during Aquarius season, giving you a natural leg up on the "competition." And this year, you may be feeling rather, er, experimental as the moon occupies your edgy, interactive eleventh house. Swing out of that comfort zone, Water Bearer! Maybe you DM your TikTok crush or explore a fetish with your date. The "how" is up to you, but if you pursue something that excites you, you're on the right track.
Pisces (February 19-March 20)
Double bonus time! Valentine's Day 2023's moon in Sagittarius could bring big news on the work front. Celebrate your success by splurging a little—or a lot—on your main squeeze. Make reservations somewhere special, and maybe have a little something-something waiting as a surprise. Singles could realize a big goal in your love life tonight. Don't be shy around the object of your affection; could be the feeling is mutual. ONE of you has to make the first move!
Find out in The AstroTwins 2023 Horoscope and plan it by the planets all year long!