When are the 2023 full moons? And how can they help you to manifest your goals?
This article explains full moons and provides an astrological forecast for all the 2023 full moons.
2023 Full Moons Calendar by Month
In 2023, there will be 12 full moons and two lunar eclipses.
2023 Full Moons Calendar
Your answer to: When is the next full moon?
* All times listed for the 2023 full moons are in Eastern Time (New York, NY)
January 6 (6:07 PM): Cancer #1 of 2
February 5 (1:28 PM): Leo
March 7 (7:40 AM): Virgo
April 6 (12:34 AM): Libra
May 5 (1:33 PM): Scorpio (lunar eclipse)
June 3 (11:41 PM): Sagittarius
July 3 (7:38 AM): Capricorn
August 1 (2:31 PM): Aquarius
August 30 (9:36 PM): Pisces
September 29 (5:58 AM): Aries
October 28 (4:24 PM): Taurus (lunar eclipse)
November 27 (4:16 AM): Gemini
December 26 (7:33 PM): Cancer #2 of 2
Facts about the 2023 Full Moons:
There are two 2023 full moons in Cancer, which bookend the year on January 6 and December 26, and invite us all to be more emotionally expressive this year.
There are two lunar (full moon) eclipses in 2023: in Scorpio on May 5 and Taurus on October 28.
Every couple years, there 13 full moons in a single year. This rare phenomenon is called a blue moon, and it happens when there are two full moons in a single month. Two 2023 full moons occur in August: in Aquarius on August 1 and a full moon in Pisces on August 30.
About each of the 2023 full moons
Your astrological forecast for the 2023 full moons
Read on for what to expect for each of the 2023 full moons. Follow our daily, weekly and monthly horoscopes for a deeper forecast for your zodiac sign on these dates!
Moons by month
January 6, 2023, Cancer full moon (1 of 2)
The first of the 2023 full moons glows in warm, caring Cancer. Under these nurturing beams, you'll be closely connected to your emotions—good reason to keep the tissue box handy to dab any tears.
Under Cancer's domestic influence, home life is equally top of mind.
In love, this lunar light softens hearts and draws out everyone's sentimental side. Cozy up under the cashmere throw with your favorite plus-one (or just by yourself).
February 5, 2023, Leo full moon
You don't have to be polished or perfect before you put yourself out there. Nope! This lion-hearted lunar lift rewards courage.
Although there's a performative energy to the day, try to genuinely connect with people instead of just wowing them with your pizazz. What not to do? Court controversy with wild antics or spark a public feud just to rile people up.
This full moon locks into a tangled angle with Uranus, the rebuttal (and consequences!) could be harsher than you anticipate. And with "wounded healer" comet Chiron trining this full moon, spark peace talks instead of using your roar to start wars.
March 7, 2023, Virgo full moon
The annual full moon in Virgo calls in the cosmic cleaning crew. From your fitness to your diet to your space, you'll get a glimpse of where things have gotten messy or disorderly over the winter.
Take a page from the zodiac's practical planner and get your to-do lists in order. Think: work smarter, not harder!
With this full moon forming a helpful trine to disruptor Uranus, a radical departure from business as usual could be in order. But don't rush: La luna is also embroiled in a tense square to hasty Mars and impatience could lead to a careless error.
April 6, 2023, Libra full moon
The year's only full moon in Libra unlocks happy, healthy and balanced relationships. This could be one of the most exhilarating days of 2023 for couples who want to talk commitment.
One caution: Because this full moon opposes both healing Chiron and candid Jupiter, opening those floodgates could unleash more than planned. Be prepared for partnership pivots of all kinds.
May 5, 2023, Scorpio full moon (and lunar eclipse)
Allow yourself to be swept into the universe's greater plan, control is an illusion. The year's only full moon in mysterious Scorpio is also a game-changing lunar eclipse.
Because this full moon and lunar eclipse opposes shock-jock Uranus, it could bring some surprises. From power mergers to scandals to sudden transitions, all sorts of secrets will be exposed.
For best results, be an open channel for creative and spiritual downloads. These could send you on a creative path or stumbling into investment opportunities.
Since eclipses bring an X factor, harness Scorpio's investigative powers and thoroughly research anyone you're getting into bed with, literally or figuratively. Existing partnerships might reach a pivotal point within a month of the eclipse.
June 3, 2023, Sagittarius full moon
Keep your suitcase ready for work travel and weekend jaunts alike. With the Sagittarius full moon illuminating your path, it's anyone's guess what corner of the globe will lure you.
With this full moon forming a fast-moving trine to passionate Mars, there could be romance or a daring activity wrapped up in your getaway plans.
The next two weeks are the ideal window to kickstart any big projects you've been dreaming about. But curb the gambling tendencies of Sagittarius, as this full moon will form a limiting square to cautious Saturn in Pisces.
July 3, 2023, Capricorn full moon
Check in on those New Year's resolutions! (Remember those?) The full moon in goal-getter Capricorn sets the stage for a midyear review. Pinpoint what's working well and X off anything that's proving to be an impossible task. This midyear review is the perfect time to revamp your strategy and set different milestones if you need to pivot.
Don't forget to celebrate accomplishments you've made so far this year. No one gets a shiny gold star for being a martyr! Acknowledge your progress and thank people who are part of your success.
Ready to go bigger? Maximalist Jupiter is fistbumping this full moon, which can help you expand your vision. But capture any big ideas in writing! With the moon opposite mental Mercury, don't rely on your memory.
August 1, 2023, Aquarius full moon
The year's only full moon in Aquarius helps your collaborations take flight. An activist or community project could make a powerful impact. Seek out kindred spirits and people who think outside the box, then put your heads together for a common cause.
Make a point of publicizing shared missions. Supporters materialize, or you may be invited to showcase your collective talents. Casting for collaborators? Take extra effort to keep your crew inclusive. With the full moon squaring global ambassador Jupiter, you want diversity of voices, not an echo chamber.
August 30, 2023, Pisces full moon
Let your imagination take the reins under August's second full moon of the month (a blue moon!)
This full moon lands in dreamy Pisces, illuminating subconscious thoughts and casting a rosy glow over all your interactions. Divine downloads could stream in throughout the day.
Since Saturn co-pilots this mission, take actual notes. Some of these fantastical notions could be the seeds of a future project.
Because esoteric Pisces is the master of illusion, you might also feel lost in a labyrinth. Stop, breathe, and listen to your intuition, then wait until you feel centered before taking your next step.
September 29, 2023, Aries full moon and lunar eclipse
Steal the spotlight at this full moon, and don't even think about apologizing for being "too much." Dare to put yourself out there, unvarnished, fully authentic and 100 percent amazing—as YOU define it.
Aries loves to be No. 1, which could raise the stakes for all the competitive types out there. But rather than fighting for headliner status, how about shining a light on other talented souls? That's the kind of leadership this trailblazing sign can get behind!
Warning: This lunation could unleash a wave of pent-up frustration and rage. Find an outlet so you're not hooking into any low-hanging drama.
October 28, 2023, Taurus full moon
Sensible but sensual (ruled by Venus) Taurus loves luxury. The key is making sure you've got enough resources to cover the basics while enjoying those earthly delights.
Over the next few days, an exciting money-making opportunity could show up.
As Taurus rules our daily routines, this lunar eclipse gives a big push to finally break a bad habit and put a life-affirming practice into place. Focus on a sustainable shift that fits with your lifestyle—enough of a change to make an impact, but not so gargantuan that you give up before it gains traction.
Today is the third and final lunar eclipse in fiscally fit Taurus, the sign of money, material security and hard work. This eclipse series, which began rippling across the Taurus/Scorpio axis on November 19, 2021, has been radically revamping the economy and our personal financial habits for the past two years. No need for austerity, though!
November 27, 2023, Gemini full moon
People can't read your mind, so if you want something, speak up! This full moon in garrulous Gemini urges you to articulate your wishes and dreams.
Post about your passions and share your original views. With the full moon in this kindred spirit sign, you never know who might be moved by your message and respond. An opportunity to collaborate could also appear under these dynamic duo moonbeams.
Ready to transition your career? Reach out to former collaborators or colleagues you admire. If you've been waiting for news or an answer, you could finally hear it.
December 26, 2023, Cancer full moon (2 of 2)
As the holiday season starts to wind down, the quiet and comfort of the year's second Cancer full moon (and the last of the 2023 full moons) brings a much-need moment to chill.
Emotions will be close to the surface, so don't be surprised if a sentimental exchange brings on the waterworks. Or maybe you just need a long winter's nap after all the holly jolly. Ease into your cozy space or spend some time feathering your nest to turn it back into a sanctuary.
This full moon gets a boost from systematic Saturn, so get ready to make some adult decisions in your personal life.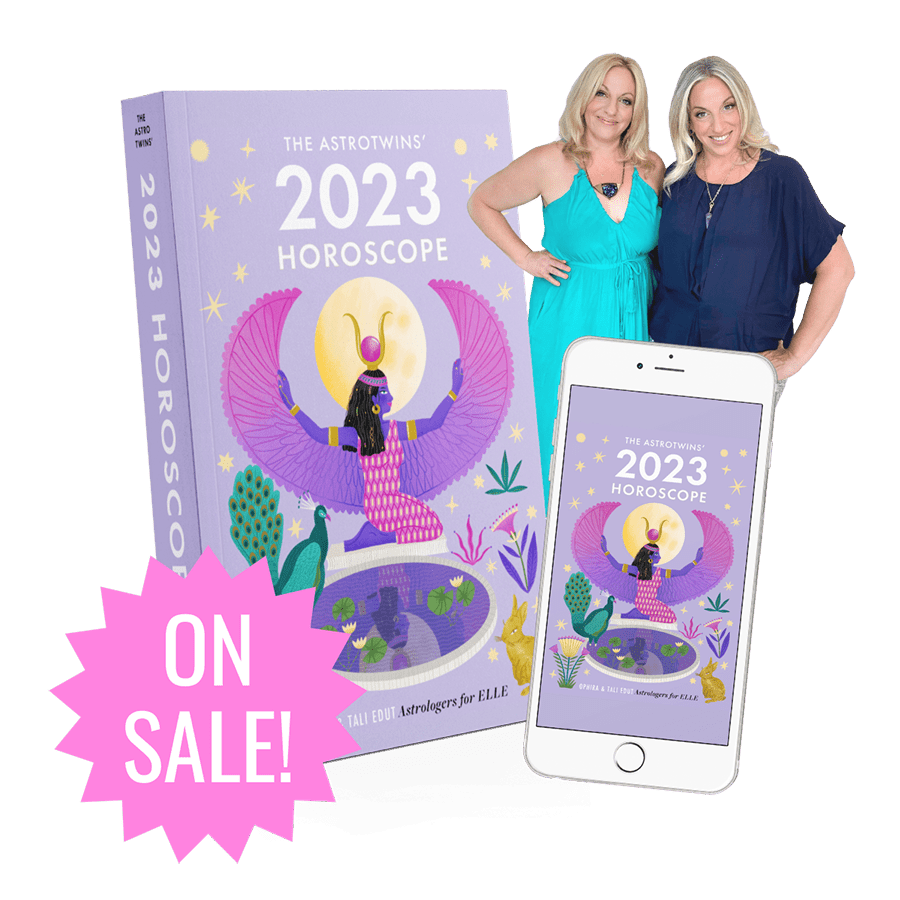 Get your yearly astrology forecast in The AstroTwins 2023 Horoscope!
What is a full moon in astrology?
It's go time! Full moons are astrology's brightest moments, monthly events that are ideal for manifesting, making transitions and bringing plans to fruition. Like giant celestial spotlights, they illuminate areas for closure or course correction.
The moon is the Sun's favorite companion, holding space for all the private matters el Sol doesn't care to shine a light on. These are things like our deepest feelings, secret desires, and the security blankets that we reach for to comfort ourselves.
Home and family affairs, how we nurture others and what kind of caretaking we crave are also moon matters. Our society is just starting to truly honor the importance of lunar topics, perhaps because they tend to fall into the archetypically feminine category. As the world grows to respect women's perspectives and issues, the moon's power is being felt more and more!
When do full moons happen?
Full moons are always in the opposite zodiac sign of their Sun season.
During this lunar phase, the moon is on the exact opposite side of the Earth from the Sun. That explains why it's such a brightly lit spectacle for us to enjoy— and why the full moon is always in the opposite zodiac sign from the Sun each month.
What is the meaning of a full moon?
During a full moon, you reap the seeds that were sown six months prior during the corresponding new moon. These cosmic manifestation moments can be cause for celebration or major eye-openers.
Contradictions stand out in stark reality during full moons, which can stir up intense passion and fierce head-butting. You may realize that you're done with one path and ready to find whatever's next. No matter what, emotions and overall intensity will be amplified. Stay aware of how much energy you're exuding and how people are responding to you.
Full moons can wrap up your efforts with a triumphant bow. Many people purposely choose a full moon for important meetings, debuts and finish-line dates. You can use this knowledge as you're planning around the 2023 full moons.
Caveat: The energy can be a little TOO strong or intense at a full moon, particularly when it's a lunar eclipse. Make sure you're ready before you pop that cork!
What does a full moon look like in the sky?
The full moon is the fifth of eight monthly moon phases which occur in a 29.5-day lunar month—the halfway point.
You can read about all the moon phases here.
Full moons in astronomy terms
A full moon moon occurs when the Sun and the moon are in opposite zodiac signs, and 180 degrees apart in ecliptic longitude.
A new moon occurs when the Sun and the moon are at the same longitude on the ecliptic—the plane created by the Earth's orbit around the Sun.
Is your moon sign important at a full moon?
Your moon sign refers to the zodiac sign that the moon was traveling through at your moment of birth. If someone was to look up at the sky when you were born, or the piece of the sky that we measure from our view on Earth.
Your moon sign is a part of your birth chart, or natal chart. You can find your moon sign by entering your time, date and place of birth into our Moon Sign Cosmic Calculator.
Once a year, a full moon falls in the same zodiac sign as your Sun sign and your moon sign. These can be extra powerful dates to wrap up a project. Or, you may see clearly that it's time to go in a new direction or even end some part of your life that has reached a natural turning point.
Were you born during a full moon?
How do you find out? Do a free birth chart!
You can also use our moon phase calculator to find out which lunar phase the moon was in when you were born, and what it means about you.
Read about the meaning of your moon sign in our moon sign horoscopes.
How to do a full moon ritual for the 2023 full moons
Many people honor the full moon by doing a full moon ritual.
Full moon rituals are relatively simple activities you can do to embrace the energy of a full moon.
See our article: Full Moon Rituals: 12 Empowered Ideas for a ritual to try during each full moon