Make it a double! The Gemini new moon unites kindred spirits and sets the stage for important conversations on Sunday, June 18 (Father's Day in the U.S.)!
Planetary PSA for the collaborative Gemini new moon: Twinning is winning! Whether you're looking for a workout buddy or a writing partner (or whatevs!), set yourself to discovery mode at the June 18 Gemini new moon at 12:37 AM Eastern.
With the sign of the Twins activated by this lunar lift, kindred spirits could pop out of the woodwork. Explore synergies with a trial project. You'll know whether this dynamic duo has lasting potential by the November 27 Gemini full moon—and maybe sooner!
Jump to
But first: Got something important to say to your dad?
With the 2023 Gemini new moon falling on Father's Day, the stage is set for communication. But try not to get super heavy about it. (Those thoughts, you might want to write in your journal and review in a month at the Cancer new moon on July 17.)
Instead, lead with the spirit of curiosity. When was the last time you asked the father figures in your life about their interests, hobbies and current philosophies? You may be surprised to discover that a few assumptions were off-base. Open up about your own day-to-day life. The Gemini new moon can help you form an actual friendship vibe with your dad. You might even learn that you share common interests, from disc golf to Caribbean cooking.
8 super-charged tips for you to harness Gemini new moon energy!
1. Be the connector: Affable, outgoing Gemini understands the power of networking. Pay it forward and play matchmaker: Link awesome people you know and let them take it from there. Write a glowing review. Shout out people on Instagram. If you're not naturally a connector, cozy up to one this week and observe a master in action.
2. Stop the gossip: Is there anywhere you're being "two-faced" in your life? That includes the things you conveniently don't say that create a wedge in relationships. Stop spilling tea and invite people to sit down for a strong cup of direct conversation. Remember: telling it like it is doesn't mean tearing people down. For example, "I've been missing you a lot," is likely to earn a more favorable response than, "I never hear from you."
3. Find your "second city." As the zodiac's sign of the Twins, Gemini loves everything in pairs. Given that commuting and short trips also fall under Gemini's domain, let this lunar lift launch you to a second city that speaks to your soul. You don't have to leave now, just browse. Spin the globe and find a city that piques your interest. You can start learning the language, customs and cultural sensitivities so that you'll be ready for your future voyage. If your passport is current, why not book the tickets?
4. Support local. This is a perfect way to honor the community-minded Gemini new moon. Extend the trend to your palate and give the locavore food movement a try. Food grown by your local farmers is more likely to be fresh and healthier. Maybe hit a new-to-you farmers market or sign up for a CSA.
5. Get down: Put on your favorite playlist and boogey. It doesn't matter whether you're Taylor Swift backup dancer-level or terrified of TikTok–have fun! Since it takes two to Tango, invite someone to groove with you. Partner dancing requires a powerful level of unspoken communication. Who will lead? Who will follow? Dancing can reveal areas of your relationship that need TLC. Although a few frustrating spinouts may happen, stick with it and you'll get in step with each other like never before. Try our Playlists for Gemini season or Cancer season to inspire you!
6. Find your "zone of genius. We're fans of Gay Hendricks' book The Big Leap, which talks about finding your zone of genius—that thing you do effortlessly and magically. Gemini rules books and ideas, so treat yourself to this awesome read. If you already KNOW your zone of genius, commit to doing one thing that expresses it.
7. Install updates: Gemini rules gadgets and new media—all forms of communication devices. What upgrades are you due for, a new phone? Is your printer so ancient it's practically fossilizing with each page it ekes out? Just be mindful of your carbon footprint: look for upcycling programs and turn-in options. Circularity is the name of the game.
8. Speaking of tech, are you due for a time-out? If you're addicted to checking your devices, we challenge you to a two-week technology diet. Take one hour a day, minimum, to be gadget-free and connect with another real, live human being. Every moment of life doesn't have to be archived or shared.
Do a ritual for the Gemini new moon
Harness the dynamic energy of the Gemini New Moon with our transformative ritual, "Mirroring Greatness." As the third sign of the zodiac, Gemini brings forth the theme of interpersonal connections and communication. We designed this ritual to help you become a radiant mirror, reflecting the greatness in others. There's no better time than this lunation to turn your words into powerful tools for empowerment!
Your love forecast for the 2023 Gemini new moon
Single? Your ideal other half could be hiding in plain sight (oh, hello!) or hanging in the outskirts of your social group. That's more incentive to get out and mingle. Since Gemini rules local activities, RSVP yes to your neighbor's solstice BBQ or rally friends for al fresco drinks on that hotel roof deck. The point is to get out and circulate because this lunar lift is sure to connect you to kindred spirits!
Coupled? Stop recycling the same "How was your day?" chatter. If you don't have any new subjects to hash out, consider trying something new, exciting and worthy of post-game analysis! Novelty brings a rush of dopamine, which brings a burst of sexual energy. Oh, heyyyy there…
Romantic advice for all: With boundary-blurring Neptune squaring this new moon, reserve judgment before declaring a new acquaintance your insta-BFF. You could be easily distracted now—all the more reason to team up with a clever colleague or have a wingperson to go out with in case you need someone to call you an Uber.
And don't judge a book by its cover! But definitely peek at what paperback that coffee shop cutie is reading. The new moon in brainy Gemini kicks up savvy repartee with plenty of witty wordplays thrown in. That's sure to make anyone swoon under the spell of this sapiosexual new moon. If you've been looking for love in all the wrong places, switch it up. Where are the thoughtful, curious and culturally aware people hanging out? Conversation is key to fostering deeper connections.
Your Gemini new moon horoscope
Below are horoscopes for every zodiac sign for the Gemini new moon on Sunday, June 18, at 12:37 AM Eastern. You can read for your Sun sign or your rising sign (ascendant). Visit our Cosmic Calculator section if you want to calculate your Rising sign or discover more about your personal astrology.
Aries (March 21-April 19)
The Gemini new moon supercharges the most outgoing zone of your chart, giving you maximum mingling power. Reboot your summer by committing to specific events like weekend camping trips, festivals and local fairs. While you might prefer spontaneity, putting these activities on your calendar will give you lots to look forward to. Plus this provides a great excuse to connect to new friends. Before you go to bed tonight, buy two tickets to SOMETHING and see who wants to be your lucky plus-one.
Taurus (April 20-May 20)
Zoom in and give your bank statements a thorough review. The new moon in Gemini lands in your money sector and helps you evaluate your finances with a critical eye. Those boozy dinners and sample sales DO add up—and if you aren't mindful, they can seriously subtract from your savings. And since your landlord won't be impressed by your Gucci sandals if you can't pay your rent, you might need to make some adjustments. But don't worry—you won't have to deprive yourself of all extravagances. Just make a savvy budget and embrace the art of delayed gratification for those five-star splurges.
Gemini (May 21-June 20)
Your bonus New Year starts on at your sign's new moon on June 18, giving you an energetic reboot and plenty of positive momentum. With the universe on your side, take (at least) one concrete step to get your big plans into motion! If you start drawing up the roadmap to your dreams, you could nail some important goals by the corresponding Gemini full moon on November 27. Carve out some dedicated time for this "planting and planning" process. The clearer and more descriptive you can be about your wishes and intentions, the closer you'll get to hitting the mark.
Cancer (June 21-July 22)
The new moon in Gemini and your twelfth house of closure can help you jettison old baggage. Step one: accepting that there are certain things you just can't control. Instead of spiraling out about a disappointment or defeat, reframe it as a learning experience. If you need help processing difficult feelings, this new moon could illuminate an amazing healer, therapist or supportive group. Find a shoulder to lean on; no need to wade through this one alone.
Leo (July 23-August 22)
Rally the troops on June 18 as the year's only new moon in gregarious Gemini boosts your eleventh house of teamwork and tech. The Avengers have nothing on your squad of superheroes, and this lunar lift can launch a collective mission into orbit. Need to make some casting changes? Cut the slackers from your circle and keep it lean and mean. Solo Leos could begin forming a supportive circle under these moonbeams. This new moon could also supercharge any online projects you've got in the pipeline. Lay the groundwork now, and you'll see a high click-through rate by the Gemini FULL moon on November 27.
Virgo (August 23-September 22)
The new moon in Gemini lands in your tenth house of success, boosting your professional momentum. Visualize: Where would you like your career to be in six months? Brainstorm inspiring goals then draw up a game plan. While you might have to modify certain aspects of the agenda as you go, outline a list of action items you'd like to accomplish by the corresponding full moon this November 27. Then identify power players in your field who may be able to help. Hunting for your next big gig? Use this cosmic mojo to supercharge your search. Send out that inquiry email before you hit the bed tonight.
Libra (September 23-October 22)
The new moon in Gemini marks the beginning of a six-month cycle of freedom. This cosmic mojo affects every aspect of your life—from work to money or love—so liberate yourself from any limiting or unhealthy situations. Then use the space that opens up to embark on a voyage of discovery! You don't have to know exactly what's next; in fact, scouting it out will be the fun part. In the process, you might travel, return to school or start a promising side hustle. Media-savvy Libras could get to work on a website or publication now—and have something amazing to show by the corresponding November 27 full moon.
Scorpio (October 23-November 21)
Your urge to merge grows ever-stronger on June 18, when 2023's only new moon in Gemini lands in your eighth house of investments. You love stability, so this should be music to your ears. If you're feeling confident about the long-term viability of a venture, sign those contracts and get started! The same goes for any romantic prospects. Whether it's love or work, be prepared to sign on the dotted line. Just make sure you know EXACTLY what you're getting into before fully sealing the deal.
Sagittarius (November 22-December 21)
If you've been hunting for the perfect collaborator, the new moon in Gemini electrifies your seventh house of partnerships. Chances are you'll find that person soon—and bonus if it's someone who is already a part of your soul squad. Under this lunar lift, a close friend could transform into a trusted business partner or your future boo. But don't be overly optimistic. Since there's always a risk involved in blurring lines with your inner circle, you may want to ease into the relationship gradually. If the dynamic seems to work, this could be the beginning of an incredible joint venture.
Capricorn (December 22-January 19)
Raise a green-juice toast to good health on June 18 as the year's only new moon in Gemini energizes your wellness corner. There's no time like the present to hit that outdoor yoga class, start training for a 5K and add more plant-based food to your diet. Bring your healthy new attitude into the workplace as well. Squash any beef you may have with a co-worker and maintain an open line of communication. Instead of automatically taking command of a group project, engage your colleagues and divvy up the load. A win for the team is a win for you as well—especially if it means doing LESS of the hands-on work.
Aquarius (January 20-February 18)
The new moon in Gemini glitters in your fifth house of fame and romance, bringing a beautiful confidence boost. Snap that selfie and post it with pride! (On Instagram AND Tinder, if you're single.) The actions you take today can help your star rise—and burn brighter than ever by the corresponding full moon on November 27. Identify the milestones you'd like to hit during this fortuitous time, from personal successes to leaps in the game of love. Since people will be Googling your name, polish up your online presence. Maybe it's time to take down any mean girl drags, and a few of those tipsy vacation photos while you're at it.
Pisces (February 19-March 20)
The new moon in Gemini reconnects you with your ride-or-die besties. Balance is key, and you've got to keep your relationships alive, even as you push for professional success. You're bound to hit a speed bump at some point, and you'll need a few good BFFs to support you during those difficult times. Feeling like you need to shake things up on the home front? Maybe it's time for a little redesign—or a move to a new pad! This week may also bring you into a circle of influential women who could seriously change your life over the next six months.
When is the next new moon?
The remaining new moons of 2023 are in:
– Cancer on July 17
– Leo on August 16
– Virgo on September 14
– Libra on October 14 (also an annual solar eclipse)
– Scorpio on November 13
– Sagittarius on December 12
When is the moon in Gemini next?
• The next full moon in Gemini is November 27, 2023.
• The next new moon in Gemini is June 6, 2024.
Read even more about new moons
New moons reset the monthly lunar cycle. Astrologers treat these occurrences as ultra powerful moments to set intentions, start fresh and begin projects anew. Learn more about new moons in astrology here.
Check out your June 2023 horoscope in our monthly trend report, too!
What zodiac sign is your relationship?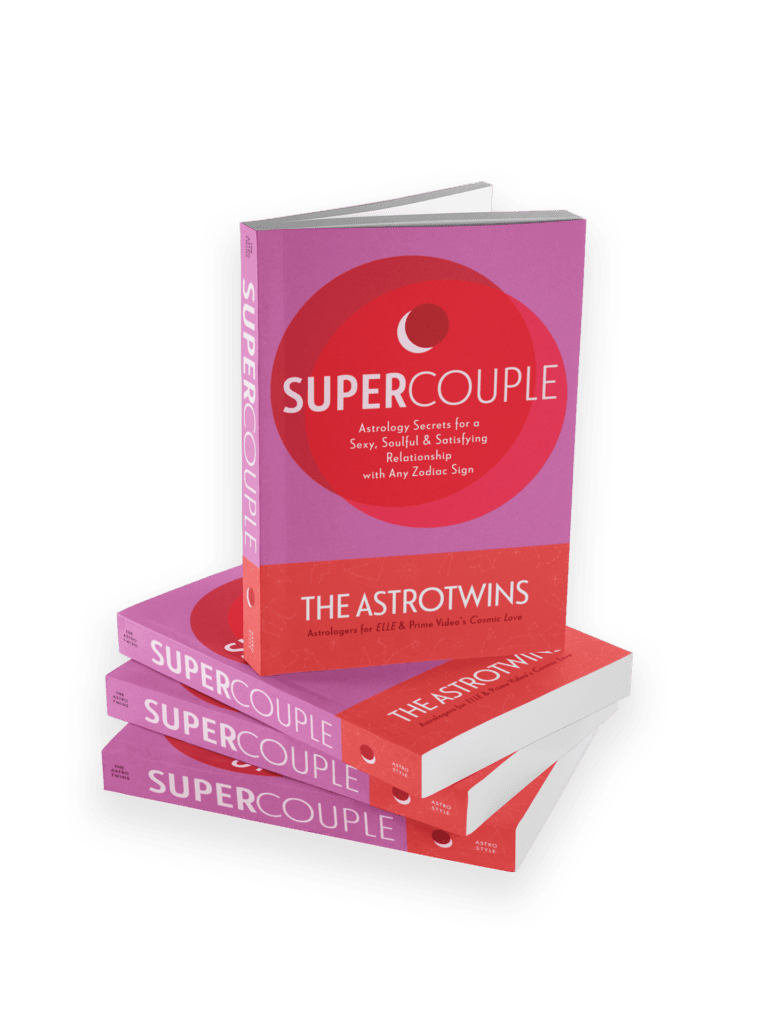 What zodiac sign is your relationship?
Learn the secrets of the composite (blended) chart in SuperCouple, a cosmic care and feeding manual for any relationship. Written by The AstroTwins, astrologers and matchmakers for Amazon Prime Video's Cosmic Love.