Is a Sagittarius woman right for you? How do you make a Sagittarius woman happy?
If you follow astrology, you may hear some misleading match-up advice. Maybe you've heard that you should "never" date a Sagittarius. The truth is you can make it work with any zodiac sign. Your so-called imperfect match could become your life partner if you take a chance.
Astrology is a helpful tool for "decoding" people. No matter what you believe, it's always helpful to have another tool in your romantic arsenal.
So if you're interested in a Sagittarius, how do you make a Sagittarius woman happy—and find yourself happy with a Sagittarius woman?
The Sagittarius woman
Sagittarius is ruled by Jupiter, the largest planet in the solar system. Jupiter is the "happy" planet, full of energy and confidence. Sagittarians often reflect Jupiter's larger-than-life persona. As the zodiac's traveler, Sagittarius is the ultimate free spirit: optimistic, open-minded and ambitious.
Symbolized by the Archer, Sagittarius women are happiest in wide-open spaces with plenty of adventure and excitement. She can juggle projects, hobbies and friends. The more, the merrier!
The Sagittarius woman is forever pursuing a super-sized goal. Even when she fails, nothing can keep her down. Everything is a life lesson and she will inspire others with her experience. As the sign of wisdom and truth, Sagittarius loves to "tell it like it is." Sure she can be blunt or direct, but you'll always know where you stand, and she'll probably make you laugh while doing it (Sag is also known for humor).
Is the Sagittarius woman your "dream girl?"
Sagittarius is the ninth of the 12 signs of the zodiac, which begins its cycle late fall every year during Sagittarius season—which falls around November 22-December 21.
Sagittarius energy manifests through enlightenment, travel and truth-seeking. The curious Sagittarius woman makes you hunger to expand and learn, sending you on adventures. Philosophical Sagittarius rules higher learning and university settings. She inspires discussion on the deeper aspects of life.
Restless, globetrotting Sagittarius loves the great outdoors. Under her influence, you might camp under the stars or play urban explorer in a bustling new city. While enthusiastic Sagittarius helps you take risks and big leaps of faith, she can bite off more than she can chew. The Sagittarius woman has big ideas but may not be aware of her limits (like, there are only 24 hours in a day!).
The essence of Sagittarius energy is honest, fair-minded, inspiring, optimistic, enthusiastic, encouraging, and dedicated. Negative expressions of Sagittarius energy can be argumentative, reckless, flaky, preachy, and tactless. What's most brilliant about Sagittarius, though, is this sign's indefatigable thirst for adventure. With the Sagittarius woman, every moment of life can feel like pure magic!
How to spot a Sagittarius woman
Witty Sagittarius women can be some of the funniest and most entertaining people you meet. She has a gift for seeing the absurdity of human nature and turning it into comic material. Yet, Sagittarius women can also be wise and philosophical, revealing perspectives you might not otherwise see.
This sign is ruled by the Centaur, a half-human, half-horse mythical creature. From the waist up, these knowledge-seekers are reaching for the highest truth. From the waist down…it's all animal instinct and restless hooves. (It's not easy being the ruler of ethics and the hips and thighs!)
Busy Sagittarius women have a million friends, projects and irons in the fire. As a result, they may not be the most reliable day-to-day allies. But if you have a five-alarm crisis, they'll rush in for an epic save, even if you haven't seen them in years. Time and distance are irrelevant to this zodiac sign—they have friends in every port, and if they connect with you, that's all that matters.
These natural risk-takers love to take on dares and are shameless flirts to boot. You might find them organizing a talent show, rocking the karaoke mic, standing in an airport line, publishing a tell-all blog, or cracking bawdy jokes in the midst of a meeting.
The "natural habitat" for a Sagittarius woman
The places you're most likely to find a Sagittarius woman are backpacking through a country (maybe with a single change of clothes), lecturing or doing post-grad work at a university, planning a garden, cracking jokes to her friends, publishing magazines, books, blogs or a slamming Instagram, writing a novel in a coffeeshop, or devouring books.
The Sagittarius woman also can be found at industry conventions, leading a gathering to change policy, waxing philosophical or jumping on or off a plane.
What a Sagittarius woman does for a living
Sagittarius women are big-picture thinkers and risk takers. In the workplace, they get along with everyone and as employees or managers, they are great at bringing people together. They also have a great sense of humor, to boot!
Some career choices a Sagittarius woman makes: Uber driver, tourism specialist, publishing manager, printing press operator, environmental engineer, freelance writer, creative services manager, coach, international travel consultant, global project manager, entrepreneur.
What a Sagittarius woman wants in a partner
The Sagittarius woman needs the "three Ps" to be happy: productivity, purpose and pursuit.
Personal development falls under the Sagittarius woman's domain. They're always up for meeting in a far-flung locale, taking a road trip or joining you for a weekend workshop. Falling for a Sag? Proceed at your own risk. While they can be deeply loyal and monogamous, these explorers must first sow their oats. Sagittarius is known as the "bachelor" sign.
The Sagittarius woman needs a smart partner. Sporty and active are good, too. Primping isn't overly important, but being well read is. She clicks best with partners who are bold, self-determined, confident, but can still happily share and laugh, usually poking fun of each other. In other words, you should accept her for who she is, and definitely be yourself.
Flirting with a Sagittarius woman, "romantic stuff"
The Sagittarius woman is a charmer, so go ahead, charm away! She's not shy about talking politics, religion or other topics you might consider taboo when you're dating. Honesty and authenticity are her virtues.
Flirting & dating and your first date
Some good first date ideas are karaoke, a class, a lecture at a museum or an art gallery opening, reservation at a trendy (but not overly expensive) restaurant, spontaneous plans to some new locale she's never been to.
Conversation is of utmost importance on a date with a Sagittarius woman. She won't waste her time with anyone who can't wax on about a topic they're passionate about, even if she's not. This is among the most open-minded of the zodiac signs, toss her something you might thing is sensitive or out of bounds and she might surprise you.
This woman is up for pretty much anything on a first date, or subsequent dates. Mixing it up is good, you don't have to go back to that one special place where you started things, she'd much rather keep the memory and make a new one.
Sex with a Sagittarius woman
She has an idealized vision of sex along with a good hunger for it. Can you be a best friend and a sex god in one?
The Sagittarius woman also knows finding a soul mate can take time. Her sexual urges might be impulsive—sex now, questions later. But most Sagittarius women are aware of their ability to get swept up and you'll have to work a little harder than just jumping in the sack. Stimulating conversation is her highest turn-on.
When things get comfortable, this sign likes to mix things up with location (less focus on technique). Get ready for the best vacation sex of your life!
A Sagittarius woman's turn-ons and turn-offs
If you want to keep a Sagittarius woman happy, it is helpful to know here turn-ons and turn-offs!
Sagittarius woman turn-ons: looking on the bright side of every situation, sharing books, ideas and knowledge, having a great sense of humor, being a foodie or an adventurous eater, having well-established hobbies and interests, ongoing education and learning, being spontaneous and free-spirited
Sagittarius woman turn-offs: being overly practical or schedule-obsessed, predictability, fussing with appearance, showing no interest in reading, lacking warmth or compassion, wasting money, picking fights or criticizing her, being thin-skinned or easily offended
Dating a Sagittarius long-term
Sagittarius women want a best friend, soul mate and playmate in one. She'll roll her eyes at sappy stuff but inside she's incredibly sensitive.
As the sign of the Archer, she knows how to pursue, hunt and aim for her target. Still, she loves to be chased a little. A game of cat and mouse can be part of the courtship with a Sag but once you're in, you're in.
Partnership skills like compromise, negotiation and delayed gratification do not come naturally to her, but she's always working on them. Sagittarius is the "know it all" sign and she can come across like a bulldozer. But she can make an excellent (though intense) partner who is wise, empathetic and generous.
If she…
Gets quiet, it means she's thinking about work, a project or her bills. Go do your won things till she's done with her work. Or listen to her talk it out.
Doesn't call, it means she is busy with a project or not into you and hoping you'll figure it out. If she answers your outreach, you're still in the running (possibly barely). If she doesn't answer, maybe move on.
Calls a lot, she likes talking to you and probably wants to lock you in. Talking is one of her favorite aphrodisiacs and the path to her heart.
Doesn't make a move after a couple of dates, it means she's on the fence about you or not sure what she wants, which doesn't actually have much to do with you! Maybe downshift things or just be patient while she figures you out.
Doesn't make a move after a few weeks, it means she doesn't see you as a romantic partner or she has other plans (a trip, a business venture) and isn't sure how you fit into her big picture.
Moves fast, it means she might just want to sleep with you, or you fit her dream profile and she wants to lock you in. You could pace things or just go for it, if you're OK with where things might land if it's just a fling.
Buys you gifts, it means she's trying hard to win you over. Chances are good the gift is thoughtful and it shows she understands your personality.
Introduces you to her friends and/or family, it means she's seriously considering you as a partner and wants to see how well you would fit into her life. She's also testing you to see if you won't be jealous of her many acquaintances and friends.
Compatibility with a Sagittarius woman, by zodiac sign
If you're an… your common language is:
Aries: entrepreneurship, travel, adventure, education, fun and laughter
Taurus: food, wine, art and literature
Gemini: travel, global issues, humanity, books and education
Cancer: hypersensitivity
Leo: talking about yourselves endlessly, singing show tunes, going back to college for another degree
Virgo: conservation politics, nature and the outdoors, education, judging and analyzing people
Libra: lighthearted fun and activity (bowling, karaoke, movies)
Scorpio: unforgettable sex
Sagittarius: cracking each other up for hours, building empires, pop culture, travel
Capricorn: entrepreneurship, jokes, sports
Aquarius: clever jokes, social causes, being secretly neurotic, a love of freedom, unconventional ideas and world travel
Pisces: self-absorption, a knack for disappearing from people's lives (for weeks, months, years) and then resurfacing
Famous Sagittarius women and female celebrities
Billie Eilish, Taylor Swift, Nicki Minaj, Miley Cyrus, Britney Spears, Sia, Vanessa Hudgens, Rita Ora, Scarlett Johannson, Christina Aguilera, Chrissy Teigen, Baby Ariel, Avani Gregg, Hailey Bieber, Laura Marano, Emily Dickinson, Mary Queen of Scots, Jennifer Connelly, Christina Applegate, Jane Fonda, Anna Faris, Amanda Seyfried, Katherine Heigl, Katie Holmes, Marisa Tomei, Milla Jovovich, Jane Austen, Tina Turner, Tiffany Haddish, Judi Dench, Anna Nicole Smith, Alyssa Milano, Kim Basinger, Julianne Moore, Sarah Silverman, Raven-Symoné, Lucy Liu, Robin Givens, Caroline Kennedy, Tyra Banks, Emily Dickinson, Meghan Trainor, Bette Midler, Cicely Tyson, Wendie Malick, Lady Bird Johnson, Nene Leakes, McKayla Maroney, Margaret Cho
See our Love Matcher for more on the compatibility of your zodiac sign with others, here: https://astrostyle.com/love-matcher/
Never miss another important date! Have your free monthly horoscope delivered to your inbox. Join our mailing list for VIP invitations, earlybird access, monthly horoscopes and much more. Subscribe >
Photo credit: Tyler Nix via Unsplash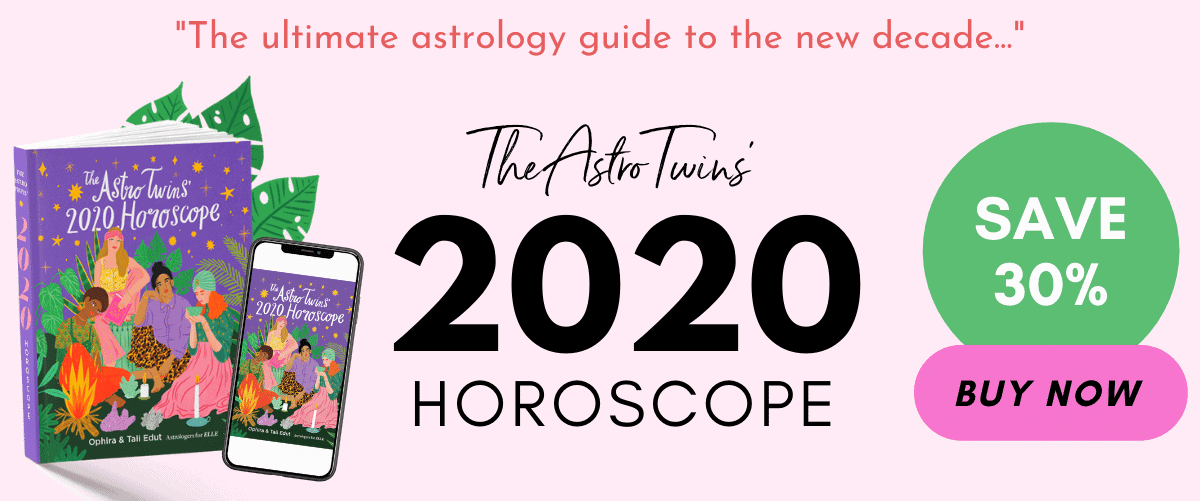 Pin
Praise for The AstroTwins
"Priceless information about yourself and your business that is both grounded and inspiring. Their intuition is off the charts and they've become one of my 'secret business weapons'. I cannot recommend them enough!"
—Marie Forleo, Founder of Marie Forleo's B-School
"The AstroTwins are my go-to guides for astrology. Their knowledge is incredible and their intuition is always spot on! I check in with them monthly for her guidance and support."
—Gabrielle Bernstein, Author of Spirit Junkie
"I'm a corporate type who thinks astrology readings are for parlor games. However, as I followed The AstroTwins' horoscopes, I found them uncannily accurate. Although I can't explain it, their readings have been laser accurate and provided profound insight.  They have been totally right about business, medical issues and relationships. The AstroTwins' approach is anything but a parlor game."
— Linda, Executive Coach and Professor, Virgo
"I've been a follower of the AstroTwins for years first through Elle.com, and then directly through their site. Their intuition and timing is always spot on! Their insight has allowed me to time decisions and transitions perfectly, both personally and in launching my company. Business, life and love—they're my go to gals!"
—Nicole, Paleo Coach and Chef
"The AstroTwins' book (Love Zodiac) is among my favorites. As a fellow Sagittarius, they are so positive and they always open my eyes to my many wonderful options and the fact that I have much to be grateful for."
—Sonja Tremont-Morgan, Real Housewives of New York City
"If you pay attention, you will get some very valuable information to help guide your path.  I have recommended The AstroTwins to many friends who all thank me. You will too!"
—Rochelle Schieck, Founder of Qoya