The AstroTwins on The Melissa Ambrosini Show podcast explore astrology birth charts. Twin astrologers Ophi and Tali Edut explain how your unique chart, your snapshot of planetary placements the moment you were born, can not only influence your love life, but it can be combined with another person's to create a Supercouple chart.
"Have you ever noticed you're one way with one person, and you're another way with another person? Ophi asks Melissa on The Melissa Ambrosini Show podcast.
The reason?
You're experiencing the blended energies of your charts, Ophi explains. A Supercouple chart combines two individual birth charts and finds the midpoints. For example: Melissa is an Aries and her husband is a Sagittarius, but together they become an Aquarius.
You can cast a free Supercouple chart on Astrostyle, here!
If you're new to astrology birth charts, start here!
The AstroTwins' Supercouple book takes a deep dive into every planet in your astrology birth chart and what it means for your Supercouple sign.
A Supercouple example: Justin Bieber and Hailey Baldwin
Hailey is a Sagittarius, super worldly/party girl, and Justin is a "bad-boy" Pisces. But together they blend into a Capricorn, which is more traditional and structured, if not a little boring and predictable, Ophi explains of the celebrity couple's Supercouple chart.
"We decided to modernize the idea of composite charts," Ophi tells Melissa on The Melissa Ambrosini Show podcast.
In the Supercouple book, we go through every composite planet, Tali adds.
Excerpt from the Supercouple book:
"If so many of us WANT to have an extraordinary "relationship unlike any other," then why do long-term couples have such a relatively low success rate?
Maybe we've just been using the wrong equation to measure relationship "success."
Maybe we need permission to finally stop shoehorning ourselves into a "one- size-fits-all" cookie cutter relationship model. ("One size fits none" is more accurate…)
With this handbook to your Composite Chart, you have new tools and techniques at your fingertips. You can recalibrate after a fight and even after a betrayal. Supercouples can find "new relationship energy" long after your nest has emptied, or you pee with the door open, or you sleep in separate rooms because one of you snores.
Think about it: We've got tools to enhance every other part of our lives. We biohack our health with supplements and stem cells. We raise our spiritual vibration by meditating and manifesting and microdosing. Our homes hum with "smart" devices.
Supercoupling is the silicon chip that can bring your relationship into the Information Age. When you have your Supercouple Code, you can dial into it anytime.
Read the full excerpt of the Supercouple book here!
What is Supercouple like?
"Supercouple is like: If you can imagine two people could blend in perfect harmony," Tali says. Instead of looking at your individual astrology birth charts, the blended Supercouple chart "changes everything in this incredible way. You're working toward a common goal."
The AstroTwins read parts of Melissa's Supercouple charts with her family members, which will delight listeners of The Melissa Ambrosini Show podcast! The AstroTwins also share some of their own Supercouple chart details from their families.
"Supercouple charts are a healthier way to be able to interact with each other," Tali says. "You're informed of the 'we' energy, without losing yourself."
Other topics covered on The Melissa Ambrosini Show podcast with The AstroTwins
In addition to the Supercouple book, Ophi and Tali talk to Melissa about:
• The North Node (your life's purpose and destiny)
• Books that inspire them
• How they set themselves up for a successful day, rituals, etc.
• Sibling dynamics and astrology
• The implications of technology on our lives in the future
• Current planetary transits and astrology (you can follow in your daily horoscope!)
• Spirituality and anxiety about the world's problems; politics and listening, tolerance
• How 2023 is the "Year of What If?" –what that means and how we're measuring up over time to the predictions
Melissa asks The AstroTwins with three, fun and insightful rapid-fire questions! You can hear them on The Melissa Ambrosini Show podcast, also available on Spotify:
What zodiac sign is your relationship?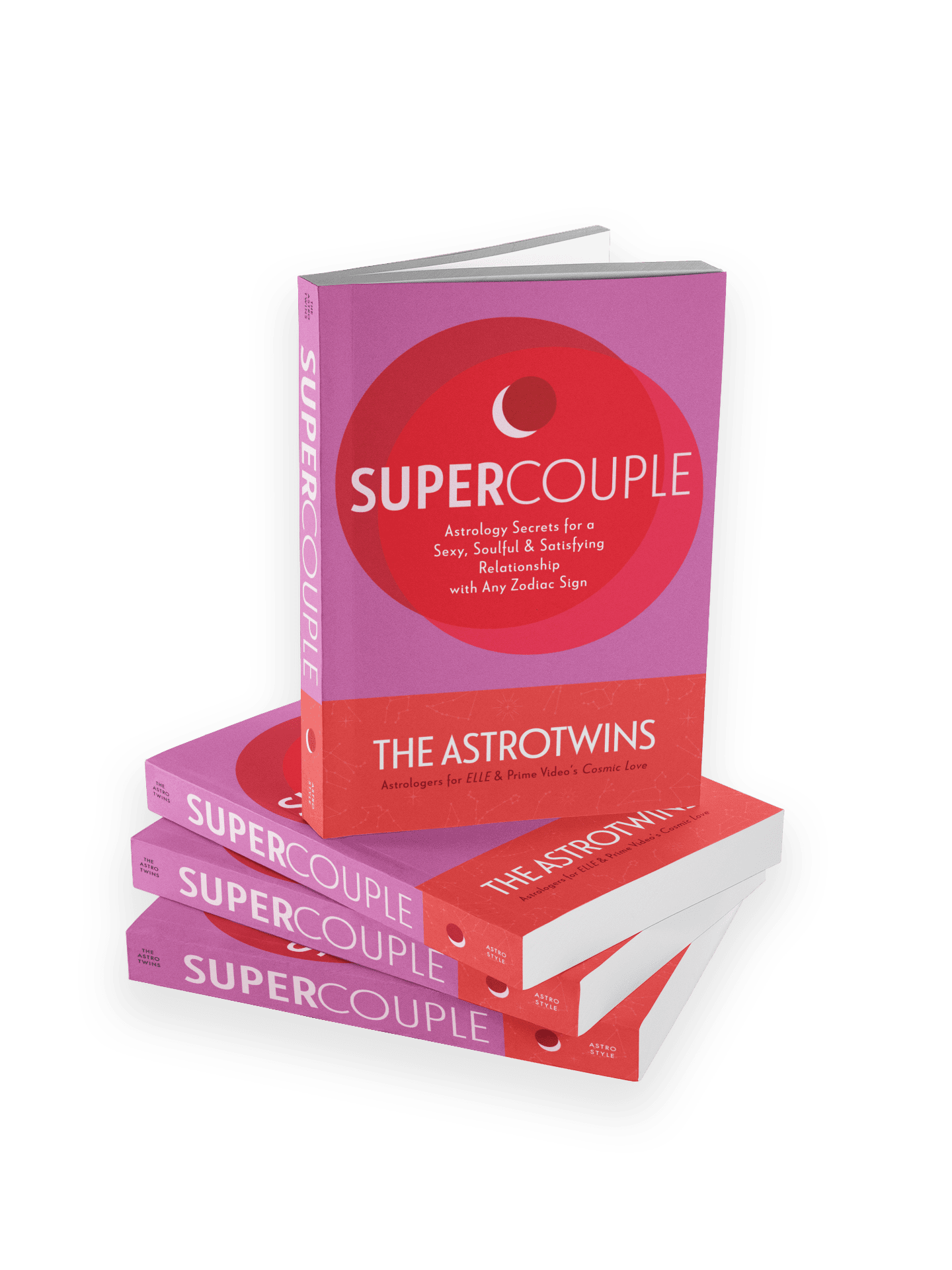 What zodiac sign is your relationship?
Learn the secrets of the composite (blended) chart in SuperCouple, a cosmic care and feeding manual for any relationship. Written by The AstroTwins, astrologers and matchmakers for Amazon Prime Video's Cosmic Love.