Let your imagination soar under the August blue moon! The second full moon in August is a Pisces full moon, and it's also a supermoon! How this dreamy zodiac sign illuminates subconscious thoughts and casts a compassionate glow over all your interactions. All about the August blue moon and what it means for you.
A Pisces full moon means it's time for a little enchantment
Every year, the Pisces full moon holds ceremony in our deepest psyches. These mystical moonbeams are known for causing miracles. How? By opening our channels to spiritual guidance that can appear as signs, serendipities or messages in your dreams.
Jump to
The August 30 full moon is a blue moon, and a supermoon!
The August 30 full moon in Pisces is considered a blue moon because it appears in the same calendar month as another full moon. The first full moon in August was the Aquarius full moon on August 1 (it was also a supermoon!) That's why it's called a blue moon. (Blue moons occur about every 2.5 years.)
A supermoon is a full moon that appears larger and brighter than the typical full moon (so, sorry, it's not really blue). What makes it "super" is based on the distance between the moon and the earth (the moon is at its closest point to the earth, a distance that can cause it to appear much larger and brighter).
A supermoon is believed to super-size the energy of whatever zodiac sign it's visiting. The August blue moon is a full, supermoon in Pisces, so expect everything you'd normally feel with a moon in Pisces, but amplified! In other words, have some tissues ready. We're about to go deep!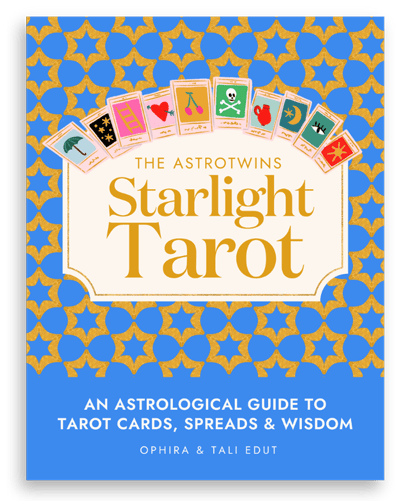 An Astrological Guide to
Tarot Cards, Spreads & Wisdom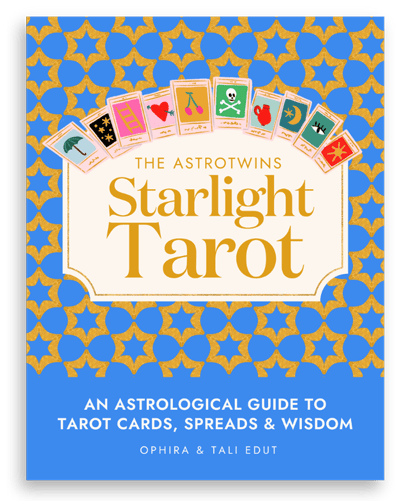 The AstroTwins bring your Tarot journey to life with Tarot spreads, history and empowering guidance.
Get the starlight Tarot
6 Things you can expect to bubble up, thanks to the August blue moon
Dreams become reality. Divine downloads stream in now. Whenever possible, get yourself into a meditative space so you can capture the messages from your higher mind, and possibly a few ancestors and guides. Since Saturn is co-piloting this mission, take actual notes. Some of your fantastical notions could be the seeds of a future start-up.
But you might feel lost at times. Because esoteric Pisces is the master of illusion, you might also feel lost in a labyrinth. What to do when that happens? Stop, breathe, and listen to your intuition. Then wait until you feel centered before taking your next step.
Forgiveness is divine. Do you need to make amends? The compassionate Pisces full moon paves the way for deep, soulful healing. Unexpectedly, you may see an "enemy" in a very human light. While you don't have to accept their wrongdoings, you may find a spot of forgiveness in your heart. And with no-nonsense Saturn hovering close to this August blue moon, you may realize that it's time to put up boundaries with a bully. Enough's enough!
Manifestation speeds up. Seeds you planted near the Pisces new moon (on February 20, 2023) are ready for harvest at the August blue moon! Inquiries you made to the universe six months ago at the Pisces new moon are about to burst open. They could illuminate the moody night sky with light or they could fizzle out. If something ends, Pisces will provide a soft space to reflect and let any tears and stuck emotions flow.
Pause to reflect. Pisces is a water sign known for its creative nature, too. The August blue moon amplifies the energy of the sign it's in, so that makes the August 30 Pisces full moon a perfect time for reflection, self-discovery and setting intentions. Connect to this sublime energy through music, dance and art. Use our Pisces playlist to evoke the mood.
Be kind to yourself, too! This Neptunian-guided full moon calls for compassion and empathy—and that starts right where you are. Vow to give yourself a daily shot of kindness, whether it's a compliment in the mirror or a well-deserved nap. Want to really go to work on this? Take a gander at the exercises in The Mindful Self-Compassion Workbook by Kristin Neff, PhD.
Try a ritual for the August blue moon/Pisces full supermoon
Because a full moon in this compassionate water sign can illuminate deep feelings (grief, sadness, heartbreak) that we've stored in our psyches, sometimes, the only way to get past these feelings is to go through them. Our Pisces full moon ritual helps you do that. Try our ritual for the Pisces full moon: "Deal to Heal"
What does the August blue moon/Pisces full moon mean for my zodiac sign?
Below are horoscopes for every zodiac sign for the full moon in Pisces on Wednesday, August 30 at 9:35 PM Eastern, which is a rare blue moon and supermoon! You can read for your Sun sign or your rising sign (ascendant). Visit our Cosmic Calculator section if you want to calculate your Rising sign or discover more about your personal astrology.
Remember, your scope isn't just for the day of the full moon, but for the two weeks following. Follow your daily horoscopes at Astrostyle.com to never miss a detail!
Aries (March 21-April 19)
Feelings run deep and strong under the August blue moon in Pisces. Because this activates your twelfth house of introspection and intuition, you may have some sudden revelations about the closest people in your life, relationships that are (realistically) not tenable anymore and how you might finally drop or alter a counterproductive habit. But don't try to push or force yourself to do anything. Just keep shining a bright light on this, and you may naturally begin to alter your behavior.
Taurus (April 20-May 20)
When's the last time you let the amazing people on Team Taurus know how much you appreciate them? The August blue moon in Pisces actually a perfect day for that. In Pisces, this full moon lights up your eleventh house of pals, platonic partners and playmates. Depending on what's appropriate—in terms of your connections and safety precautions—you might want to throw a little celebratory fest, host a happy hour or give everyone a gift card. Small but sincere gestures will be meaningful!
Gemini (May 21-June 20)
The Magic 8-Ball says, "You may rely on it!" August 30's accelerating and revealing Pisces full blue moon in your tenth house of career success offers a clearly lit path to the top. This is one of the best days, kicking off one of the most exciting two weeks of your professional year! But your hard work and the payoff are NOT a magic trick. You've been pulling off a superhuman feat, and now you're ready to reap your reward. Your next big move: deciding what's next.
Cancer (June 21-July 22)
Whether or not you'll get to take full advantage of the August blue moon in your ninth house of travel, adventure and exploration, there's no reason you can't make the most of its expansive theme. These next two weeks are peak manifesting time for widening your horizons in any ways that excite you. You might sign up for an immersive language class or an advanced cooking workshop. Some Cancers may finally be ready to TEACH one! The key is stretching out of your comfort zone.
Leo (July 23-August 22)
It's a no-holds-barred kind of time, at least in the "seduction and intimacy" department as the annual Pisces full moon illuminates your eighth house of sex, shared resources and merging. And because this August blue moon is also a supermoon, think about doing something out of the ordinary (in bed). Wherever you're at on the continuum, you can take a bold leap forward under these manifesting moonbeams. A new(ish) union could explode into a passionate and deep connection while a solid relationship might be ready for a significant next step. Single? Get busy over the next two weeks— peak manifesting time!
Virgo (August 23-September 22)
Two is definitely your lucky number starting August 30 and over the next two weeks! The year's only Pisces full moon powers up your seventh house of committed partnerships. And because it's a rare blue moon and a supermoon, you could do something wildly out of character to move the needle on a relationship. If you're currently unattached, this would be a great time to come up with a new strategy for meeting people on your wavelength—and vowing to be a LITTLE less fussy. While some couples will be ready to take an ambitious next step, those who've been suffering in silence might decide it's finally time to consciously uncouple.
Libra (September 23-October 22)
Cleanup in the Libra aisle! The August blue moon is a full moon in Pisces, the only one of 2023, shining a spotlight on every greasy streak and dust bunny in your space. If you weren't motivated BEFORE to get your house in order, you might be now! It's also a supermoon, which can spark a decluttering mission or inspire you to start eating lower on the food chain and getting daily exercise in. Don't set unrealistic goals, though. Slow and steady is what'll win this race. That said, because this is a rare blue moon, try looking in a new direction for meals and workouts that inspire you.
Scorpio (October 23-November 21)
Passion: rising! The year's only Pisces full moon sends jolts through your fifth house of fun, playfulness and pleasure. This is a rare blue moon and supermoon, giving you an empowering chance to impress someone whose attention you've been trying to capture, whether an influential exec at the office or a potential love interest. You'll have 'em way before hello—especially if you dial up your famous Scorpio charm. Your sizzling AND creative mojo is in high gear for the two weeks after the August blue moon, so take a little risk on something you've been circling around.
Sagittarius (November 22-December 21)
The year's only Pisces full moon lands in your fourth house of home, family and foundations, inspiring you to gird up anything that's wobbly (yet important) in those areas. For some Archers, that'll mean getting the Sagittarius Palace shipshape, clearing out months of paperwork, tackling closets and drawers and any other housekeeping. Others will harness the rare energy of the August blue moon (and supermoon!) to make a major decor change or possibly find a new address. The next two weeks are ideal for spending quality time with your inner circle—WHAT you do is less important than HOW you bond.
Capricorn (December 22-January 19)
If you've been trying to handle too many aspects of a big launch, lean in to the collaborative vibes of the August full blue moon in Pisces and your third house of friends and community. Even if it won't take a village to get your big idea off the ground, there's still strength in numbers. By talking to people, you'll get them excited about your mission. The third house rules communication, so start spreading the news now, and you could achieve liftoff within the next two weeks!
Aquarius (January 20-February 18)
Bring on the abundant vibes! Nothing's stopping you from securing your cash flow or squirreling away funds for a (maybe) winter getaway, Aquarius. Under the dazzling glow of the year's only Pisces full moon, you can make hay while the, er, moon shines!
Because Pisces rules your second house of finances and security, this supermoon can help you figure out where you're bleeding red ink and help you seal it off! And because it's a also a rare blue moon, you could tap into a source of funding by looking in a direction you normally wouldn't. When in doubt, follow the simplest maxim: Save more, spend less.
Pisces (February 19-March 20)
Happy cosmic birthday—or New Year or whatever momentous milestone you want to celebrate! The August blue moon marks the year's only full moon in your sign. Because it lands in your first house of self, appearance and passion projects, your mandate is to pick a few top priorities and craft a game plan to get 'em done!
Pick a feel-good activity you only do—yes—once in a blue moon. Whether that's consulting a tattoo artist for your next piece of ink (after Venus turns direct on Sunday) or picking up lunch at a sushi place across town, do something to celebrate the magic of this lunar lift.
When is the next full moon?
The remaining full moons of 2023 are in:
• Aries on September 29 (also a supermoon; the fourth and final one of the year)
• Taurus on October 28 (also a partial lunar eclipse)
• Gemini on November 27
• Cancer on December 26 (second full moon in Cancer of 2023, the first was on January 6)
Pisces moon dates: When is the moon in Pisces next?
• The next new moon in Pisces is on March 10, 2024 (the new moon in Pisces 2023 was on February 20)
• The next full moon in Pisces is on September 17, 2024 (it's also a partial lunar eclipse!)
Read even more about full moons
Full moons mark the halfway point of monthlong lunar cycles. These are harvest times, when we reap the results of the seeds we planted six months earlier under a corresponding new moon. Learn more about full moons in astrology here.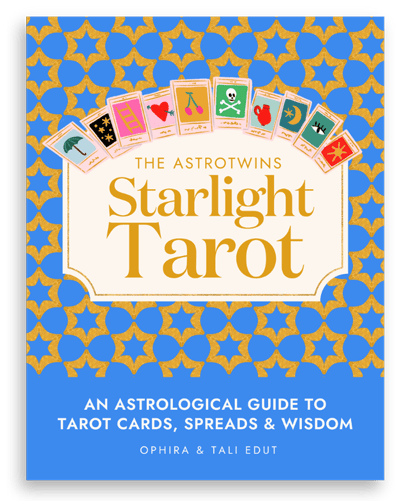 An Astrological Guide to
Tarot Cards, Spreads & Wisdom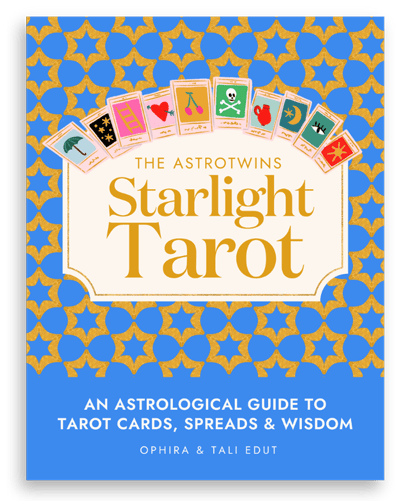 The AstroTwins bring your Tarot journey to life with Tarot spreads, history and empowering guidance.
Get the starlight Tarot