The homespun Cancer new moon beams its nurturing energy down upon us on July 17 (at 2:31 PM ET). Like Christmas in July, it's time to get cozy with your inner circle and find new ways to bless your nest.
Bring it back to base! The annual Cancer new moon pulls the focus back to our personal lives. Tend to home and family matters. Make time for your inner circle. (Ken! Skipper! PJ!) Journal about your feelings. The domestic new moon in Cancer could reveal a dream home listing or inspire a remodel or decorating spree. Check our decorating horoscopes for some inspo!
When you're not tucked away in your casa, get out and literally make a splash. There are pool parties and beach weekends to enjoy. Don't ignore this watery lunation's invitation to make the most of the summer months. C'mon Barbie, let's go party!
Jump to
Your Cancer new moon check-up!
• Who are the stars of your innermost circle? It's easy to take those unwavering supporters for granted, but at the Cancer new moon, treat them like VIPs. A nurturing person could play into events near the date of this new moon.
• Feeling drained from too much giving? Maybe you've forgotten where other people's "shells" end and yours begins. Turn up the volume on self-care (that includes boundaries, not just spa days) and begin to practice saying "no" to requests that are certain to exhaust you. Recommit to relaxation and make sure you have enough support.
• Time to clear some negativity from your space? La luna's opposition to shadowy Pluto and a harmonious trine to spiritual Neptune sets the stage for Feng Shui, a deep decluttering or a house-blessing ritual.
Your love forecast for the Cancer new moon
Catching feelings? That could be an understatement under the new moon in soulful, sentimental Cancer. Here's what this new moon brings for love, romantic and familial.
Coupled? This lunar lift can act like a cosmic bonding agent for couples who are ready to get cozy. Speaking of which, is it time to exchange keys or shop around for that love nest? Or maybe get plans going for your dream home? The July 17 Cancer new moon is the beginning of a six-month cycle that could shape your co-living situation by the end of the year and the Cancer full moon on December 26.
Single? Even if you weren't looking, at least give a sideways glance to the "nice" types. Family and friends could do a bang-up job of playing matchmaker. Take it slowly, but dip your toe back in that dating pool.
Advice for everyone With the focus on home, roots and emotional bonds, this is the perfect time to reach out to the nurturers in your life. Whether you share DNA or they occupy the esteemed title of chosen family, having their support reminds you that you're never alone in the world.
Sn about your love life rn: Five days into vibing with the Cancer new moon, love planet Venus goes retrograde for the first time in 18 months! So while you're basking in the glow of Cancer's gentle vibes, Venus's backspin in Leo might give you some whiplash! You can learn about the Venus retrograde here. We're also offering a Romance Reset course this summer that flips relationship scripts during Venus's seven-week retrograde.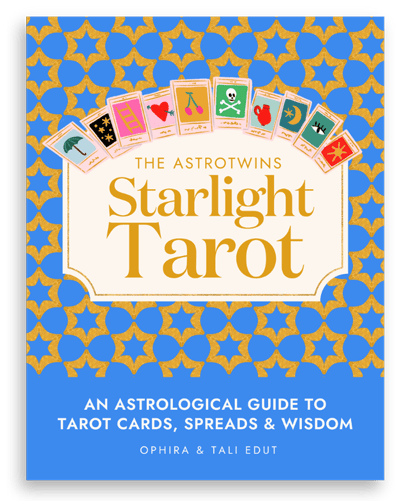 An Astrological Guide to
Tarot Cards, Spreads & Wisdom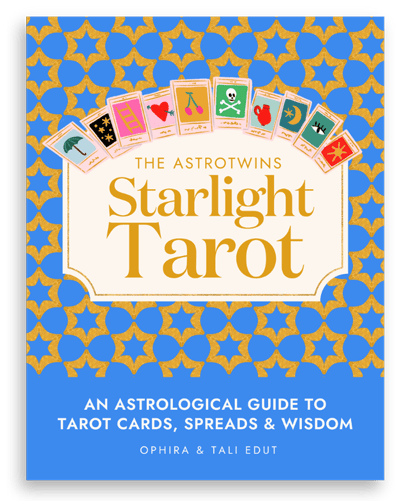 The AstroTwins bring your Tarot journey to life with Tarot spreads, history and empowering guidance.
Get the starlight Tarot
8 ways to nourish yourself during the Cancer new moon
1. Spark a renewed relationship with a relative. With everyone's nesting instincts activated, time at home base helps you feel more centered. Bonus points for setting up a regular tradition like a monthly family dinner. (Or try a nourishing feast ritual for just this moon!) Don't feel obligated to invite every person who shares your DNA. If someone comes with a "trigger alert," gather a smaller group or set up one-on-ones.
2. Give your space more sentimental value. Decorate your home with familiar symbols: your grandmother's serving platters on your dining table, frame childhood photos to display. If your family of origin falls into the "better left alone" category, skip back a few generations and learn more about your ancestral heritage. You might even select a cultural object or artifact that reflects your roots to display in your home. That Viking spear or West African mask will surely spark some interesting conversations with your dinner guests!
Switch it up, too. You don't have to donate anything you think you'll treasure again in the future. Just move it out of your sight line for a while. Or rearrange to energize the most abundant corners of your home using the Feng Shui and astrology principles we illuminate in our Home Reset course!
3. Tweak your security plan. Financial security is a big deal to the zodiac's Crab, whose energy never feels settled without a rainy-day fund and a retirement plan. With global economics continuing to fluctuate and inflation sending prices soaring, this new moon could spur creative ideas for your bottom line. Maybe schedule a meeting with a financial planner. Since Cancer governs the home, this new moon may bring the sale or purchase of property.
4. Hydrate. Cancer is a water sign, and this new moon reminds us of the soothing and regenerative power of H2O. Take a ritual bath to cleanse your energy under these moonbeams. Pour in the Epsom salt, which is high in energizing, detoxifying magnesium (which most people are deficient in nowadays). Bring a crystal or two to the tub to "charge" your bath with healing energy. We suggest moonstone, which embodies the feminine vibration and is said to enhance intuitive powers.
Toss in a generous sprinkling of rose petals and a drop of pure essential rose oil. This gorgeous flower is known to have a soothing effect on the mind and can ease depression. Given the moodiness often associated with Cancer, a little boost goes a long way. You could also try a Cancer season meditation focused on this sign's element, water. Or set the ambiance for your retreat with our Cancer season playlist.
5. Nourish your sensitive underbelly. Since Cancer rules the stomach area, try some tummy-soothing rituals. Infuse drinking water with herbs that are known to aid digestion and promote a healthy gut: fresh mint, lemon, even a few leaves of basil. Experiment with the work of Dr. Masaru Emoto whose studies reveal that words and thoughts can change the shape of water molecules. Print an inspiring phrase or mantra onto a sticker and affix it to your refillable water bottle. You might just lift your spirits with every swig.
6. Feel all the feels. As the ruler of feelings, Cancer is all about trusting and respecting our feelings. Unfortunately, we still live in a culture that dismisses emotional people as "weak." At this new moon, think less about practical matters and instead tune into your inner voice. Can't find it? Put your hands on your chest (the area ruled by Cancer), close your eyes, and breathe. Within a few minutes, your emotional truth will have its say. Pop open your Notes app or grab a pen and free-write whatever comes up to help process any unsorted feelings.
7. Instead of lashing out, look within. During this moody moon, familiarity CAN breed contempt—especially if you don't give yourself enough personal space in between all the heartfelt huddles. Maybe there's something you need to get off your chest (that same Cancer-ruled area). Just try do it without blaming or shaming anyone in the process.
When all else fails, let those tears flow. There's nothing more cleansing (or Cancerian) than the soothing power of an emotional release. Tears have surprising medical benefits; they release toxins, namely, the chemicals that raise cortisol, the stress hormone. In the meantime, enjoy the healing vibes of the Cancer new moon, and pass the tissues as you work through those issues!
8. Connect to a mother figure. Cancer rules motherhood and motherly figures, and this new moon is a powerful conduit for you and your mama or other matriarchal person (or even your children). On this family-focused day, you might also want to explore your ancestral lineage. Try this Cancer season meditation to tap into the motherly, feminine energy of this star sign.
Are there rifts among your relatives that repeat themselves? Look into Family Constellation Therapy, a healing modality that helps break generations-long family patterns…in a downright fascinating way. If this interests you, we recommend the Michael Reddy book Health, Happiness and the Family Constellation: How Ancestors, Family Systems, and Hidden Loyalties Shape Your Life—And What YOU Can Do About It.
Your Cancer new moon horoscope by zodiac sign
Below are horoscopes for every zodiac sign for the new moon in Cancer on Monday, July 17, at 2:31 PM Eastern. You can read for your Sun sign or your rising sign (ascendant). Visit our Cosmic Calculator section if you want to calculate your Rising sign or discover more about your personal astrology.
Aries (March 21-April 19)
The new moon in Cancer on July 17, the only one of 2023, may lead you to ponder what makes you feel truly "at home." Is it the sense of comfort and familiarity when you return after a long day at work or out with friends? Are there colors, patterns or fragrances that evoke nostalgia? This new moon may have you craving more of a sanctuary than merely a spot to hang your hat. If you're pondering a move, this lunar light can help get your plans underway. Set an intention to be living in your "right" space by the corresponding Cancer full moon on December 26.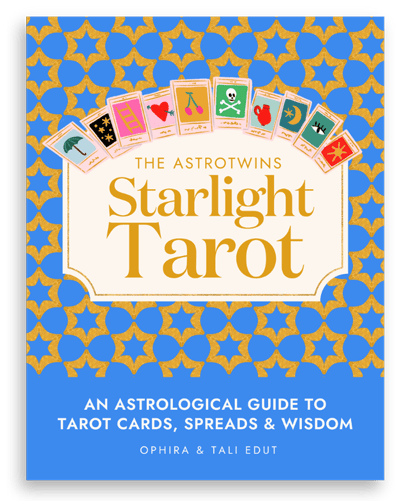 An Astrological Guide to
Tarot Cards, Spreads & Wisdom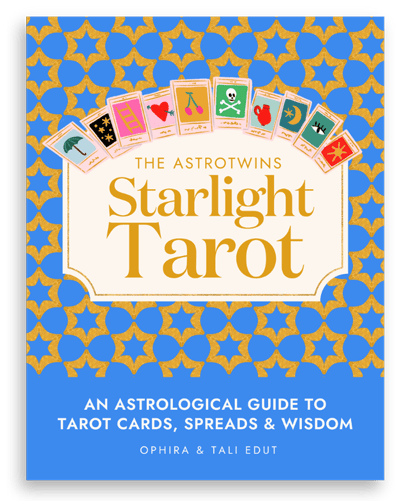 The AstroTwins bring your Tarot journey to life with Tarot spreads, history and empowering guidance.
Get the starlight Tarot
Taurus (April 20-May 20)
No need to travel far and wide when there's plenty of action right in your own zip code (or a short ride away). It's easy to overlook what's under your nose, but the grass isn't always greener elsewhere. July 17's eye-opening new moon in Cancer powers up your third house of friendship and local affairs. Start checking the listings online and making note of what hours different venues are open. You might be surprised to discover that the indie bookstore hosts a lecture series or the mom-and-pop wine shop offers tasting classes.
Gemini (May 21-June 20)
You don't need an umbrella to make it rain! July 17's Cancer new moon lands in your financial sector and heats up your earning power over the next six months. But don't sit around waiting for Lady Luck to find YOU. This cosmic tailwind gives you the confidence to make a bolder-than-usual move. Reach out to the HR department at your dream company and request a meet and greet. Or ask a friend to make an introduction to someone they work with. Happily employed? Start positioning yourself for the next pay grade or a rate hike before the end of the year.
Cancer (June 21-July 22)
The new moon in Cancer on July 17 is like a bonus birthday celebration for you, Crab! This annual event is one of the most fertile days of 2023 for planting the seeds of your desires. But don't go about it randomly. Think about what you'd really like to get into or deepen over the coming six months—and the steps you'll need to take to get there. Start with small but steady moves over the next two weeks, when the lunar lift is the strongest. But give yourself until the corresponding full moon on December 26, to manifest the biggest results.
Leo (July 23-August 22)
If you've been gripping onto something (or someone) for dear life, July 17's Cancer new moon in your twelfth house of release can help you finally wave the white flag. It can be scary to let go, but in this case, Leo, you've got to trust the universe. This new moon helps you turn the page on a storyline that's not going anywhere. Best of all: When you create space for new possibilities, miracles can happen! If you're craving a new spiritual or creative outlet, this is a great day to start your search.
Virgo (August 23-September 22)
Tap in, Virgo! July 17's, the only year's new moon in Cancer and your collaborative eleventh house brings you back into the lively mix of a beloved group. If you've recently gone rogue—or just took a little hiatus from hanging out—you'll enjoy the comfort and camaraderie of this particular crew. The eleventh house rules technology and humanitarianism, so find a way to pool your collective resources on a project that can better the world.
Libra (September 23-October 22)
On your mark, get set, GOAL! The year's only Cancer new moon on July 17 stokes your tenth house of career and sets up a series of opportunities that'll help you reach some major professional milestones. First, though, you need to get clear about what you want to achieve and what direction you'd like to head in. Give yourself six months—until the corresponding Cancer full moon on December 26—to work out the details. But get moving, even if you have to adjust your course along the way.
Scorpio (October 23-November 21)
How much longer can you ignore the siren song of a faraway zip code? July 17's new moon in Cancer hits your travel and adventure house and might finally be the thing that lures you out the door. Go ahead and finally book that summer beach cottage or a visit to see a beloved family member. But even if you can't go now, you can do some dreaming and scheming and figure out where you can go by the corresponding Cancer full moon on December 26.
Sagittarius (November 22-December 21)
Go deep—no, deeper, Sagittarius! On July 17, the year's only new moon in Cancer revs up your eighth house of mysticism and eroticism, and it doesn't get much more intense than this. With your heart (and parts further south) tingling in anticipation, you may struggle to focus on your work. If you can duck out a little early, make a plan to meet up with someone who can help you move this energy through your mind, body and soul. Attached? Plan a special at-home dinner date with your S.O., with a sexy surprise or two.
Capricorn (December 22-January 19)
One is the loneliest number, so make way for a two-player game. With July 17's new moon in Cancer stoking your seventh house of partnerships, you'll get farther teaming up with a capable plus-one—not to mention have a lot more fun! Dive into dynamic duos over the next two weeks, when the influence of this new moon is at its strongest. But the lunar lift will stretch out over the coming half-year, so set some goals for a professional, creative or romantic alliance that will enrich your life on multiple levels before the Cancer FULL moon on December 26.
Aquarius (January 20-February 18)
Your healthy-living zone gets a huge lunar lift on July 17 from the year's only new moon in Cancer. This brings the opportunity to make a fresh start, plus Cancer is the nurturer of the zodiac. Together, you're being prompted to make some important changes in your life that will not only give you more energy but will support all your greater goals. But don't make it about deprivation and steely self-discipline. Infuse pleasure into your meals and movement at every opportunity. How's that for Grade A motivation?
Pisces (February 19-March 20)
Romance is in the air—and your thoughts, Pisces. You might as well admit it: You're a smitten kitten! With a new moon in Cancer revving up your fifth house of creativity and amour on July 17, let your head act in service of your heart. Don't try to analyze your emotions: Just follow them where they lead. Single? You may fall for someone totally outside your usual "criteria," but give 'em a chance. Couples should bring more play into their sexytime. Laughter is a powerful aphrodisiac!
When is the next new moon?
The remaining new moons of 2023 are in:
– Leo on August 16
– Virgo on September 14
– Libra on October 14 (also an annual solar eclipse)
– Scorpio on November 13
– Sagittarius on December 12
When is the next new moon or full moon in Cancer?
• The next full moon in Cancer is on December 26 (it'll be the second full moon in Cancer of 2023, the first was on January 6)
• The next new moon in Cancer is on July 5, 2024
Read even more about new moons
New moons reset the monthly lunar cycle. Astrologers treat these occurrences as ultra-powerful moments to set intentions, start fresh and begin projects anew. Learn more about new moons in astrology here and moon signs here.
Check out your entire July 2023 Horoscope, too!
What zodiac sign is your relationship?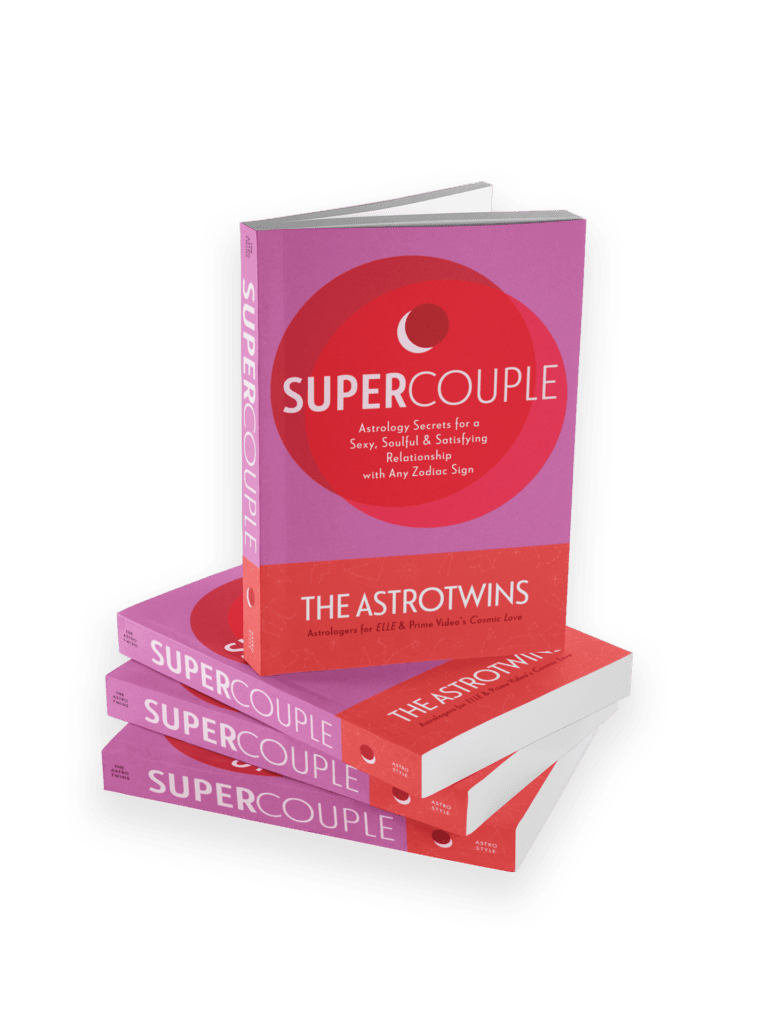 What zodiac sign is your relationship?
Learn the secrets of the composite (blended) chart in SuperCouple, a cosmic care and feeding manual for any relationship. Written by The AstroTwins, astrologers and matchmakers for Amazon Prime Video's Cosmic Love.