S1, e4
Cosmic Love
A Tale of Two Chris's
The Elements meet their fourth and final matches in episode 4 of Cosmic Love on Prime Video. Plus: The AstroTwins explain how your Mercury sign shapes your romantic communication style on Amazon X-Ray.
Caution: Spoilers ahead!
What happens in Cosmic Love, Episode 4?
Episode 4 Summary:
Phoebe explores her feelings about her matches and her place in the Cosmic Love social experiment. Connor and Maria wonder what happens if their matches don't step up. The Elements learn their Mercury sign and choose dates. Some of the cast kiss-and-tell, causing some hurt feelings. The Elements meet their fourth and final astrological matches. Jealousy rears its head!
"I'm not a jealous person," Chris E.. says, summing up the mood of Episode 4. "I'm very much a believer if someone wants to be with me then go ahead and be with me, and there's nothing that jealousy can do to stop that."
The Astrology of Cosmic Love, Episode 4
Mercury Signs and Communication Styles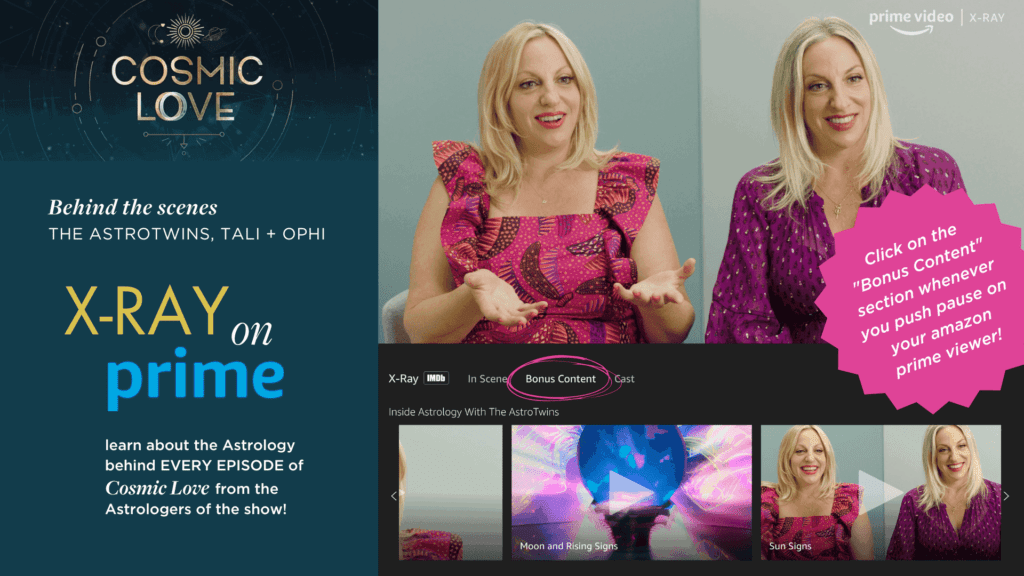 The AstroTwins went beyond "the Big 3" in Episode 4 and looked at Mercury signs
"Mercury is such an amazing planet to look at in the astrology chart because it governs communication, which is the foundation of any relationship," Ophi says.
Looking at the Mercury signs of the Elements was eye opening for them, Ophi adds.
Your Mercury sign can lead you to tweak the way you communicate to get the things you want.
The Elements learn about their Mercury signs and their role in romantic connections
For example, Noel, is a Pisces Sun, known for being compassionate, passive, and observant. But his Mercury sign is in Aries, a rapid, tell-it-like-it-is fire sign, which can make him come off as impulsive and flirtatious.
"When your Mercury is different than your Sun sign, you spent a lot of time explaining what you really meant," Tali explains, "because your mouth is not the best representative for your personality."
Connor and Maria both have their Mercury in the same sign as their Sun, which makes them more "this is who I am." Connor's thought process involves a lot of questioning (Gemini). Maria is very too-the-point, big-picture and strategic (Capricorn).
What's your Mercury sign?
Your Mercury sign is often one sign a way from your Sun sign, but do your birth chart or use our cosmic calculator to find yours:
What astrology traits are the Elements revealing in Episode 4?
One way to understand how you match to a romantic interest is to learn your Mercury signs. Mercury signs reveal how you make sense of the world, your style of communication and influence the people you click with.
The Elements choose dates based on Mercury signs
For example:
Noel's Mercury sign is in confident Aries. As the sign of the warrior, this Mercury sign means Noel won't back down from a debate. Noel loves a conversation that gets passionate and fiery! He chooses to spent more time with Jazmin. Her Mercury is in Cancer, which means she's naturally good at articulating feelings and at drawing other people's feelings out as well.
"Even though I find Jazmin very beautiful and attractive, I'm trying to focus less on the physical and find more of the emotional and the type of woman I want to spend the rest of my life with," he says.
Phoebe's Mercury sign is in Cancer. This means, despite being a Leo, she has a surprisingly shy side even if people don't see it. Words can hurt, causing her to retreat into her shell. she decides to spend more time with Darren, whose Mercury is in Scorpio. Scorpio intensity shines through in everything, especially energy and body language.
"I just want a super fun date, no pressure," Phoebe says. "And that's exactly why I'm taking Darren on this date. We have so much fun together."
Who gets matched in Cosmic Love, Episode 4?
The AstroTwins, speaking through The Astro Chamber, reveal the fourth and final matches in Episode 4. The final singles are waiting for the Elements in the Celestial Sanctuary.
The last matches are revealed!
Connor's final astrological match is someone who will see through his calm, cool and collected act and push him to be his real self. Connor is matched with Ana, one of the Pisces singles.
Noel's final astrological match is a potentially magnetic pairing. Together they can push each other to be the best versions of themselves. As a Pisces, this match offers emotional stability. Noel is matched with Morgan, a Virgo.
Phoebe's final astrological match is deep down what she desires, even if on the surface it isn't obvious. This match is attracted to her warrior spirit, if she lets her walls down. Phoebe is matched with Darren, the one Scorpio single at the Cosmic Compound.
Maria's final astrological match is a deeply romantic matched despite outwards differences, they're aligned. This match could be a fantasy. Maria is matched with Chris E., a Pisces.
The Elements' other matches bristle at the final matches as they gather at the bonfire, which isn't the only thing giving off heat!
The experiment of Cosmic Love continues
"I don't get why people are getting so offended," a frustrated Phoebe says when pressed about how she feels about her matches. "If my heart is telling me that none of these matches are right for me, I'm going to listen to that.
"This is a different level of intensity that I've never felt before . . . For me, at this point, do I see myself getting married at the end of this? For me that's a big 'fuck no," absolutely not. I don't.
"I don't think astrology is the be-all, end-all. You can't just brush over the physical attraction thing."
The singles and Phoebe's matches (especially!) react to her strong words!
What's coming up on Cosmic Love: Season 1, Episode 5?
The Elements each eliminate a match, and send that person home.