Is a Scorpio woman right for you? How do you make a Scorpio woman happy?
If you follow astrology, you may hear some misleading match-up advice. Maybe you've heard that you should "never" date a Scorpio. The truth is you can make it work with any zodiac sign. Your so-called imperfect match could become your life partner if you take a chance.
Astrology is a helpful tool for "decoding" people. No matter what you believe, it's always helpful to have another tool in your romantic arsenal.
So if you're interested in a Scorpio, how do you make a Scorpio woman happy—and find yourself happy with a Scorpio woman?
The Scorpio woman
Intense Scorpio is ruled by Pluto, planet of power and control. Pluto is a tiny powerhouse, and a bit of a mystery; in mythology Pluto was the god of the underworld. Many Scorpio women are also drawn to "dark" things, and often wear the color black, or a shocking tone like red or hot pink. Like Pluto, Scorpio's power often emanates from a hidden source, even when you don't say a word.
Mysterious Scorpio is the zodiac's most misunderstood sign. The Scorpio woman is so powerful that people feel her presence, even before she's said a word. This sensitive sign is good a picking up vibes. She sees every little detail, and  can read people like an open book.
Once you get used to her high-intensity style, she is known to be fiercely loyal. Anyone who betrays her had better watch out! Like the Scorpion this sign represents, she'll deliver a painful sting of revenge.
The Scorpio woman's concentration powers are amazing, she can easily become obsessed. She can develop possessive feelings if her creativity isn't focused on something other than you!
Is the Scorpio woman your "dream girl?"
Scorpio is the eighth of the 12 zodiac signs, which begins its cycle in the middle of fall every year during Scorpio season—which falls around October 23-November 21.
The Scorpio woman has a reserved persona, seldom starting a conversation or expressing interest in others openly—unless she feels out the situation first. Once you get her to open up, however, you'll feel her scorching passion for whatever topics fascinate her.
Be warned: Scorpios can focus on one subject to an extreme, so you may be in for a deeper dive than you expect—or want! But her natural charisma can quickly pique your interest in the topic, too.
How to spot a Scorpio woman
Many Scorpio women are cutting-edge trendsetters with cult-like followings. Another way to spot them? Look for the piercing Scorpionic gaze, which is hawklike, narrowing in on its "prey" with hypnotic and piercing eyes. If you happen to be the object of that look, watch out! You could feel read as easily as a book, as the Scorpio woman seems to just KNOW all your secrets, soft spots and fears.
The Scorpio woman's focused attention can be addictive, and even painful when it's pulled away. While she won't give up her loyalty and trust easily, once she does, she'll stick with you through thick and thin. Don't even think about double-crossing a her, though, because she WILL unleash her fury on you, divulging all of your secrets and airing your dirty laundry (probably!). Revenge is a favorite dish to serve…ice cold, for a Scorpio.
On a positive note, Scorpio women are the perfect people to help you explore your darker emotions or sexuality, guiding you through fifty-plus shades of irresistible and soul-communing experiences. Although this sign may crave complete and utter control over everything, Scorpio women secretly yearn for the very thing they fear: true intimacy with others. It takes a lot for Scorpio to reveal her vulnerability, so guard that privilege with the utmost care. As Scorpios open up and learns to show their shadow side, they can heal in ways that are truly profound.
The "natural habitat" for a Scorpio woman
Soaking up the arts at an indie concert or a gallery opening, geeking out at a conference, rebalancing her energy at a yoga retreat or behind the rope of a VIP section are a few natural habitats for a Scorpio woman. You might also find her home cleaning or spending quality time with kids, working after dark or hiding from the world in a secluded cabin, deep in nature, or at a booth in a trendy restaurant.
What a Scorpio woman does for a living
The Scorpio woman in business is focused with razor-sharp instincts. She is observant and on top of everything and equally able to seamlessly dive deep behind the scenes. She is loyal to a fault once trust is established. And the Scorpio woman is not afraid to set boundaries or flex power.
Careers and occupations commonly filled by Scorpio women: real estate agent, appraiser, massage therapist, funeral director, private mortgage banker, psychologist, psychiatric counselor, musician, military lawyer, litigation attorney. She might also be a media mogul, artist, dancer, body worker or healer, fashion designer, chiropractor, detective, novelist, police officer or agent, or work in security.
What a Scorpio woman wants in a partner
Scorpio is the sign of power and control, and the partner who understands this game will keep up with her. There are a few rules for dating a Scorpio: don't kiss a** and don't let her know you into her more than she wants you.
The Scorpio woman is looking for an iconic relationship, a hall of fame soul mate story. She refuses to settle for less. Until she finds this mythic other half, the person who makes her look and feel like a goddess, she may never give her heart fully.
The partner most begetting a Scorpio woman is someone who wants to be part of a power couple. She's the queen of the kingdom and you're the king. Together you're the envy of the world. She is a classic family woman. But she also is open to non-conventional relationship constructs. When it comes to home and family, she wants to demand creative control.
To put it simply: If you're okay being sometimes second to the Scorpio woman, you are her ideal partner.
Flirting with a Scorpio woman, "romantic stuff"
The Scorpio woman believes in soul mates and won't settle for less. Flirting could lead to a future—the Scorpio woman doesn't believe in moderation but all-or-nothing.
Flirting & dating and your first date
You'll always feel a bit naked with a Scorpio woman, sharing your secrets. She is always undressing you in some way and has a gift for gettin you to show your hand while she keeps her cards close to the chest. On your first date, you might find yourself doing all the talking and realize later you were totally on an interview.
She likes to keep people guessing, and the playful conversation will kick in once she feels comfortable. A good first date is a cozy booth in a new restaurant where you may have scored reservations before any of your friends, a concert, an exclusive gallery opening, or an off-the-beaten path nature preserve for a romantic picnic.
Sex with a Scorpio woman
Sex is a spiritual experience for a Scorpio woman. She might like the lights on to take in every detail.
Sex can be addictive for this sign. The art of seduction is perfected by Scorpio. Whatever her pleasure, she will tell you. She can talk objectively about her fantasies, almost like a research scientist. She may expand your sexual comfort zone by a mile. She's fascinated by her desires and wants to worship you. If you want to explore your sexuality with a safe partner, the Scorpio woman is an amazing teacher and guide.
A Scorpio woman's turn-ons and turn-offs
If you want to keep a Scorpio woman happy, it is helpful to know here turn-ons and turn-offs!
Scorpio woman turn-ons: dressing in racy (but never trashy) clothing, name dropping, holding your own in conversations about smart topics, being up on the latest events like concerts and restaurant openings, talking about sex, showing that you're a good friend, being a world traveler, bonding with her friends and siding with her when she complains
Scorpio woman turn-offs: making a scene in public, making her look silly in front of friends (deal-breaker), refusing to visit her at her home (Scorpios are nesters), expecting her to pay for everything, interrupting her when she's waxing about something she's passionate about, poking fun at something that interests her, and refusing to talk about sex
Dating a Scorpio long-term
The Scorpio woman is deeply attached once she lets you in because she trusts you. You may have to endure a breakup or two to get there, but by the time you do, all gray areas are colored in.
Although she can seem commitment-phobic, she takes marriage and relationships very seriously. She cherishes trust and honesty. You may never know where she stands, but that's part of the adventure with a Scorpio woman. Just when you think you've got her figured out, she throws you a curve ball. Stay on your toes and she may just sweep you off your feet.
If she… 
Gets quiet, she's developing the next brilliant idea and needs to be quiet so she can think. Leave her alone.
Doesn't call, it means she's either overwhelmed or underwhelmed. Try not to read anything into it.
Calls a lot, it means she's intrigued. Answer the calls and talk and make a plan to see each other.
Doesn't make a move after a couple of dates, she's questioning your character and isn't sure she can trust you. You could show her your stable side. Maybe a home-cooked meal or your next date?
Doesn't make a move after a few weeks, she's afraid you'll reject her if she makes a move (this is one of her biggest fears). Flat out ask her if she likes you. She will tell you the truth.
Moves fast, she's horny and ready to end her abstinent spell. Enjoy the most intense sec of your life but remember that Scorpio is the sign of extremes. She may pull back as quickly as she pounces.
Buys you gifts, she thinks you're the real deal. The Scorpio woman does not spend money on just anyone. Show your heartfelt appreciation!
Introduces you to her family and/or friends, it means you are trusted. She thinks you're cool enough to show off. The rest is up to you!
Compatibility with a Scorpio woman, by zodiac sign
If you're an… your common language is:
Aries: sex, sex, sex, and power
Taurus: film, art, travel, music (especially obscure artists)
Gemini: everything
Cancer: fairy tale romance, domestic bliss
Leo: deep, heady, 12-hour conversations about everything under the sun
Virgo: friendship, food and yoga
Libra: drama and escaping into fantasy romance
Scorpio: power, control, spirituality and forming an "us vs. the world" vibe
Sagittarius: dreaming, spirituality, creativity, discovering new things
Capricorn: name-dropping, cool-hunting, striving to make others jealous
Aquarius: logic, creativity, a fascination with life's mysteries and hidden truths
Pisces: shared values and priorities, living a creative, artistic, and passionate life
Famous Scorpio women and female celebrities
Colleen Ballinger, Erika Costell, Arii, Hillary Clinton, Katy Perry, Kris Jenner, Caitlyn Jenner, Kendall Jenner, ItsFunneh, Bethany Mota, Ellie Thumann, Lorde, Emma Stone, Julia Roberts, Willow Smith, Emma Stone, Sylvia Plath, Anna Hathaway, Gabrielle Union, Winona Ryder, Whoopi Goldberg, Ciara, Demi Moore, Thandi Newton, Carly Rae Jespen, SZA, Eve, Miranda Lambert, Parker Posey, Jodie Foster, Nia Long, Grace Kelly, Ellen Pompeo, Rachel McAdams, Amandla Stenberg, Rita Wilson, Kelly Osbourne, Gwendoline Christie, Tracee Ellis Ross, Tilda Swinton, Sally Field, Vanessa Lachey, Megan Mullaly, Maggie Gyllenhaal, Lisa Bonet, Meg Ryan, Goldie Hawn
See our Love Matcher for more on the compatibility of your zodiac sign with others, here: https://astrostyle.com/love-matcher/
Never miss another important date! Have your free monthly horoscope delivered to your inbox. Join our mailing list for VIP invitations, earlybird access, monthly horoscopes and much more. Subscribe >
Photo credit: Matheus Ferrero via Unsplash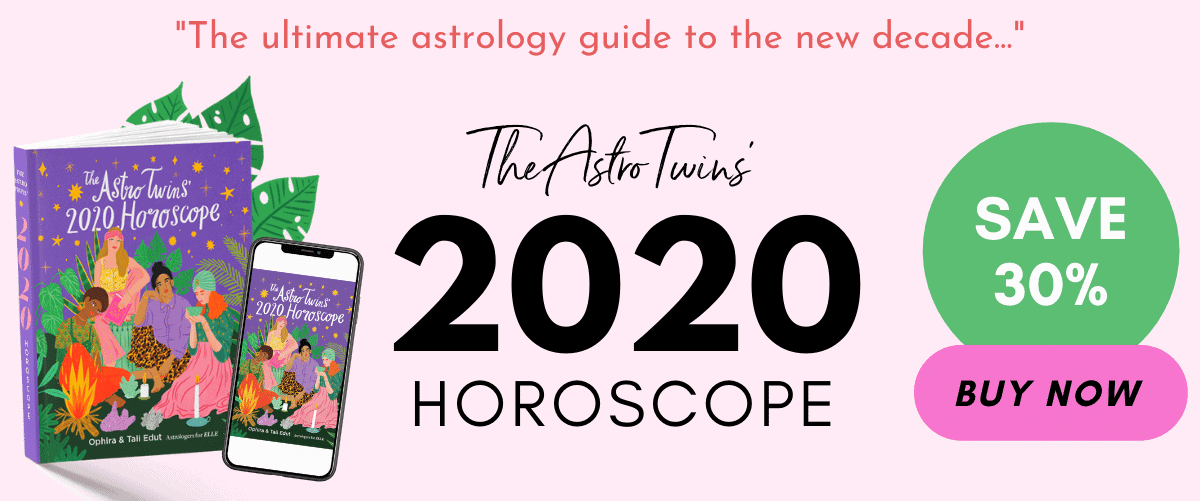 Pin
Praise for The AstroTwins
"Priceless information about yourself and your business that is both grounded and inspiring. Their intuition is off the charts and they've become one of my 'secret business weapons'. I cannot recommend them enough!"
—Marie Forleo, Founder of Marie Forleo's B-School
"The AstroTwins are my go-to guides for astrology. Their knowledge is incredible and their intuition is always spot on! I check in with them monthly for her guidance and support."
—Gabrielle Bernstein, Author of Spirit Junkie
"I'm a corporate type who thinks astrology readings are for parlor games. However, as I followed The AstroTwins' horoscopes, I found them uncannily accurate. Although I can't explain it, their readings have been laser accurate and provided profound insight.  They have been totally right about business, medical issues and relationships. The AstroTwins' approach is anything but a parlor game."
— Linda, Executive Coach and Professor, Virgo
"I've been a follower of the AstroTwins for years first through Elle.com, and then directly through their site. Their intuition and timing is always spot on! Their insight has allowed me to time decisions and transitions perfectly, both personally and in launching my company. Business, life and love—they're my go to gals!"
—Nicole, Paleo Coach and Chef
"The AstroTwins' book (Love Zodiac) is among my favorites. As a fellow Sagittarius, they are so positive and they always open my eyes to my many wonderful options and the fact that I have much to be grateful for."
—Sonja Tremont-Morgan, Real Housewives of New York City
"If you pay attention, you will get some very valuable information to help guide your path.  I have recommended The AstroTwins to many friends who all thank me. You will too!"
—Rochelle Schieck, Founder of Qoya