What's happening in astrology today
July 24 in the stars: The moon is in Libra. What's it mean for you? Find out below in our daily horoscopes for Monday July 24.
You can read the daily horoscopes for your Sun sign or your rising sign (ascendant). Visit our Cosmic Calculator section if you want to calculate your Rising sign or discover more about your personal astrology.
Your daily horoscopes for Monday July 24, 2023

Aries (March 21-April 19) daily horoscope for Monday July 24
You don't have to be the rugged individualist of the zodiac 24/7, Ram. And today, as the moon is do-si-doing through Libra and your seventh house of partnership, you may happily check your indie spirit at the door and tap the power of twosomes. Whether you need creative or professional help or are just feeling a little lonely, reach out to someone who always has your back. Single? Do something outside your wheelhouse, like downloading a new dating app or asking a friend to make an introduction.

Taurus (April 20-May 20) daily horoscope for Monday July 24
To operate most productively today, Bull, work on one assignment at a time—and single-task your way through it until it's done. While you might normally try to tackle the toughest item on your to-do list, under today's flowy Libra moon in your systematic sixth house, approach things in the exact opposite order. Pick one of the easier projects and whizz through it. You'll rev up your momentum—and your confidence—and it should be smooth sailing from there!

Gemini (May 21-June 20) daily horoscope for Monday July 24
With today's flirtatious Libra moon heating up your passionate fifth house, you may be feeling a little frisky. Go ahead, Gem: You've got cosmic permission to let your seductive and impish side out to play. Single? Plan to stay out a little later than usual on a school night. In a relationship? Get BOTH of you a little worked up by sending suggestive messages throughout the day. When you do meet up, dial up the spicy banter; no holding back!

Cancer (June 21-July 22) daily horoscope for Monday July 24
No matter how tense and demanding your job is today, Crab, find the time to listen to a friend who's in need, then to do something nurturing just for you. It's easy to get swept up in workaholic mode and lose sight of your highest values. But today's compassionate Libra moon in your fourth house of home and family insists you act according to your principles. If you're a couple hours late for a deadline, they'll get over it. But your loved one will never forget your true act of kindness.

Leo (July 23-August 22) daily horoscope for Monday July 24
Laughter truly is the best medicine, Leo, especially for your upbeat, lighthearted sign. But if you've been a bit down in the dumps or overly concerned about work or money, today's Libra moon can restore some much-needed joie de vivre. If you can't find your way out of a downward spiral, just start laughing—at the insanity of it all, if you can't find anything else. Once you're feeling a tiny bit better, look at where you might have blown things out of proportion. Then resolve to get past this…and move on!

Virgo (August 23-September 22) daily horoscope for Monday July 24
Take a moment today to have a peek at your latest financial statement or mounting credit card bill. Under an equalizing Libra moon—in your second house of money and stability—you might be able to do some damage control…IF you can catch it in time. It's easy to spend a bit beyond your means, and a little indulgence is a healthy thing! But if you're speeding in a direction you're not happy with, employ that famous Virgo self-discipline and get things back in order.

Libra (September 23-October 22) daily horoscope for Monday July 24
Permission to put "me, myself and I" first: granted! Strangely, that can be harder for your people-pleasing sign than for most others, but today, Libra, as the moon lingers in your sign, you'll be all about YOU! You've done all your opinion-polling and gotten more than enough input to forge ahead on something. Trust your incisive analytical abilities and follow through on what feels like the best approach to you. And when you're not 100 percent confident, do a gut check. That seldom steers you wrong.

Scorpio (October 23-November 21) daily horoscope for Monday July 24
Good luck keeping the steely, cynical Scorpionic facade in place today! As the empathic Libra moon lingers in your reflective and compassionate twelfth house, you may be more of a mushball than a tough-as-nails stoic. But this is a good thing! You want to be selective about whose energy you let into your field, yet when you're interacting with someone close to you, you'll be a rock. And should YOU get the urge to spill some tea, you'll find all the support you need!

Sagittarius (November 22-December 21) daily horoscope for Monday July 24
Your popularity spikes today as an amiable Libra moon soars through your eleventh house of friends and groups. People will be drawn to your Sagittarian ease and wit and may look to you to play social director. While you enjoy being surrounded (and, TBH, admired) by such creative and innovative people, you might not relish the role of leader. Be clear about where your limits lie and suggest someone else who may be better suited to fill those shoes.
Read more Sagittarius horoscopes

Capricorn (December 22-January 18) daily horoscope for Monday July 24
The agreeable Libra moon is sailing through the top of your chart, revving up your tenth house of career ambition and lighting the path to one of your top goals. But Libra's nature is to stop and make sure everyone else is doing okay and has access to the resources THEY need to realize their dreams. What's wrong with that picture? When you slow your ascent for someone else, you lose ground. No, it's not only about you, Cap—but it is important to let others create their own success.
Read more Capricorn horoscopes

Aquarius (January 20-February 18) daily horoscope for Monday July 24
Narrow your focus, Aquarius! You've been moving at warp speed lately, feeling like there's never enough time to accomplish everything. And while it's true that you have a lot of balls in the air, the sense of urgency is coming from within, not outside of you. Today's Libra moon in your visionary ninth house can help restore a sense of balance—and the belief that you can get it all done without burning out. Counterintuitive as it may sound, when you feel the most anxious, slow down and just breathe!

Pisces (February 19-March 20) daily horoscope for Monday July 24
The harder you try to stay focused on the task at hand today, Pisces, the more distracted you'll become. Blame it on an amorous Libra moon in your lusty eighth house all day. If you're in a new relationship, you might be drowning in oxytocin, the "love chemical" that acts like emotional Gorilla glue. Do your level best to keep your mind on your work, concentrating on one tiny aspect at a time so you don't mentally derail.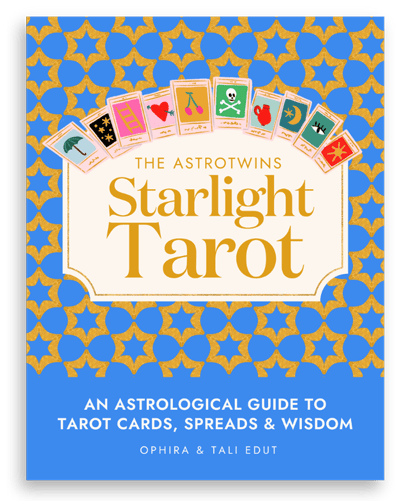 An Astrological Guide to
Tarot Cards, Spreads & Wisdom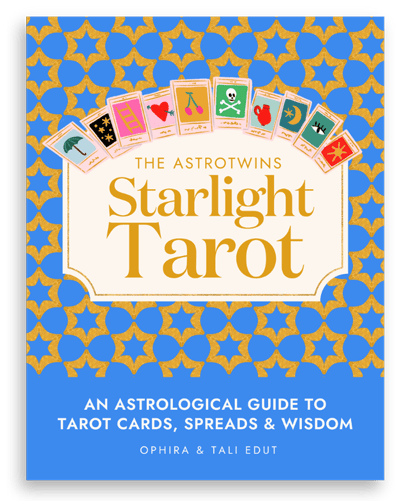 The AstroTwins bring your Tarot journey to life with Tarot spreads, history and empowering guidance.
Get the starlight Tarot