What's ahead for your Sun sign in 2022? As the decade continues, things are just getting weirder, which is why we've named 2022 "The Year of the New Abnormal." And that's why it's more important than ever to have some guidance from the stars, to see where you can focus your energy. We've got you covered with your AstroTwins 2022 horoscope forecast for every sign!
Aries 2022 Horoscope: Let go and make a brand-new start

Fresh-start vibes are coming in strong! Get ready to reinvent yourself, Aries. 2022 promises to be one of the most profound and important years you've had in over a decade. It all begins on May 10, when supersize Jupiter bounds into Aries, magnifying your personal goals and dreams until October 28. This is the first time the red-spotted planet has visited you since 2011. That means you'll be wrapping up that entire time period with a shimmery tulle bow. Jupiter is the planet of luck, growth and risk-taking. Its arrival to your sign and trailblazing first house heralds an entire new life chapter.
From your career path to your social circle to your home base, 2022 is all about making sweeping changes with your own happiness in mind. And you've earned the right, Aries. You weathered shock-jock Uranus in your sign from 2010 to 2018, and leapt through the existential drills and extreme soul-searching. Now, you begin your evolution into the next cycle of life. Caveat: The process may happen in phases. Jupiter will spend the first four months of 2022 in Pisces and your twelfth house of closure. It's a healing journey that will repeat one more time, from October 28 to December 20, before Jupiter heads into Aries to close 2022. Ask yourself: What are you done with—or ready to be done with? Let it go and don't bring it with you. Forward! Read your Aries 2022 horoscope for love, money, family and more >
Taurus 2022 Horoscope: Step into your purpose
Who do you think you are, Taurus? The answer is irrelevant—at least for the moment! Not because your identity and goals are unimportant. Rather, any self-conception you hold as 2022 begins could shift dramatically in the next two years. And that's big news! It all begins on January 18, 2022, when the Lunar North Node, a key point that determines karma, destiny and purpose, shifts into Taurus for the first time since 2014. You're officially appointed leader of the world's collective elevation (no pressure there). But yes, you could be the beacon who will lead us all out of our own selfish human destructiveness. At the very least, that's what the cosmos is charging you with now, should you choose to accept that mission.
Whether or not you do, radical shifts are ahead, as the Lunar Node and eclipses sweep through your sign in 2022 and 2023. Change has been something of a constant for your steady sign since 2018, when disruptor Uranus entered Taurus for the first time since 1942, settling in until 2026. Now that you're more than halfway through this unmooring transit, the chaos has become your "new normal." From May 2022 onward, part of your job will be clearing away anything you've outgrown and saying goodbye to a chapter of your life that's no longer in alignment. Silver lining: You're preparing for a new 12-year cycle that will begin on May 16, 2023, when expansive Jupiter enters Taurus for the first time since 2012. Read your Taurus 2022 horoscope for love, money, family and more >
Gemini 2022 Horoscope: Turn your ideas into real-deal success

Ready to spin your genius ideas into something tangible, Gemini? One of your luckiest career years in over a decade arrives as the calendar turns, anointing you expert, leader and #boss. This year's cosmic lineup takes your wild notions from the conceptual to the concrete, setting up a step-and-repeat where you can finally walk your tongue-twisting talk. (They said you couldn't do it? Success will become the revenge you can't stop serving!) On January 18, you graduate from a nearly two-year phase of total reinvention that began in May 2020 and turned your life upside-down—mostly for the better. That's when the Lunar North Node entered Gemini and sent you rocketing in a new and unplanned direction. Still, you may have felt more like a balloon zooming willy-nilly with the air let out of it, rather than a guided missile.
In 2022, get ready to fast-track from "potential" to "kinetic" energy, especially in the back half of the year. Set your target: On August 20, energizer Mars zooms into Gemini until March 2023. This extended cycle that gives you extra confidence and charisma—at times, sheer magnetism that people will find irresistible. When lucky Jupiter makes its final rounds through your career zone from October 28 to December 20, a back-burnered goal could finally come through, provided your intentions and integrity are of the highest order. Read your Gemini 2022 horoscope for love, money, family and more >
Cancer 2022 Horoscope: Enjoy freedom and go big!
Caretaker no more! Relationships have been a prevailing theme for the past four years. And let's be real, your entire life as a compassionate Crab. But 2022's cosmic alignment hands you a pass to break free from obligation and unleash your rarely seen wild side. As the stars uniquely align, they help you savor the taste of true freedom. What feels like a purpose that is worthy of your life, your energy, the best hours of your day? You're invited to spend swaths of time doing visionary work this year. Find inspiration through learning, travel (within safety confines) and journeys far out of your comfort zone. In the first quarter of 2022, you could develop an entrepreneurial idea, establish yourself as a thought leader or publish your own media.
From May through October, bountiful Jupiter soars through Aries for the time since 2011, bringing sweeping success or an entirely new professional path (perhaps both!). Your ambition is activated and your priorities become clear. Spoiler alert: they DON'T involve tending to the emotional needs of fully-grown adults. Attempting to do so is a disservice to you both—a truth that some Cancerians will recognize for the first time. Where to direct that leftover energy? Into your own soul mission, of course. Read your Cancer 2022 horoscope for love, money, family and more >
Leo 2022 Horoscope: Deepen relationships, grow your wealth
By nature, lions are communal creatures, and for the past year, the stars have stoked your pair-bonding instincts. Partnerships are and will continue to be a huge theme of 2022. But luckily, you'll also enjoy a side of freedom and exploration as your attention also turns to soul-satisfying personal growth. Which of your own unique dreams do you want to manifest in the wider world, share globally and maybe even turn into a business? The dynamic-duo trend started in December 2020. That's when both lucky Jupiter and structured Saturn entered Aquarius, your committed relationship sector, and united in their Great Conjunction (or what your local newspaper called the "Christmas star"). As they did an on-and-off paso doble through 2021, we were blessed with Bennifer 2.0, the Leo-Leo poster couple that made us all believe in fairy-tale love after a grim Covid dry spell.
Right before NYE, Jupiter moves on to Pisces and your eighth house of intimacy and investments, where it will hang out until May 10, 2022, then make one last circuit from October 28 to December 20, 2022. During both windows, you could feel a bit more private—while also enjoying a windfall of wealth and/or an erotic reawakening.But before you get too attached, know that freedom will be your greatest aphrodisiac, from May 10 until October 28, as abundant Jupiter visits fellow fire-sign Aries. During this mid-year cycle you'll be focused on education, entrepreneurship and travel opportunities. Meantime, your career path continues taking many plot twists. That trend will continue until 2026, but could reach peak levels as Uranus and the North Node weave through Taurus and your professional sector in 2022 and 2023. Much as you love to plan, Leo, your best bet is to co-pilot this adventure with the universe now. Read your Leo 2022 horoscope for love, money, family and more >
Virgo 2022 Horoscope: Dynamic duos ignite
Relationships were a big 2021 theme, and that trend only gets stronger in 2022. Lucky Jupiter, the planet of growth and new adventures, will pivot between Pisces, ruler of your committed partnership zone, and Aries, galactic guardian of your intimacy zone. Until May 10, Virgos can take decisive steps to make an alliance official. Whether that's inking a business deal, getting engaged or buying a home with a longtime S.O. From May 10 to October 28, while Jupiter visits Aries and your merging-minded eighth house, long-term wealth and permanent bonding are on your mind.
You may crave more privacy and could also attract a lucrative opportunity to invest in an asset. Explore the options, from the cryptocurrency market to real estate. Meantime, Virgos who are writers, teachers or students will thrive under the new eclipse and Lunar Node series on your communication axis. Travel, relocation (whether long-distance or to a neighborhood) and a fresh social circle could also be on the horizon. Bottom line: This is a year to work smarter, not harder—a huge relief after 2021's industrious demands. Give every area of your life a stress check. If you're struggling, you're doing too much alone. Carpe diem and make it a double! Read your Virgo 2022 horoscope for love, money, family and more >
Libra 2022 Horoscope: Self-care and serious partnerships
Wellness check! How are you feeling, Libra? And we're asking about your body, mind, spirit and heart. After an fun, but somewhat undisciplined 2021, the skies turn your attention to drama-free living and self-care in 2022. And you're oh-so ready for that balance (the Libra magic word). Who says healthy habits have to be boring? With adventurous Jupiter in Pisces and your sensible sixth house until May 10, you could become a vegan gourmet. Or you might attend an intimate retreat with yoga, breathwork and daily detox treatments. Hello, Libra bliss: 2022 edition.
A relationship could turn official between May 10 and October 28, when Jupiter moves into Aries and your partnership house. Some Libras could outgrow a longtime commitment and decide to amicably move on—or evolve into a new relationship pattern that works for you both, with more freedom and autonomy. You may need that added mobility. As eclipses and Lunar Nodes dance across your money axis, they bring opportunities to invest, profit and create new income sources. With your aesthetic gifts, there's no better year for checking out crypto art (NFTs) as a possible addition to your portfolio. Read your Libra 2022 horoscope for love, money, family and more >
Scorpio 2022 Horoscope: Shed layers, fall in love with life (and more!)

A brand new Scorpio is emerging in 2022, whether you think you're "ready" or not! You'd be wise to welcome those reinvention vibes with spirit of playful curiosity. The reason? The year ahead evokes an important process that only happens a few times in your life. But first, you must shed layers of yourself that are no longer "you." Those are the parts of your identity constructed from pain or past experiences, rather than forged from an authentic sense of "This is who I am." Sorting that out will be your 2022 mission, as the Lunar South Node—the point of karma and past lives—travels through Scorpio from January 18, 2022, until July 17, 2023. In order to experience this cosmic alchemy, a part of you could go underground, deep into the transformational tunnel,.
But don't expect to slip off the grid and disappear, Scorpio. Larger-than-life Jupiter is in Pisces and your passionate and playful fifth house until May 10, and again from October 28 to December 20. From a heart-fluttering new romance to artistic projects to buzzworthy fame, your talent and magnetism will attract attention. Don't be surprised if you're drawn to someone wildly different than your usual "type," or find yourself embracing a whole new relationship model, courtesy of trailblazing Uranus, eclipses and the North Node in Taurus, your partnership sign. From May 19 to October 28, Jupiter will dip into Aries and your sixth house of healthy living, inspiring you to put sustainable systems into your life. Read your Scorpio 2022 horoscope for love, money, family and more >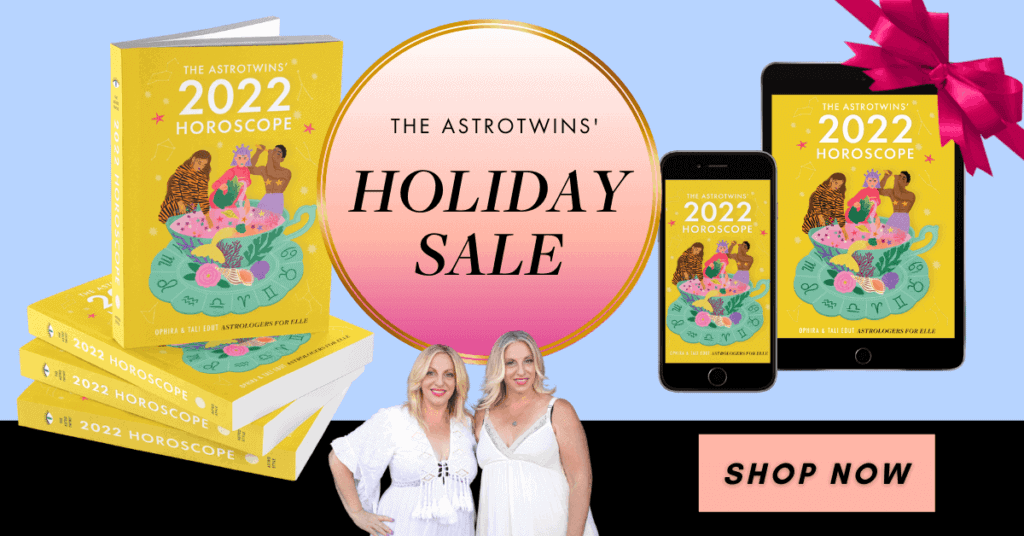 Sagittarius 2022 Horoscope: New vistas for home and love
Welcome back, Sagittarius! On January 18, 2022, you'll graduate from a nearly two-year soul transformation that saw you shedding karmic layers and awaiting clear signals on what to do next. Kind of a big deal? Most definitely, Sagittarius. Since May 5, 2020, you've been hosting the Lunar South Node in your sign. This is a once-in-twenty-years odyssey that pushes you underground into the deepest realms of personal discovery and evolution. Did you feel invisible at moments? In a way, you were. But it was worth going off the galactic grid for the reclaimed sense of purpose and authentic selfhood that you can emerge with in 2022? You can bet your karmic class pass on it!
But hang on. It's not time to send out the Sagittarius 2.0 "birth announcements," QUITE yet. Until May 10, your ruling planet Jupiter is in Pisces and your fourth house of home, family and solitude. You could move, expand your family or take time to fortify your inner foundation. With the Lunar Nodes and eclipses touching your health and healing axis, you'll really want to set up sustainable systems for your life—ones that give as much weight to working out as going to work. From May 10 to October 28, your cosmic coming-out party begins, as supersizer Jupiter blazes into fellow fire sign Aries and heats up your fifth house of romance, self-expression and creativity. Lights, camera, Archer—get ready to be celebrated for your talents, as your confidence and charisma go through the roof! Read your Aries 2022 horoscope for love, money, family and more >
Capricorn 2022 Horoscope: Explore a new scene, build your network
A social and high-visibility 2022 awaits, Capricorn—with a chance to escape the demands of your public a little bit over the summer. The year opens with expansive Jupiter newly back in Pisces and your social third house, appointing you the unofficial mayor of your zip code while piquing your interest in new hobbies, scenes and ideas. All year, the Lunar North Node, irreverent Uranus and eclipses in Taurus will activate your fifth house of fame, passion and romance. This could spark new love affairs and even a pregnancy for Sea Goats of the childbearing set.
But ease into all this energy—and maybe save some of that for Valentine's Day. Until January 29, Venus, the planet of love and interpersonal harmony, will be retrograde in YOUR sign. This puts even your most considerate gestures at risk of being misinterpreted. You work hard for your money, Capricorn. So stack it conservatively and trim expenses while belt-tightener Saturn is in your financial zone until March 7, 2023. Luckily, Saturn is your ruler, so you can deal with a certain amount of delayed gratification and play the long game. While Jupiter does a stint in Aries and your domestic fourth house from May 10 to October 28, you could consider buying a home, selling property or renting out your place for Airbnb income. Read your Capricorn 2022 horoscope for love, money, family and more >
Aquarius 2022 Horoscope: Money moves, firmer boundaries
You're almost there, Aquarius! Since December 21, 2020, you've been going through a phenomenal reinvention. It started at the Great Conjunction of expansive Jupiter and structured Saturn, when the two united in Aquarius, combining their celestial superpowers and lighting the skies with a "Christmas star". For the past year, you've simultaneously taken risks in the name of personal growth AND gone through a major maturity phase. And what a wild ride it's been. These planets are polar opposites: Jupiter wants instant gratification while Saturn's all about delayed gratification. You've been challenged to grow within a structure and create a sustainable foundation for your big ideas to not only soar but maybe even create a legacy.
With lucky Jupiter in Pisces until May 10, you might monetize one of those passion projects. Or attract a fresh revenue source, whether it's a new job or a profitable side hustle. Get ready to redefine "work/life balance." The karmic Lunar Nodes are in Taurus and Scorpio throughout 2022, along with game-changing eclipses that could transform your personal AND professional lives. A move, parenthood, home ownership or a leadership role could all be on the agenda. Read your Aquarius 2022 horoscope for love, money, family and more >
Pisces 2022 Horoscope: Reinvent yourself, release the past
Buh-bye, 2021—you probably won't be missed! Last year brought both highs and challenges, as expansive Jupiter and tough teacher Saturn rolled through Aquarius and your twelfth house of closure, healing and transitions. While you may have had a creative renaissance or a stream of spiritual epiphanies, there was a strong theme of releasing the past. Attempts to gain lasting traction were slippery at best during this ephemeral year. The exception was from May through July. That's when Jupiter made a brief Jupiter to Pisces and kicked off a fresh, 12-year chapter of your life. But that reinvention was interrupted until December 28, 2021, when Jupiter returned to your sign. In 2022, the planet of luck, adventure and growth visits Pisces until May 10, luck you! Then it will make one final lap from October 28 to December 20 for a second surge of good fortune.
Sandwiched between these bountiful cycles, Jupiter will be in Aries, blessing your second house of work and money from May 10 to October 28. A new job, a promotion or fresh revenue sources could be on the spring and summer agenda. Jupiter only visits your sign every 11 to 12 years; it was last in Pisces in 2010 and 2011 (besides a brief preview stint from May 13 to July 28, 2021). Look back to those times for clues of what 2022 might hold. Thinking about traveling, teaching, writing or launching a media project? The karmic Lunar Nodes and eclipses will ripple across your communication axis, giving you opportunities to win on the local scene AND take your message far and wide. But don't do a "bypass" on inner growth. It's easy to start just about anything in 2022. But if you're going to invest time and energy, why NOT make sure it's sustainable, profitable…and also, FUN! Read your Pisces 2022 horoscope for love, money, family and more >