When Gemini and Leo come together for love or any kind of relationship,
it's dramatic and playful!
T
hese two theatrical signs love adventure and a wide array of interests, which can lead to overly-packed schedules. A Gemini-Leo relationship is full of hopes and dreams, because you both understand each other's outsized ambition.

Gemini and Leo: Your compatibility clicks and clashes
Where you click:
An endless playdate! Life is a costume party for you two theatrical signs. If you share the same grand plan (favorite locations for "settling down," similar taste in friends) you'll easily flow from playmates to soulmates without forsaking an ounce of fun. Kids only fuel the adventure for you, since your eternally youthful signs will experience a second childhood through the eyes of your offspring. If you don't procreate, you'll need a creative project to keep the fires burning. Start a band or a business together with lots of sparkle and glamour. At last, you've found a person who dreams as big as you do and shares your super-sized appetite for life.
Where you clash:
Gemini is a hopeless multi-tasker while Leo has been plotting an empire since grade school. Try to get a disco nap in here and there, or you could exhaust yourselves with all that "go, go, go!" energy. In this coupling, it's easy to get scattered among too many different projects and interests. When will you have time for each other? With your packed schedules, you could start to feel like ships passing in the night. Arguments could drag on for hours since neither of you backs down when proving a point!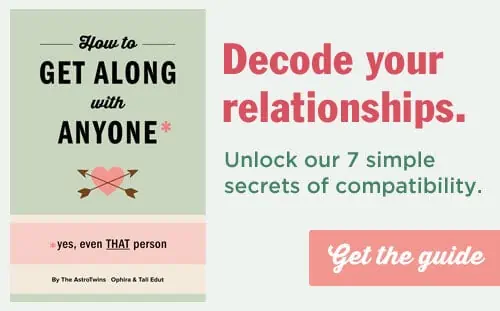 Gemini is air and Leo is fire

Let the good times roll! Fire and air signs have a lot of similarities—both are adventurous, expressive and full of grand schemes and plans. In this astrology love match there should be no shortage of fun dates and plans. You're both game to try anything once! Beyond being lovers, you are also simpatico friends who "get" each other in many ways. In fact, this relationship may develop organically from a platonic bond that develops first. In some cases, it may cool down to a more buddy or sibling vibe after the honeymoon period ends, as both fire and air signs are excited by novelty and grow bored when things become too familiar. This may not be the most sensual match in the bedroom, but the lively conversations, hilarious jokes and spontaneous adventures you share can keep you satisfied in other ways.
Differences push you both to grow and step outside of your own experience.
The key difference between your elements is that air signs tend to be more cool, detached and cerebral, while fire signs are more impulsive, emotional and expressive. In essence, air signs are more "head" while fire signs are more "heart." When a disagreement erupts, the air sign will want to discuss it objectively, which can seem cold and uncaring to the worked-up and reactive fire sign partner, who may talk in circles or get defensive, frustrating the solution-oriented air sign. At times, the fire sign may feel exhausting—too much energy! And when the air sign gets stuck in analysis paralysis, the fire sign will lose patience. ("Just do something already!" says fire.) In nature, air can feed a fire, helping it spread—just as an air sign partner fans the flames of the fire sign's passion. Fire heats up the chilly air, and fire signs help air signs warm up and take chances. But another fire-air scenario is blowing out a match—one gust of wind from the wrong direction and the flame goes out.
There are four elements in astrology: fire, earth, air and water. Each one plays an important role in the greater whole of humankind. A love match with someone from of a different astrological element can be challenging, but also a beautiful opportunity to evolve. After all, differences push you both to grow and step outside of your own experience.

Gemini is mutable and Leo is fixed
In astrology, the "qualities" or "triplicities" reveal the role you play in a relationship or collaboration. Are you a starter, a doer or a finisher? Do you like to take charge and have a plan, or do you prefer to go with the flow? In this love match, it can be hard to get in sync. Can we make a plan around here? Fixed signs crave stability and mutable signs love change. Compromise is key so you don't drive each other crazy! The fixed sign in this relationship likes to make a decision or plan and stick with it. By contrast, the ever-changing mutable sign is always changing things—adding one more guest, jamming one more coffee date into their day, starting another project before they finish the 50 they already have going. When a mutable-fixed duo plays to their strength, the fixed sign can create a solid structure that upholds the mutable sign's creative plans. Adaptable mutable signs help the fixed sign to be less rigid—to loosen up and go with the flow. For long-term success, the mutable mate will have to work harder at keeping their word, showing up on time and being consistent. Some plans are simply non-negotiable! In exchange the fixed sign will have to give an inch and be willing to try new things.


Gemini and Leo are both yang, or masculine signs
In astrology, every sign has a "polarity": you're either yin (feminine) or yang (masculine). You are both yang signs: aggressive, action-oriented and driven. In this astrology love match, you can motivate each other…or you can find yourself in a power struggle. Two yang signs must be careful not to bulldoze or tread on each other's turf. Sharing the power and taking turns having the upper hand will be the key to your happiness.


Gemini and Leo are sextile (two signs apart)

In astrology love matches, we also measure compatibility by the aspect, or distance, between the two signs. Your signs are sextile, or two signs apart. It's easy and breezy to date a person who lives two zodiac signs away. Your signs are always of a compatible "element" (for example, they're a Water sign and you're an Earth sign, which are both of the "feminine" quality). You'll often have similar values and attitudes about politics, raising a family, which movies to rent. Friendship and communication are the hallmarks of this aspect. Being best friends is easy. Keeping the sexy spark alive? A little challenging. You'll need to structure "date nights" or set up scenarios that get you out of buddy mode.
MORE LOVE HOROSCOPES: