When Gemini and Scorpio come together for love or any kind of relationship, it's intense and dramatic!
T
hese two ingenues love a good game of cat and mouse, and always ask plenty of questions. A Gemini-Scorpio relationship is intellectually stimulating, since you both understand the unending quest for the truth.

Gemini and Scorpio: Your compatibility clicks and clashes
Where you click:
Intrigue! Drama! Intensity! While you both have 20,000 questions, neither one of you is quick to give up answers. When mastermind Gemini meets Scorpio the sleuth, the 007 adventure unfolds. Immediately, you begin probing for clues. For most couples this would be an exhausting turn-off. For Gemini and Scorpio, it's a total aphrodisiac. As you tease each other with cat and mouse games, dangle hope then snatch it away…the vibe gets HOT!
Where you clash:
The build-up is often the best part in this match, so don't stop playing games once you've sealed the deal. Private Scorpio prefers the intensity of a "behind closed doors" encounter, while Gemini is an unrepentant flirt and party animal who needs to be seen on the scene with a sexy partner in tow. This can provoke Scorpio's stinging jealousy and trust issues, causing Gemini to be iced out. Scorpio…don't turn off your sexy just because you're "committed" (or as revenge for your Twin's flirtatious nature). Gemini, set up entertaining hobbies at home so you can enjoy domestic bliss your way while Scorpio lounges on the couch.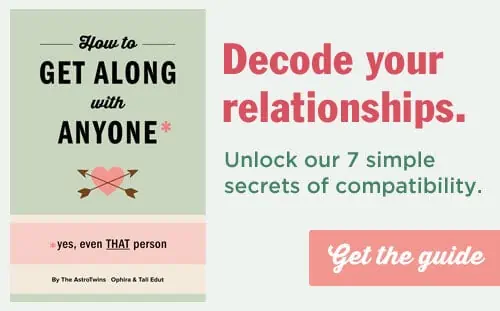 Gemini is air and Scorpio is water

Head and heart combine—or collide—when you pair a talkative air sign with a touchy-feely water sign. The temperaments of these two elements are wildly different. Air signs love change, variety and novelty while sentimental water signs seek security, comfort and nostalgia. One of you is all about the new, while the other cherishes the old. You'll have to learn to appreciate this major difference. Otherwise, you could quickly feel like you have nothing in common!
Your social habits may need some tweaking to make this work.
Water signs don't trust easily, and tend to roll with a tight-knit clique—many of whom they've known since childhood. By contrast, air signs never met a stranger and are constantly introducing you to their latest BFFs. The water sign might be jealous or threatened by all of these newcomers, while the air sign feels suffocated and bored by seeing the same old faces. Compromise is key. Your social habits may need some tweaking to make this work. The water sign partner will have to be more open to new people and experiences, going with the flow. The air sign will have to embrace tradition and develop more emotional sensitivity.
The benefits of this match is an opportunity for growth. Since water signs can be TOO "in their feelings," the cooler, rational air sign partner can teach them the power of detaching. The water sign will learn how to take things less personally, laugh at themselves and lighten up. In exchange, the water sign can teach the glib air sign to dive into their depths more, rather than being overly superficial or turning everything into a joke. The water sign may create a cozy, beautiful home, while the air sign fills it with interesting guests, music and art. Both of these elements can be "culture vultures," and may bond of dissecting a documentary film, singing karaoke (you both could have encyclopedic knowledge of lyrics) or even traveling.
There are four elements in astrology: fire, earth, air and water. Each one plays an important role in the greater whole of humankind. A love match with someone from of a different astrological element can be challenging, but also a beautiful opportunity to evolve. After all, differences push you both to grow and step outside of your own experience.

Gemini is mutable and Scorpio is fixed
In astrology, the "qualities" or "triplicities" reveal the role you play in a relationship or collaboration. Are you a starter, a doer or a finisher? Do you like to take charge and have a plan, or do you prefer to go with the flow? In this love match, it can be hard to get in sync. Can we make a plan around here? Fixed signs crave stability and mutable signs love change. Compromise is key so you don't drive each other crazy! The fixed sign in this relationship likes to make a decision or plan and stick with it. By contrast, the ever-changing mutable sign is always changing things—adding one more guest, jamming one more coffee date into their day, starting another project before they finish the 50 they already have going. When a mutable-fixed duo plays to their strength, the fixed sign can create a solid structure that upholds the mutable sign's creative plans. Adaptable mutable signs help the fixed sign to be less rigid—to loosen up and go with the flow. For long-term success, the mutable mate will have to work harder at keeping their word, showing up on time and being consistent. Some plans are simply non-negotiable! In exchange the fixed sign will have to give an inch and be willing to try new things.


Gemini is yang and Scorpio is yin
In astrology, every sign has a "polarity": you're either yin (feminine) or yang (masculine). In your sign match, Scorpio is a receptive yin sign and Gemini is an assertive yang sign. When you play to your strengths, you balance each other out, each on contributing a different but complementary skill set. When things are off, you can become polarized. The yin sign can be too passive (or passive-aggressive) and sacrificing, while the yang sign may act domineering, aggressive and selfish. To rebalance, the yin sign needs to work on being more open, direct and confident, while the yang sign should cultivate more patience, tolerance and sensitivity.


Gemini and Scorpio are quincunx (five signs apart)

In astrology love matches, we also measure compatibility by the aspect, or distance, between the two signs. Your signs are quincunx, or five signs apart. This is a fascinating, complex combination that defies explanation—the original odd couple. You'll either feel like you're with your soulmate or the devil incarnate…or at least, some kind of strange alien who does everything in a wildly different way than you ever would. "How did those two end up together?" people will wonder. Your bond is intense, unspoken, almost secretive in a way. The person five signs away from your sign has nothing in common with you astrologically. You'll need to adapt to your differences, which could take a great deal of adjustment, even discarding a former lifestyle. For one of you, the relationship will be about sex and intimacy; for the other, duty and service. If you've both done the requisite self-awareness work, you can make a formidable team when you pool your strengths. You might also come together for karmic purposes—for example, to have a child or heal old wounds, perhaps even from past lives.
MORE LOVE HOROSCOPES: