S1, e3
Cosmic Love
Mercury is Totes in Retrograde
Third matches are made and singles start going rogue in episode 3 of Cosmic Love on Prime Video. Plus: The AstroTwins explain the magic of moon sign matchmaking on Amazon X-Ray.
What happens in Cosmic Love, Episode 3?
Episode 3 Summary:
One of the Elements is upset that their match is paying more attention to one of the singles. The singles argue about who they can date. The Elements spend time with their matches (and with singles they're not matched with!) to see if there's chemistry. Third matches are made and fourth dates are chosen! But back to that drama about dating…
Phoebe sums up best when she says, "People are just going rogue. Who knows who else is hooking up."
The Elements exchange notes about what the singles are up to, the ones they're matched with and the ones they're not. At this point, everyone is matched…by The AstroTwins or not! And things get emotional.
Who gets matched in Cosmic Love, Episode 3?
The AstroTwins, speaking through The Astro Chamber, reveal the next matches in Episode 3.
"Time is short, and although they may be feeling the pressure, they need to get back on track if they want this to work," the voice of the Astro Chamber says. "With each match comes a new opportunity for love to bloom."
The Elements learn their third astrological matches!
The Astro Chamber reveals the third astrological matches, waiting for the Elements in the Celestial Sanctuary:
Maria's match brings the promise of warmth and deep connection: Chris R. Maria's Leo moon and Chris's Leo Sun blend well.
Connor's match is revealed as a true friendship match that can turn frisky: Yana (whom he was hoping to be matched with!)
Phoebe's match comes with a warning: It's someone on the surface she has nothing in common with (Capricorn) but their combined charts show they have potential: Phillip
Noel's match is an astrological match made in heaven: Jasmine R. Her Sagittarius rising can light up his Sagittarius moon.
Each Element with their match joins the rest of the cast at a bonfire at the Cosmic Compound. Sparks fly with those who were already matched or hoping to be matched.
The Astrology of Cosmic Love, Episode 3
The magic of moon sign matchmaking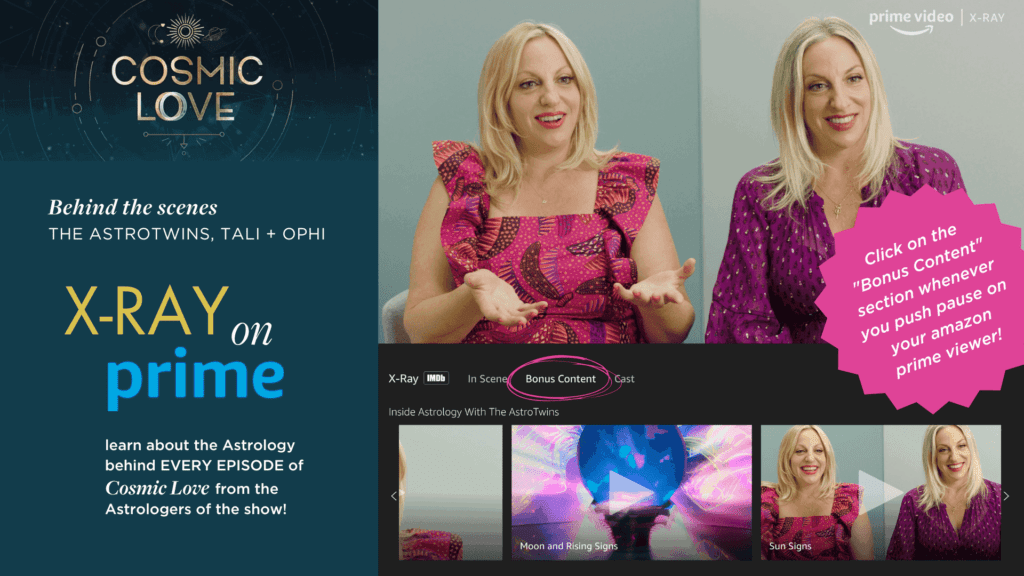 What astrology traits are the cast revealing in Episode 3?
In the third episode, Tali says the Elements and singles were sort of gravitating to each other based on Sun and moon signs without even realizing it. "It was instinctive," Tali says, of the people who came together with moon signs of the same element. This means generally they share similar temperaments.
"

When you have the same moon sign as someone, there is a real strong soulmate or soul connection"

—

Ophi
For example:
Fire sign moons: Maria (Leo moon) and Javier (Aries moon)
Earth sign moons: Noel (Taurus moon) and Jazmin (Virgo moon), and Connor and Danae (both Taurus moon)
When you have the same moon sign as someone, there is a real strong soulmate or soul connection," Ophi explains. "It doesn't always work out to be romantic, but there's a real feeling of familiarity, like, 'you know me, I don't even have to explain myself.'"
If you ever dated someone with the same moon sign and the relationship doesn't work out, you may remain in each others lives for awhile because you're "soul family," Ophi adds.
Is "What's your sign?" the right question to ask? Maybe not!
"If you're tossing a coin between what's more important (in dating), the Sun sign or the moon sign, we think it's the moon," Ophi says in The AstroTwins' Amazon X-Ray content (enjoy it with Episode 3).
The moon governs your emotions and feelings, bonding and nurturing. "All the stuff that makes a relationship last," Ophi adds. "You can work around personality differences but the moon sign is really the glue."
Did someone say "Mercury Retrograde?"
Before going on the next date with the person of their choice, The AstroTwins reveal a little astrological advice that may help!
At the time of filming Cosmic Love, Mercury was retrograde. Communication can go haywire when Mercury takes a backspin several times a year. If you've ever sent a text to the wrong person or felt tempted to reach out to an ex, chances are good Mercury was in retrograde!
In Episode 3 we learn:
Connor's Mercury is in Gemini. This means he's naturally witty—but does he use that wit to avoid real conversations? He's encouraged on his next date to use clear, straightforward communication. He chooses to invite Adrianna.
Maria has many Capricorn planets in her chart, including Mercury. This means she's a concise communicator who likes to rush to the point rather than embrace the journey. She's encouraged with her next date to take her time to open up and let the person get to know her. She chooses to try that with Chris R.
The experiment of Cosmic Love continues
Connor says, "The social experiment is definitely challenging in a way that I didn't see coming. I know it doesn't seem like I'm freaking out, or that I'm very emotional right now, but there's a lot going on. I hope there will be enough time to get to know everybody before I count somebody out or cross somebody off the list that could be a potential match."
What's coming up on Cosmic Love: Season 1, Episode 4?
The Elements meet their final (fourth) matches. And the first elimination takes place!