When Libra and Pisces come together for love or any kind of relationship, you're both instantly swept off your f
eet! These two hopeless romantics love flowers, chocolates and candles, which can send you both straight to cloud nine. A Libra-Pisces relationship is highly sensitive and compassionate, since you both understand each other's empathic ways.

Libra and Pisces: Your compatibility clicks and clashes
Where you click:
You're both hopeless romantics waiting for the proverbial prince or princess to materialize and sweep you away. Initially, it seems that you've finally found that in each other. Hearts go pitter-patter as bottles of wine are uncorked, life stories exchanged with vivid (and dramatic-tragic) detail, forgotten dreams reawakened in the supportive glow of your co-created "safe space." Your love affair has a magical storyline worthy of network television coverage. If you can stop questioning your relationship and take it one day at a time, you won't scare each other off. Find other people to fill in the practical gaps for you. This is one relationship that needs a life coach to keep it on track!
Where you clash:
While you can build castles in the clouds with your words, you both tend to be more dreamers than doers. Your inspiring conversations may never materialize into anything tangible, which can be a buzzkill for both of you. Libra is known for being indecisive—how can you REALLY be sure you've found The One? Pisces tends towards flakiness—you'd rather swim away than be caught in anyone's net. Although you may commit to each other on paper, it's hard to ever feel 100 percent certain about each other. This thorny fairy tale that might not make it to the "final rose" ceremony.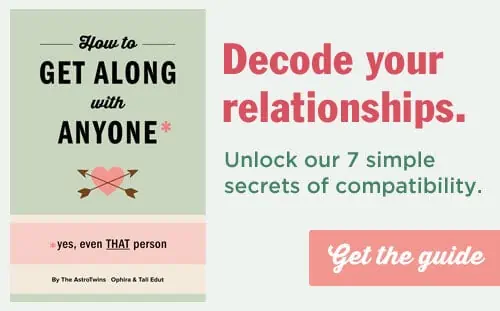 Libra is air and Pisces is water

Head and heart combine—or collide—when you pair a talkative air sign with a touchy-feely water sign. The temperaments of these two elements are wildly different. Air signs love change, variety and novelty while sentimental water signs seek security, comfort and nostalgia. One of you is all about the new, while the other cherishes the old. You'll have to learn to appreciate this major difference. Otherwise, you could quickly feel like you have nothing in common!
One of you is all about the new, while the other cherishes the old. You'll have to learn to appreciate this major difference.
Your social habits may need some tweaking to make this work. Water signs don't trust easily, and tend to roll with a tight-knit clique—many of whom they've known since childhood. By contrast, air signs never met a stranger and are constantly introducing you to their latest BFFs. The water sign might be jealous or threatened by all of these newcomers, while the air sign feels suffocated and bored by seeing the same old faces. Compromise is key. The water sign partner will have to be more open to new people and experiences, going with the flow. The air sign will have to embrace tradition and develop more emotional sensitivity.
There are four elements in astrology: fire, earth, air and water. Each one plays an important role in the greater whole of humankind. A love match with someone from of a different astrological element can be challenging, but also a beautiful opportunity to evolve. After all, differences push you both to grow and step outside of your own experience.
The benefits of this match is an opportunity for growth. Since water signs can be TOO "in their feelings," the cooler, rational air sign partner can teach them the power of detaching. The water sign will learn how to take things less personally, laugh at themselves and lighten up. In exchange, the water sign can teach the glib air sign to dive into their depths more, rather than being overly superficial or turning everything into a joke. The water sign may create a cozy, beautiful home, while the air sign fills it with interesting guests, music and art. Both of these elements can be "culture vultures," and may bond of dissecting a documentary film, singing karaoke (you both could have encyclopedic knowledge of lyrics) or even traveling.

Libra is cardinal and Pisces is mutable
In astrology, the "qualities" or "triplicities" reveal the role you play in a relationship or collaboration. Are you a starter, a doer or a finisher? Do you like to take charge and have a plan, or do you prefer to go with the flow? Cardinal signs are initiators—they like to lead and direct and manage. Much of the time, this suits the flowy and flexible mutable sign, who may find it hard to make a decision and appreciates the extra help! But when the cardinal sign gets TOO rigid or elitist, that's where the mutable sign will chafe. The mutable sign needs to flow freely, and won't abide by the cardinal sign's dress codes, critical comments or Miss Manners routine. Cardinal signs have discerning tastes and an air of entitlement, which helps them gravitate toward the finer things and first-class experiences. But they can seem a bit snobbish or status-seeking for the mutable sign, who befriends everyone from the postman to the president of the company. The cardinal sign will have to be more down-to-earth and less judgmental at times—and stop trying to make over the mutable mate! And the mutable sign should check with the cardinal sign before RSVPing to random events or inviting strangers over for dinner. Giving gifts can be tricky in this love match—cardinals know exactly what they like and can be very hard to please. The mutable mate should get a wish list long in advance of birthdays or holidays.


Libra is yang and Pisces is yin
In astrology, every sign has a "polarity": you're either yin (feminine) or yang (masculine). In your sign match, Pisces is a receptive yin sign and Libra is an assertive yang sign. When you play to your strengths, you balance each other out, each on contributing a different but complementary skill set. When things are off, you can become polarized. The yin sign can be too passive (or passive-aggressive) and sacrificing, while the yang sign may act domineering, aggressive and selfish. To rebalance, the yin sign needs to work on being more open, direct and confident, while the yang sign should cultivate more patience, tolerance and sensitivity.


Libra and Pisces are quincunx (five signs apart)

In astrology love matches, we also measure compatibility by the aspect, or distance, between the two signs. Your signs are quincunx, or five signs apart. This is a fascinating, complex combination that defies explanation—the original odd couple. You'll either feel like you're with your soulmate or the devil incarnate…or at least, some kind of strange alien who does everything in a wildly different way than you ever would. "How did those two end up together?" people will wonder. Your bond is intense, unspoken, almost secretive in a way. The person five signs away from your sign has nothing in common with you astrologically. You'll need to adapt to your differences, which could take a great deal of adjustment, even discarding a former lifestyle. For one of you, the relationship will be about sex and intimacy; for the other, duty and service. If you've both done the requisite self-awareness work, you can make a formidable team when you pool your strengths. You might also come together for karmic purposes—for example, to have a child or heal old wounds, perhaps even from past lives.
MORE LOVE HOROSCOPES: