What's happening in astrology today
October 24 in the stars: Find out what's in store for you today in our daily horoscopes for Tuesday October 24. Read the daily horoscopes for your Sun sign or rising sign (ascendant) to plan your day.
Visit our Cosmic Calculator section if you want to calculate your Rising sign or discover more about your personal astrology.
Your daily horoscopes for Tuesday October 24, 2023

Aries (March 21-April 19) daily horoscope for Tuesday October 24
If you're not ready to spring into action at a moment's notice today, don't freak out. Instead, focus your attention on what's going on beneath the surface and see what magic you can find. As the psychic Pisces moon in your intuition corner harmonizes with the penetrating Scorpio Sun, you can glean volumes from a subtle gesture, body language or someone's absence. Instead of being a straight-shooting Ram, try doing some quiet sleuthing to get to the bottom of things. Playing detective will lead you to the truth.

Taurus (April 20-May 20) daily horoscope for Tuesday October 24
Your play-it-safe sign isn't generally fond of rolling the dice, but today's flowing Sun-moon trine brings good reason to take a calculated risk on a social situation. As the celestial lights shine into your relationship zones, their combined energy could bring some fresh faces into your field. If you're unattached and feel a spark, extend a low-pressure invite to meet for coffee or check out a show. Coupled Bulls benefit from this social surge, so enjoy time out together. This might be the night to introduce your new boo to your happy hour crew.

Gemini (May 21-June 20) daily horoscope for Tuesday October 24
Dress for the job you want, Gemini, because today's opportune Sun-moon trine sprinkles fairy dust over your career. If you've had your shoulder to the wheel lately, your diligent efforts may finally get noticed. Throw your hat in the ring for a coveted promotion or do something that demonstrates your desire (and qualifications!) to get ahead. Don't bide your time holding for your round of applause, though. Proactively promoting your work could be what it takes to turn the tide.

Cancer (June 21-July 22) daily horoscope for Tuesday October 24
Act the part you want to play, Cancer—and forget the "aw, shucks" humility. As the moon in your expansive ninth house joins forces with the self-assured Sun in your glamorous fifth, consider this your cue to dial up your creativity, your personality and anything else that you're bravely putting on display. No crawling back into your shell, or you'll miss out on a golden opportunity. Dare yourself to be a little over the top! Since romance is favored under these lucky skies, you might take a bold risk in the name of love…and win the jackpot.

Leo (July 23-August 22) daily horoscope for Tuesday October 24
Slip out of your regal garb and disguise yourself as a private citizen today, Leo. As the vulnerable Pisces moon trades secrets with the low-key Scorpio Sun, you'll be happiest flying under the radar. And with the list of tasks before you this week, that's probably a good thing. You'll get more done behind the scenes, plus you can enjoy whatever you're in the mood for without anyone being the wiser. No need to slip into total isolation though. Invite a BFF over to co-work or your latest love interest to join you after hours for something home-cooked!

Virgo (August 23-September 22) daily horoscope for Tuesday October 24
It's a "cameras on" day, Virgo, so don't rush through your normal beauty routines. While you're at it, slip something evening-appropriate into your tote. With the glamorous Pisces moon getting in formation with the Scorpio Sun in your social third house, an after-work invitation could be too good to pass up. Do you have something to promote? Grab the social media bullhorn and let everyone know. These superconnector skies can help your message reach an influencer or find your next collaborator. If you're aiming your ambition arrows at a particular person, carpe DM!

Libra (September 23-October 22) daily horoscope for Tuesday October 24
Your plate may be full-to-overflowing, with not a shortcut in sight! But stay the course, Libra. A helpful alliance between the Pisces moon and the Scorpio Sun—in the most diligent zones of your chart, no less—can help you whittle down that to-do list one task at a time. Do this job right the first time so you don't have to circle back later and fill in the gaps. Invite the pleasure principle in to help get you through. Turn on a motivating playlist, light your favorite incense and pick up lunch from your favorite vegan or sushi spot.

Scorpio (October 23-November 21) daily horoscope for Tuesday October 24
Do you dare to bare your soul? Today's free-flowing trine between the boundary-blurring Pisces moon and the Scorpio Sun could sweep you up in an exchange with someone who qualifies as an open book. While you prefer to keep your secrets under wraps, what WOULD you feel comfortable revealing? You don't have to trot out your deepest scar; just aim for "authentic" and see how the other person responds. As long as it's YOURS to share (and not someone else's tea), the intimate exchange will remind you how good it actually feels to be witnessed and seen.

Sagittarius (November 22-December 21) daily horoscope for Tuesday October 24
Truth-telling Archers are always the first to spot a lie, but that doesn't mean you're fully transparent about your own life. Ready or not, however, today's revelatory Sun-moon trine could lift the curtain on a few of your secrets. You could be caught off-guard by what you hear OR say, which makes you feel both vulnerable and sensitive. Since this is a harmonious alignment, going with the flow is probably your best bet. You could feel incredibly free (and what Sagittarius doesn't want THAT?) after you tell your story. Plus, it's always better when people hear the facts straight from the Centaur's mouth!
Read more Sagittarius horoscopes

Capricorn (December 22-January 19) daily horoscope for Tuesday October 24
You could decide to bite the bullet and have a Big Talk today—maybe even the DTR one—when the sensitive Pisces moon in your communication corner joins forces with the self-assured Sun in intense Scorpio and your future-forward eleventh. You goal-oriented Goats always want to know where things are headed. If a platonic pal has been flirting with you or a team member is finishing their probation period, now's the time to broach the subject and ease your way onto the same page. Under these harmonious skies, you may find out you already see eye-to-eye.
Read more Capricorn horoscopes

Aquarius (January 20-February 18) daily horoscope for Tuesday October 24
Professional progress ahead! A fortuitous trine between the moon in your resources zone and the Sun in your ambition arena could send your stock soaring. Tap into everything you have going for you if you want to fly high today. That means showing off your talents, reaching out to valuable contacts and calling in favors! You're a born innovator and networker who can think on your feet AND outside the box. When you put all of that to work for you, you can't help but hit the bull's-eye. If you've got it, use it…better yet, flaunt it!

Pisces (February 19-March 20) daily horoscope for Tuesday October 24
Whether literally or figuratively, you're invited to wander WAY off the beaten path today, Pisces (your sign's favorite direction to travel in!). No matter how conventional everyone around you may be in their thinking, you don't have to limit your imagination. Whether you're deciding where to meet a client for lunch or researching materials for an upcoming project, tap into the expansive trine between the Pisces moon in your trailblazing first house and the Scorpio Sun, which is shining its rays into your worldly, expansive ninth. Ready, set, stretch!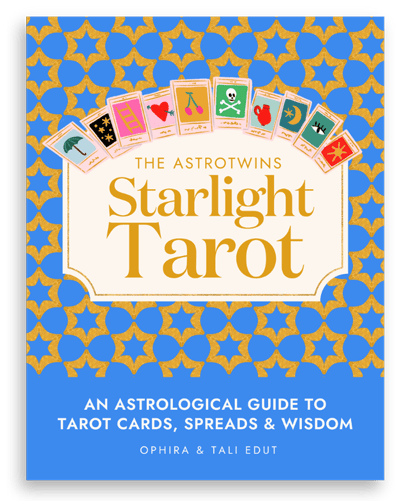 An Astrological Guide to
Tarot Cards, Spreads & Wisdom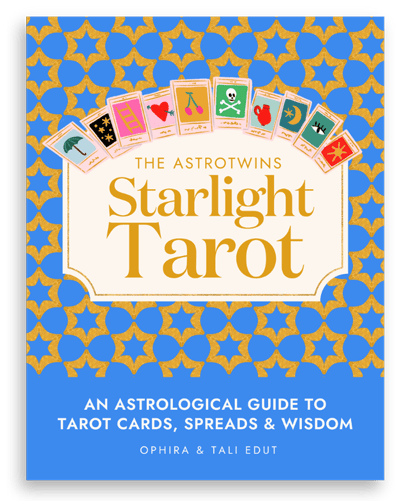 The AstroTwins bring your Tarot journey to life with Tarot spreads, history and empowering guidance.
Get the starlight Tarot