What's happening in astrology today
August 23 in the stars: Find out what's in store for you today in our daily horoscopes for Wednesday August 23. Read the daily horoscopes for your Sun sign or rising sign (ascendant) to plan your day.
Visit our Cosmic Calculator section if you want to calculate your Rising sign or discover more about your personal astrology.
Your daily horoscopes for Wednesday August 23, 2023

Aries (March 21-April 19) daily horoscope for Wednesday August 23
An ounce of prevention is worth four weeks of cure starting today as the Sun heads into Virgo and your work and wellness court. Normally this solar surge would send you racing to find a sport or activity that you enjoy or to organize your shelves and digital files to pristine efficiency. But as it turns out, Mercury spins retrograde (also in Virgo) from today through September 15. Ease off the "extreme" energy and instead microdose on self-care and systematizing. Small moves done daily add up to mega improvements between now and September 22.

Taurus (April 20-May 20) daily horoscope for Wednesday August 23
Get back to your happy place—and we do mean back! Your passion and joie de vivre return on Saturday as the Sun moves into Virgo, your fifth house of love and creativity, for a month. Simultaneously, Mercury flips retrograde (also in Virgo) until September 15. Retrogrades rule the past, so don't be surprised if you hear from a long-lost friend or an ex looking to spark things up again. Make time to be playful now. But it's up to YOU, Taurus, to decide whether anyone deserves a second chance. If you've got serious doubts, it's probably not worth risking getting burned twice. You'll be feeling pretty outspoken too, so express your opinions and share your gifts. It's a great time to put your talents on display!

Gemini (May 21-June 20) daily horoscope for Wednesday August 23
Cozy up, Gemini. The Sun slips into Virgo and your domestic fourth house, giving the next four weeks a homespun feel. Ramp up the self-care and strengthen your emotional foundation. But don't expect total quiet on the Gemini homefront. Connect with your roots by doing some nesting and home decor, or heading to your hometown to visit family. Your ruling planet, communicator Mercury, turns retrograde today (also in Virgo) until September 15. Over the next three weeks, some forward progress you were making with a roommate or home improvement project could slow down or become undone. Take a timeout for a few weeks and focus on taking better care of yourself.

Cancer (June 21-July 22) daily horoscope for Wednesday August 23
Summer ends on a social note for you, Cancer! Today, the Sun enters Virgo this Saturday, and your third house of communication and community, instantly boosting your popularity. Mercury also spins retrograde in Virgo today, setting the stage for lively reunions—and reconciliations—before September 15. Your mind is especially active, so this is a great time to capture your novel ideas on paper or in an audio note. But when it comes to actual conversations, choose your words carefully and reflect on what you're going to say before you speak. As much as you hate superficial small talk, it's safer near the surface until the messenger planet straightens out in three weeks.

Leo (July 23-August 22) daily horoscope for Wednesday August 23
Summer could end on a productive and prosperous note for you as the Sun moves into Virgo and your second house of work, money and daily routines. Now you're eager to get down to business and manifest a few birthday resolutions into tangible form. For the next month, focus on your most pressing tasks and action items. But easy with the hard sells and impulse spending. Mercury turns retrograde today, and until September 15, money could get a little funny. Pay attention to what people are saying and don't just assume that everyone is as honest as you are. New motto: Slow down to speed up!

Virgo (August 23-September 22) daily horoscope for Wednesday August 23
It's Virgo time! After a sleepy month, the Sun moves into your sign, rebooting your energy. As your solar calendar resets, you'll find yourself eager to map out new goals, kick off a fresh birthday year and, of course, make exciting new resolutions. This is a great time to put yourself out in the public eye or to devote your energy to a new personal goal. But go in gently! Mercury spins retrograde in your sign today, making this an equally important period to review personal goals. Take inventory of your storage spaces. You could discover an old gem that's primed to be polished and put out into the world once Mercury turns direct on September 15.

Libra (September 23-October 22) daily horoscope for Wednesday August 23
Take it easy, Libra. The Sun slips into Virgo for its monthlong sabbatical in your twelfth house of rest and endings. For the next month, focus on closure and wrapping up any loose ends before your birthday. You may need extra sleep—also to set a few boundaries with the needy people in your sphere. Underscoring this message today is Mercury, who pivots retrograde (also in Virgo) until September 15. To avoid sinking into an emotional swamp or tilting at imaginary windmills, swaddle yourself in support. Though you may have to wade through some murky memories, you can finally get the closure you deserve.

Scorpio (October 23-November 21) daily horoscope for Wednesday August 23
For the next four weeks, success truly hinges on knowing the right people—or maybe reconnecting with them. Not only is the Sun embarking on its annual four-week tour through Virgo and your collaborative eleventh house, but Mercury pivots retrograde (in Virgo) today until September 15. This one-two punch revs up your social calendar, and there will be no shortage of networking events, parties and tempting collaborations to choose from now. Buy yourself time—at least three weeks of it—so you can consider every offer. Deals you make during Mercury retrograde could wind up mired in hidden complexities. If this is meant to last, what's the rush?

Sagittarius (November 22-December 21) daily horoscope for Wednesday August 23
Success is in the stars for you, Sagittarius, and it may involve a total revamping of your goals. Today marks the start of Virgo season as the Sun soars into your tenth house of career and ambition. But here's the twist: Mercury turns retrograde, also in Virgo, which could scramble signals and serve sketchy deals between now and September 15. While you want to gun your engine, you need to pump the brakes. Argh! What's an eager Archer to do? Shop around, get wise counsel and multiple quotes. Maybe even let a lawyer or agent speak on your behalf. As nail-biting as it may be to play hardball between now and September 22, there's a solid chance that slowing things down will bring in offers that honor your value!
Read more Sagittarius horoscopes

Capricorn (December 22-January 19) daily horoscope for Wednesday August 23
The wider world is calling! The Sun enters fellow earth sign Virgo for a month, warming up your ninth house of travel, adventure and learning. But plot your journey carefully. Mercury torques into retrograde today, backing up through Virgo until September 15. Eager as you are to grab your backpack and go, you might feel like your wings are clipped or you're on an annoyingly short leash. This could be coming from work, a relationship or a general sense of stuckness. But don't wallow, Cap! With a little extra planning, you can broaden your horizons with a dream trip or a life-changing course. Close to home, this is an opportunity to turn mundane moments into mini adventures by shaking up stale routines.
Read more Capricorn horoscopes

Aquarius (January 20-February 18) daily horoscope for Wednesday August 23
What relationships do you want to radar in on over the next four weeks? Your energy gets micro-focused as the Sun slips into Virgo, your intimate and private eighth house until September 22. One or two connections could get super-serious, with talk of engagement, moving in or even a pregnancy. In business, a joint venture is possible so pursue partnerships with people who have resources you could tap into and vice versa. But there's a catch: Mercury spins retrograde today (also in Virgo), jamming signals until September 15. In moments you could feel overwhelmed by anger, competitiveness or jealousy. Get a handle on whether your suspicions have some grounding or if the negativity might be your own projection. This backspin is a perfect time to RE-view and RE-consider your own trust issues.

Pisces (February 19-March 20) daily horoscope for Wednesday August 23
Even the rockiest relationships have something to reveal to us. And today, not only does the Sun blaze into Virgo and your seventh house of partnerships (until September 22), but investigative Mercury turns retrograde there until September 15. The coming three to four weeks won't just be eye-opening; they could show you exactly WHY you have found yourself in the "movie" that's currently playing out with the people in your life. Analytical Virgo energy treats everything like a teachable moment. Whatever emotions arise (and there will be plenty of them), try to connect them to earlier memories. Your past contains the richest clues about how to heal your present and redesign your future.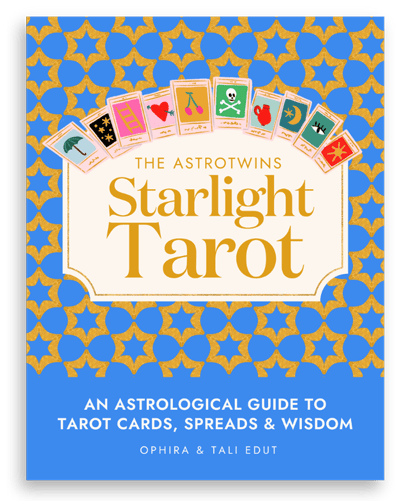 An Astrological Guide to
Tarot Cards, Spreads & Wisdom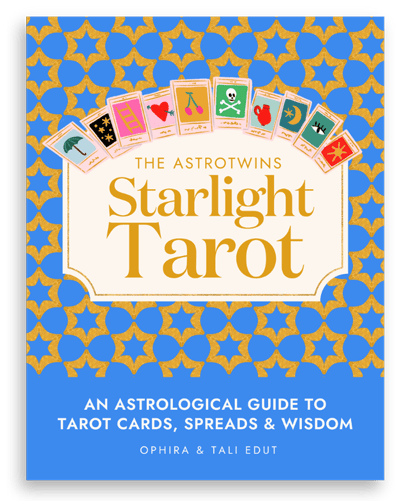 The AstroTwins bring your Tarot journey to life with Tarot spreads, history and empowering guidance.
Get the starlight Tarot