What's happening in astrology today
August 26 in the stars: Find out what's in store for you today in our daily horoscopes for Saturday August 26. Read the daily horoscopes for your Sun sign or rising sign (ascendant) to plan your day.
Visit our Cosmic Calculator section if you want to calculate your Rising sign or discover more about your personal astrology.
Your daily horoscopes for Saturday August 26, 2023

Aries (March 21-April 19) daily horoscope for Saturday August 26
You hate having to follow protocol simply because "that's how it's done around here." Your indie-spirited sign knows how to think for yourself, and in doing so, you often come up with an approach that's smarter/faster/easier. This weekend, when conservative Saturn forms an edgy opposition to the creative Sun in your systematic sixth house, think twice before you take matters into your own hands. True, you might save some time or money, but if you alienate potential supporters, it may not be worth it. Are you in fighting shape yet? This Sunday, your ruler, athletic Mars, wraps a seven-week visit to Virgo, your sixth house of health. During this cycle, you may have amped up your exercise routine or nipped a bad habit in the bud. At the same time, you may have had lots of stressful details to manage. Now Mars moves into Libra, your relationship house, until October 12. The next six and a half weeks are all about dynamic collaborations, both business and personal. Warning: You could fall prey to the cuffing-season pressure to pair up or rush relationships to the next level. Haste makes waste, Aries, so listen to your heart—not the peanut gallery. Is it time to update your privacy policy?

Taurus (April 20-May 20) daily horoscope for Saturday August 26
If you find yourself on the verge of crying—or screaming—try a different tack: laughing! Even if you fail to see the humor in the situation, call a friend who has a way of always making you laugh till you're in tears. This will not only distract you from the troubling situation but will reset your nervous system and help you detach. With serious Saturn in your collaborative zone, your standards may need some downward adjustment. And thanks to its weekend opposition with the upbeat Sun in your playful fifth house, hilarity really is the best medicine! This Sunday, energizer Mars wraps a seven-week visit to Virgo and your fifth house of love, creativity and fertility. Since July 10, your love life has been a charged zone, with both drama and excitement. As Mars moves into Libra, your health and fitness zone, until October 12, it's time to get hot and sweaty in a different way. Grab your yoga mat or head to a cardio class. Challenge yourself to break a bad habit. Get your life and your body in fierce fighting shape! And how about making that a buddy workout?

Gemini (May 21-June 20) daily horoscope for Saturday August 26
What's the secret of every smart manager? They know how to delegate! This weekend, as the analytical Virgo Sun swings into its annual opposition with structured Saturn, you might decide you're sick and tired of trying to do it all yourself. But you don't want to randomly assign key aspects of a project to potentially unqualified people. True, it might take a little more time to figure out who's right for what, but in the long run it can save much effort—and aggravation! This weekend, you can kick your feet up at Chateau Twin again. Stressful Mars has been stirring the pot in your domestic sector since July 10, making you restless and rather moody. Or maybe you haven't had a minute to rest! You may have couch-surfed, moved or found yourself short on relaxation time. Friction with a relative or a key female may have increased as you motivated and irritated each other equally. But that may magically dissipate on Sunday when the lusty planet moves into Libra and your fifth house of romance until October 12. Prepare for a spicy, steamy fall season, which could include a pregnancy if that's on your agenda (and even if it's not, so consider yourself alerted). Courageous Mars makes you bold, so if you're feeling an attraction, don't keep it to yourself!

Cancer (June 21-July 22) daily horoscope for Saturday August 26
If you're always focused on the future, you won't make the most of the present—let alone get to enjoy it! This weekend, as the Virgo Sun forms its annual opposition with focused Saturn, turn your attention to the here-and-now and pick one major thing you can drill down on. This doesn't mean you shouldn't have long-term goals—they ARE, ultimately, your GPS—but it's important to concentrate on the steps you're taking today. Has your recent communication style left a trail of strained social ties? With feisty Mars in Virgo and your communication house since July 10, we wouldn't be surprised if you stomped on a few pedicured toes. But hey, you may have broken through some shyness barriers, perhaps putting your creative work or writing on display. This Sunday, the red-hot planet moves into Libra, putting his energizing focus on your domestic affairs. Between now and October 12, you could move unexpectedly, switch your decor from Gothic punk to Midcentury modern, or even adopt a pet. Powerful women will be your key motivators so turn those projects into sister acts.

Leo (July 23-August 22) daily horoscope for Saturday August 26
If money has been slipping between your bejeweled fingers, it's not only important to pay attention to where it's going, Leo, but also to get a handle on the emotions that are connected to your mindless—or less-than-totally-responsible—spending. Under the weekend's opposition between the hedonistic Sun in your income sector and structured, disciplined Saturn in your house of long-term wealth, you might be able to reprioritize your cash flow AND get a deeper understanding of any sense of lack that may be driving your habits. It's also worth noting that money and work have been supercharged for the last seven weeks, while energetic Mars was in your second house of finance. Your bills and budget could have been a source of stress, or you may have had a fast-paced, demanding assignment that kept you on edge. This Sunday, Mars departs that zone and moves into Libra, your communication house. Before October 12, exciting correspondences and collaborations could evolve into official partnerships. Your social life is also abuzz, and you could be fielding multiple parties in a night—no arguments from you on that!

Virgo (August 23-September 22) daily horoscope for Saturday August 26
With the Sun sailing through your sign since Wednesday, you're feeling upbeat and confident—but make sure it doesn't conflate into cockiness. Nobody likes a know-it-all, Virgo, and that's the LAST thing you want to be called! This weekend, as el Sol locks into a tricky opposition with rigid Saturn in your partnership house, your closest relationships can act as mirrors for you. Up for a challenge? Think about the behaviors you most resent in others, and then take a good look at whether just maybe it's because you dislike that trait in yourself. Sexy, energetic Mars has been in your sign since July 10, a seven-week visit that's brought out your assertiveness, charisma and life-force energy. This Sunday, Mars leaves Virgo and moves into Libra, heating up your work and money house. This summer, you've become more fiercely sensual and outspoken, and it suits you. Maybe it's time to take that new attitude on the road—for a raise, a promotion or a brand-new gig. Mars lingers in Libra until October 12, so get ready to work it on your own behalf!

Libra (September 23-October 22) daily horoscope for Saturday August 26
Have you been giving so much you're starting to feel depleted? That's always your first clue—or maybe the FINAL one—that something is out of balance with a key connection. Your sign is famously generous, and occasionally you don't realize when someone in your inner circle is taking advantage of it. This weekend, as the bold Sun forms its annual opposition with structure hound Saturn, you'll be reminded of the essential value of firm and fair boundaries. It's also worth noting that energizer Mars has been languishing in Virgo and your sleepy twelfth house since July 10. While you may have done deep emotional and spiritual work, it's also been a confusing chapter where the road ahead was unclear. Being productive may have been a challenge—escaping the grind? Not so much. This Sunday, Mars enters Libra, flipping on the lights, rebooting your system and pulling your inner butterfly out of that dark cocoon. You'll host the red-hot planet through October 12, promising to make spirits (yours in particular) bright for the early part of the fall season. You're the life of every party, but you'll be equally obsessed with your own passions. No apologies for being self-focused: You only get the red planet on your team every two years, so milk it!

Scorpio (October 23-November 21) daily horoscope for Saturday August 26
Under this weekend's opposition between the "hit-the-gas" Sun in your teamwork zone and cautious Saturn in your fifth house of creativity and fame, you're torn between getting a collaborative project done on time or done to near perfection. This cosmos' flashing yellow light is a warning that someone on your crew may not be taking their work as seriously as you're taking yours. Pull them aside and have a word: kind, knowing yet firm. If you've already been through this a few times, you may have to spell out the consequences of not shaping up. Another factor contributing to this? Since July 10, Mars has been in Virgo and your eleventh house of group activity. Collaborating felt like herding cats at some points, then insanely inspiring at other times. This Sunday, Mars slips off to Libra and naps in your restful twelfth house until October 12. Dial it down, conserve your energy and focus on emotional healing, spirituality and closure. And when you ARE awake, how about starting a meditation practice or getting back into your yoga routine? Quieting your mind will help you attract what you want. Or maybe just take some disco naps?

Sagittarius (November 22-December 21) daily horoscope for Saturday August 26
Your ambitions are dialed up to 10 as the confident and creative Sun soars through your house of professional prominence until September 22. You're eager to take a bold next step and allow yourself to be publicly acknowledged—not always easy with your humble "it takes a village" mentality. But when el Sol spins into its annual opposition with structured Saturn this weekend, you're reminded not to get ahead of yourself. Ensure you have a safety net—and support network—in place before taking any leaps of faith. Thanks to the past seven weeks of motivator Mars in Virgo and your tenth house of success and prestige, you probably have plenty of people ready to catch you, though! And that number increases exponentially starting Sunday, when Mars leaves Virgo for Libra and tours your house of teamwork and technology until October 12. As summer sails through its final weeks, you'll join forces with some all-star players. With the red planet beaming into your tech sector, it's a great time to launch a sexy new online venture. The eleventh house also rules social justice. Connect with a cause and champion it! But DO make sure there's whitespace on the calendar to dream and dawdle too.
Read more Sagittarius horoscopes

Capricorn (December 22-January 19) daily horoscope for Saturday August 26
Hold your fire—even if your ire is up this weekend! Someone might get under your skin, and you are dying to let them have an unfiltered piece of your mind. But given a cosmic restraining order—i.e., an opposition between the Sun and your ruler, cautious Saturn, in your communication sectors—you are urged to take the high road. Impulsive rants or mean-spirited posts are likely to boomerang and only make YOU look bad. Not worth it! How about diffusing tension with a little self-deprecating humor? You've loosened up considerably in the past seven weeks, and it suits you, Capricorn! Thank go-getter Mars, who has been romping through Virgo and your jovial, adventurous ninth house since July 10. But after all that traveling and buzzing around, aren't you ready to settle into more of a groove? This Sunday, Mars enters Libra and your steady tenth house of long-term plans. Set your sights on success, perhaps an exciting new career or promotion. Not like we have to twist your arm!
Read more Capricorn horoscopes

Aquarius (January 20-February 18) daily horoscope for Saturday August 26
Sorry to inform you, Aquarius, but splurging is NOT the new black. In fact, too much will put you in the RED, an inconvenient truth. But good—if restraining—news arrives with the weekend's belt-tightening opposition between the indulgent Sun and conservative Saturn across your financial axis. It's never too late to rein in your spending and get serious about sticking to a budget. Just make sure you aren't depriving yourself of all pleasure in the process. What you might need more than (or as much as) new fall boots is time with your people. So, uh, where art thou, Aquarius? Since July 10, energetic (and stressful) Mars has been plummeting through Virgo and your esoteric, introspective eighth house. You may have disappeared from the public, preferring your own company or that of a VERY select few. But at the end of the day, you're one of those people who needs people. Emerge and reconnect this Sunday as Mars floats on to fellow air sign Libra and your worldly, optimistic ninth house. Mars will be in this globetrotting sign until October 12. Book your tickets for an early fall getaway or two…and make sure it's somewhere more adventurous than obligatory.

Pisces (February 19-March 20) daily horoscope for Saturday August 26
Are you contemplating buddying up with the perfect partner FTW? Then think in terms of "complement" rather than "clone," Pisces. This weekend's eye-opening opposition between far-seeing Saturn in your sign and the ego-driven Sun in your relationship house prompts you to consider people who wouldn't normally catch your attention. Remember, you don't have to see eye-to-eye on every decision for this to be a fruitful alliance. But you should be the same page when it comes to values, work ethics and expectations!
Truth be told, relationships have been exciting, intense and even extra-spicy for the past seven weeks. For other Pisces, they've been dramatic and even argumentative. Intense Mars has been in Virgo, your partnership sign, since July 10, accelerating the pace This Sunday, Mars moves into Libra, your intimate eighth house. A steamy chapter of your private life begins, and you may feel a stronger urge to put a ring on it. You may also have the opportunity to score a big deal or earn a large chunk of cash at once. A joint venture, real estate purchase/sale, pregnancy or engagement is possible. But while you fixate on "the One," make sure your world stays wide open and full of options.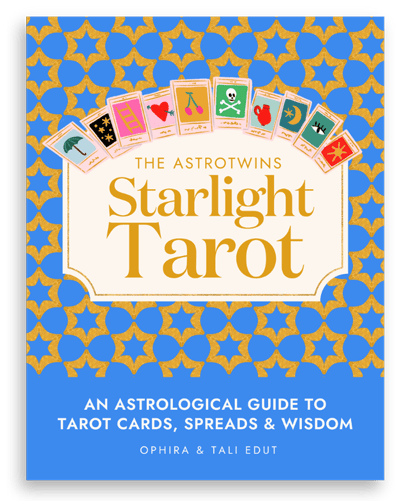 An Astrological Guide to
Tarot Cards, Spreads & Wisdom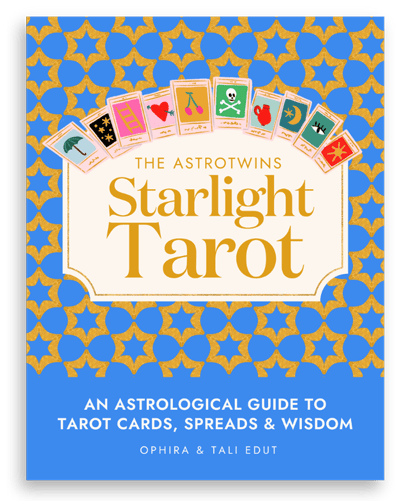 The AstroTwins bring your Tarot journey to life with Tarot spreads, history and empowering guidance.
Get the starlight Tarot