What's happening in astrology today
October 7 in the stars: Find out what's in store for you today in our daily horoscopes for Saturday October 7. Read the daily horoscopes for your Sun sign or rising sign (ascendant) to plan your day.
Visit our Cosmic Calculator section if you want to calculate your Rising sign or discover more about your personal astrology.
Your daily horoscopes for Saturday October 7, 2023

Aries (March 21-April 19) daily horoscope for Saturday October 7
Brace yourself for power struggles this weekend as your ruler, Mars, takes on domineering Pluto. As these two feisty planets clash in a 90-degree square, tension could go from a simmer to a boil out of nowhere. A close friend or colleague wants to dominate, and it's up to you to shut down the situation before it explodes. Say what you need to say—but don't take their bait. Or maybe just hit the gym instead? Sunday sets off on an epic health mission as radiant Venus zips into earthy Virgo and your sixth house of self-care until November 8. If pizza and Pinot have been at the top of your food pyramid, a nutrition overhaul may be in order. Start pinning recipes for butternut squash soups and fruit crumbles. You might even take your wellness kick "into the wild" with hikes around a city or state park. Need a little push? Since Venus is the planet of love, turn those fitness adventures into an activity date for two. Your workout buddy could do double time as your bedroom buddy before you know it.

Taurus (April 20-May 20) daily horoscope for Saturday October 7
Tensions could easily boil over this weekend as aggressive Mars clashes with domineering Pluto. It may seem like people are hiding something from you, which will just amplify your irritation. Instead of lashing out, channel this frustrated energy into a cathartic workout. Is a lack of organization contributing to your sense of frustration? Get your space in order! On Sunday, your ruler, stylish Venus, struts into your head-turning fifth house. No apologies for admiring your reflection—just don't spend ALL day in front of the mirror. Your love life gets a major boost under this sensual transit, which lasts until November 8. Just be your bold Bullish self. If you've been crushing on someone from afar, find a clever way to get closer up and personal. Already attached? Dive into those serious "where are we headed" conversations. If you're looking to add bae's apartment key to your ring—or even put a ring on THAT finger—this could be the beginning of an incredible new chapter!

Gemini (May 21-June 20) daily horoscope for Saturday October 7
You could be easily triggered this weekend as passionate Mars bumps up against controlling Pluto. Attempts to forge a deeper connection with an important person in your life could hit a speed bump, but not for obvious reasons. Without realizing it, you may be bringing old baggage into a new bond. Address this underlying issue instead of projecting it onto an innocent bystander. On Sunday, design maven Venus hunkers down in your domestic fourth house until November 8, unleashing your inner Nate Berkus. Flick off the screen and make some actual upgrades to Casa Twin. Cohabitating? Rope bae into a redecorating mission. Afterward, you can co-host a dinner party in your spruced-up nest. If you're not living with your S.O., consider this your cue to swap front-door keys or hunt for an adorable loft-style apartment to share. An important woman may drift into your orbit over the coming three weeks. Open your heart to a new BFF or an estrogen-fueled business partnership.

Cancer (June 21-July 22) daily horoscope for Saturday October 7
Curb any enabling tendencies this weekend, Cancer! As controlling Pluto clashes with aggressive Mars, you could get sucked into bailing someone out yet again. Unless they're truly in crisis, don't allow your boundaries to be crossed. Point them to resources that will empower them to solve their own problems instead of allowing them to constantly lean on you. Setting limits will be healthy for everyone! Vivacious Venus sets up camp in your outgoing third house this Sunday, packing your social calendar to max capacity. With this locally grown zone activated through November 8, chances are these stimulating soirees will be closer to home. You'll be your best and brightest self, so don't be surprised if your fan club gains a slew of new members. Single? This Venus cycle turns you into a fearless flirt. Your evenings out on the town could lead to surprising new connections—even if that memorable kiss just leads to a sweet friendship. Attached Crabs: Rally your friend groups into one venue and see who clicks!

Leo (July 23-August 22) daily horoscope for Saturday October 7
You may be tempted to stretch the truth in order to "win" an argument this weekend as manipulative Pluto clashes with aggressive Mars. But if your research isn't properly lined up, people will see right through your false claims. This befuddling square may leave you especially unfocused. Be extra vigilant when driving, walking in a busy public place or completing any detail-oriented tasks. On Sunday, chaos and confusion surrounding your love life may start to sort itself out. The reason? After four long months in your sign, romantic Venus moves on to Virgo and your grounded second house until November 8. Hosting Venus for this extended cycle hasn't been a cakewalk—especially during the July 22 to September 3 retrograde. But you're probably emerging with a braver heart from all you've been through. Practical matters demand your attention now. Don't freak out if love moves at a slower pace for the coming few weeks. Frankly, it will be a relief.

Virgo (August 23-September 22) daily horoscope for Saturday October 7
The emotional forecast calls for a few stormy moods this weekend as fiery Mars clashes with defensive Pluto. Feeling anxious about a stressful situation or financial problem? Deep breaths, Virgo! While this issue may have you all riled up, don't pick a pointless fight with a loved one. Channel all that toxicity in a heart-pumping workout or—novel concept—how about asking people to give YOU advice for a change? Support is closer at hand than you realize. Begin showering yourself with affection this Sunday as vivacious Venus zips into Virgo until November 8. Though many interested parties will be drawn to you during this alluring transit, you'll also need time to enjoy your own company. In the resonating words of RuPaul, "If you can't love yourself, how in the hell you gonna love somebody else?" Style-conscious Virgos might be up for a dramatic makeover—or make-under! Whether you're chopping your long locks into a layered bob or going #iwokeuplikethis for three weeks, fall in love with your reflection!

Libra (September 23-October 22) daily horoscope for Saturday October 7
Even-keeled Libras don't usually lose control of your tempers, but when aggressive Mars in your sign butts heads with potent Pluto this weekend, all bets are off. Before you erupt like an active volcano, carve out space to take care of numero uno. Pull out of annoying social obligations and spend the rest of your day doing what YOU want to do. Put a passion project on the front burner or tick off "to-do" list items that have been piling up. You'll feel so much better once you've made some serious progress toward YOUR goals. Your cosmic custodian, alluring Venus, dances into Virgo this Sunday, activating your dreamy twelfth house until November 8. Is it love…or just an illusion? Over the next few weeks, you may have difficulty distinguishing. If you're newly dating, dive under the surface (and past the thirst trap snap) to REALLY get to know who that right-swiper is. Libras in long-term relationships have a golden opportunity to clear the air, thanks to Venus' charming diplomacy. No more conflict avoidance! Bravely confronting the issue now will stop things from snowballing into a major avalanche (and possible deal breaker) later on.

Scorpio (October 23-November 21) daily horoscope for Saturday October 7
Watch what slips out of your lips this weekend, Scorpio, as your co-rulers, aggressive Mars and potent Pluto, clash in a fiery square. During this tumultuous, once-a-year transit, even a seemingly innocuous statement could offend someone in your circle, bringing hidden resentments to the surface. Should conflict erupt, don't get defensive. Instead, give the offended party space to explain what set them off. This misunderstanding CAN be cleared up, as long as you're willing to listen. Beginning Sunday, you can think WAY outside the romantic box, Scorpio. Love planet Venus soars into Virgo and your innovative eleventh house until November 8, and it's time to experiment. Single? Since the eleventh house rules technology, don't delete those dating apps just yet! Open your mind to a match that falls outside your normal "type." And when it comes to your own profile, showcase your edginess. Coupled? Venturing out of your comfort zone could bring some eye-opening exploration to your relationship. Just be sure to choose a safe word!

Sagittarius (November 22-December 21) daily horoscope for Saturday October 7
Finance and friendship won't make happy bedfellows under the weekend's tense standoff between aggro Mars and controlling Pluto. Ask for separate checks if you're going out to brunch and think twice about lending a pal some cash. Are you considering doing business with someone in your social circle? Consider working out a short-term arrangement to test your dynamic and see if there is creative synergy. If money is changing hands, put an ironclad agreement in place BEFORE you begin any work. On Sunday, sensual Venus settles into Virgo and your ambitious tenth house, turning your thoughts toward matters (and goals) of the heart. What's your romantic end game, Sagittarius? Between now and November 8, make it your mission to spell that out for yourself. If you're in a relationship, be sure to align your vision with your S.O.'s. With Venus charging through your career zone, your job could become a lot more social. Network liberally. You never know who might show up to that after-work drinks thing.
Read more Sagittarius horoscopes

Capricorn (December 22-January 19) daily horoscope for Saturday October 7
Burning the candle at both ends, Capricorn? As nonstop Mars clashes with regenerative Pluto in your sign, you might not realize how much energy you're expending this weekend. But if you're juggling too much, you're bound to drop the ball eventually. Take any non-essential items off your plate, prioritizing only the most urgent missions. And don't even think about saying "yes" to that "quick favor" that a colleague or acquaintance is asking from you. You're not slacking, Capricorn. You'll be back to prime productivity mode AFTER you've taken a rest. Begin exploring fresh romantic frontiers this Sunday as Venus charges into Virgo and your broad-minded ninth house until November 8. Single? Toss out any preconceived notions about the "right" partner and open your mind to unexpected connections. Sure, you might have to humor a few duds over coffee, but don't let that stop you from casting your line back into the Sea of Love. If you're already attached, spice up your cuffing season with a spontaneous baecation.
Read more Capricorn horoscopes

Aquarius (January 20-February 18) daily horoscope for Saturday October 7
Your candor could cut someone down under this weekend's harsh square between Mars and Pluto, but that kind of "last word" won't leave you feeling vindicated. It's not that you should suppress your opinion, Aquarius; just try to deliver it in a way that leaves people's dignity intact. If you're the one getting roasted by a brutally honest evaluator, try not to freak out or get defensive. Let them know that they've been heard, then remove yourself from the situation before you say something you regret. This Sunday, seductive Venus dances into Virgo, activating your erotic and alluring eighth house until November 8. Nothing's superficial under this intimate transit! You're in the mood to forge deep connections and might just encounter a soul mate. Already in a relationship? Taking a big step with your S.O. is on the agenda, whether you're meeting the parents or booking a couple's getaway. But beware the green-eyed monster, who could appear unceremoniously over the coming few weeks. When you feel possessive or paranoid, don't act rashly upon those fears. Call up a friend who can talk you down from that tree.

Pisces (February 19-March 20) daily horoscope for Saturday October 7
Paranoid feelings could complicate group dynamics this weekend as aggressive Mars clashes with destabilizing Pluto. Does it seem like someone is distancing themselves from you? Don't catastrophize! It's possible that this person just needs a little space. Give it a few days and see if things settle on their own. On the other hand, the two of you may simply be growing apart. That's okay! Focus on friends who lift you up…not pull you down. Your urge to merge heats up starting Sunday as love planet Venus camps out in Virgo and your seventh house of relationships until November 8. No more hemming and hawing in matters of the heart. If you've found a good one, seal the deal with a legit commitment. Diving in all the way is the only true test of the relationship's longevity. Single? While you tend to guard your solo time, create a little more space for a potential plus-one to slide in. The cosmic creatrix will also boost any artistic collaborations, so get in the cipher with some of your favorite co-dreamers.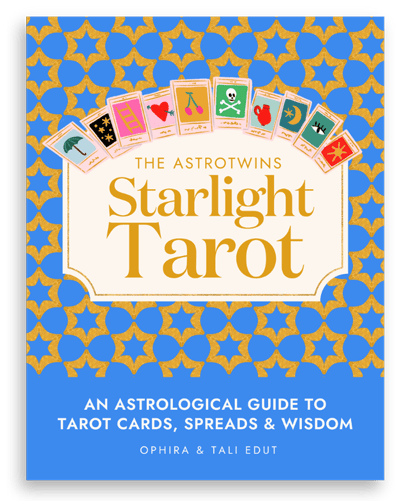 An Astrological Guide to
Tarot Cards, Spreads & Wisdom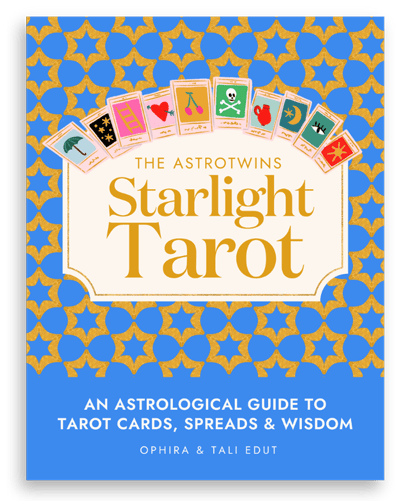 The AstroTwins bring your Tarot journey to life with Tarot spreads, history and empowering guidance.
Get the starlight Tarot