When Cancer and Aquarius come together for love or any kind of relationship,
it's awkward at first with plenty of lasting potential. There is a lot to be learned from each other, which can help you to appreciate your differences. A Cancer-Aquarius relationship is nurturing, since you both understand each other's parenting styles should you decide to have children.

Cancer and Aquarius: Your compatibility clicks and clashes
Where you click:
There's much to learn from each other…if you don't bolt from the initial awkwardness too quickly. Cancer teaches Aquarius the power of intimacy and the hidden joys of focusing on one (and only one) person at a time. Aquarius pulls Cancer out of that protective shell and holds your Crab claw as you navigate the crowds, and add more and more people to your Facebook friends list. Popular Aquarius can help ease Cancer's social anxiety, while the Crab will help Aquarius relish the joys of cooking and entertaining at home. Parenting can be the common ground that plays to both of your strengths—and seals your bond. Cancer's tender, nurturing style and Aquarian's eternal youth can turn family life into a sentimental adventure that you creatively script together.
Where you clash:
Bizarre! You're not exactly opposites…you're simply fascinated by discovering a person so far flung from your comfort zone. Outgoing, edgy Aquarius is like a sci-fi enigma to shy, traditional Cancer, who'd rather lie on the couch reading a thick classic novel than visit any of Aquarius' inter-dimensional watering holes. There's a good chance you'll be spending more time apart than together in this matchup. Since you both relish personal space, this could work out, provided Aquarius can earn Cancer's trust…no easy feat!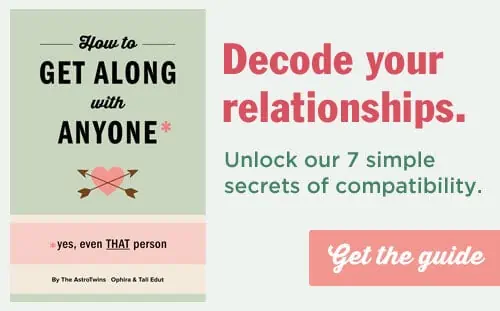 Cancer is water and Aquarius is air

Head and heart combine—or collide—when you pair a talkative air sign with a touchy-feely water sign. The temperaments of these two elements are wildly different. Air signs love change, variety and novelty while sentimental water signs seek security, comfort and nostalgia. One of you is all about the new, while the other cherishes the old. You'll have to learn to appreciate this major difference. Otherwise, you could quickly feel like you have nothing in common!
The benefits of this match is an opportunity for growth.
Your social habits may need some tweaking to make this work. Water signs don't trust easily, and tend to roll with a tight-knit clique—many of whom they've known since childhood. By contrast, air signs never met a stranger and are constantly introducing you to their latest BFFs. The water sign might be jealous or threatened by all of these newcomers, while the air sign feels suffocated and bored by seeing the same old faces. Compromise is key. The water sign partner will have to be more open to new people and experiences, going with the flow. The air sign will have to embrace tradition and develop more emotional sensitivity.
The benefits of this match is an opportunity for growth. Since water signs can be TOO "in their feelings," the cooler, rational air sign partner can teach them the power of detaching. The water sign will learn how to take things less personally, laugh at themselves and lighten up. In exchange, the water sign can teach the glib air sign to dive into their depths more, rather than being overly superficial or turning everything into a joke. The water sign may create a cozy, beautiful home, while the air sign fills it with interesting guests, music and art. Both of these elements can be "culture vultures," and may bond of dissecting a documentary film, singing karaoke (you both could have encyclopedic knowledge of lyrics) or even traveling.
There are four elements in astrology: fire, earth, air and water. Each one plays an important role in the greater whole of humankind. A love match with someone from of a different astrological element can be challenging, but also a beautiful opportunity to evolve. After all, differences push you both to grow and step outside of your own experience.


Cancer is cardinal and Aquarius is fixed
In astrology, the "qualities" or "triplicities" reveal the role you play in a relationship or collaboration. Are you a starter, a doer or a finisher? Do you like to take charge and have a plan, or do you prefer to go with the flow? Cardinal and fixed signs are both "take charge" in their own right. Cardinal signs like to lead and initiate—which is fine as long as they don't tread on the fixed sign's turf. The nature of fixed energy is to stand firm and resist change unless it's really necessary. Fixed signs are set in their ways, while cardinal signs are a touch more fluid, though stubborn in their own right! The cardinal sign may introduce too many new ideas into the mix, or worse, try to "improve" on the fixed sign's ideas by giving unsolicited criticism. This feedback, no matter how well-intended, could threaten the fixed sign's pride, leading to a major ego battle. The fixed sign could also seem "boring" to the cardinal sign if they want to do the same thing week in and week out. In this love match, the fixed sign will have to be more open to "trendy" over tried-and-true. When the cardinal sign scores reservations at a buzzy new restaurant, resort, club or event, the fixed sign had better clean up and GO. In return, the cardinal sign must patronize the mom-and-pop bistro, the favorite karaoke bar, or another dinner with the fixed sign's family. The fixed sign's more traditional approach to romance can seem clumsy or heavy-handed to the discerning cardinal sign. So, cardinal sign, you got a conventional Tiffany locket instead of an Alexander McQueen limited-edition ring? Suck it up and say thanks—or start dropping hints a lot sooner before your next birthday!


Cancer is yin and Aquarius is yang
In astrology, every sign has a "polarity": you're either yin (feminine) or yang (masculine). In your sign match, Cancer is a receptive yin sign and Leo is an assertive yang sign. When you play to your strengths, you balance each other out, each on contributing a different but complementary skill set. When things are off, you can become polarized. The yin sign can be too passive (or passive-aggressive) and sacrificing, while the yang sign may act domineering, aggressive and selfish. To rebalance, the yin sign needs to work on being more open, direct and confident, while the yang sign should cultivate more patience, tolerance and sensitivity.


Cancer and Aquarius are quincunx (five signs apart)

In astrology love matches, we also measure compatibility by the aspect, or distance, between the two signs. Your signs are quincunx, or five signs apart. This is a fascinating, complex combination that defies explanation—the original odd couple. You'll either feel like you're with your soulmate or the devil incarnate…or at least, some kind of strange alien who does everything in a wildly different way than you ever would. "How did those two end up together?" people will wonder. Your bond is intense, unspoken, almost secretive in a way. The person five signs away from your sign has nothing in common with you astrologically. You'll need to adapt to your differences, which could take a great deal of adjustment, even discarding a former lifestyle. For one of you, the relationship will be about sex and intimacy; for the other, duty and service. If you've both done the requisite self-awareness work, you can make a formidable team when you pool your strengths. You might also come together for karmic purposes—for example, to have a child or heal old wounds, perhaps even from past lives.
MORE LOVE HOROSCOPES:
Love Matcher: See all compatibility matches