When Taurus and Sagittarius come together for love or any kind of relationship, it may look odd on paper but it can also be a very complementary match! Taurus helps wandering Sagittarius establish roots while Sag encourages the Bull to take more risks. A Taurus-Sagittarius relationship is ideal for childrearing, since you both prioritize education and higher learning.


Taurus and Sagittarius: Your compatibility clicks and clashes
Where you click:
Really? A somewhat quizzical matchup, you're as different as dusk and dawn. Nonetheless, if Taurus' old-fashioned values manage to dovetail with the Sagittarius free spirit, the result can be a lively and long-lasting combo. Taurus keeps the home fires burning while Sagittarius wanders and hunts. The Archer motivates the Bull to be more ambitious and take a few risks here and there. Taurus teaches Sagittarius the joys of family…possibly something Sag wouldn't have considered otherwise. As parents, you provide an interesting blend of stability and excitement for your kids, but education will be a top priority for your brood.
Where you clash:
Financially, you're also as different as they come, and money could be a sore spot in your relationship. Taurus wants to invest in a house, while Sag would rather rent in case moving to another city with one week's notice ever becomes an option. Taurus believes in quality-made, long-lasting products (organic a plus), while trendy Sagittarius is swept away by impulse shopping for colorful clothes, trinkets, and housewares. Economically, you two may crash and burn before they learn how to manage your vastly different approaches to spending and saving. Get in bed with a financial advisor stat if you want to enjoy retirement as a couple…and actually have enough funds to stop working one day!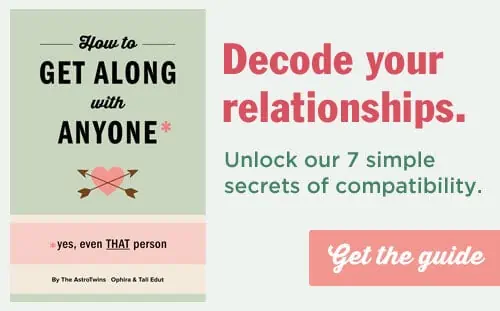 Taurus is earth and Sagittarius is fire

Handle with care! This astrology love match of wildly different elements can thrive as long as you play to your strengths. Grounded earth signs seek stability and want to put down roots. By contrast, adventurous fire signs long to explore, grow and spread into new terrain. A battle can erupt as one of you strives for freedom while the other craves consistency. The fire sign will feel caged in by the white picket fence fantasy, while the earth sign can never relax with constant change and surprises.
Compromise is key so you don't drive each other crazy!
But if you learn to appreciate your differences, then you can offer what the other one is missing. The worldly fire sign will have a predictable home base to return to, lovingly tended to by the earth sign partner. In exchange, the earth sign will avoid getting stuck in a stagnant rut because the fire sign will encourage growth and adaptation. Earth signs are sensual and practical, and impulsive fire signs can benefit from their grounded approach. In this relationship, the fire sign can learn to slow down and savor the moment, rather than rushing off to the next big thing. And the fire sign can help the earth sign take more chances in life. Think in terms of nature: dirt can smother a fire, and fire can scorch the earth. But in order to build a fire and maximize its creative powers, there must be a steady ground beneath the flames.
There are four elements in astrology: fire, earth, air and water. Each one plays an important role in the greater whole of humankind. A love match with someone from of a different astrological element can be challenging, but also a beautiful opportunity to evolve. After all, differences push you both to grow and step outside of your own experience.

Taurus is fixed and Sagittarius is mutable
In astrology, the "qualities" or "triplicities" reveal the role you play in a relationship or collaboration. Are you a starter, a doer or a finisher? Do you like to take charge and have a plan, or do you prefer to go with the flow? In this love match, it can be hard to get in sync. Can we make a plan around here? Fixed signs crave stability and mutable signs love change. Compromise is key so you don't drive each other crazy! The fixed sign in this relationship likes to make a decision or plan and stick with it. By contrast, the ever-changing mutable sign is always changing things—adding one more guest, jamming one more coffee date into their day, starting another project before they finish the 50 they already have going. When a mutable-fixed duo plays to their strength, the fixed sign can create a solid structure that upholds the mutable sign's creative plans. Adaptable mutable signs help the fixed sign to be less rigid—to loosen up and go with the flow. For long-term success, the mutable mate will have to work harder at keeping their word, showing up on time and being consistent. Some plans are simply non-negotiable! In exchange the fixed sign will have to give an inch and be willing to try new things.


Taurus is yin and Sagittarius is yang
In astrology, every sign has a "polarity": you're either yin (feminine) or yang (masculine). In your sign match, Taurus is a receptive yin sign and Sagittarius is an assertive yang sign. When you play to your strengths, you balance each other out, each on contributing a different but complementary skill set. When things are off, you can become polarized. The yin sign can be too passive (or passive-aggressive) and sacrificing, while the yang sign may act domineering, aggressive and selfish. To rebalance, the yin sign needs to work on being more open, direct and confident, while the yang sign should cultivate more patience, tolerance and sensitivity.


Taurus and Sagittarius are quincunx (five signs apart)

In astrology love matches, we also measure compatibility by the aspect, or distance, between the two signs. Your signs are quincunx, or five signs apart. This is a fascinating, complex combination that defies explanation—the original odd couple. You'll either feel like you're with your soulmate or the devil incarnate…or at least, some kind of strange alien who does everything in a wildly different way than you ever would. "How did those two end up together?" people will wonder. Your bond is intense, unspoken, almost secretive in a way. The person five signs away from your sign has nothing in common with you astrologically. You'll need to adapt to your differences, which could take a great deal of adjustment, even discarding a former lifestyle. For one of you, the relationship will be about sex and intimacy; for the other, duty and service. If you've both done the requisite self-awareness work, you can make a formidable team when you pool your strengths. You might also come together for karmic purposes—for example, to have a child or heal old wounds, perhaps even from past lives.
MORE LOVE HOROSCOPES: