Who matched the cast of Cosmic Love? And how did they do it? Take a look behind the scenes of Cosmic Love, the Amazon Prime reality dating series featuring the astrology and matchmaking work of The AstroTwins.
Let's lift the curtain on The Astro Chamber, the mystical orb that guides the 20 single cast members on Cosmic Love who are seeking their perfect match.
There are two main components behind the scenes of Cosmic Love, the first-of-its-kind astrology dating show:
The Astro Chamber: Voiced by The AstroTwins during filming, with voiceover in the post-production by actress Cree Summer; it's the cavernous realm where the Elements go to hear the astrology matchmaking advice of…
The AstroTwins: The official astrologers and matchmakers for all 10 episodes of Season 1!
Who are The AstroTwins on Cosmic Love?
For more than 25 years, identical twin sisters, Tali and Ophira Edut (The AstroTwins) have been reaching millions of fans around the world with their astrology. Their Astrostyle website is one of the internet's top-ranking astrology sites and they are the official astrologers for ELLE.
Celebrity clientele also rely on The AstroTwins' trusted guidance. Ophi and Tali have read charts for the likes of Beyonce, Karlie Kloss, Alicia Keys and Bravo's Real Housewives of New Jersey and New York, among many others.
The AstroTwins have also written many books and have a new one coming out soon that is almost a companion to Cosmic Love, called Supercouple. It focuses on the composite chart, which was a key astrology technique used to match the cast in Cosmic Love.
Now…step behind the scenes with us into the making of Cosmic Love—in this exclusive Q&A with The AstroTwins!
How did you prepare to be the Cosmic Love matchmakers?
Prior to the Cosmic Love's production, we spent a few months poring through casting tapes and the charts of the hopeful singles who auditioned to be on the show. We probably did hundreds of astrology charts to help the team whittle down to the final roster of 20 singles. There were a lot of tough decisions because so many interesting people applied!
Once the cast was selected, we looked at every planet in their charts to see how matching them might help them grow or discover new facets of themselves. We printed out their charts and placed them under crystals (so textbook "woo woo," but we'll own it!). Then, we worked with the producers and wrote scripts for every episode, introducing a new facet of astrology for each one.
We were thrilled to get to do real, in-depth astrology with the Cosmic Love cast, rather than just skimming the surface of basic Sun signs or going for cliche matches. As you'll see, we did some real non-stereotypical matches—and it's fascinating to watch!
How did you translate astrology into a reality dating show?
Streaming media is a completely different format from writing horoscopes. You have to bring astrology to life and let viewers experience their birth charts, rather than just firing a bunch of astro-jargon to them. And we had to find a way to make millions of people actually care about one person's unique chart.
Our solution was to turn astrology into an experience. In this age of gamification, Web3 and the metaverse, people don't want you to talk "at" them; they want you to talk with them. So even though our astrological guidance was delivered through The Astro Chamber, you'll see the cast try out our advice as they meet and date potential matches.
To make astrology "larger than life," the production team created a whole CGI and special effects room called the Astro Chamber. The main cast members (the Elements) went into the Astro Chamber to receive their relationship guidance from The AstroTwins.
The Elements would hear our voices and be able to ask us questions, which added to the otherworldly effect! However, they didn't get to interact with us face-to-face during the filming…at least, not until a special surprise appearance that you'll have to watch Cosmic Love to see!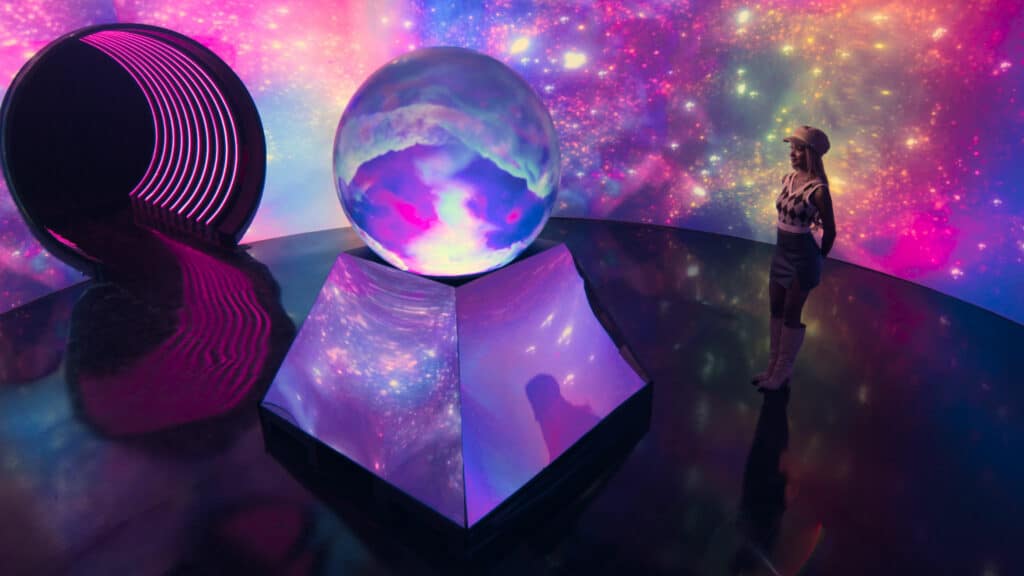 The voices of the Astro Chamber…
Actress Cree Summer (A Different World, Rugrats) re-voiced The Astro Chamber in post-production. So if you think, "That voice sounds familiar!" there's a good chance you've heard Cree's signature vocals in one of your favorite cartoons, movies, video games or on the classic 1980s sitcom A Different World, where she played the character Freddie.
While Cree is not a professional astrologer, we imagine that listening to the hours of our original vocals to recreate The Astro Chamber has made her more than a little cosmically curious!
Behind the scenes of Cosmic Love, on set
The set was fully operational six days a week, sometimes seven. We had our own special trailer called Astro Control, which powered The Astro Chamber. It was this nerdy, tech-y control room with zero personality. Naturally, we adorned it with macrame that Ophi made between takes, crystals and some plants from the set designer's extra stash.
Our zhushed-up trailer magnetized various producers and crew, who would stop in for their daily dose of astrology advice. Everyone worked super hard, so we tried to give them positive energy and a smile. Our crystals may have migrated between a few of the trailers when someone needed a pick-me-up. Sometimes, we even brought Tali's dachshund Lux to the set for extra comfort!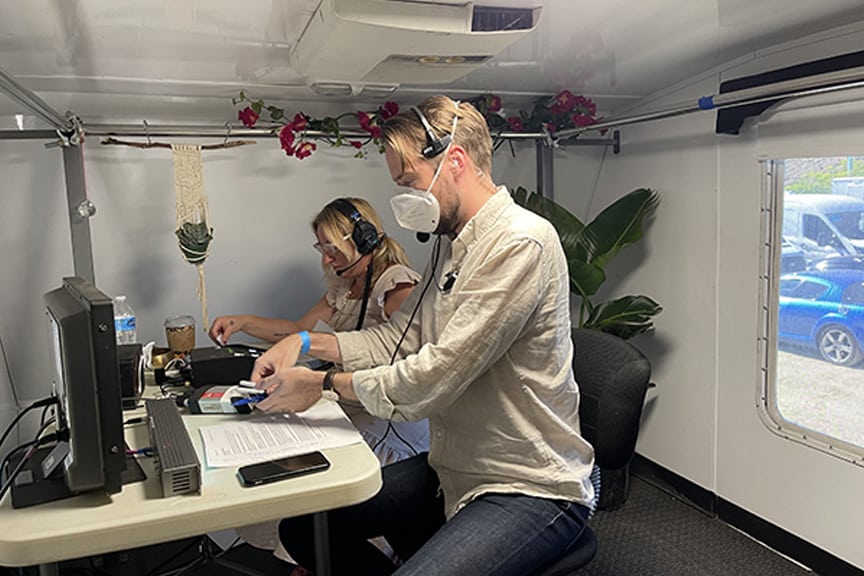 But truly, the cast members were the highlight of our Cosmic Love experience. We fell in love with the cast, especially the Elements. By the end of production we felt like they were our cosmic children.
Even though we interacted from behind the scenes in our magical trailer, our intuitive connection with them got stronger each time we read their charts. They got really vulnerable and asked important questions and found self-love through the experience. We'll be invested in them for the rest of their lives because of it!
Getting to live in Malibu, California wasn't too shabby either! We'd drive to the Cosmic Love set along the coast and up to a gorgeous mountaintop mansion. When the sunset turned the sky into a painting, we'd pinch ourselves that this was our life.
Who else did you work with behind the scenes of Cosmic Love?
Making astrology into TV material was a thrilling creative challenge, and even cooler to do this with some reality TV vets, including showrunners Jess Castro (of American Idol and Love Island), Hashim Williams (The Bachelor) and director Michael Shea (FBoy Island).
The set decorator Heather Cantrell tricked out the house (AKA the Cosmic Compound) with the most creative astrological interiors, from custom wallpaper to giant crystal paintings and rooms tailored to the traits of the main Elements' signs. We were stunned when we first walked in!
With Amazon Prime Video powering this show, it was a huge production. There were about 250 people on the set every day, from craft services to the crew to the cast.
Why do you think a show like Cosmic Love works now? Is there something in the zeitgeist?
While astrology is indeed having a peak moment (not its first and not its last), we believe the subscription model of streaming TV is what allowed Cosmic Love to pass through the gates.

We've been approached by TV production companies many times in the past 15-20 years to make an astrology television show, and so have several of our astrologer friends. However, the traditional network TV model relies on advertising, and some ultra-religious consumers object to paranormal topics. Because these viewers could boycott a brand or network and "vote with their dollars," many promising astrology treatments never got signoff by the top executives, for fear of risking the bottom line.

Since the streamers like Prime Video have a subscription revenue model, rather than relying solely on big brand advertisers, our media and publishing background tells us that this might have been what made the ultimate difference, allowing Cosmic Love to be born!
Do you believe some zodiac signs are better matches than others?
You might be shocked to hear this but…NO! We firmly believe that any two signs can find blissful love and compatibility, as long as they understand what makes the other one tick.
Most people are either doing the wrong thing with the right person, or the right thing with the wrong person. Astrology helps you uncross those wires and get in sync. It doesn't guarantee you'll live happily ever after—that's where free will comes in. But it can certainly help your communication and guide you to make healthier choices in love.
That's where the composite chart comes in, which we cover in depth in our book Supercouple. When you take two people's signs and average them into the middle, that becomes the sign of the relationship. So you get this "third chart" that can help partners get in sync and understand the purpose of their union. We are so excited to share this and teach more about it. And we got to do a whole episode of Cosmic Love about composite charts, so you'll see this amazing technique in action.