What's happening in astrology today
September 26 in the stars: Find out what's in store for you today in our daily horoscopes for Tuesday September 26. Read the daily horoscopes for your Sun sign or rising sign (ascendant) to plan your day.
Visit our Cosmic Calculator section if you want to calculate your Rising sign or discover more about your personal astrology.
Your daily horoscopes for Tuesday September 26, 2023

Aries (March 21-April 19) daily horoscope for Tuesday September 26
Fire up the team spirit! Today, as the moon brightens your eleventh house of social activities AND buddies up with your ruler, can-do Mars, in your relationship realm, you'll want to connect with the VIPs in your squad. Take mini-moments throughout the day to reach out to people. If you haven't had adequate quality time together lately, schedule a group hang or a getaway with a couple of close friends so you all have something to look forward to. For now, settle for a fun and spontaneous night out on the town.

Taurus (April 20-May 20) daily horoscope for Tuesday September 26
Don't just sit there, Taurus: Make some moves! Today's Aquarius moon in your ambitious tenth house links up with confident Mars in your hard-working sixth house. Aquarius is the consummate networker, so start firing off emails, connecting on social media and mining your LinkedIn account. Style your cover letters and let some of your personal charisma come through. Mars in your administrative sixth house will help with the organization, but mostly you want to play a numbers game and reach as many people as possible.

Gemini (May 21-June 20) daily horoscope for Tuesday September 26
You can't plan spontaneity, but by staying open to it, you can make the most of unexpected events and exciting offers. That's the case today as the tuned-in moon forms a supportive angle to improv king Mars in your fifth house of amour and glamour. Simply being present in the moment, without an agenda, will make you magnetically appealing. If you're single, this could lead to an exciting potential love connection. Attached? Catch today's cosmic travel bug and book a romantic getaway!

Cancer (June 21-July 22) daily horoscope for Tuesday September 26
If you've been holding in a secret or a troubling personal issue, today's a good time to unburden yourself, Cancer. Your celestial chaperone, the moon, syncs up with no-holds-barred Mars, making it safe to open your heart to a trusted friend or relative. It's also okay to let your vulnerability show! If you're struggling, just admit it. There's no reason to carry hurt around with you. People won't think any less of you if you share it. If anything, they might actually feel closer to you.

Leo (July 23-August 22) daily horoscope for Tuesday September 26
Bring back the peace! Today's starmap points the way to an amicable alliance with a colleague, sibling or partner. An open-minded Aquarius moon in your relationship corner is aligned with unbridled Mars in your expressive third house. Summon everyone back to the negotiating table, wipe the slate clean, and let the candid discussions resume! Have you been the one who's on the fence about this merger or contract? Ask the questions that have been holding you back. If you get the right answers, go for it!

Virgo (August 23-September 22) daily horoscope for Tuesday September 26
All aboard the wellness wagon! Today, the moon in your sixth house of healthy living syncs up with active Mars in your body-focused second house, inspiring you to take charge of your vitality. But don't try to pull off a 180-degree pivot. Take one or two doable steps at a time and let them become habits. Pick up fresh ingredients that can be used for several recipes throughout the week—and make extras to enjoy for a healthy lunch. Pick one physical activity you can commit to doing for at least 45 minutes three times a week. Even a brisk walk works if it gets your heart rate up.

Libra (September 23-October 22) daily horoscope for Tuesday September 26
Can you feel all that love, Libra? It's not only in the air, but it's forming a protective aura around you. Thank a supportive connection of the moon in your romance zone and lusty Mars in your sign. If you're looking for romance, form a search party! Be proactive, and even a little bold. The right glance or well-timed giggle could draw in a prospect who's worthy of your precious time. But don't forget about the all-important self-love. Treat yourself to a 90-minute massage or book a luxe hair treatment. Coupled? Give your sweetie a surprise gift just because.

Scorpio (October 23-November 21) daily horoscope for Tuesday September 26
There are times to hold your tongue and times when it's better to bite the bullet and speak from the heart. Today, with the moon in your sentimental fourth house synced up with take-no-prisoners Mars, you have cosmic support to express your true feelings. Whether you're feeling hurt by something a relative did or are harboring a secret crush, you'll feel a whole lot better when you get it off your chest. Nothing can be resolved or moved forward if you keep this to yourself. So find the perfect moment, then speak your piece—with compassion.

Sagittarius (November 22-December 21) daily horoscope for Tuesday September 26
Think outside the box, Archer! You may be all fired up with fresh ideas today as an innovative Aquarius moon teams up with your can't-stop-won't-stop Mars. If you've been feeling like someone clipped your wings, this is an opportunity to spread them wide and soar! Check out some new social groups or local events. Try your hand at memoir writing or soldering jewelry. Strike up conversations with strangers—you never know what you might learn from a random encounter.
Read more Sagittarius horoscopes

Capricorn (December 22-January 19) daily horoscope for Tuesday September 26
The road to success is paved with good intentions—and savvy routines! And today, as the moon in your practical second house teams up with energizer Mars in your career corner, small changes you make in your daily procedures can lead to some noticeable—and impressive—results. Try getting into bed an hour earlier, turning off ALL devices an hour before that and squeezing in just 20 more minutes of movement a day. That's the express lane to healthy, wealthy and wise!
Read more Capricorn horoscopes

Aquarius (January 20-February 18) daily horoscope for Tuesday September 26
How big can you dream, Aquarius? You might find out today as the moon in your sign swings into a harmonious trine with fearless Mars in your broad-minded ninth house. Until you bump up against your own limitations, you might not realize where they are. So find time in the day to do some creative visualization. Imagine one of your loftiest goals, then zoom in on anything preventing you from reaching it. Set the intention to keep on pushing, even if that obstacle gets in your way. You CAN do this!

Pisces (February 19-March 20) daily horoscope for Tuesday September 26
A soft touch is needed today, Pisces—but not so light that it fails to make an impact. With the moon in your compassionate twelfth house linked up with assertive Mars in your intimacy zone, you can deepen relationships simply by bringing more empathy to it. In a LTR? Get closer to your partner by initiating a soulful conversation about your shared dreams. Single? Bypass the superficial and dive into the deep end with someone. You'll see if your vibe has what it takes to go the distance.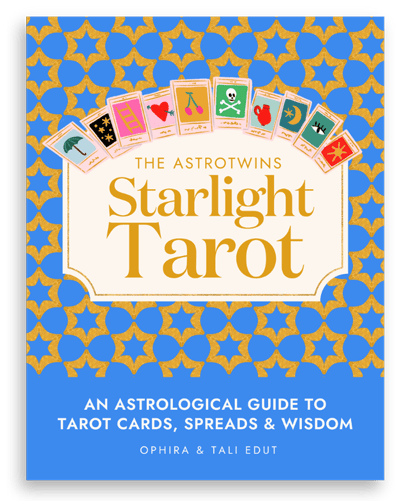 An Astrological Guide to
Tarot Cards, Spreads & Wisdom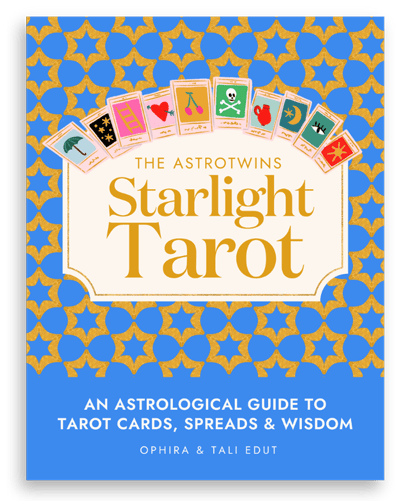 The AstroTwins bring your Tarot journey to life with Tarot spreads, history and empowering guidance.
Get the starlight Tarot