Your September 2023 horoscope rides the retrograde wave with SIX planets still in reverse! How to balance the fresh-starts feel of fall with so many forces attempting to hold you back.
Retrograde "high season" colors your September 2023 horoscope with six planets in retrograde:
• Mercury retrograde in Virgo (until September 15, but then there's the retroshade period!)
• Saturn retrograde in Pisces (until November 4)
•Uranus retrograde in Taurus (until January 2024)
• Pluto retrograde in Capricorn (until October 10)
• Neptune retrograde in Pisces (until December 6)
• Venus retrograde in Leo, only until September 3, but thenJupiter slips retrograde in Taurus the next day, on September 4!
Once the Jupiter retrograde in Taurus begins, ALL the outer planets (Jupiter, Saturn, Uranus, Neptune) will be backpedaling!
Oh, we almost forgot to include one more retrograde! The wounded healer comet, Chiron, is retrograde in Aries until Dec. 6.
Whew!
Ok, here's how you can manage the September 2023 retrograde high season
Retrograde season swells to high tide this September. No less than seven planets will be in this reversed position throughout the month, disrupting even the best-laid plans. The message? Slow down, tweak your ideas and make sure everything you're doing is airtight before you launch it out into the world.
The cos(mic)players in question are Mercury, Venus, Jupiter, Saturn, Uranus, Neptune and Pluto. Comet Chiron is also retrograde this whole month, giving us a chance to do some deeper healing. While you can still make great things happen, some of your big plans may need to marinate and incubate—at least until September 15, when Mercury resumes its direct (forward) motion.
For the first half of the month, Mercury, the planet of communication, technology and travel, is retrograde in Virgo. Feeling anxious and spun out over a million little details? Mercury is the ruling planet of Virgo, making this backspin feel like a double dose of drama, delays and digital discord. Back up your important files, hold off on buying any new vehicles or electronics and if possible, sit tight before signing agreements. If you can't wait it out, do thorough research and ask all the questions you need.
The GOOD news here is that Venus, the galactic goddess of love, harmony and attraction, will end a six-week retrograde through lusty Leo on September 3. Since July 22, Venus has been OOO, messing with our ability to feel glamorous and warm-hearted. Venus will remain in Leo until October 8, spicing up the early days of Cuffing Season and hopefully making up for lost summer moments!
The next day, however, expansive Jupiter will turn retrograde in earthy Taurus, making us less prone to gamble and little more cautious with risk-taking until December 30. Jupiter will join the four other slow-moving outer planets, Saturn, Uranus, Neptune and Pluto, which are already retrograde. It's time to rethink the structures that have upheld our lives. Some no longer do the job adequately; others are due for an upgrade or evolution.
It's Virgo season until September 23
Luckily, even Mercury retrograde can't stop most of us from digging into the details, thanks to the Sun's travels through analytical Virgo until September 23. Virgo turns your life into an efficiency mission. With the Sun here since August 23, a "keep it simple" spirit is a breath of fresh air. Squeeze some al fresco exercise into your last weeks of summer. And bring some order to your court: From your storage systems to your project management software, give everything a review. Be sure to also hit the local farmers' markets for fresh, locally grown produce, and the first hints of fall you can use to color your plate, like squash and apples.
The September 14 Virgo new moon brings make-better vibes
Speaking of tidying up, the Virgo new moon arrives Thursday, September 14 at 9:39 P.M. Eastern. The make-better vibes come flooding in with this moon, the only one in Virgo this year.
Apply a "clean and green" ethos broadly. Set up a new shelving system and fill your house with plants. Get your budget in order and make sure you're supporting companies with ethics you can stand behind. Feed your body food that has ingredients it can actually use for fuel.
If you're surrounded by chaos, don't just contain it—tackle it head-on. Make a thrift store drop, meal plan, do all that laundry and scrub the baseboards. With innovators Jupiter and Uranus chiming in, make your maintenance plan a "smart" one. Put a system in place and let your devices remind you to keep them up.
The Sun enters romantic, fair-minded Libra on September 23
Balance arrives at the autumn equinox! The Sun moves to its annual tour Libra on Saturday, September 23. In business AND pleasure, the name of the game changes to dynamic duos. You'll increase your chances for happiness and success by keeping an open mind to different types of people—not just those who match the items on your checklist.
Should you belly up to a bargaining table, this diplomatic four-week cycle can help you negotiate an equitable deal. Relationships that you're already a part of could grow more serious. Add an exclusivity clause, put a ring on it, or figure out what the next level of the game is for you!
SN: Mars is in Libra until October 12
In other Libra news: whileMars blazes through Libra the zodiac's partnership sign, the urge to merge will be crazy strong. But don't let the impatient red planet get you locked into a serious situation before you're truly ready. It's almost too easy to romanticize when Mars blasts into this "love and marriage" zone every other year. If it's longevity you're after, aim for a balanced view. Can you accept people "for better" and "for worse?"
Mars in Libra adds a dash of spice, but it can also stir up passive-aggressive bickering for couples, especially if one of you is pulling an unequal share of the load. Mars is in "detriment" in Libra, meaning it's an uncomfortable place. And it makes sense: Mars is the god of war, while Libra is all about peace, love and harmony. It will take extra effort to keep your emotional equilibrium now.
Steal the spotlight with the Aries full (supermoon)
Steal the spotlight at the Aries full supermoon on Friday, September 29, at 5:57 A.M. Eastern. And don't even think about apologizing for being "too much." A wave of flamboyance washes over the world with the annual full moon in Aries. Let tongues wag! Audience appreciation is not the point here, but self-expression is. Dare to put yourself out there, unvarnished, fully authentic and 100 percent amazing—as YOU define it.
Aries loves to be No. 1, which could raise the stakes for all the competitive types out there. But rather than fighting for headliner status, how about shining a light on other talented souls? That's the kind of leadership this trailblazing sign can get behind. Warning: This lunation could unleash a wave of pent-up frustration and rage. Hit the boxing bag, vent to your work wife, scream into a karaoke mic, just don't escalate the drama.
For sign-specific advice for all of the astrology events mentioned, read your September 2023 horoscope below!
Your September 2023 horoscope
You can read your September 2023 horoscope today for your Sun sign or your rising sign (ascendant). Visit our Cosmic Calculator section if you want to calculate your Rising sign or discover more about your personal astrology.

Aries (March 21-April 19) monthly horoscope for September 2023
Pace yourself as we move into autumn, Aries. The new season could be more of a slow takeoff than a frantic frenzy this year. August closed out with six planets retrograde, a trend that continues right into September. With this cosmic traffic jam overhead, you won't want to rush into any big plans. Take time to gather information, research and finish lingering tasks. Come October and November, things will start to move again… Keep reading your Monthly Aries Horoscope

Taurus (April 20-May 20) monthly horoscope for September 2023
Transitioning into fall can be plenty of fun for you Taurus, but with a few potential obstacles to work around. On the plus side, Virgo season, which lasts until September 23, is one of your most playful and passionate times of the year. The challenge? SEVEN planets are in powered-down retrograde this month, which could slow your progress in certain areas… Keep reading your Monthly Taurus Horoscope

Gemini (May 21-June 20) monthly horoscope for September 2023
"First day of school" is SO your vibe, Gemini. But this year, you might not be so quick to sharpen pencils and resume your class clown role. Your ruling planet Mercury—along with all five of the slow-moving outer planets (Jupiter, Saturn, Uranus, Neptune and Pluto)—will be retrograde this month, making people range from reflective to… Keep reading your Monthly Gemini Horoscope

Cancer (June 21-July 22) monthly horoscope for September 2023
A careful edit to your contact list can make all the difference this September. While it's exciting to reconnect with everyone after what felt like the first real summer we've had since pre-pandemic, there are SIX planets in wonky retrograde motion. Translation: Things probably won't go exactly as planned… Keep reading your Monthly Cancer Horoscope

Leo (July 23-August 22) monthly horoscope for September 2023
This summer hasn't been the easiest on you, Leo, and we want to give you a little pat on the back for making it through. Several planets have been in their challenged retrograde position and most notable was Venus, the planet of love and harmony. Since July 22, Venus has been backsliding through YOUR sign. This could have made your birthday season a little less lively or just had you feeling, well, not quite like yourself… Keep reading your Monthly Leo Horoscope

Virgo (August 23-September 22) monthly horoscope for September 2023
First, the good news: It's Virgo season! Until September 23, you're in your birthday element, back online and reporting for fall duty. The stars, on the other hand, may not have their act together quite as much as you do. Your ruling planet Mercury is in powered-down retrograde until September 15—and making its backslide through YOUR sign. You could feel misunderstood or delayed, but on the plus side… Keep reading your Monthly Virgo Horoscope

Libra (September 23-October 22) monthly horoscope for September 2023
Ease your way into fall, Libra—or hit the snooze button as often as you can. With the Sun in Virgo and your sleepy twelfth house through September 23, you're as sharp as a number two pencil stub abandoned at the bottom of a bookbag. At least, until Libra season starts on September 23, and the fall equinox arrives to bring balance back… Keep reading your Monthly Libra Horoscope

Scorpio (October 23-November 21) monthly horoscope for September 2023
September is a period of ripening, one that's getting you ready for a shift into your next year of life—and the people who will share your inner circle. The Sun is in Virgo and your communal eleventh house until September 23. Take stock: Who are the people around you? Begin accepting applications for the Scorpio dream team, then add some savvy new members… Keep reading your Monthly Scorpio Horoscope

Sagittarius (November 22-December 21) monthly horoscope for September 2023
You're on top of your game, Sagittarius! The Sun is soaring through two of the three most impactful zones of your chart, traveling through Virgo and your tenth house of career until September 23. After that, El Sol will transit over to Libra and your social eleventh house, sparking synergies and collaborations. You're at your best holding court and making connections… Keep reading your Monthly Sagittarius Horoscope

Capricorn (December 22-January 18) monthly horoscope for September 2023
Not even high retrograde season can keep you down this September, Capricorn. With the Sun soaring through the apex of your chart, you're getting a solar infusion of optimism and ambition. Yes, there will be a little bit of an obstacle course with six planets in powered-down retrograde all month, including all five of the slow-moving outer planets (Jupiter, Saturn, Uranus, Neptune and Pluto). But your resilient sign is famous for meeting challenges head-on… Keep reading your Monthly Capricorn Horoscope

Aquarius (January 20-February 18) monthly horoscope for September 2023
You plus who? Relationships are a major theme this month, especially in the first three weeks. For starters, the Sun is in Virgo and your intimate eighth house until September 23. On top of that, Mercury, the planet of communication and technology, is retrograde in Virgo until September 15, which could bring back people from your past or stir up some old issues… Keep reading your Monthly Aquarius Horoscope

Pisces (February 19-March 20) monthly horoscope for September 2023
Relationships are the central theme of your September, Pisces, as the Sun visits the most commitment-oriented zones of your chart. Partner up for work or love, and strengthen the most important ties that you already have. Until September 23, the Sun is in Virgo and your committed partnership house. After that, El Sol plunges into even deeper waters… Keep reading your Monthly Pisces Horoscope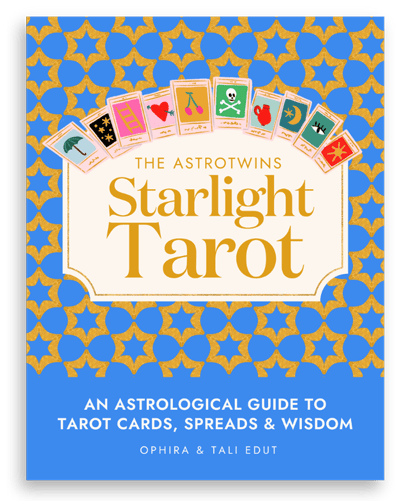 An Astrological Guide to
Tarot Cards, Spreads & Wisdom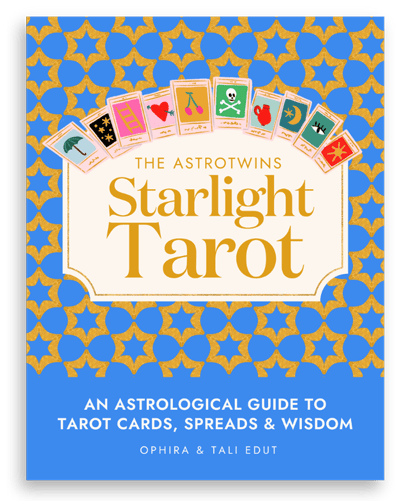 The AstroTwins bring your Tarot journey to life with Tarot spreads, history and empowering guidance.
Get the starlight Tarot