What's happening in astrology today
September 23 in the stars: Find out what's in store for you today in our daily horoscopes for Saturday September 23. Read the daily horoscopes for your Sun sign or rising sign (ascendant) to plan your day.
Visit our Cosmic Calculator section if you want to calculate your Rising sign or discover more about your personal astrology.
Your daily horoscopes for Saturday September 23, 2023

Aries (March 21-April 19) daily horoscope for Saturday September 23
Who do you love? What do you love? Everything should become clearer starting Saturday as the Sun enters Libra and your seventh house of relationships until October 23. El Sol is shining a big bright light on business and creative partnerships as well as romantic relationships. Take advantage of this warmth to explore a new liaison or to nudge things to the next level with your long-term love. If you've been dealing with a legal issue, it could be resolved during this cycle. Lawyer up if you're drafting any official deals! Clarity on the front end is insurance for long-term happiness and success. No one on your radar? That's double the reason to get out and mingle this weekend and explore fall activities with baked-in bonding opportunities, like a book club or indoor sport.

Taurus (April 20-May 20) daily horoscope for Saturday September 23
Lace up your cross-trainers and get your Class Pass updated. On Saturday, the Sun blazes into Libra, firing up your sixth house of health, routine and self-care. Not only will these sunbeams power up your will to exercise, but you'll also feel drawn to eating (and cooking) healthier foods and maybe even starting a meditation practice. Take advantage of this cycle, which lasts until October 23, to find the right regimen for your temperament and lifestyle. Whether that means starting the day with a quick jog or an acai bowl—or both—you should be primed for your fishnet costume before Halloween. Use this weekend to set yourself up for success by shopping for fresh produce at the farmer's market and clearing out room to unroll your yoga mat.

Gemini (May 21-June 20) daily horoscope for Saturday September 23
First order of business for the weekend: See what exhibits, live performances and festivals are coming to your neck of the woods over the coming four weeks. Starting Saturday, what little white space is left in your busy calendar should be devoted to the pursuit of pleasure. And we're not suggesting you trek out alone, Gemini! Romance and cultural edification go hand-in-hand between now and October 23 as the Sun dances through Libra and your passionate fifth house. Set up dates to enjoy music, dance, art, theater, science and literature—all the things you love to love—with a promising plus-one. And don't wait to be wooed! During this bold solar cycle, it's your turn to make the first move. Creatively, you're on fire now. Sign up for guitar lessons or drop in to a figure drawing class this weekend. Cooking a lavish meal for friends could kick off a seasonal trend for your crew!

Cancer (June 21-July 22) daily horoscope for Saturday September 23
Your (already brilliant) commitment to la familia will get the spotlight in the coming month as the Sun in Libra bathes your feminine fourth house with warm light. If you've distanced yourself from some important people in your world, you have a gracious window for making amends that lasts until October 23. Your nesting instincts are also activated by this solar spell. Let the aesthetically astute Libra Sun motivate you to give your living room a fresh coat of paint or hang new art. If you're not loving where you live, find the perfect new abode. That may be the excuse you need to wander through a consignment furniture gallery or check out a new potential neighborhood while meeting friends for brunch.

Leo (July 23-August 22) daily horoscope for Saturday September 23
Starting Saturday, your entertainment director skills will be in high demand as the Sun beams into Libra and your playful, communicative and community-oriented third house. Make a master list of local venues and invite, invite, invite. There's no need to travel far to find (or make) the fun between now and October 23. A neighborhood cafe or bar might be keen to co-host an event if you're feeling extra ambitious. While you're out there beaming rays of Leo optimism on the world, don't abandon your own projects. The next four weeks are prime time for developing a writing or multimedia venture or creating a workshop in your field of expertise. Could you use a partner on those pursuits? Kindred spirits are everywhere you turn. Test the waters with a short-term initiative first since you never REALLY know how well you'll collaborate until you take the show on the road.

Virgo (August 23-September 22) daily horoscope for Saturday September 23
Is your bank balance a little low post-birthday season? Well, Virgo, at least you celebrated in style. But starting Saturday, you'll have to tighten the purse strings of your Celine belt bag as the Sun moves on to Libra and your economically stable second house. The good news? Your moneymaking abilities will be front and center in the coming month as el Sol boosts your self-worth and shines a green light on your finances until October 23. Make tweaks to your budget, balance your financial accounts and give your calendar a once-over while you're at it. This cycle could bring new sources of income, which could also mean changing schedules. Be prepared, as only a Virgo can be, and spend this weekend reaching out to prospective clients or anyone you know who might have a lead.

Libra (September 23-October 22) daily horoscope for Saturday September 23
If our gift as humans lies in our ability to endlessly reinvent ourselves, the coming four weeks offer you the ideal opportunity to reimagine your entire universe. Yes, it's that time of year again—Libra season and your extended birthday celebration—when the Sun zips into your sign and powers up your first house of self. El Sol will provide fertile soil for your mental, emotional and physical expansion. The world is your oyster until October 23! Sample a smorgasbord of pearls—natural, cultured, freshwater, saltwater—before you start crafting your string. Start with this weekend's lineup. It's fine if your calendar is stocked with familiar names, but refresh the scenery! A swift change of venue may be in order to avoid autopiloting to the same old places.

Scorpio (October 23-November 21) daily horoscope for Saturday September 23
Make way for the muse! Your creative and spiritual juices will be flowing in the coming weeks as the Sun enters Libra and your twelfth house of divine inspiration until October 23. When you're not meditating under a canopy of stars (and even while you are), your attention turns to healing and closure. Get into the ring to wrap up any unfinished business, and let go of old grudges that are getting in your way. But make sure no one leaves with lasting damage! Forgiveness is the f-word you'll want to embrace. Roll with the punches as best you can, and if you start to feel bruised, ask for help from a trusted friend, healer or therapist. This weekend, get the process started by pruning some names from your friend lists and some objects from your closets. If you haven't felt drawn to either for a long time—and suspect that might be a permanent decision—let go to create space for better fits.

Sagittarius (November 22-December 21) daily horoscope for Saturday September 23
Teamwork makes the Sagittarius dream work for the coming four weeks as the Sun beams into Libra and your communal eleventh house this Saturday. Keep the bar raised high when choosing your ensemble cast—and don't shy away from candidates who are unconventional, even a tad eccentric. Their unique brand of genius could give your projects the spin they need. Bjork, who describes herself as "one of the most idiosyncratic people around," is also one of the world's foremost collaborators in music, film, art and fashion. Tear a page from her quixotic notebook and let the games begin. Could you use some better apps or technology for keeping everyone organized? Use this weekend to play project manager or upgrade devices so you're prepared to zoom ahead next week.
Read more Sagittarius horoscopes

Capricorn (December 22-January 19) daily horoscope for Saturday September 23
Ready, set, ascend! On Saturday, the Sun rises to Libra and the top of your chart, powering up your ambitious tenth house until October 23. As a Capricorn, it's almost second nature for you to draw elite people into your cadre. Over the coming four weeks, find ways to join forces with these accomplished luminaries. Or if your contact database is a little bottom-heavy, make professional networking your second job. Should a leadership position call your name, consider taking it on in the interest of establishing credibility or name recognition. Dressing for success is part of the game during this front-facing solar cycle. Shop in your closet this weekend and see if you're missing any essential items that will help you work the rooms this fall.
Read more Capricorn horoscopes

Aquarius (January 20-February 18) daily horoscope for Saturday September 23
Up, up and away! Adventure writer Ella Maillart said people travel to run away from "that dreadful routine that kills all imagination and all our capacity for enthusiasm." No one gets this more than you do, Aquarius, which is why this upcoming month is likely to thrill you. Today, the Sun enters Libra and begins a month-long journey through your ninth house of global travel and educational expansion. Researching a trip is almost as much fun as actually taking it. Start that dream-trip Pinterest board and don't be surprised if you hit a couple "Reserve Now" buttons before October 23. No matter where your GPS points this weekend, stay open to a diverse range of people. Strike up a conversation with someone you'd normally screen out—like the tourist at the coffeeshop carrying the old-school 35mm camera. You might just get an earful about a place YOU want to visit.

Pisces (February 19-March 20) daily horoscope for Saturday September 23
Julia Child, who described marriage as a "lovely intertwining of life, mind and soul," said that you'll know you've found the right person if you love to be with them all the time. Trust in that simple wisdom, Pisces, as the Sun enters Libra and your eighth house of merging energies, putting a spotlight on exclusive connections until October 23. Don't be afraid to commit if it feels right, but don't lose sight of your own needs in the process. If you're already attached, it's an auspicious time to merge assets. Single? Get back in tune with your body through regular movement. Your mojo will rise and so will your standards. Start this weekend with a walk through the foliage or a yin yoga class.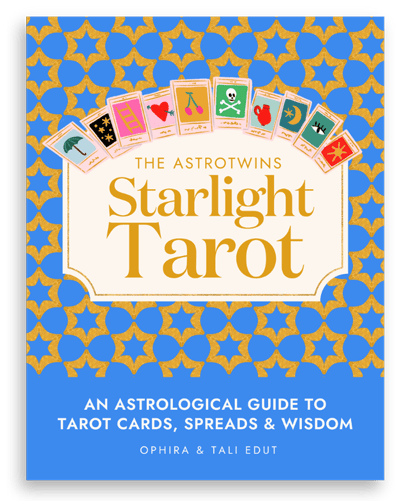 An Astrological Guide to
Tarot Cards, Spreads & Wisdom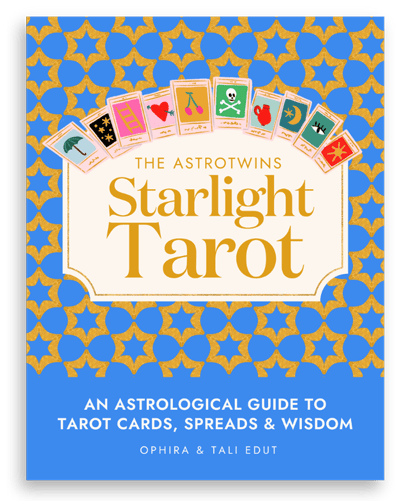 The AstroTwins bring your Tarot journey to life with Tarot spreads, history and empowering guidance.
Get the starlight Tarot