What's happening in astrology today
September 30 in the stars: Find out what's in store for you today in our daily horoscopes for Saturday September 30. Read the daily horoscopes for your Sun sign or rising sign (ascendant) to plan your day.
Visit our Cosmic Calculator section if you want to calculate your Rising sign or discover more about your personal astrology.
Your daily horoscopes for Saturday September 30, 2023

Aries (March 21-April 19) daily horoscope for Saturday September 30
Don't shy away from shoptalk this Saturday! As creative Mercury trades friendly fire with innovative Uranus in your work and money houses, brunch could evolve into one of the best brainstorming sessions you've had in days. When you've polished off your scrambled eggs and waffles, grab a coffee to go, then race back home to get those ideas into form! Under Sunday's awkward dance between the Sun and moon, you need to mind your money. With the Libra Sun luring you toward luxury, you could lose sight of your budget and forget what's truly valuable to you. It's so easy to drop 20 dollars here and 50 there, then soon you've blown the rent on…what? Treating yourself well with the occasional indulgence makes life fun, but if you're just keeping up with the Kardashians in your life, it's money down the drain. Pull the plug—and make more discerning choices.

Taurus (April 20-May 20) daily horoscope for Saturday September 30
You're bound to wake up in bright spirits this Saturday, so spread that love around, Bull! Social Mercury in your romance zone gets in cahoots with spontaneous Uranus in your sign, directing you to go anywhere BUT "the usual places." A word of advice: Don't invite anyone along who requires hand-holding. It's rare that you feel THIS free, and you want to mingle without worrying about who might be feeling "abandoned." (Especially if you decide to break off for a one-on-one with someone you meet along the way.)
Sunday's uncomfortable conversation between the Sun and the moon could leave you vulnerable to someone's not-so-subtle machinations. Please don't feed the manipulation monster! Forewarned is forearmed, so stay on guard for drama or guilt-tripping. Your feisty nature is easily triggered, but is this really worth your time and psychic energy? Indulging people who are a bottomless pit of neediness is not doing either of you any favors. Remember: "No" is a complete sentence.

Gemini (May 21-June 20) daily horoscope for Saturday September 30
Who's up for brainstorming over brunch? Find out fast because Saturday's flowing trine between clever Mercury and madcap Uranus will open the floodgates. If no one nibbles on your offer, hang solo. You don't need other people to accompany you down every rabbit hole. If there's one thing you CAN guarantee, it's that your visions will be weird—but also wonderful! Record your findings and don't judge. Some deeply buried resentment could rise to the surface on Sunday as the Sun chafes against the moon. Reluctant as you are to acknowledge the problem, this won't get any better until you address it. If you're silently stewing, it's pointless to pretend that everything's fine—especially since your mood will be written all over your face. So don't stuff it down and get passive-aggressive with someone you care about. But if you're not quite clear on the issue, take some space (canceling plans if you must) to avoid saying something you regret.

Cancer (June 21-July 22) daily horoscope for Saturday September 30
If there's one place NOT to go this Saturday it's "the usual place," Cancer. Buzzy Mercury gets in cahoots with spontaneous Uranus, whetting your appetite for novelty and adventure. Scan listings on all the cultural calendars in your area. If events are sold out, just post an "In search of" on social media. With so much luck on your side, a friend with insider perks might just hook you up with a free pass! Be far more selective about your company on Sunday as the Sun dances into an awkward angle with your ruler, the moon. Ideally, you could slip off to your private bubble to do some creative problem-solving or attack a looming deadline. Yet a parade of personal interruptions might make it impossible to concentrate. You don't want to be rude or uncaring, but wasting precious time talking your drama-queen friend off the ledge (again) isn't going to do either of you any good. This is what "Do Not Disturb" mode was invented for.

Leo (July 23-August 22) daily horoscope for Saturday September 30
Thanks to a lucky mashup of social Mercury and communal Uranus, you could be the recipient of unexpected generosity this Saturday. A friend may present you with a pair of free tickets, or maybe someone hooks you up with an insider job lead. So if you DO see a chance to pay it forward, don't be withholding. The ROI could already come before the weekend closes. Hold off on making any long-term decisions on Sunday, Leo. A tangled angle between the deliberating Libra Sun and the moon in your goal zone could lead you to question your entire trajectory. We don't have to tell you this, but when it comes to the "big stuff" in your life, like your housing or career, you don't want to make snap judgments. So before you shoot off an email to your boss with a list of demands or publicly announce an apartment search, take a deep breath. Soul-searching is fine, but with anything more definitive, sleep on it!

Virgo (August 23-September 22) daily horoscope for Saturday September 30
Log off that Maps app and take a spontaneous detour! Your cosmic custodian, Mercury, is in your sign—and no longer retrograde—which alone is spiking your curious nature. And when it gets in cahoots with free-flowing Uranus this Saturday, your thirst for novelty could become downright unquenchable. Meander through a town known for antiques or farm-to-table food or go for an urban stroll through an artists' district. Stay open to meeting new people along the way! But do mind your budget this weekend. Under Sunday's Sun-moon dustup, money could get funny with loved ones—and by "funny," we mean super-confusing. Before you share drinks or a meal, make a point of checking out the price point of your chosen venue. You may need to request separate checks—or offer to treat if you're more flush than your brunch companion. What goes around comes around!

Libra (September 23-October 22) daily horoscope for Saturday September 30
You're feeling candid AND compassionate this Saturday, and as articulate Mercury dances into a flowing trine with inventive Uranus, you'll start to see solutions to a long-standing roadblock. The coast is clear to talk about a charged issue, as long as your intention is to resolve the matter by finding a creative win-win. But it won't be totally predictable, so don't come prepared for a heart-to-heart with some pre-written speech. Dance in the moment, Libra, listening with an open mind (and heart) and composing responses from there. It's hard to get a read on someone's true feelings this Sunday as a flummoxing angle between the Sun and the moon blocks your Spidey senses. In a budding relationship, you might believe this person is into you, then they fail to seize a perfect opportunity. Or perhaps you're unsure whether to advance or retreat. A little mysterious tension can turn up the heat, but running hot and cold is not where it's at. Couples can ramp up sexual healing by pushing the experimental envelope. Just make sure to choose a safe word!

Scorpio (October 23-November 21) daily horoscope for Saturday September 30
Release control over the guest list, Scorpio, because a spontaneous group hang can turn up refreshingly unexpected results this Saturday. Thanks to social Mercury's trine to spontaneous Uranus in your relationship zone, casual banter could evolve into inspiring shoptalk or a promising romantic spark. It's tough to gauge the longevity of this connection with these two ephemeral planets driving. Exchange info and follow up next week…and reach out twice, if need be. The squeaky wheel gets the oil. Sunday isn't the day to push your agenda in a budding partnership. A befuddling angle between the Libra Sun in your hazy twelfth house and the Taurus moon in your relationship realm may leave you feeling out of sync. While you want certainty, the more you demand it, the more people pull away. This is one of those moments when you'll need to have faith, Scorpio. If it's meant to be, the universe will conspire in your favor. If not, remember that a "rejection" can also be a protection.

Sagittarius (November 22-December 21) daily horoscope for Saturday September 30
Under Saturday's mashup of savvy Mercury and innovative Uranus, everything finally clicks into place. Suddenly you'll see the "organizing principle" behind the chaos, which can lead to a mercifully streamlined solution. Where has life become overly complex? Stop DIY-ing and outsource! Ask friends to refer you to a bookkeeper or landscaper. Good help doesn't HAVE to be hard to find. It may not be possible to enjoy your blue-sky thinking AND handle the nitty-gritty Sunday, Sagittarius, so don't force it! If you're not facing a drop-deadline, go back to the drawing board. With the Sun battling the moon, a little knowledge can be a dangerous thing. What's needed here is exhaustive data, so finish your research—and fact-checking—before you make your presentation.
Read more Sagittarius horoscopes

Capricorn (December 22-January 19) daily horoscope for Saturday September 30
Saturday's playful connection between social Mercury and wild child Uranus puts you in festive spirits. Find a fall festival, an apple orchard or a biergarten where no one cares about talking in their "inside voices." This let-your-hair-down mashup will have you in freer spirits than usual. Don't hold back when you feel the urge to flirt. Control freak alert! It may be hard to keep your paws off other people's work Sunday as the Sun in your take-charge tenth house butts heads with the moon. You might not even know why you're feeling so intolerant of mistakes or human flaws. Step back and take in the big picture. Your achiever streak can't deal with anything less than 100 percent. But to actually get this project to the finish line, you need to know which battles to fight and which to let slide.
Read more Capricorn horoscopes

Aquarius (January 20-February 18) daily horoscope for Saturday September 30
Reopen that case, Aquarius. Topics that seemed impossible to broach during the week are suddenly the very subject matter that can bring you and your "nemesis" closer this Saturday. Your galactic guardian, high-minded Uranus, is charging up your sensitive fourth house and sending a positive beam to communicator Mercury. There's no need to shroud honest emotions in self-protective secrecy. That might be what's been making things so weird this whole time! Don't resort to manipulation to get your way Sunday. Even if "everyone else" is doing it, that's not the Aquarian way. It may be hard to work with integrity under the tangled angle between the Sun and moon. Use your Spidey senses to suss out when others are playing YOU. You don't have time for anyone's pity party or guilt trips. Should you need an assist, come out and ask for it. Hold the bar high, and folks may rise to your level.

Pisces (February 19-March 20) daily horoscope for Saturday September 30
Saturday's convivial alignment between social Mercury and spontaneous Uranus reminds you that the best things in life aren't things! People will be your passion, thanks to both planets occupying the most social and romantic houses of your chart. If you want to go "shopping," splurge with social currency. Woo a love interest or bond with a new friend by sharing a rarely seen side of yourself. Your multidimensionality is your gift, so don't worry about fitting in. Your emotions could get the better of you Sunday, Pisces—but you have the muscle to rein 'em in. Shift out of autopilot and hop back into the driver's seat by tuning in to your feelings. Under a provocative angle between the Sun in your intense eighth house and the dutiful Taurus moon, you need to protect yourself from other people's demands and machinations. You can reconnect to your power by staying out of the fray and listening to your heart. On Sunday, it's a lot wiser than outside counsel.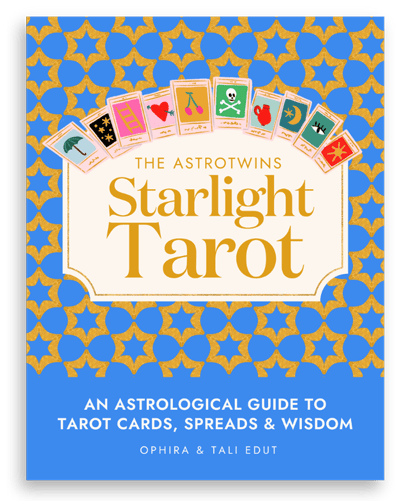 An Astrological Guide to
Tarot Cards, Spreads & Wisdom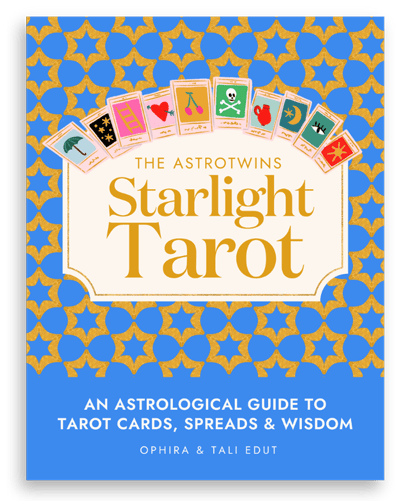 The AstroTwins bring your Tarot journey to life with Tarot spreads, history and empowering guidance.
Get the starlight Tarot