Go big or go home! On February 5, the annual full moon in Leo turns the entire world into a talent show. Where could you be more visible? Start your mental preparation now.
What the Leo full moon means, 7 ways to harness its energy, and your horoscope for this full moon.
What is the date and time of the Leo full moon?
The Leo full moon is on Sunday, February 5, at 1:28PM.
What is February's full moon called?
The February full moon is also called a Snow Moon
An obvious name, right? This full moon falls during one of the snowiest months of the year.
According to The Old Farmer's Almanac: "In the 1760s, Captain Jonathan Carver, who had visited with the Naudowessie (Dakota), wrote that the name used for this period was the Snow Moon, 'because more snow commonly falls during this month than any other in the winter.'"
Other names for February's moon derive from animals. For example, you may have heard February's full moon referred to as an "Eagle Moon," a name used by the Cree.
What is the meaning of the Leo full moon?
The fiery, noble and courageous lion is in the house! The year's only Leo full moon brings out a collective spirit of courage and leadership. Full moons are literally about fullness. We've reached a moment of maximum light. This can help us to:
See situations clearly
Illuminate a path for others
Manifest our desires
Share our light and love
These magnanimous moonbeams inspire benevolence. If you're the kid with all the toys, how can you share them with others?
Beyond the material realm, you could focus on being a role model. Where have you triumphed over the odds? Share your story with the world and inspire other people to keep on keeping on.
What do you want more than anything? Tune into your heart (the Leo-ruled part of the body) and let it point you in the direction of your dreams. And ask the full moon to help make your desires a reality.
In astrology, the themes of a Leo full moon are:
romance
creative expression
fame
leadership
fertility
What does the 2023 Leo full moon mean for life and love?
Should you post those "tastefully risqué" selfies? Submit your work to a juried competition? Bare your soul to your secret crush? The February 5 Leo full moon says, "hell to the yes!"
You don't have to be polished or perfect before you put yourself out there. Nope! This lion-hearted lunar lift rewards courage. Although there's a performative energy to the day, try to genuinely connect with people instead of just wowing them with your pizazz. What not to do? Court controversy with wild antics or spark a public feud just to rile people up.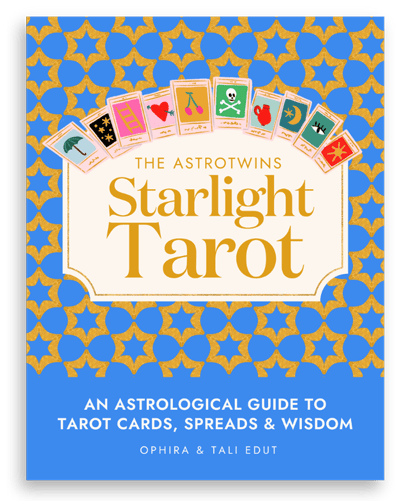 An Astrological Guide to
Tarot Cards, Spreads & Wisdom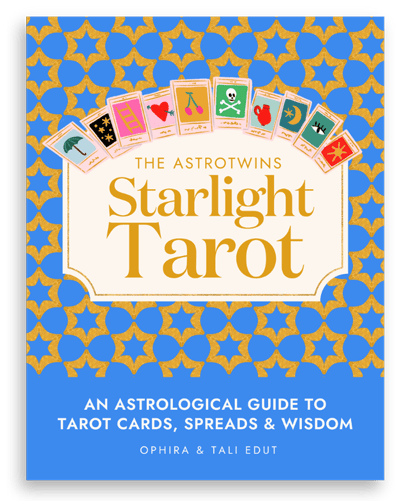 The AstroTwins bring your Tarot journey to life with Tarot spreads, history and empowering guidance.
Get the starlight Tarot
What else is happening in the stars during the Leo full moon?
Since the February Leo full moon locks into a tangled angle with rabble-rouser Uranus, the rebuttal (and consequences!) could be harsher than you anticipate.
And with "wounded healer" comet Chiron trining this full moon, spark peace talks instead of using your roar to start a war.
Leo full moon astrology facts
The Leo full moon appears during Aquarius season every year, between January 20 and February 18
Leo is ruled by the Sun
Leo is a fire sign (along with Aries and Sagittarius)
Leo is a fixed sign quality (along with Taurus, Scorpio and Aquarius)
The full moon is a good time for getting in touch with your thoughts and feelings through ritual. Try ours: Leo Full Moon Ritual: Spread Generosity
Try also a meditation that during Aquarius Season that ignites intentions
How does the Leo full moon affect me?
Here are 7 ways you can maximize the energy of the Leo full moon on February 5
1. Boldly step forth
Noble Leo is the zodiac's hero, always willing to take a chance or speak up when nobody else dares. Summon your courage, even if that means acting in the face of your fear, because you know it's the right thing to do. This is the magnanimous leadership that Leo illustrates when expressing its highest vibration.
Leo is the galactic guardian of creativity, glamour, romance and fertility. Shifting your attention inward, you can also use the energy of the full moon in Leo to do some self-reflection and fast-track personal growth. Take an inventory of the places in your life where you could step up to a higher level of responsibility. Perhaps go a stride further and imagine how you can use your influence to create a greater connection to the world around you.
2. Grab the headlines
Under the potent February Leo full moon, you could see your efforts come to light in a bold and attention-grabbing way. We all have something worthy of shouting from the rooftops, and this moon gives us permission to intentionally self-promote.
Tooting your own horn isn't an act of narcissism. Owning your gifts publicly can put you in touch with the wonder of your unique and divine talents. It helps to create a sense of deep gratitude for the life you get to live! The trick is to focus outward instead of just trolling for applause and validation:
How will your offerings benefit other people?
What's in it for them?
And, are you acting in a spirit of service rather than servicing your own ego?
Of course, there's nothing wrong with reveling solely in your own superpowers too. While you're gazing at the Leo full moon, do a round of virtual fist-bumps with your inner circle, with each of you taking a few minutes to boast about your latest accomplishments while the others cheer wildly for your amazingness!
Have you been hiding your light at work? Turn it up to stadium beam level in the two weeks that follow this full moon! This is the perfect time to start a buzz on social media or to set up a pitch meeting with a client you want to woo. Be sure to include all the ways that YOU are the best at what you do.
3. Just dance at the Leo full moon
Full-bodied self-expression is what this lunar event is all about, so bailamos, people! Need a visual? Just picture Leo Jennifer Lopez, basically anywhere from TikTok to the Super Bowl halftime stage. Of course we all get to be Leos in a way during this full moon. Bring out your inner Super Bowl Rihanna if you'd like! Whether you're hitting a dance floor or reprising that vibe in your own living room, get lost in the beat…but don't stop there. Let the dance revolution enter your life as an ongoing tradition. Daily dance breaks are good for the soul—and the heart, the organ Leo rules. There's no time like the present to get yours pumping at a cardio-approved BPM.
4. Give birth to something
Leo is the sign of fertility, and this moment is ripe for creation! If you've been struck by baby fever, take decisive action. Maybe that means cutting ties to a "will they, won't they" energy vampire so you can manifest a partner who shares your desire to build a family, be it through natural birth or adoption. Set up a doctor's appointment if IVF treatments are something you are wanting to explore, or just get to babymakin' the natural way.
Figuratively speaking, you may feel a strong urge to "birth" a creative project that's been hovering in the embryonic stage of development. Set up home-recording equipment or book studio time. Write the outline for your genre-busting novel or get the production line set up for your Etsy store wares. Whatever the case, take a lion-hearted leap in a proactive direction.
Since Leo is the sign that rules fame, this divine timing of the February Leo full moon might help draw some public acclaim when your masterpiece is ready for its big reveal.
5. Shine bright like a (conflict-free) diamond
Glamazon Leo is the sign that rules pleasure, indulgence and full-bodied self-expression. Break out the sequins, bold patterns and glittery everything. Who cares if you're only making a coffee run? Rather than fade into the background, wear something that might be more appropriate for a red-carpet sashay than a slushy, snowy day. Be it a pair of bright red boots or an animal print teddy coat, take advantage of this lunar light to master the art of the selfie.
Under the light of the vivacious Leo full moon, interacting with your social media followers—and sliding into someone's DMs—could turn the key to opportunity! Just check yourself if you start comparing and despairing as you scroll through other people's feeds. And try not to start any needless rivalries, just to keep things interesting.
6. Visualize your soulmate
Romance falls under passionate Leo's domain: that delicious moment when a spark of attraction becomes a burning flame of desire. You may feel extra lusty near this full moon—and in the sign of passionate, playful Leo, you could be surprised by WHO turns your head. Keep your heart and mind open! Taking a chance on someone who is not your usual type could turn out to be one of the most exciting decisions you've made in a long time.
Not sure what or who you're looking for? Get into the imaginative spirit of Leo and make a vision board for your love life. Sit down with a stack of magazines, scissors and glue and pull together a collage of inspiring images. No judgment! Though the pictures that call to you might only make sense to your subconscious mind, their meaning will reveal itself over time.
7. Have an early Valentine's Day celebration
Champagne by moonlight? Yes, please. If you're comfortable with traveling, you could dream up plans for a baecation—and find the perfect rental to suit your desires.
Our love & compatibility matcher can provide some clues about the best bonding experiences for you and your true love! You could also check out our new book about compatibility, Supercouple!
Horoscopes for the February Leo full moon for all 12 zodiac signs
Aries (March 21-April 19)
Love is back on the menu February 5, thanks to Leo full moon in your amorous, passionate fifth house. In the two weeks that follow, you'll be in flirty, feisty spirits and eager to connect with a like-minded playmate. If you're already coupled up, the only thing left to do is come up with plans that are frisky enough to satisfy your mood. Pull out the stops, Aries: Refresh your lingerie drawer; share a secret fantasy. Your beloved can't "light your fire" if you don't hand them the matches!
Taurus (April 20-May 20)
Your living situation could undergo a sea change during the February Leo full moon—and it might involve turning part of your space into a production center. Or you may get a clear signal about how to handle a vexing domestic matter. Pent-up feelings can burst into the open and emotions could run high, so beware. Steer clear of passive-aggressive tactics like slamming cupboard doors while cleaning up your housemates' messes. Have an honest sit-down if you need to set new rules.
Gemini (May 21-June 20)
If your social life has been down a quart (or gallon) lately, you can liven things up starting February 5! The year's only Leo full moon ignites your collaborative third house, and for the next two weeks (at least), you'll be as alone as you want to be. All kinds of partnerships could spark during this peak manifesting time. You could stumble into a new writing project with someone, find a new bandmate or just a cool new neighborhood venue that ticks all your boxes. One caveat: Since the third house generally represents platonic connections, don't expect that this otherwise star-kissed union will offer romantic potential.
Cancer (June 21-July 22)
The year's only Leo full moon electrifies your second house of money and security, something that had been just a remote possibility last week could gain momentum quickly now. If you're looking for a new job or updated responsibilities at your current gig, don't hold back over the coming two weeks (peak manifesting time for this lunation after the February 5 full moon). Lean in to Leo's self-assured energy and let people know what you're capable of. Better yet, ask for an opportunity to SHOW them. Once they see how good you are at what you do, they might offer you the position on the spot!
Leo (July 23-August 22)
Your time to shine arrives February 5, when 2023's only Leo full moon in your sign casts you in a golden light and makes everything around you feel star-kissed. The coming two weeks are ideal for promoting yourself, your message or whatever you have to offer that can improve other people's quality of life. Everything you've accomplished in the past six months (since the Leo new moon) can serve to inspire others to dig in a little deeper with their work. This lunation is also auspicious for experimenting with a new look or style makeover. Think: color, originality and anything that reflects your inner passion!
Virgo (August 23-September 22)
February 5's full moon in Leo and your twelfth house of closure can help you deal and heal. If you've been unable to let go of some old hurt, resentment or a toxic relationship, this galvanizing lunation could bring you to a tipping point. (And the situation that's brought into sharp relief at the full moon might just force your hand.) Be honest with yourself: Have you been a little too critical or judgmental? Or perhaps you've been allowing a close person to treat you unfairly. It's time to face the music, even if it means losing someone or something that once had a key place in your heart.
Libra (September 23-October 22)
The year's only Leo full moon beams brightly in your eleventh house of teamwork and technology, possibly bringing a long-running project to successful completion. This is a time of culmination, of harvesting the fruits of your labors of the past six months. Whatever it is you're acknowledging, chances are you're not doing so alone. If you were the team manager or spearheaded this, go a little overboard to reward and honor your colleagues. Then, before the champagne bubbles fizzle out, start a group discussion about what your NEXT brilliant undertaking might be! Over the next two weeks—peak manifesting time for this lunation—one of you might download the most extraordinary idea!
Scorpio (October 23-November 21)
When the year's only Leo full moon lands in your tenth house of career ambition and success on February 5, you might be struck by an epiphany about what your next major professional move should be. It might not be possible to personally call the CEO of the company you can totally see yourself working at. But what you CAN do to harness that passion and power and draft an email that you can send out Monday morning, making a strong case for how your skills can uniquely benefit them. Get clear on your vision over the coming two weeks (peak manifesting time for this lunation) and keep working toward it until you get there!
Sagittarius (November 22-December 21)
The February 5 Leo full moon sets your candid ninth house on fire, compelling you to speak your truth—yes, more than usual. What you speak could quickly come into existence under this manifesting energy, so be intentional. Don't be surprised if you are soon offered an opportunity to publish your work, give a speech, travel or launch a startup. An international opportunity could come knocking over the next two weeks. Dream beyond borders, Archer!
Capricorn (December 22-January 19)
While you COULD sit around patiently until February 14 rolls around, you might prefer to max out the potential of the February 5 seductive Leo full moon, which is powering up your eighth house of eroticism and intimacy. Under these alluring moonbeams, Cupid could make an easy target of you! Unleash your full passion, and you might discover a few shades of gray beyond 50. If you've been simmering in a situationship, this pivotal lunation could spark a moment of truth when you (or both of you) decide whether to go all in or not. And single Sea Goats might drop their guard and let someone have a look at the un-Photoshopped you. That's a great way to get something off to an intense start!
Aquarius (January 20-February 18)
Ready or not, February 5 could bear witness to some major developments in your romantic life. As the year's only Leo full moon electrifies your seventh house of committed relationships, attached Aquarians might take a next step toward officialdom, perhaps making a very public announcement. Newly dating? The next two weeks (peak manifesting time for this lunation) can bring a make-or-break moment. And baeless Water Bearers should get out more, with the intention to meet someone with potential. Don't shy away from making a first move, or at least being less than discreet about your own interest level!
Pisces (February 19-March 20)
The year's only Leo full moon lands in your hard-working, service-oriented sixth house, putting your career in the spotlight. Whether you're the CEO or a rising star, you can make a significant leap up the ladder over the coming two weeks—peak manifesting time for this lunation. You've been working hard on a big personal goal for the past six months, since the Leo new moon in this sector. Now things could reach a point of culmination or completion. Are you satisfied with what you've done, or is there still a little more to accomplish? Set a goal for two weeks from now, and don't quit till you cross the finish line.
Feature art by Rosie Dienhart
Find out in The AstroTwins 2023 Horoscope and plan it by the planets all year long!