New Year's Eve is upon us—and that means the pressure to make plans is also ticking like the Times Square countdown clock. Should you kick up your heels or cool them at home? The moon is doing a double dance this New Year's Eve, depending where in the world you live. Most places in the world, la luna will spend a good chunk of December 31 in earthy, inquisitive Virgo. Modest and tasteful celebrations could be preferable to pink Moet and glitter explosions…at least, for a while.
With intellectual Virgo in charge, cocktail banter won't be airy and superficial. Talk could even turn to politics over passed hors d'ouevres. Rehearse a few lines for gracefully exiting if a fellow reveler gets up on the soapbox. Luckily, social Venus is entering witty Sagittarius on December 30, helping us lighten the mood with humor.
At 10:41 pm PST the moon swings into lighthearted Libra, changing the tone of celebrations. (Use this time zone converter to see where the moon will be for you). Here are tips for partying the night away as the calendar flips to 2016—from bubbly to brunch on New Year's Day.
Happy, healthy New Year? With the Virgo moon in your wellness house, you may prefer your bubbles from a glass of kombucha instead of a champagne flute. If you're hosting, serve up some veggie and organic hors d'ouevres instead of hunks of cheese and sausage. You might even be inspired to write a list of resolutions or even do some pre-party decluttering. Once the moon enters Libra and your relationship house, you're in the mood for a late-night (or midnight) kiss. Bring on the bellinis! Binge on a sweet, decadent brunch with your S.O. or closest friends. Some Aries could even get engaged on New Year's Day, or take things to the next level.
Taurus:
Pin
Romance is in the air this New Year's Eve, at least while the moon is in Virgo and your passionate fifth house. A lusty NYE kiss, a decadent date night in a glamorous new outfit—you want all the trappings. You'll probably be the first one to arrive for celebrations, pouring champagne before the other guests even arrive. A health kick will kick in once the moon enters Libra, though. You're ready to use your brand-new gym membership or to spend the day cleaning up confetti, prepping your life ready for big 2016 plans. Break out the juicer and whip up a kale concoction to chase away the sins of last night (and year!).
Gemini:
Pin
House partyyyyy! Home is where your heart (and the rest of you) could be this NYE, as the Virgo moon lights up your cozy and domestic fourth house. Kick OFF your Prada heels, load your plate with comfort food and watch the ball drop from the living room TV. Your grand plans to paint the town might not go into effect until the moon enters Libra, bringing out your celebratory side. Guess who's leading the 3:00 a.m. dance-off at the after-after-party, then dragging everyone to sunrise brunch? A steamy makeout session could even be in the cards. Helloooo, 2016!
Cancer:
Pin
Party hop your way into 2016, Crab. While the moon is in Virgo and your social third house, you've got a short attention span and a craving for stimulation. Go from bar to bar, picking up a roving band of merrymakers. Your raucous stories and witty banter will be in high demand. Scrap any plans for an intense one-on-one date night. Sure, you might enjoy going to events as a couple, but you'll be making the rounds, chatting everyone up. Once the moon decamps to Libra and your domestic fourth house, you're ready for a more Cancerian-style celebration: at home, with the family, in your coziest casualwear. Set up the slow cooker and shop the day before so you can wake up to a feast of comfort food.
Leo:
Pin
Break out your finest, nibble on caviar and let the Veuve flow! The Virgo moon in your posh second house puts you in the mood for high-end celebrations with an exclusive guest list. But your Hermes bow tie and body-con shapewear could feel as constricting as your stuffy celebration choices once the moon enters Libra and your lighthearted third house. Escape from your Spanx—and the snore-worthy company—and hit a taco stand or a dive bar to finish off the night. Who cares how much you spent on those VIP tickets, Leo? If bar-hopping and closing down the karaoke bar feel more like your speed, then do it, even in formalwear.
Virgo:
Pin
It's fitting that the moon is in your sign this New Year's Eve, Virgo, because truly you OWN most of 2016. Lucky Jupiter is in Virgo until September 2016, giving you the It factor and charisma in spades. Host the party of the century that puts your name on everyone's lips, or rock that head-turning outfit that sets your fellow revelers abuzz. When the moon moves into Libra and your sophisticated second house, you'll be passing out cognac and cigars—then passing out for a decadent night's sleep. Follow with an upscale brunch and taking one concrete action on a 2016 resolution.
Libra:
Pin
Yaaaawn! The Virgo moon in your restful twelfth house finds your batteries low as 2015 winds down. Your NYE look could be #iwokeuplikethis, because you'll definitely need a power nap before hitting the town. Do NOT offer to host any big gatherings, because you'll end up taking care of everyone else at your own expense. A small, intimate gathering with ambient music could be great, but definitely bring a designated driver if you take the care, as you'll be especially sensitive to substances. Once the moon swings into Libra, you're wide awake and ready to celebrate—even if it's the middle of the night. How about leading the charge for a fun and energetic New Year's Day brunch? Welcome, 2016!
Scorpio:
Pin
The more the merrier is your M.O. this New Year's Eve—at least, while the moon is in Virgo and your group activity house. You're not always up for being in the middle of a crowd, but you could be the unlikely conga line leader, limbo-ing your way into 2016. But once the moon moves into Libra and your sleepy twelfth house, you're ready to turn into a pumpkin…or just turn in. Since the twelfth house rules substances, you may also realize that you've had a few too many. Pace yourself, Scorpio, so you don't end up delivering your 2016 resolutions to the porcelain gods or spending New Year's Day in bed with a throbbing hangover.
Sagittarius:
Pin
Go VIP or go home? You've got a rare bout of black-tie fever, thanks to the moon in Virgo and your ambitious tenth house. Shimmy into your most polished and high-end outfit, because this is a dress to impress kind of night. Your inner status whore takes the event planning reins—you want to go to parties where you can make connections, even talk business or do something…productive. You could be be the one pulling out pens and paper, getting everyone to write down what negative vibes they're leaving behind in 2015, and then organizing a ritual burning. Ah, Sag—you never miss a chance to play impromptu life coach (or light matches), do you? Your wild-and-crazy side returns once the moon moves into Libra and your lighthearted eleventh house. You're in the mood to hang with friends from all walks. Get everyone to meet at one communal spot for a casual brunch or potluck.
Capricorn:
Pin
Head out of town? The Virgo moon will be in your ninth house of travel, so should spontaneous invites or last-minute standby tickets present themselves, just say yes! Why suffer in the sleet when you could bask on a beach, or just enjoy being someone's special guest for once. You're feeling super-pumped about 2016 with the moon in your most optimistic corner. Channel those grand emotions into concrete steps once the moon enters Libra and your tenth house of structure and future goals. Your 2016 "list of intentions" could read like a five-star general's battle plan by the time New Year's Day brunch is served. You could also meet a VIP who opens professional doors for you, so make sure you don't party so hard that you miss the midday meal…and an opportunity to mingle.
Aquarius: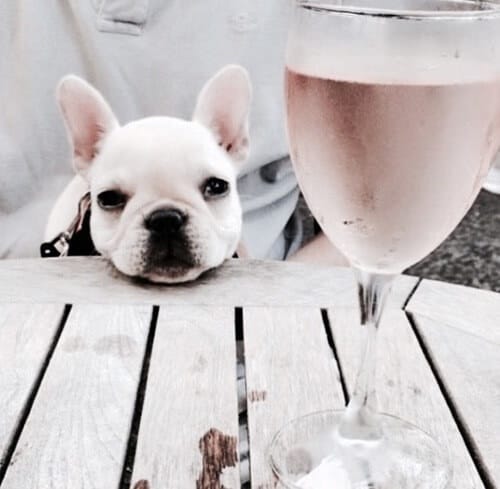 Pin
New Year's Eve…alone? That will never happen for you, o' social Aquarius. But with the Virgo moon in your private eighth house, you might actually want to take a few moments of solitude, perhaps to meditate, write down rituals or make a gratitude list for all the rich lessons of 2015. Perhaps you'll even stop into your spiritual community or temple to ask for a little divine boost. Can't hurt! The moon is also in a sexy part of your chart, so a little pre-game romp could make the noisy parties more bearable. Once the moon enters Libra and your adventurous ninth house, you're up for anything. You might even decide to jet off for a day trip on January 1, since the ninth house rules travel. With la luna in this blue-sky sector, it's a great day to make wide-reaching and optimistic resolutions, too.
Pisces:
Pin
Hold your loved ones tight, Pisces. The moon is in Virgo and your relationship house, making for an epic and glittering couple's countdown—or some serious BFF bonding. Hold hands, write your wishes and bid 2015 farewell together. Share your resolutions, so you can be the guardians of each other's sacred intentions for 2016. Then, lighten the *&#! up and go dancing for a bit. When the moon decamps to Libra and your sensual eighth house, you might slip off to welcome 2016 under the sheets with your sexy plus-one (or hey, by yourself—whatever works!). Meditation or a special ritual could also help you feel grounded as you ring in the New Year.
Get the complete guide to love, money, career and health for 2016. Our 2016 Planetary Planner has it all!
The AstroTwins' 2016 Planetary Planner is your must-have annual guide to love, life, career, health, family and your most important power dates. Includes bonus Numerology & Year of the Monkey sections. Over 330 full-color pages!
Enter the code holiday at checkout for 30% off your Planner!

Click here to send it as a gift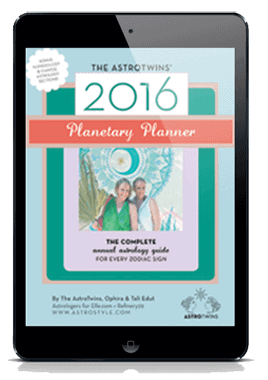 Pin
Please note: the planner is a PDF digital file/ebook, NOT a print book. However, you can print it out (or print sections) at any copy shop and have it bound. We recommend Best Value Copy in the U.S., which prints the entire 331-page document for less than $30.
You can also watch our live Periscope broadcast of New Year's Eve tips here!

Aries:
Pin
Images via WeHeartIt.