All the world's a catwalk as the Sun struts into glamorous Leo for its annual four-week show from July 22 to August 23. If you plan to wear your heart on your sleeve—hang on! Venus turns retrograde in Leo for six weeks also on July 22, resetting the rules of romance!
Jump to
A long red carpet rolls out Sunday, July 22, as the Sun struts through Leo until August 23. This would normally mark high season for all things glamorous, romantic and creative. Like lioness Madonna (who sang the anthem!), this is the time of year to express yourself. It doesn't matter if you're wearing a cone bra or a Victorian corset dress…or cutoffs and a T-shirt. The point of Leo season is to let your mane down, no matter what those uptight neighbors think.
Caveat!
When it comes to baring your soul, try a tamer approach. Leo season 2023 begins on the same day as Venus's retrograde in Leo! From July 22 until September 3 the love planet spins backward, putting a bit of twist on your Leo season horoscope (read for your sign later in this article)!
Leo season and your love life
Is it time to elevate your standards? As the Sun marches through regal Leo, it trumpets a mantra: I deserve to be treated like royalty by the one I love.
But hear ye, hear ye! Keep expectations realistic! Most people don't have the time (or budget!) to fawn over each other 24/7. Invest equal energy into your creative pursuits, and commit to follow through. That's how to keep your love life in balance.
Get ready, too, because you might fall bucket hat over flip flops for your own fine self in the process. Tap into the noble traits of Leo instead of falling prey to the self-serving ones. Love is a two-way street, after all. How can you be a more generous lover, in and out of the bedroom?
Want to maximize the passion, fun, generosity and courage of Leo season? (All while turning up the heat in your love life!) Get 50% off our 2023 Romance Reset experience, a five-day tune-up that will restore your roar in the game of love!
6 vibe magnifiers to try during Leo season 2023
1. Visualize yourself as a celebrity. Does your name belong in lights? Or maybe a history book or the Hall of Fame? Visualize it, then position your personal "brand" for that ascent. Need some inspiration? Do a bit of competitive research analysis. What are the ballers in your industry doing? How would YOU put your own unique spin on this? If you have a finished product to promote, put a final coat of high-gloss polish on it, then, schedule your big reveal!
2. Tell Your Story! Leo is the sign of self-expression and creativity, making Leo season prime time to put your signature stamp on your work. While life turns into an extended improv night, here's a tip for the shy people out there: Use storytelling to engage a crowd. This technique's scientifically proven to create connection between people! The reason? As we listen to a story, our brains synchronize to the storyteller's. If you want to capture hearts, share your experiences and speak directly from yours.

3. Play with a signature look. Like a cosmic coming-out party, the festival of Leo is Carnivale, Drag Race and a Broadway theater performance rolled into one. Wardrobe! Styling! Have fun experimenting with your look. (You don't watch all those TikTok tutorials for anything!) Even if you keep it low-key, remember, style is a tool for self-expression; you choose the statement you want to make. Check out our Style horoscopes to find your zodiac sign's best lewks!

Venus retrograde caveat: Stick to temporary changes and save the body modifications for a Pinterest board until after September 3. Your tastes may fluctuate wildly during this six-week backspin.
4. Share the spotlight. Leo is ruled by the proud and regal Sun, the center of our solar system. During Leo season, we may occasionally, um, forget that the world doesn't revolve around us. Because this sign rules the ego, Leo energy can cause us to upstage others at times, forgetting that each person is a valuable member of a team. Use Leo's flair for powerful leadership but make sure everyone has a place on the Playbill.
Are you the humble type? Prepare to dodge some chest-beating loudmouths during Leo season. Sadly, the most obnoxious people to surface are often well-dressed, charismatic and in positions of power. But what the heck are they saying? Let's not get so dazzled by the show ponies that we end up running off with their circus!
5. Temper any diva antics. A potential downside of everyone being expressive is some will get "extra" pretty fast. Brace yourself! There's a point at which all the fussing is just too much. Remember that the current situation is NOT the end of the world… or the last opportunity you'll ever have to… or your moment to deliver an Oscar-worthy acceptance speech (unless, of course, you're actually winning an award)! Do your part and urge others to keep it simple. In other words, don't add to unnecessary theatrics!
Here's a Leo season challenge we can all take on: spend as much time thinking about what comes out of our mouths as we do with adorning and primping ourselves for "the stage." Then maybe, just maybe, our righteous roars can make a difference. Infuse intentions with love and that mighty bellow becomes a rallying cry for everyone to claim the Leo season birthright: passion, fierceness and joy!
6. Remember—life is supposed to be fun, too. If you find yourself stressing over the littlest things (or everything), it's official: You need a break! Fortunately, Leo is associated with the zodiac's fifth house of playfulness and childlike wonder. Plan some playtime: organize a fun pool party (use our Leo season playlist as your backing track!), jump into a craft night, hit a comedy club, break into dance during the team meeting to add some levity.
Forget about society's rules. Reinvention queen Madonna is a Leo, and so is the seemingly ageless Jennifer Lopez. Leo energy is an endless bag of tricks—and Leo season is a time to do something edgy and fun that disrupts the status quo.
Your Leo Season 2023 horoscope
Below are horoscopes for the four weeks of Leo season, for every zodiac sign. As mentioned earlier, your Leo season horoscope is colored by the Venus retrograde in the same sign! You can read for your Sun sign or your rising sign (ascendant). Visit our Cosmic Calculator section if you want to calculate your Rising sign or discover more about your personal astrology.
Every 30 days or so, the Sun visits a new zodiac sign. During this "season" everyone feels the prevailing energy, no matter what Sun sign you were born under. Leo season begins Saturday, July 22, 2023 and ends Wednesday, August 23, 2023 (when Virgo season begins!)
Aries (March 21-April 19)
The restful days give way to raucous good times starting July 22, when the Sun moves into Leo, activating your fifth house of romance, play and self-expression. While this could kick off an exciting month of love, there will be a cosmic curveball to navigate this year… Continue reading your Aries monthly horoscope
Taurus (April 20-May 20)
The summer soirees slow down on July 22, when the Sun settles into Leo and your domestic fourth house. For the next four weeks, you're feeling more internal and sensitive—so what if everyone else is flitting from barbecues to the beach to brunches? You long to feel rooted now, both in your physical sanctuary and your emotional shelter. (That doesn't rule out a beach rental or breakfast in bed, of course.) Don't force yourself to go out if… Continue reading your Taurus monthly horoscope
Gemini (May 21-June 20)
Away from your desk and back out among the people! On July 22, the Sun shifts into Leo, energizing your social third house of community, communication and ideas. For the next month, schedule pitch meetings and brainstorming sessions, mixed with fun local outings in between. Engage in a heartfelt, generous dialogue with colleagues. Bring your… Continue reading your Gemini monthly horoscope
Cancer (June 21-July 22)
Brush away the birthday cake crumbs and prepare for productivity! You're back in the saddle starting July 22, when the Sun moves into Leo and your prosperous, practical second house. For the next month, keep your eyes on financial security. Take concrete actions each day, and break big milestones down into manageable, bite-sized goals that you can… Continue reading your Cancer monthly horoscope
Leo (July 23-August 22)
You're back! Or…are you? On July 22, you get a mixed blessing when the Sun sashays into Leo for a month AND romantic Venus turns retrograde in Leo on the very same day. Even more unfair? Venus will be in its wayward position until September 3, meaning the entire Leo season will have this cosmic thorn in its side in 2023. The last time… Continue reading your Leo monthly horoscope
Virgo (August 23-September 22)
All the social action simmers down considerably on July 22, when the Sun sinks into Leo and your twelfth house of healing, closure and the subconscious. Opt for a quiet month to regroup ahead of your birthday and the kickoff to Virgo season on August 23. This is your time to clear… Continue reading your Virgo monthly horoscope
Libra (September 23-October 22)
All work and no play? Not after July 22, when the Sun moves into Leo and powers up your eleventh house of group activity and friendship. The balanced life you long for returns, and you can spread those social butterfly wings of yours wide, Libra. In fact, you'll accomplish more now by stepping away from your workspace and engaging with the wider world. Get busy networking, hitting the parties and industry events, and introducing your ideas to the world via social media. That said, Leo season has a cosmic challenge… Continue reading your Libra monthly horoscope
Scorpio (October 23-November 21)
Time to turn those blue-sky visions into something tangible? On July 22, the Sun moves into Leo for a month, spotlighting your tenth house of career and ambition. Now you can take those grand ideas and start crafting them into a master plan. You've thrown the metaphorical spaghetti at the wall—now see what's sticking and get busy turning that into something tangible. Your work life could also get busy for the next four weeks, so hopefully you've taken that summer vacation, or at least have it planned for late August. Now is the time to… Continue reading your Scorpio monthly horoscope
Sagittarius (November 22-December 21)
On July 22, the pep in your step returns as the Sun enters fiery Leo and your ninth house of travel and expansion, ushering you into one of your favorite and most positive times of the year. It's time to come out and spread your wings completely—maybe schedule an overseas trip or delve into a new spiritual belief system. Whatever the case, now that your metamorphosis is complete… Continue reading your Sagittarius monthly horoscope
Capricorn (December 22-January 19)
Leo season begins on July 22 as the Sun plunges into your intimate and erotic eighth house for a month. This would be welcome news except that it comes with a plot twist this year: Love planet Venus will begin its choppy retrograde in Leo on July 22, which could hinder a promising… Continue reading your Capricorn monthly horoscope
Aquarius (January 20-February 18)
On July 22, the Sun will shift into Leo and your seventh house of one-on-one connections, amping up the partnership potential for the next four weeks. But put on the brakes, because things could get bumpy, Aquarius! Continue reading your Aquarius monthly horoscope
Pisces (February 19-March 20)
On July 22, it's time to wrap up the revelry as the Sun begins its monthlong visit to Leo, activating your sixth house of health and organization. Hopefully you've gotten all that decadence out of your system—and enjoyed every second. Now you're craving more… Continue reading your Pisces monthly horoscope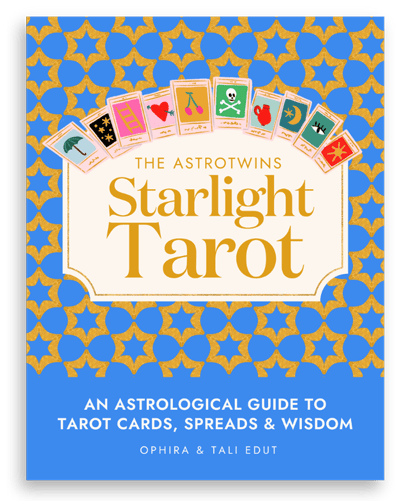 An Astrological Guide to
Tarot Cards, Spreads & Wisdom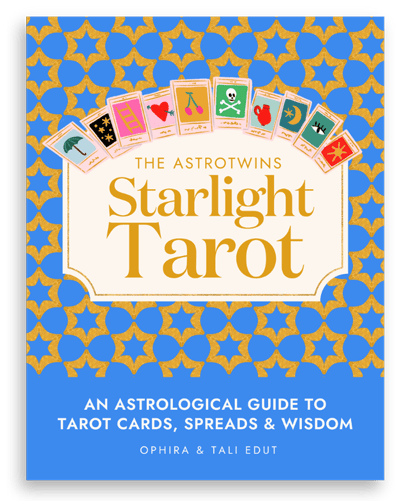 The AstroTwins bring your Tarot journey to life with Tarot spreads, history and empowering guidance.
Get the starlight Tarot