Brush up your conversational game! The mind is the fastest way to the heart during the January 2-26 Venus in Aquarius transit.
Have fetish wear, will travel? When Venus visits unconventional Aquarius annually, love takes a turn for the experimental. Pop open the trunk of your imagination and let yourself explore. Or just enjoy the sapiosexual vibes this Venus season brings. From January 2 to 26, the fastest way to a lover's heart is through their mind!
When is the Venus in Aquarius transit?
Venus, the planet of love, beauty and luxury, lends its decadent energy to every zodiac sign for three to five weeks each year. The Venus in Aquarius transit lasts from Monday, January 2 until Thursday, January 26, 2023.
Conventionality just won't cut it once Venus slips into renegade Aquarius on Monday, January 2, at 9:09 PM EST. Talk about fun and frisky way to start the year!
The Venus in Aquarius transit keeps the frolicking, festive mood going basically all month. And with Mercury retrograde until January 18, we could all use a little boost of magic! (Thanks, Venus!)
The Venus in Aquarius transit arrives on the heels of the sturdy Venus in Capricorn transit (December 9, 2022 to January 2, 2023). While the love planet cruises through this traditional earth sign, relationships settle into a stable groove. Bonds that aren't built to last tend to disappear like Santa's sleigh when Venus is in Capricorn. (Bye!)
Venus in Capricorn can make romance a tad too predictable. Time to shake things up! After weeks of feeling a lot more reserved during the Venus in Capricorn transit, flirtatious Venus sashays into progressive Aquarius for a freedom-loving cycle that could spur anything from an unconventional relationship or living arrangement.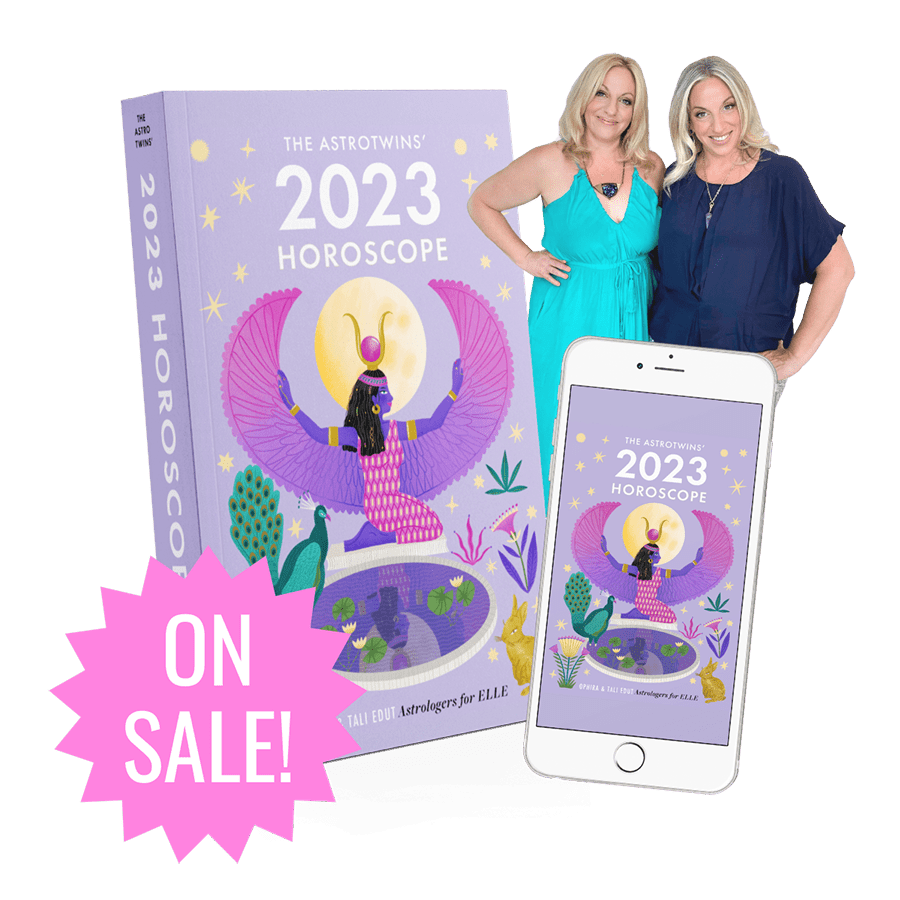 Get your yearly astrology forecast in The AstroTwins 2023 Horoscope!
What does the Venus in Aquarius transit mean?
When passionate Venus swings into Aquarius, it's time to lighten up! You don't have to turn your LTR into an FWB, but what if you pretended you were meeting each other anew? Just when you thought you knew everything about each other, surprise! Titillating new dimensions emerge.
Aquarius is the zodiac's freedom lover so couples will be craving space. Not necessarily the physical kind though. Give each other space to disagree on an important topic—or to explore an interest that the other doesn't necessarily dig…or even understand.
This classic quote from Esther Perel's Mating In Captivity sums up the right attitude to adopt during the Venus in Aquarius transit.
"Love rests on two pillars: surrender and autonomy. Our need for togetherness exists alongside our need for separateness." "Love enjoys knowing everything about you; desire needs mystery. Love likes to shrink the distance that exists between me and you, while desire is energized by it."
Single and looking? Since Aquarius rules technology, a high "clickthrough rate" could be on tap for you on the apps. In this community-loving sign, hanging out with your social group is also a savvy strategy for meeting new prospects. Just make sure your BFF doesn't have dibs on the "friend" she brought to the party.
How does the Venus in Aquarius transit affect me?
Single? Get back on the apps and let friends and coworkers set you up.
Attached? Socialize as a couple and strengthen the foundation of friendship in your relationship. Don't feel compelled to play by the rules if you're yearning for something a bit (or a lot) outside the lines.
From bringing in a "guest star" to your boudoir to planning for a family, the stage is set for exploration and negotiation. You don't have to actually do any of the things you discuss. Talking about them might be spicy enough during this sapiosexual cycle!
When Venus visits an air sign no topic is off the table!
A Venus in Aquarius transit highlights this zodiac sign's element: air.
These transits come around while Venus is in Aquarius, Gemini or Libra for approximately four weeks each year.
Air signs are the communicators of the zodiac. They like to breeze about and explore from an objective point of view. These are some of the best times of the year to broach tricky topics in your relationship or open the floor to discussions about the future.
Air signs are not the planners of the zodiac. Just because you kick around an idea doesn't mean it's set in stone. A discussion is just that: a discussion. It's not an agreement, a promise or a commitment. But make sure everyone is aware of that. It's easy to lead people on during these Venus cycles!
Venus transits 2023
What sign is Venus in, 2023?
AQUARIUS: December 9, 2022 to January 2, 2023
PISCES: January 26-February 20
ARIES: February 20-March 16
TAURUS: March 16-April 11
GEMINI: April 11-May 7
CANCER: May 7-June 5
LEO: June 5-October 8 (RETROGRADE: July 22-September 3)
VIRGO: October 8-November 8
LIBRA: November 8-December 4
SCORPIO: December 4-December 29
Venus in Aquarius horoscopes for every zodiac sign
Aries (March 21-April 19) Venus in Aquarius transit horoscope
Emerge, Aries, and greet your adoring public! After a few dutiful weeks in Capricorn, gracious Venus catwalks into Aquarius and sets off a flash mob in your eleventh house of group activities, January 2-26. The new year's extracurricular opportunities will start coming in with a bang (in 3, 2, 1…), so be ready to cover your social calendar! Career-wise, concentrate on collaborations. This will help you work smarter instead of harder AND could spawn a few profitable alliances.
Taurus (April 20-May 20) Venus in Aquarius transit horoscope
It's a new year with plenty of reasons to be motivated, Taurus. You'll keep the ambition and hard-working momentum on the upswing starting today as your ruling planet Venus parades into your career corner, January 2-26. Warmhearted Venus' style is the opposite of competitive: For the next few weeks, you'll inch upward through cooperation, teamwork and networking. Be direct (but never pushy) when communicating with leadership and show that you're eager to take on more responsibility. And don't skip the networking happy hours!
Gemini (May 21-June 20) Venus in Aquarius transit horoscope
Had your fill of "cozy season" yet? As Venus lifts off in Aquarius and your worldly ninth house, friends in warmer climes are worth reaching out to. Moreover, could you squeeze in a visit to see them between January 2-26? Because Venus rules romance, you might book a companion ticket for your trek—or jet off to a destination that's as famous for its attractive residents as its breathtaking sites. No matter your GPS coordinates, cross-cultural relationships could get a dose of Venus' love potion!
Cancer (June 21-July 22) Venus in Aquarius transit horoscope
Privacy please! Temperatures are rising in the Cancer boudoir as Venus heads into Aquarius and sprinkles sexy pixie dust in your erotic eighth house. A soul-merging union could arrive long before St. Valentine wings in. Between January 2-26, Crabs may announce an epic romantic milestone. If romance is status quo, joint creative ventures could take flight. Either way, you'll be roaming deep into "we" territory. Shared assets—financial, emotional and physical—may become more entwined under Venus' spell. Make sure you're comfortable with the balance of power before you share any PIN numbers.
Leo (July 23-August 22) Venus in Aquarius transit horoscope
V-Day celebrations kick off early for Leos in 2023, thanks to Venus' arrival in Aquarius and your relationship house on January 2. The planet of romance hangs out here until January 26, blessing you with three powerful weeks of connecting and co-creating. Solo cats may feel the urge to start hunting for a long-lasting mate. Already found your "tiger in the sheets?" Fill up your winter activities calendar with memorable moments: To concert tickets to see the band you both or maybe a warm-weather resort vacation.
Virgo (August 23-September 22) Venus in Aquarius transit horoscope
Radiant Venus sweeps into Aquarius today and kicks your wellness goals into high gear. You won't struggle to get motivated between January 2-26—and in collaborative Aquarius, Venus will bring activity buddies galore. Drop into group classes or register for a boot camp program that offers an online motivational group. And since Venus IS the love planet, focusing on your well-being could have unexpected fringe benefits for your love life. (Who's THAT doing lunges at the leg station?) Coupled Virgos: Bring on the buddy workouts. Those sexy endorphins could spur some marathon romps in the sheets!
Libra (September 23-October 22) Venus in Aquarius transit horoscope
Zip a colorful puffer coat over your party clothes and step out, Libra! Snow, nor sleet nor rain can keep you locked indoors for the next few weeks. Nope, not with amorous Venus pulsing through Aquarius and your flamboyant fifth house January 2-26. It's time to reclaim your title as King or Queen of the Scene. Tired of shivering in front of your full-spectrum light? Head somewhere warm where you paddle up to a hottie at the swim-up bar or find a secret cove for some spicy fun with your S.O.
Scorpio (October 23-November 21) Venus in Aquarius transit horoscope
Time to revive the art of Netflix and chill, Scorpio. Creature comforts might be your prime aphrodisiacs as sensual Venus sweeps through Aquarius and your domestic fourth house, January 2-26. Leave the late-night bar-hopping to the fire signs for a few weeks. You've got the love planet on your home turf, and a passionate-in-private Scorpio knows better than to let that smoldering energy go to waste. Prep your boudoir for a fresh guest star or feather it for you and your S.O. And of course, enjoy some well-deserved nesting, like perfecting your slow-cooker recipes while you knock out a two-season streaming series!
Sagittarius (November 22-December 21) Venus in Aquarius transit horoscope
Everyone and their miniature dachshund will be barking up your tree for the next few weeks, as charming Venus marches through Aquarius and your garrulous third house. And if one person in particular is giving your attention, don't assume it's a "just friends" thing. Hosting the love planet in this flirtatious placement could definitely blur some lines. Burning attractions aside, if you don't see a real future together, keep 'em in the platonic zone and fire up the dating apps instead! Already swiped for? Get out and socialize as a pair while Venus buzzes here from January 2-26.
Capricorn (December 22-January 19) Venus in Aquarius transit horoscope
Decadent Venus shimmies through Aquarius and your cash-positive second house, January 2-26, turning you back into the high-earner you were born to be. With this social planet at the helm, networking can bring instant rewards, like a client you land at a breakfast mixer. If you're ready to talk raise and promotion, set up a performance review over these next three weeks. Need to get on an influencer's radar (and then, their calendar)? Socialize strategically, befriending people who can put in a good word on your behalf. If there isn't a genuine click with these folks, don't be fake. Just keep doing great work (and promoting skillfully), knowing that you will inevitably find your way to the insider's circle.
Aquarius (January 20-February 18) Venus in Aquarius transit horoscope
Radiant Venus sweeps into Aquarius from January 2-26, and suddenly all you can think about is freshening up your look. Take a haul of "so 2017" pieces to Buffalo Exchange and then go drop a little coin at Sephora. You won't be able to dodge the spotlight for the coming three weeks, so you might as well enjoy all the attention that's heading your way. Assemble a few date-night outfits and enjoy this romantic renaissance. Pure animal magnetism could overtake you long before St. Valentine comes to town! Coupled? Don't spend every nanosecond together. Exploring independent interests helps keep the spark alive.
Pisces (February 19-March 20) Venus in Aquarius transit horoscope
Your fantasy life is as active as your so-called real life, and it's easy for you to get lost in an imaginary world. But starting January 2, as magnetic Venus zips into your esoteric twelfth house, it'll only take a little energy (and a lot of intention) to evolve a vision into something solid by January 26. Throw yourself into an artistic project or pursue a budding romance. Couples should harness this sizzling sensual synergy and do something just a bit wild and crazy—and unlike anything you've ever tried before. The only pitfall? Boundaries and truth could be fuzzy at best. Ask the obvious questions like, "Are you married?" before announcing that you've met The One.
Want more about Venus in Aquarius?
Here's our soundtrack for the Venus in Aquarius transit, compiled by Astrostyle's resident mixologist, Jennifer Newman, AKA Astralselector.
Learn and understand your Venus sign
Venus directs your personal style, from your taste in clothes and decor to what you find visually appealing. Here's where you're creative, indulgent and romantic. You may have greater ease receiving gifts and support in the realms your Venus sign rules.
As the zodiac's peacekeeping diplomat, Venus helps you negotiate compromises. Just beware the "nice disease" in the area of life your Venus placement rules. This conflict-averse planet can also make you a bit too quick to settle or accept peace at any price. You may need to strengthen your backbone a bit, so that you don't wind up saying "maybe," when you mean "no."
Use our cosmic calculator below to discover what zodiac sign and house Venus was in when you were born. To accurately determine the house, you will need to know your birth time.
What does your Venus sign mean?
Now you can read your Venus in Aquarius transit horoscope in this article for your Sun sign and your Venus sign! This can give you a more tailored prediction for how you'll experience the transit. For example if you're an Aries but your Venus sign is Pisces, you can read both the Aries and the Pisces Venus in Aquarius transit horoscopes for a fuller picture.
Feature art by Rosie Dienhart