Partner power! The new moon in Libra on October 14, 2023 (at 1:55 PM Eastern) is also a "ring of fire" annular solar eclipse, the first one to land in this zodiac sign since 2016!
The October 14 Libra new moon supercharges a 6-month window that will refresh and require you to rewire your relationships. That's because every year, the new moon in graceful, committed Libra provides a universal launch pad for relationships to take flight. Get ready to increase the peace and understanding in your most cherished connections so you can bring back the love!
Go ahead, don your rose-colored glasses!
Libra is ruled by the planet Venus, the goddess of amour herself. While the new moon in Libra tickles us all pink, it drops a rose-colored filter over the lens. During this new moon, you'll view people in the best possible light. But are you glossing over the whole picture? Everyone has a human side, which, of course, is why marriage vows include the "for worse" clause. So even if your hormones are firing on all cylinders, take time to learn the full spectrum of any fascinating new characters who come into your life.
Bring balance to your relationships
Need to find a better balance between "mine" and "ours?" Healthy relationships include room for autonomy, as well as togetherness. During the Libra new moon, couples can begin important conversations about supporting each other's independent interests—without getting triggered or threatened!
All new daily planner format!
🛼 Your ultimate guide to 2024
🎁 Give the gift of astrology! Bundle up on 2024 Horoscope books and planners and save 70%!
The October 14 Libra new moon's cosmic company
Here's what's happening in the stars to shape your Libra new moon horoscope (read for your zodiac sign at the end of this article), and how your can navigate!
This Libra new moon makes contact with mindful Mercury. With this energy, it can help to write down the qualities and capabilities of people you'd like to attract. Whether that's for a serious relationship or a business alliance, being clear will sharpen your judgment. Could some part of your work benefit from a collaborator who complements your skill set? This lunation will help you determine that.
This moon will also oppose Chiron, so pay attention to the type of people you do draw in at this eclipse. Are they mirroring a wound that you haven't resolved? If you sense "more of the same" or an old pattern resurfacing, don't blame the messenger—but maybe don't invite them into your inner sanctum too quickly, either.
And oh yeah, last but certainly not least: this moon is a partial solar eclipse! This is 2023's second solar eclipse (the first was in Aries on April 20). It's also the first to light up this loving sign since March 2016. Get ready for epiphanies along with those illuminating insights around relationships.
Astro fun fact: The October 2023 partial solar eclipse is also called an annular "ring of fire." It's not just a Johnny Cash song, it's the name given to the effect of the glowing edges of the Sun while it's darkened by the moon. You can read about all the 2023 eclipses here!
The Libra new moon lifts your social game, levels up your romance
If you're feeling lonely or isolated, the Libra new moon beckons you out to socialize again. Since Libra is an artsy air sign ruled by beauty planet Venus, a night at the museum or a live show can lift your spirits. Or join a book club, a wine club or a meditation circle. Anything that opens your mind is on brand for intellectual Libra.
Already have a full social calendar? Strive for greater mutuality with the people in your life (think: interdependence, not codependence). Whether you've united for business, a creative collaboration, or a breathtakingly romantic affair, don't water down your individuality. Instead, bring it to the table—and see how well it blends with someone else's enchanting traits.
One caveat! While you may create a hit combination, there's no need to rush to the signing table (or gallop to the altar). For one thing, Libra is a sign that loves to luxuriate. Also, new moons are like cosmic starting blocks, setting off a half-year cycle that you can harvest six months later when the full moon shines in Libra (on March 25, 2024). Slow down and vet your potential "other half" wisely. If the new moon in Libra has anything to say about it, you'll be making beautiful music together for years to come!
Libra new moon rituals to attract love, invite beauty and balance into your world!
Whichever Libra new moon rituals you choose, Libra and her ruler, Venus, practically guarantee you'll be at your most graceful, charming and lovely! We have 8 Libra new moon rituals you can try here!
Your horoscope for the Libra new moon and solar eclipse!
Below are horoscopes for every zodiac sign for the Libra new moon and solar eclipse on October 14, 2023 (at 1:55 PM Eastern). You can read for your Sun sign or your rising sign (ascendant). Visit our Cosmic Calculator section if you want to calculate your Rising sign or discover more about your personal astrology.
Aries (March 21-April 19)
Relationship revolution time! The new moon solar eclipse in Libra and your seventh house of partnerships heralds an exciting six-month chapter for twosomes—one that could also be accompanied by a few unexpected changes. Your status may quickly upgrade from "part-time lovers" to "put a ring on it"—or some ink, in the case of business alliances.
Eclipses reveal shadows, so if you haven't been happy with the status of a particular duo, have a "let's get real" conversation about the state of affairs. The truth shall set you free, whether to recalibrate a connection worth salvaging or to move on to greener pastures. Single Rams, be open to an unexpected spark of chemistry. If you're even the slightest bit intrigued, follow your curiosity and see where it leads. Read more Aries horoscopes.
Taurus (April 20-May 20)
If you were waiting to get life back into a steady groove, here it comes! The new moon solar eclipse in Libra sets your house of healthy living ablaze. The temperatures may be dropping, but that's more incentive to get your blood moving with regular exercise. This is ground zero of a six-month cycle, so look ahead—and forget about yesterday's donut binge or the two-month gym hiatus you've been on. Just. Get. Moving. If you've been ignoring aches and pains, this eclipse could shoot a warning flare. Stop self-medicating or consulting Dr. Google and get an actual MD's advice. Why suffer when you could heal it quickly?! Rapid developments around work could come too. Just go with it, Taurus. What you haven't mastered, you'll learn along the way. Read more Taurus horoscopes.
Gemini (May 21-June 20)
Where there's smoke, there's fire—and with the Libra new moon solar eclipse in your glamorous fifth house, you're the hottest thing in town. Have you been keeping your talents under wraps? No more, Gemini. The media spotlight beckons, and you can start crafting your PR campaign.
And, hello cuffing season fever! A resurgence of romance could brew up out of nowhere under the galvanizing influence of this romantic eclipse. New love could arrive in an unexpected package, or la luna could stoke the embers with your amour du jour. Eclipses reveal shadows, and you might get a dramatic piece of news (or word about a pregnancy within a month of this eclipse). Although this could be a little shocking, the way you respond to it makes all the difference. Keep your cool and just go with it. This change is meant to be. Read more Gemini horoscopes.
Cancer (June 21-July 22)
We doubt you need an invitation to get in touch with your domestic side, Cancer, but you'll get a potent one all the same. The year's only new moon in Libra arrives as an awakening solar eclipse. Cancers may be homebodies, but you also love to travel—especially when you can immerse yourself in a community and see how others live.
But if you don't have a peaceful place to hang your hat, your whole life feels ungrounded. Finding or creating that home sweet home could become an outright obsession now. Renovate, redecorate—or maybe relocate! Next question: to rent or to buy? Don't rule out the possibility of becoming a property owner in the near future. An important woman may enter your field, someone who will play a significant role in your life—and your sense of security and prosperity—over the coming six months. Be open to the kindness of strangers. Read more Cancer horoscopes.
Leo (July 23-August 22)
The journey of a thousand miles begins with a single step, Leo. And thanks to the Libra new moon solar eclipse in your third house of short journeys, it may also involve a commute. Under these galvanizing moonbeams, you could feel a strong urge to explore opportunities both locally and a short distance outside your stomping grounds. As for that drive? Maybe it's time to invest in an electric car or set up ridesharing to make the journey more economical.
This eclipse brings a flurry of new activity for your social life as kindred spirits may pop up where you least expect them. Feeling overloaded by responsibilities? These partnership-powered moonbeams could spark a promising collab. Your missing puzzle piece could already be one of your familiars, such as a dear friend, sibling or a favorite neighbor. Read more Leo horoscopes.
Virgo (August 23-September 22)
Forget about making it rain, Virgo. You're ready for a bomb cyclone of abundance! The year's only Libra new moon activates your second house of money and values—and since it's a game-changing solar eclipse, results could pour in from places you weren't even looking.
Eclipses illuminate what's hidden in the shadows—you might not have seen this one coming! Something you'd do for zero pay could turn out to be the VERY talent you capitalize on over the coming six months. If you need to rework your budget, this eclipse could bring a wake-up call. Don't be stubborn, Virgo. Tighten your belt and look for jobs that offer you a better wage. If you need to update your skill set to improve your salary, invest in the training now. Read more Virgo horoscopes.
Libra (September 23-October 22)
Happy cosmic New Year—to the hundredth power! October 14 marks the annual Libra new moon, but this one is extra special. It's also a solar eclipse—the first of two that will strike your sign between now and October 2, 2024. Life as you know it is continuing to evolve at a rapid clip, but now that could REALLY take off at a gallop. Ready for something new and different?
This eclipse series spurs you on to make long-overdue changes and fearlessly pursue your dreams. Take time to make a giant wish list. Light some candles and meditate on desires that you may have buried or forgotten Don't hold back Libra; go for the big ones! And there's a double bonus: The seeds you plant now will manifest under a LUNAR eclipse in your sign on March 25, quadrupling the magic these moonbeams can bring. Hang on to your fedora, though: The only thing constant might be change!. Read more Libra horoscopes.
Scorpio (October 23-November 21)
Where do you go when you crave connection to the muse? The Libra new moon solar eclipse activates your divinely inspired twelfth house. This reminds you of the importance of creating a solitary Scorpio sanctuary—a place to dream, meditate and create without interruption. You may be inspired to reconfigure your apartment or even rent a small studio for half a year so you can develop your revolutionary ideas in proper Scorpio style (read: without the interference of anyone outside your brilliant and beautiful mind).
This eclipse may spur a six-month healing journey. You're ready to tackle THAT issue, yes the big one, with the best guide you can find. If you're transitioning out of an outmoded situation, this eclipse speeds your farewell and reveals a graceful exit strategy. Read more Scorpio horoscopes.
Sagittarius (November 22-December 21)
New you, new crew? The hunt for your soul squad is on! The solar (new moon) eclipse in Libra generates a buzz in your eleventh house of social networks. And it might bring sweeping changes (and upgrades!) to the company you keep. Eclipses illuminate what's in the shadows. This one could reveal a need to leave one group and join another.
It could also light the way to a collaborative effort and help you find the best possible people to have on your team. Do you have a vision for an online project? The eleventh house rules community and technology. Crowdfunding or applying more innovative, future-forward techniques could be your best bet for success. Circle the date of the corresponding full moon—also a magic-making eclipse—on March 25 for your launch. Read more Sagittarius horoscopes.
Capricorn (December 22-January 19)
When it's time to leap up the ladder of success, there's no holding you back. And you get a turbo-powered boost in that elevated direction, courtesy of the year's only Libra new moon in your tenth house of career. This one happens to be a solar eclipse, which means there's an X factor to the results it brings. Be open to unconventional approaches to achieving your goal. Take some time to think: How WOULD you like to make your mark on the world over the coming six months?
Harness this powerful energy to do some visualization. Since this eclipse falls in artsy, beauty-loving Libra, a picture says a thousand words. Pull some images onto Pinterest or make a vision board that reflects your desired future. Creative work—or a more imaginative approach—could also bring a windfall by the corresponding lunar (full moon) eclipse on March 25. Read more Capricorn horoscopes.
Aquarius (January 20-February 18)
Wanderlust could wash over you like a tsunami as the year's only Libra new moon—a stimulating solar eclipse—electrifies your ninth house of global adventures. Plan that passport-required trip; sign up for the life-changing retreat on the opposite coast. Find a cider mill, haunted house or a friend with a guest room 50 miles from your place. Anywhere BUT home is where you need to be.
Your entrepreneurial side is stoked by this lunar energy. Hello, Aquarius, Inc.? The potent eclipse could give you the courage to start a new business, expand an existing venture or pitch an independent project to the office decision makers. News could come from afar, or an offer that sets your life on an exciting new path. Some Aquarians may even have to relocate (for six months at least) to pursue your next life chapter. Read more Aquarius horoscopes.
Pisces (February 19-March 20)
Is that a roar or a come-hither purr, Pisces? The seductive Libra new moon is also a game-changing solar eclipse, galvanizing your erotic eighth house. Get ready for a surge of life-force energy. This lunar lift could power up your mojo in ways you may not have experienced for a while.
If you haven't been feeling like your sexiest self, the eclipse brings a swift reminder that Pisces, you've still got it—and then some. Single? This magnetic lunar surge could evoke an otherworldly attraction with someone who can meet you on the body, mind AND soul levels. This eclipse also falls in your big money zone, so keep your radar on for savvy investments like a tech startup or a piece of real estate in an up-and-coming neighborhood. Read more Pisces horoscopes.
What zodiac sign is your relationship?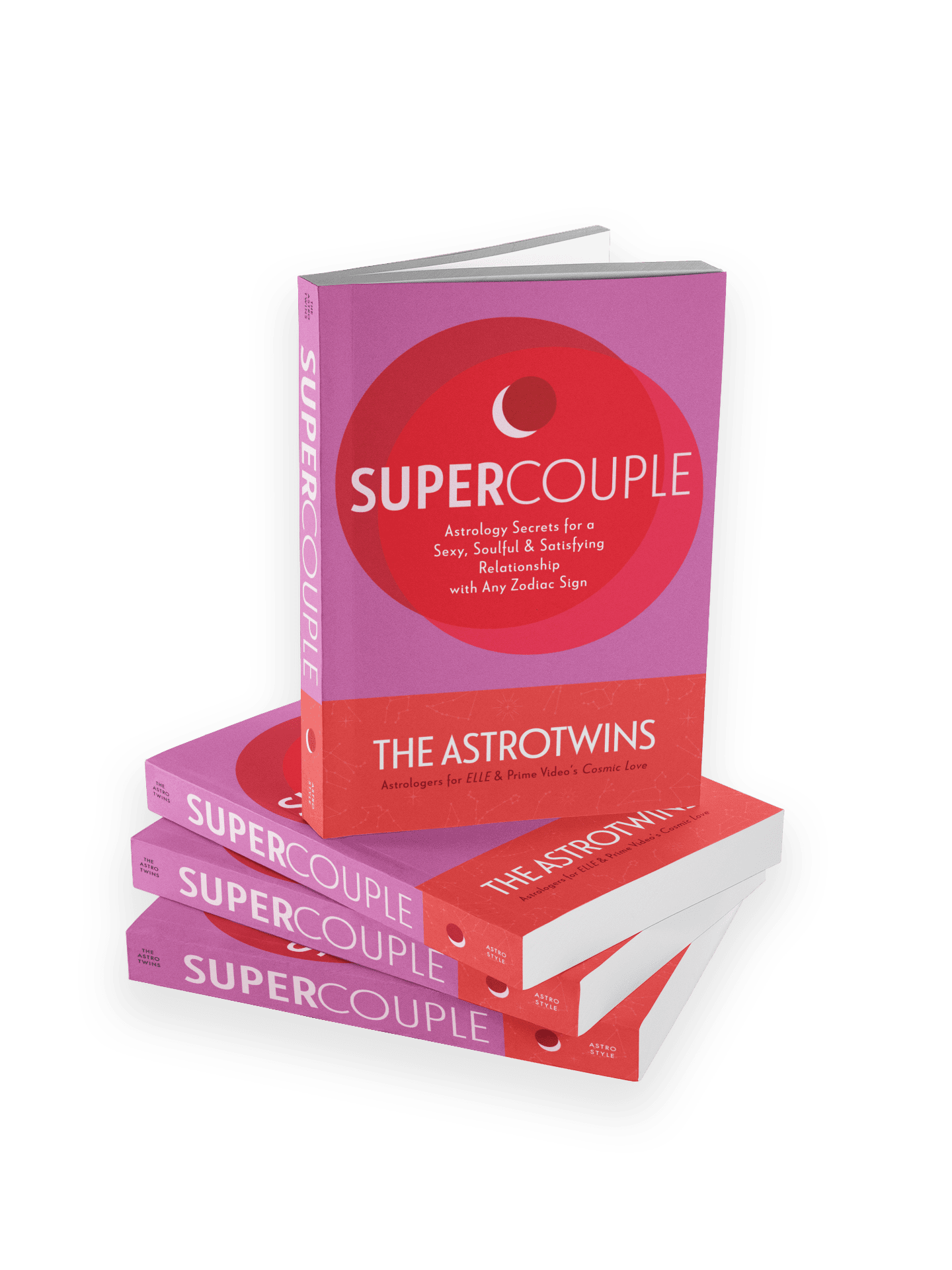 What zodiac sign is your relationship?
Learn the secrets of the composite (blended) chart in SuperCouple, a cosmic care and feeding manual for any relationship. Written by The AstroTwins, astrologers and matchmakers for Amazon Prime Video's Cosmic Love.