S1, e8
Cosmic Love
Charting a Future Together
Engagements, departures and lots of changes are afoot at the Cosmic Compound. Plus: The AstroTwins explain the magic of an astrology matching tool called the Composite Chart on Amazon X-Ray.
Caution: Spoilers ahead!
What happened in Cosmic Love, Episode 8?
Summary of Episode 8:
An Element leaves the Cosmic Compound and the experiment of Cosmic Love! Two Elements get engaged! The couples move in together at the Cosmic Compound––an eye-opening experience for them. A spat or two ensues as the couples begin cohabitating and reality sets in that this could be forever!
Who's still together in Cosmic Love, Episode 8?
At the beginning of Episode 8, the matches that are left are:
Maria with Chris R. (Leo/Fire) (who got engaged in Episode 7!)
Connor with Danae (Leo/Fire) and Yana (Aquarius/Air)
Phoebe with Phillip (Capricorn/Earth)
Noel with Jazmin (Gemini/Air) and Morgan (Virgo/Earth)
Relationship astrology of the Cosmic Love couples
In Episode 8, The AstroTwins, speaking through the Astro Chamber, reveal to the Elements their composite charts with their matches.
A composite (midpoint) chart takes the two people's charts and finds the halfway point of every planet. The result is a single chart that becomes the chart of the relationship—its own unique chart.
Noel and Jazmin's relationship Sun sign is in grounded Taurus, their moon sign is in nurturing Cancer, and they have a Capricorn rising.
This means that being honest with each other is super important. They'll be a natural power couple, but it could add pressure. They're advised to use their time left at the Cosmic Compound to talk about the logistics of their future together.
Maria and Chris R.'s relationship Sun sign is in extroverted Libra, their moon sign is in traditional Virgo, and they have a stable Taurus rising.
This means that they'll have a strong social life together. They're advised to always make time for each other and remain open to compromise since they're both used to doing things their own way.
Connor and Yana's relationship Sun sign is in trailblazing Aries, their moon sign is in sensitive Pisces, and they have a social Libra rising.
They're relationship thrives on challenge and adventure, but needs stability. To succeed, they'll need to make sacrifices to support each other. They're encouraged to take time to listen to what each other needs to keep them connected.
The Astrology of Cosmic Love, Episode 8
What sign is your relationship? Composite charts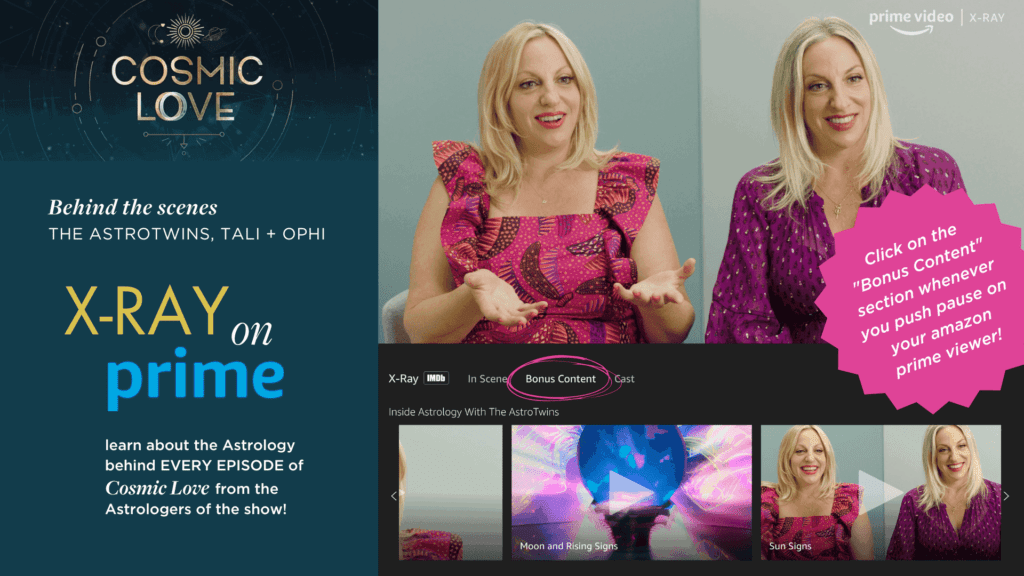 In episode 8 of Cosmic Love, The AstroTwins reveal that each relationship has its own zodiac sign. You can find this in a composite chart, which is the zodiac sign and chart of your relationship.
"Who do you become as a couple when you put your energies together and commit?" Ophi says.
"A composite chart is essential when the relationship shows signs of moving in a more serious or long-lasting direction."
A composite chart is a third chart that finds the mid-point of all of your planets and all of the other person's planets. In other words, where do your Sun signs meet up? Your moon signs? Your Mercury signs? Etc.
"We like to say there are three entities in a relationship," Tali says. "There's you, your partner, and then there's your relationship. And the composite chart can be very different than your individual charts."
Even if you only learn the Sun sign of your relationship, the personality of your relationship can be revealed. "It's a care-and-feeding manual for your relationship," Tali adds.
For example: Maria (Capricorn) and Chris R. (Leo) didn't pay too much attention to each other until they were matched! But The AstroTwins say they knew from doing their composite chart that they had a lot of planets in Libra, which is the marriage part of the chart. They knew that if they matched them, they might spark a long-lasting relationship.
Discover your relationship astrology
If you want to learn about the astrology of your own romantic relationship, you can compare your relationship charts. There are two ways to do that:
A composite chart: Combines two charts into one
A synastry chart: A side-by-side comparison of both charts, focusing on the angles
Cosmic Love engagements, breakups and promises
A tearful Connor tells Danae that it's not in the stars for them. "I'm just happy that you're one of the people I got to meet along this journey," he says, as they tightly embrace.
Connor hopes he made the right decision sending Danae home, but says he feels "incredible surprise" over his feelings for Yana.
"I was not expecting this to go the way that it went," Connor tells Yana about his feelings, but, "I'm not ready for a proposal right now. But I would like to take the next step, moving towards a proposal. I want to be one-hundred-percent sure when I make that promise, that commitment, that I'm there. But I want to ask you to make that commitment as well. I just need a little more time to get to know you."
"I would love that," Yana says, believing the stars have something written for them.
Noel tells Morgan that she's the type of woman he wants to be with, but that it's not in the stars for them. "I care for you a lot," he says. "I know you're going to be great and find someone. You deserve everything."
Noel says he's terrified about making a commitment to one woman, Jazmin. "But I know greatness is one step past fear, so I have to be brave enough to actually give this a try because this is something I truly want. She is someone I actually truly want."
Noel tells Jazmin he felt he had an instant connection to her. "I just enjoy you," he says while holding her hands. "Being around you makes me so happy…To have you in my life is something I wouldn't want to ever lose."
He gets down on one knee and presents Jazmin with a ring that he slips onto her finger and he says "marry me."
"Yes" escapes Jazmin's breath and they embrace with a kiss. "I love you," Noel whispers.
"I have genuine feelings for him," Phoebe says about Phil before he joins her outside the Cosmic Compound. "I just don't know that I'm ready to make a life-long commitment.
"We have all the astrological proof to back up a successful marriage––that it's written in the stars––that's what's exciting."
Despite that, Phoebe tells Phil that it's not in the stars for them. Phil believes they're a power couple with a future. He reads her a poem he wrote about his feelings, about how he fell in love with her at first sight.
"That's leading with lust," she tells Phil. He tries to defend his feelings.
She continues: "I like you a lot. I can honestly see us outside the Compound having so much freaking fun together. I just feel that a proposal, an engagement and marriage, at the stage we're in right now, is too soon for us."
Phil reaches for a ring in his pocket, "I don't really care at this point, because I freakin love you."
Phoebe stops him: "You can't say the L-word!"
"I just did," Phil replies, and after a long pause, gets down on one knee and goes for it: "Will you marry me?"
Phoebe, looking deep into Phil's eyes, says: "I don't feel like you know me well enough yet to actually, truly love me."
The Leo element says she's "finally been able to put myself first."
"As far as this experiment goes, and our time here together, this is the end of the road," she says about Phil.
They say goodbye to the other matches and separately depart the Cosmic Compound and the Cosmic Love experiment.
Moving day! The Cosmic Love couples try out living together
"Living with someone opens up a completely different side of a relationship," Maria says as Chris R. teases her about being nervous. "I don't know if this is going to make us stronger or create issues."
"I've never lived with a girl before," Chris R. reveals. "This is going to be a big step. When you move in with someone you see literally everything about that person from the time you wake up to the time you go to sleep. It's f*ing crazy!"
Noel says the realization is setting in that he proposed to Jazmin. "I'm so used to having my own space. I'm a little nervous. I'm not gonna lie! I still have that feeling like, do I want to be with just one woman for the rest of my life."
As Jazmin moves into Noel's, he offers: "Sorry for the mess." Jazmin's look is priceless…Then she goes looking for a trash bag.
Connor quips that he doesn't own as much luggage as he's maneuvering for Yana. She immediately notices he doesn't make his bed in the morning.
"We'll see how this goes," Yana says out of earshot. "This is a great chance for me to practice my compromising skills."
The experiment of Cosmic Love continues
The astrology of Phoebe's departure
Ophi says when Phoebe went home alone, you may have thought, "Well, this didn't work; astrology can't matchmake."
"Actually that was the perfect thing for Phoebe to have happened," Ophi says. "Astrology is a tool you can use at any point. And the most important relationship, as we all know, is the one you have with yourself."
Phoebe was in her Saturn Return, a major period of growth and self-discovery.
"Falling in love with herself and learning all these new dimensions of herself that she discovered at the Cosmic Compound (water sign Venus and moon)," Ophi says. "She had been leading with a tough (Leo/fire sign) persona and ignoring all these vulnerable parts of herself that she was re-introduced to through the experience."
Phoebe says: "Astrology may not have helped me find my husband, but it helped me find myself."
What's coming up on Cosmic Love: Season 1, Episode 9?
All the remaining couples meet the parents! The Elements learn how to use astrology to decode their in-laws and future family members. Connor wonders when (if?) he'll be ready to propose, knowing the distance between their home cities presents a logistical challenge.