Home is where the heat is this spring as steamy Mars hunkers down in the sign of the domestic Crab on March 25. With Mars in Cancer until May 20, your hibernation time is hereby extended.
Hot-blooded Mars blazes into sensitive Cancer, energizing your abode and amplifying emotions. The change of pace is welcome—especially after seven manic months of Mars-in-Gemini and the cacophony of opinions and head games it delivered. Yet, you'll need to be extra patient during the next two months with relatives and roommates, especially.
Quick question: What's the vibe like under your roof? Is there unspoken tension brewing? Are stressful piles everywhere? Does the energy give "cozy but lethargic" and make it hard for you to actually leave the damn place?
Pay attention! During a combustible Mars in Cancer transit, it's best to get ahead of any domestic issues and put proactive solutions in place.
There's a fundamental mismatch between brash, outgoing Mars and nurturing, introverted Cancer. Mars is said to be "in fall" in the sign of Cancer, meaning this is one of the more challenging signs for the red planet to be housed in. Warning: with aggro Mars in  this emo water sign and house, you can be moodier than most, with a tendency to tear up at the drop of a dime.
Don't get us wrong. Mars in Cancer likes it when you hang out at home. But this action-star planet has zero tolerance for slothlike behavior. You may feel more like an HGTV star between March 25 and May 20, 2023, ready to sledgehammer through drywall to create an open-concept kitchen.
HUGE CAVEAT: Mars in any sign is hotheaded and rash. There's a reason people work with contractors on large-scale projects. That said, manageable DIY magic is welcome during a Mars in Cancer transit. How about starting with a little Home Address Numerology or a feng shui home reset?
On the emotional front, Mars in Cancer comes with a trigger alert and a warning label. Sensitivities are heightened during this cycle. Which means that yes, you'll probably take things that family and friends say very personally. We recommend nursing wounds privately and with neutral third parties before you reach out with a metaphoric crab claw and pinch back.
In the meanwhile, there are specific things your sign can do to maximize the Mars in Cancer transit (read on). But first, a few hot takes for us all…
Mars in Cancer hot takes
Do a space clearing. Channel nervous energy that Mars drives up into decluttering, decorating and deep cleaning. But don't be too fast to give away any prized possessions or family heirlooms.
Let your body go with the flow. When cabin fever spikes tension with your housemates, get out in the fresh air for gentle exercise. Athletic Mars loves when you move your body and Cancer is a water sign. While it may not be warm enough for a swim, think "yoga flow" or a bike ride around a lake.
Turn your kitchen table into a workspace. Enterprising Mars could spark the idea for a cottage industry (and maybe even a #cottagecore one). Don't be surprised if your home becomes a hub for entrepreneurial inspiration!
Listen to the birds and bees. Considering a move or trying to get pregnant? Family matters accelerate under the red planet's influence, so make sure you're ready before you start trying. Results could come faster than expected.
A Mars in Cancer horoscope for every sign
Aries (March 21-April 19) Mars in Cancer horoscope
Settle down, Aries, and we mean that in a good way. After seven frenetic months in Gemini, your cosmic ruler, energizing Mars, drops into Cancer and your domestic fourth house. Between March 25 and May 20, you'll have a new lease on your home and family life.
What's the first thing you can do to spark more joy at Chez Ram? All kinds of changes could be afoot, from redoing a home workspace to pulling up stakes and relocating. If all is quiet on the home front, this will be an exciting period to host guests or visit beloved family and your truest friends.
Taurus (April 20-May 20) Mars in Cancer horoscope
Need some social stimulation? You won't have to venture far to find it, Bull! After seven long months in Gemini and your moneymaking second house, energizing Mars returns to Cancer and your third house of friends, socializing and local action.
From March 25 until May 20, your own neighborhood could be the most buzzy place to hang out! This is also your zone of communication, and with audacious Mars here, you're invited to present yourself with unabashed confidence. Let the bold Bull in you charge out of the pasture!
Gemini (May 21-June 20) Mars in Cancer horoscope
March 25 brings a major energy shift for Twins as firecracker Mars leaves Gemini for the first time since August 20, 2022. This extended cycle has been exhilarating and exhausting, and you're probably ready to get your platform boots back on solid ground.
Good news: Between now and May 20, the red planet cools its heels in Cancer and your second house of money and security. Now you're ready to explore some of those brilliant ideas you downloaded while the action planet was in your sign, and run them through the reality filter. Consistent efforts will attract more money, so look for smart ways to invest it!
Cancer (June 21-July 22) Mars in Cancer horoscope
March 25 delivers a systemwide reboot for Cancers that's worthy of extra celebration! Frenetic Mars FINALLY ends seven agitating months in Gemini and your subterranean twelfth house and zips into Cancer.
Between now and May 20, the action planet fuels every one of your cells with its upbeat brand of motivation. If you've been kicking around an entrepreneurial idea or some other personal project, here's your cue to not only start your engines, but to get the mission in motion.
Leo (July 23-August 22) Mars in Cancer horoscope
After seven frenetic months of high-octane Mars heating up your teamwork sector, you may be ready for a social sabbatical. You're invited to power down starting March 25 as the action planet clocks into introverted Cancer and your twelfth house of rest, release and endings until May 20.
Catch up on your sleep, lounge about and read or dabble in a creative pursuit. If you need to process some feelings or an old grief, you'll have not only the time but unfettered emotional access to this realm.
Virgo (August 23-September 22) Mars in Cancer horoscope
Ambitious plans may have gone into overdrive ever since energetic Mars moved into Gemini August 20, 2022. But is it getting lonely at the top, Virgo? Starting March 25, the red planet moves on to Cancer, giving you until May 20 to embrace the maxim that "many hands make light work."
With your eleventh house of teamwork and technology powered up, some of those "hands" might be helpful apps and AI that can lift some burden. Remember, too, that friends and social groups are not just "recreation" but a source of deep connection and support.
Libra (September 23-October 22) Mars in Cancer horoscope
Ready, set, goals! On March, motivated Mars blasts into Cancer and your ambitious tenth house after spending seven long months in Gemini and your philosophical, adventurous ninth. It's not like you haven't accomplished anything since last August, Libra. Quite the contrary!
But now, with the driven planet revving things up until May 20, you can fast-track a goal you set aside or throw the old ones out and start from scratch. Just watch for the obsessive workaholism that Mars can inspire. Balance that out by building in plenty of inspired playtime!
Scorpio (October 23-November 21) Mars in Cancer horoscope
Adventure awaits—if you're willing to answer the call, Scorpio. Starting March 25, your excitable co-ruler, action planet Mars, blasts into Cancer and your expansive ninth house after seven arduous months in Gemini and your soul-searching eighth.
Suddenly your head is filled with Big Ideas about places to go and things to learn between now and May 20. For Scorpios who can let go of control and bust out of your comfort zone, the sky's the limit. All you need is a very open mind.
Sagittarius (November 22-December 21) Mars in Cancer horoscope
Galvanizing Mars blazes into Cancer and your eighth house of eroticism, intimacy and shared resources for the first time in two years. From March 25 until May 20, you could team up with a kindred spirit and launch a business, make a mint—or merge on a more soulful level.
The heat is off of your partnerships too now that Mars is officially wrapping up seven challenging months in Gemini (your opposite sign). But the work isn't over. Diving into the shadowy emotional depths can be uncomfortable territory for you, Archer, so be patient with yourself as you explore a range of feelings that may come up for you over the next seven weeks.
Capricorn (December 22-January 19) Mars in Cancer horoscope
Energizing Mars returns to Cancer and your seventh house of dynamic duos after seven LONG months in Gemini and your sixth house of work and wellness. Bring on the fun again! From March 25 until May 20, two will be your magic number as you consider all the ways you can team up for mutual gain. You can take a next step in a solid romantic relationship or level up a budding collaboration. Whether you're merging hearts or resources, make sure you trust your partner 100 percent since Mars can spark jealousy and competition.
Aquarius (January 20-February 18) Mars in Cancer horoscope
Health is wealth, and that message's writ large between March 25 and May 20 as motivational Mars blazes through your sixth house of wellness and self-care. The action planet has been stirring up plenty of passion and drama in your love life while in Gemini since August 20, 2022, but you're finally at the end of that rope.
All you'll want for the next eight weeks is to get yourself grounded. Eating clean, streaming power yoga classes: bring it on! Just note that Mars can drive up your intensity and competitiveness, so it's up to you to establish limits—like, starting now!
Pisces (February 19-March 20) Mars in Cancer horoscope
After hosting frenetic Mars in Gemini and your fourth house of home and family for the past seven months, you're about to experience some seismic shifts as the action planet moves on to emo Cancer and your fifth house of amour, passion and creativity until May 20.
You'll be the center of every buzzing hive, so make sure you're always dressed up and ready to livestream. Single? These next eight weeks are your time to shine! Romance awaits, and if you're already attached, this Mars transit could bode well for ceremonial events and spending time with kids, if you have them.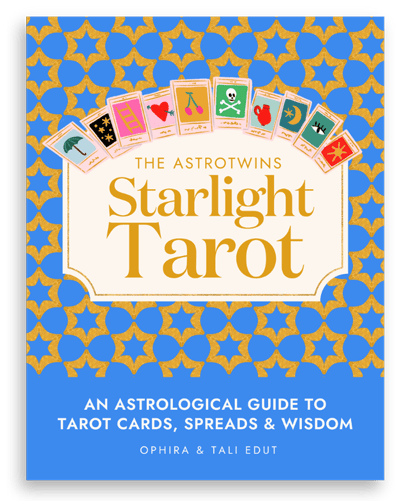 An Astrological Guide to
Tarot Cards, Spreads & Wisdom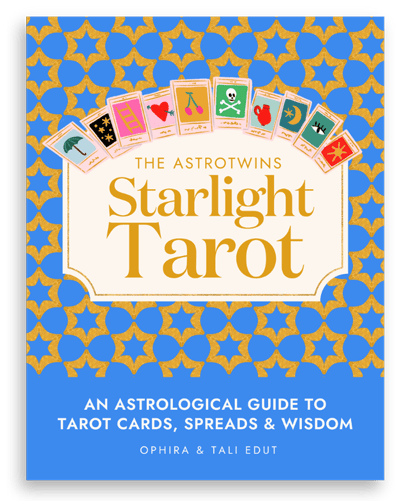 The AstroTwins bring your Tarot journey to life with Tarot spreads, history and empowering guidance.
Get the starlight Tarot
Want more about Mars? Get your Mars facts here!
Mars is the last of the personal inner planets—the planets before Jupiter which are closest to the Sun. This might explain its protective, and sometimes combative, stance. Like a celestial sentry, Mars readies us to fight for what we hold dear. The red planet hangs out in a zodiac sign for approximately eight weeks, directing the global temperament and fighting style.
What happened when Mars was in Gemini, an air sign?
Mars entered dualistic, fast-talking Gemini for a seven-month circuit on August 20, 2022. The reason for this protracted period? The red planet was retrograde from October 30 to January 12, 2023. Every two years, Mars pivots retrograde, which keeps it locked in one or two signs for seven months.
During the Mars in Gemini transit it was challenging to decipher fact from fiction. On the plus side, when Mars is in an air sign (Gemini, Libra, Aquarius), it makes us networking wizards. Hopefully, you slowed down long enough to make meaningful connections.
What happens when Mars moves into Cancer, a water sign?
When Mars plunges into the water signs (Cancer, Scorpio, Pisces), it brings its passion to our personal interactions. Starting a family, moving in together, getting engaged—you'll have the courage to take those "next steps." While things get a lot sultrier, the intensity levels can go nuclear. Careful not to overload yourself (or anyone else) with all those feelings!
Where is Mars going next?
After the Mars in Cancer transit of March 25 to May 20, Mars visits:
Leo: May 20
Virgo: July 11
Libra: August 27
Scorpio: October 12
Sagittarius: November 24
Do you know your Mars sign?
What sign was Mars in when you were born? Mars is the planet of drive, passion, action, and energy. It governs how you fight, compete and express sexual attraction.
Read about what your Mars sign means here.
Discover more about your personal astrology and calculate your Mars sign right here! It's part of your personal cosmic blueprint! Read about your Mars sign here to find out how the motivational planet directs your drive, lust and momentum.
Feature art by William Dudley
The ultimate numerology guide is here.
The must-have map to your purpose and path by Astrostyle's resident numerologist.