Here's what's happening in astrology this week
The astrology shaping your weekly horoscopes for August 14-20.
Tuesday's Sun-Uranus dustup could put egos on display
Egos, tempers and tantrums…help! Narcissistic tendencies are on breathtaking display on Tuesday, August 15, thanks to a volatile square between the domineering Leo Sun and disruptor Uranus in Taurus. People may be quick to snap or send nasty emails, so do your best to fly under the radar and stay away from tantrum-throwing tinderboxes. If you find yourself walking on eggshells, diffuse the situation by calling a timeout instead of further provoking the "opposition." There's zero use in engaging with hotheads today. Break off and do your own thing!
Wednesday's new moon in Leo brings a burst of creative, romantic energy
A fresh start to your creative and romantic endeavors arrives with Wednesday's Leo lunar lift (at 5:30 AM ET). Where have you stopped voicing your feelings or sharing your ideas as openly as you could? Let these moonbeams loosen your tongue. Make a vow to speak up when you have something to contribute to the conversation—or simply when you want to know more. Do one thing to put your talents on display or draw attention to your gifts. Has your work-to-play ratio been heavy on the responsibility side of things? Generate more fun for yourself, even if you're busy. Productivity is bound to speed up when you're taking breaks to relax your mind and enjoy downtime with friends. Poolside happy hour? Let's go!
Fast action is required with Wednesday's Mars-Uranus trine
And see ya later, comfort zone! A few hours after the new moon, strong-willed Mars hooks up with impulsive Uranus strikes a match and lights things up fast. With Mars in perceptive Virgo, this is a day of quick decisions followed up with action. If a relationship isn't working, examine it from another angle or let it go and move on. In need of more satisfaction? Tap inventive Uranus in Taurus to add an element of surprise to your playtime. That spark of novelty may be just the thing you need to get the passion back.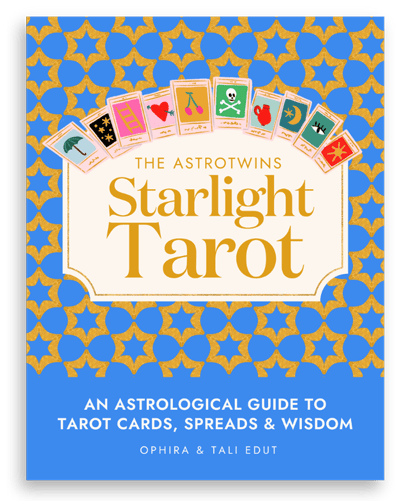 An Astrological Guide to
Tarot Cards, Spreads & Wisdom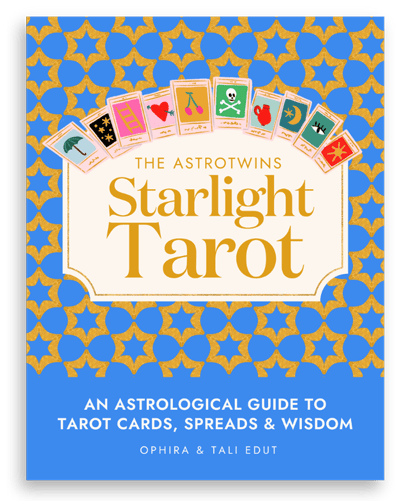 The AstroTwins bring your Tarot journey to life with Tarot spreads, history and empowering guidance.
Get the starlight Tarot
Your weekly horoscopes for August 14-20
What's does this week's horoscope forecast for your zodiac sign? The AstroTwins' weekly horoscopes for August 14-20, 2023, reveal what the planets have in store. How to use astrology to navigate!
You can read your weekly horoscopes for August 14-20 for your Sun sign or your rising sign (ascendant). Visit our Cosmic Calculator section if you want to calculate your Rising sign or discover more about your personal astrology.

Aries (March 21-April 19) weekly horoscope for August 14-20
Impulsive Rams tend to leap first and ask questions later (if ever), but stop yourself from making a rash, brash move. As the egoic Leo Sun clashes with disruptor Uranus in stubborn Taurus on Tuesday, August 15, tempers are likely to flare. The wrong look or choice of words could have you locking horns with someone whose… Keep reading your Weekly Aries Horoscope

Taurus (April 20-May 20) weekly horoscope forAugust 14-20
As a Taurus, you're always prepared to defend your pasture, which can be surprising to people who have yet to witness you in "charging Bull" mode. And some folks might not realize what they're going up against on Tuesday, August 15, when they attempt to overstep their bounds on a personal matter that's close to your heart. With the strong-willed Leo Sun settling into your domestic quarters until August 23, you've been enjoying… Keep reading your Weekly Taurus Horoscope

Gemini (May 21-June 20) weekly horoscope forAugust 14-20
If you've been stuffing down feelings for too long, stay alert this week! Under Tuesday's combustible skies, they could rise up inside you like magma in a volcano that's ready to blow. Usually your ultra-chill sign can let things roll off your back but with the passionate Leo Sun in your communication center squaring provocateur Uranus, you might just run out of fuse. The thing is, whatever you're… Keep reading your Gemini Weekly Horoscope

Cancer (June 21-July 22) weekly horoscope forAugust 14-20
While it's a fine idea to extend the benefit of the doubt, that's not the same as naively assuming that none of the sweet-faced sheep in the herd could possibly be a wolf. You could make an unnerving discovery on Tuesday, August 15, when provocateur Uranus tangles with the illuminating Sun. Sadly, you can't write off someone's bad behavior as "a passing moment" anymore. Time to see them for what they are and perhaps even connect some dots back to previous episodes. It's tough, Cancer. Once someone… Keep reading your Cancer Weekly Horoscope

Leo (July 23-August 22) weekly horoscope for August 14-20
You may have a tough choice to make on Tuesday, August 15. With your self-directed ruler, the ebullient Sun, powering up your sign, your desire for freedom may be ratcheted to peak levels. Yet on Tuesday, it's catching major flak from disruptive Uranus in your career corner. A fun plan you thought was locked and loaded could suddenly be derailed by a work situation that your dutiful nature cannot blow off. Chances are, you didn't see this coming, but now that it's here, you need to… Keep reading your Leo Weekly Horoscope

Virgo (August 23-September 22) weekly horoscope forAugust 14-20
If you're not exactly leaping out of bed early this week, forget "faking it till you make it." The life-giving Sun is in low-power mode as it cruises through Leo and your twelfth house of closure, compassion and healing until August 23, which alone can excavate some intense emotions. Then, on Tuesday, August 15, it bangs into disruptive Uranus in your liberated—and infamously outspoken—ninth house. If someone … Keep reading your Virgo Weekly Horoscope

Libra (September 23-October 22) weekly horoscope forAugust 14-20
So much for "calm, cool and collected," Libra. Your cerebral sign likes to keep your emotions on an even keel, but on Tuesday, August 15, you'll be rolling in the deep! As te upbeat Leo Sun clashes with volatile Uranus, surprisingly intense emotions may well up like a rogue wave and catch you totally off-guard… Keep reading your Libra Weekly Horoscope

Scorpio (October 23-November 21) weekly horoscope forAugust 14-20
The passionate Sun is speeding through Leo and your tenth house of professional ambition all week, and you can practically taste the sweetness of success! Your all-or-nothing sign enjoys throwing yourself into a project that's close to your heart. And when you have colleagues and supporters in your camp, it's almost too good to be true. But you could hit a speed bump… Keep reading your Scorpio Weekly Horoscope

Sagittarius (November 22-December 21) weekly horoscope forAugust 14-20
With the Sun tooling through confident Leo and your expansive ninth house (AKA the "Sagittarius zone") all week, you're spreading your wings even further and seeing just how much liftoff you can get on your own! But on Tuesday, August 15, el Sol spins into its biannual square with disruptive Uranus in willful Taurus and your detail-minded sixth house. It's hard to narrow your focus… Keep reading your Sagittarius Weekly Horoscope

Capricorn (December 22-January 18) weekly horoscope forAugust 14-20
With the heat-producing Sun sailing through your eighth house of intimacy and sexuality all week, your heart (and possibly other body parts) is beating a little faster than usual. But watch your step on Tuesday, August 15, when volatile Uranus in your passionate, flirtatious fifth house squares off with el Sol. You may need to decide… Keep reading your Capricorn Weekly Horoscope

Aquarius (January 20-February 18) weekly horoscope forAugust 14-20
A key relationship might suddenly resemble a roller-coaster ride this week, so buckle up and sit tight! This being Leo season, the radiant Sun is lighting up your seventh house of committed partnerships, which always does an Aquarian's heart good. But on Tuesday, August 15, your ruler, unpredictable Uranus, in your foundational fourth house, shoots a disruptive beam to that big-hearted Sun. This could play out… Keep reading your Aquarius Weekly Horoscope

Pisces (February 19-March 20) weekly horoscope forAugust 14-20
Normally you're the picture of empathy, Pisces, but the skies on Tuesday, August 15, could set your teeth on edge. An edgy square between volatile Uranus in your communications center and the self-directed Sun in your anxious sixth house might overload your internal operating system. Before you have any kind of meltdown, take this as a warning sign to slow down and stop trying to multitask and put out fires that don't affect you. You might have… Keep reading your Pisces Weekly Horoscope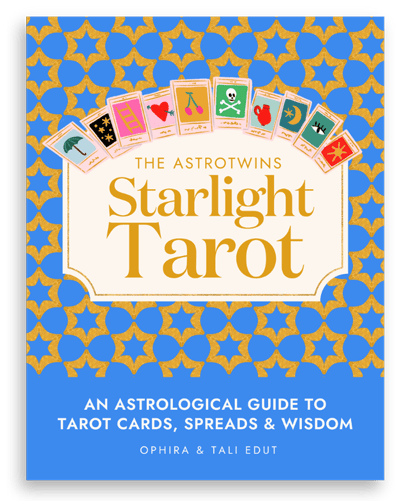 An Astrological Guide to
Tarot Cards, Spreads & Wisdom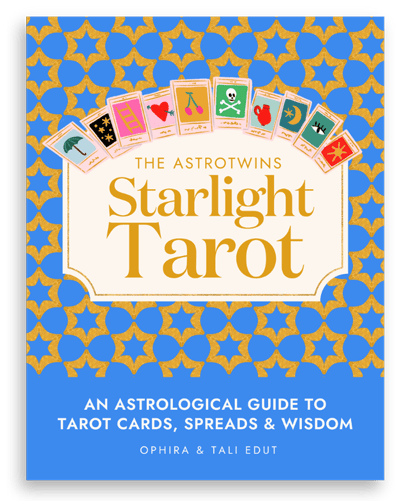 The AstroTwins bring your Tarot journey to life with Tarot spreads, history and empowering guidance.
Get the starlight Tarot