Here's what's happening in astrology this week
The astrology shaping your weekly horoscopes for July 24-30.
Check your privacy settings with Tuesday's Quarter Moon in Scorpio
On Tuesday, July 25, the balancing Scorpio quarter moon helps you discern what's appropriate to share and what's better kept under wraps. If you're maddeningly mysterious, people may get frustrated, especially if they can't figure out what's really going on. But if you unload too much information at once, they could feel flooded and overwhelmed. This is the midpoint between last week's emotional Cancer new moon and next week's friendly Aquarius full moon. Your best bet? Be approachable AND appropriate. Let people earn your trust—but don't demand that they pay an excessive entry fee for it! By asking questions that get THEM to open up as well, you'll establish a more equal footing. Then, next week's full moon will reveal who your true allies are.
Try not to obsess when Mercury bumps into Venus on Thursday
Overthinking alert! On Thursday, July 27, mental Mercury bumps into Venus—who is currently retrograde in Leo, escalating a "do they love me or love me not?" drama. It's one thing to be intuitive and read the tea leaves. But if assessing someone's interest level feels like a guessing game, consider that you might be projecting qualities onto them that may not be there. One way to test the connection: Spend more time together, but without any pressure to move the relationship in a particular direction. Extend an invitation today and see what gives. If you've been guarded, open up more so people can determine if you're a good match. The more authentic information you provide, the better.
Mercury moves into Virgo for 10 longs week on Friday—which includes a retrograde!
Starting Friday, July 28, messenger Mercury kicks off an extended visit to its home sign of efficient, analytical Virgo. Bring order to chaos by organizing, tracking and budgeting. With the communication planet in this healthy sign, you can start sustainable new habits by writing things down and planning ahead. While this is a great time for editing, perfecting and inspecting a pet project, there's also a downside: Mercury's protracted stay in one sign is because the planet will be retrograde from August 23 to September 15—all the more reason to be extra vigilant now and avoid a costly mistake that takes time and resources to fix. Get your plans in order before summer ends!
Your weekly horoscopes for July 24-30
What's does this week's horoscope forecast for your zodiac sign? The AstroTwins' weekly horoscopes for July 24-30, 2023, reveal what the planets have in store. How to use astrology to navigate!
You can read your weekly horoscopes for July 24-30 for your Sun sign or your rising sign (ascendant). Visit our Cosmic Calculator section if you want to calculate your Rising sign or discover more about your personal astrology.

Aries (March 21-April 19) weekly horoscope for July 24-30
On Tuesday, July 25, an equalizing Scorpio quarter moon can bring sexy back in a soulful way. If your love life has been lackluster, don't point fingers at bae—or a lack of worthwhile options. Be honest, Ram: Have you been so consumed with work that you haven't made time for more intimate affairs? Close the laptop and open your lingerie drawer, or a new dating app! If you're perfectly content with the seduction status quo, then this lunation could bring… Keep reading your Weekly Aries Horoscope

Taurus (April 20-May 20) weekly horoscope forJuly 24-30
How's the give-and-take in your key relationships, Bull? No one stays in perfect "even-Steven" balance all the time, but if you need to get things back to a more level playing field, you'll get a great chance this Tuesday, July 25. That day features an equalizing quarter moon in Scorpio and your house of dynamic duos, which can illuminate ways you're out of sync. It's actually a perfect opportunity to… Keep reading your Weekly Taurus Horoscope

Gemini (May 21-June 20) weekly horoscope forJuly 24-30
Remember those healthy-living resolutions you were so gung-ho about, Gemini? You know, the ones you hadn't quite set into motion when summer began—and now that summer is here, the temptations are only more irresistible? Or maybe you got traction but had set such impossibly high standards that you're now at an "all or nothing" standstill? Lucky for you… Keep reading your Gemini Weekly Horoscope

Cancer (June 21-July 22) weekly horoscope forJuly 24-30
Your creative, amorous instincts are out on full display this Tuesday, July 25, as a quarter moon in Scorpio restores the equilibrium in your fifth house of flamboyance, romance and artistry. This can do wonders for your love life, especially if you've been down a quart in the passion department. Single Crabs could make a sport of seeking, flirting, dating…but a better approach might be… Keep reading your Cancer Weekly Horoscope

Leo (July 23-August 22) weekly horoscope for July 24-30
How well has your space been supporting you, Leo? This Tuesday, July 25, the quarter moon in Scorpio shines its balancing beams in your foundational domestic sector. This can bring a gentle readjustment—not a sledgehammer-wielding wrecking crew—but it is a perfect opportunity to consider whether… Keep reading your Leo Weekly Horoscope

Virgo (August 23-September 22) weekly horoscope forJuly 24-30
Tired of toiling on your own? Get ready for a sea change this Tuesday, July 25! A recalibrating quarter moon in Scorpio illuminates collaborations and partnerships, perhaps bringing a genius project to the next stage of development. If you can dream it, Virgo, you can do it, so get clear with your co-creators about a realistic timeline and division of labor that plays to everyone's strengths. And don't dance around how you'll… Keep reading your Virgo Weekly Horoscope

Libra (September 23-October 22) weekly horoscope forJuly 24-30
Fiscal fitness is as important as keeping the mind and body in shape, Libra. So the message of the Scorpio quarter moon on Tuesday, July 25 as it illuminates your second house of finances is, It's never too late to get good at money management. This balancing lunation invites you to give your "rest of 2023" budget a thorough review—or if you don't have such a tool, to finally get around to creating one! Paying attention to… Keep reading your Libra Weekly Horoscope

Scorpio (October 23-November 21) weekly horoscope forJuly 24-30
If you've been feeling off your game in ANY area lately, you can get back on the field this Tuesday, July 25, when a quarter moon in Scorpio reconnects you to your center. Quarter moons—at the midpoint of luna's new and full phases—are an equalizing shift that gently bring you back into shape—NOT an epic overhaul. So while you won't feel the earth moving under your feet, the subtle… Keep reading your Scorpio Weekly Horoscope

Sagittarius (November 22-December 21) weekly horoscope forJuly 24-30
Racing to the finish line—again—Sagittarius? While you might get done more quickly that way and have time to squeeze in more activities, you lose a lot of the sweet juiciness in the process. It also means you could inadvertently skip some important steps or wind up with a less-impressive final product. But you'll be reminded of the value of taking a very different approach on Tuesday, July 25, when a focused Scorpio quarter moon in your mystical twelfth house inspires you to… Keep reading your Sagittarius Weekly Horoscope

Capricorn (December 22-January 18) weekly horoscope forJuly 24-30
Time for a crew review? If you've been mulling the merits of members on Team Capricorn, you'll appreciate the clarifying light that beams in this Tuesday, July 25, courtesy of a Scorpio quarter moon in your communal eleventh house. You've never lacked for friends, but you might be seeking to "uplevel" the caliber of folks you spend the most time with. Among your circles, you naturally (and quietly) command respect and admiration, but how reciprocal is that? You're not actually scouting for friends who can match you success for success, but it might be nice to… Keep reading your Capricorn Weekly Horoscope

Aquarius (January 20-February 18) weekly horoscope forJuly 24-30
Ready, set, goals! If you've been a little distracted lately, Water Bearer, you will appreciate the activating energy that the Scorpio quarter moon brings this Tuesday, July 25. Scorpio rules your professional tenth house, and this mid-cycle lunation can help you focus your attention on tangible achievements. But because quarter moons are balancers not initiators, this one is more appropriate for project management than starting brand-new projects. With the eagle-eyed focus these Scorpio moonbeams bring, you could map out… Keep reading your Aquarius Weekly Horoscope

Pisces (February 19-March 20) weekly horoscope forJuly 24-30
Did you recently commit to an exciting future prospect but then almost immediately get cold feet? You don't have to totally bail, Pisces. In fact, this Tuesday, July 25, a stabilizing quarter moon in Scorpio and your expansive ninth house can help you manage any risk-taking insecurity and get re-enthused about your decision—or take remedial action. Anything that's meant to last takes time to build, and you might be at square one. Allow yourself to feel the natural anxiety that comes from taking a gamble, but stay focused on the best possible outcome. And double down on… Keep reading your Pisces Weekly Horoscope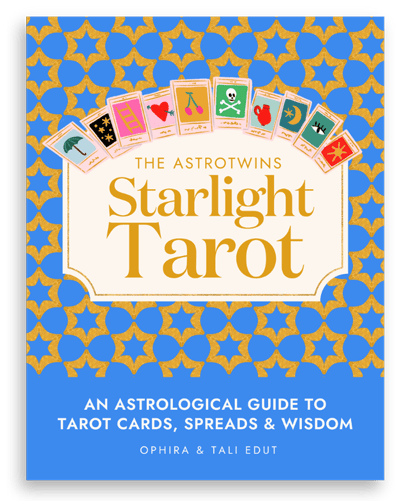 An Astrological Guide to
Tarot Cards, Spreads & Wisdom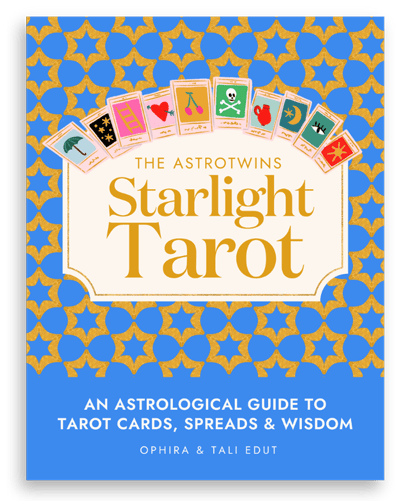 The AstroTwins bring your Tarot journey to life with Tarot spreads, history and empowering guidance.
Get the starlight Tarot