S1, e1
Cosmic Love
Astrologically Matched
The cast arrives and meets each other in the first episode of Cosmic Love on Prime Video. Plus: The AstroTwins explain Sun signs on Amazon X-Ray.
What happens in Cosmic Love, Episode 1?
Episode 1 Summary:
We meet the four Cosmic Love cast members, the Elements, representing the elements in astrology: air, earth, fire and water. We meet the astrologer matchmakers of Cosmic Love, The AstroTwins, through the voice of the Astro Chamber. The four Elements chose their first dates from among the 16 Singles. Their first astrological matches are revealed and they discover if they made good first date choices! We learn about everyone's Sun/zodiac signs.
The four people searching for love on Cosmic Love, the Elements:
Air: Connor (Gemini)
"I don't live my life very traditionally and using astrology to find love for me makes sense considering it's not very traditional," Connor says, adding that he's eager to have someone else find him love because it's hard to find it on his own.
The other Air sign cast members are Gemini Jazmin P. and Aquarius singles Yana and David. (Believe it or not, we had no Libras on a show about love…but lots of Libra risings.)
Earth: Maria (Capricorn)
"Astrology has always been a part of my life," Maria reveals, who adds that she's coming into this social experiment ready to hand her fate over to the universe and finding the fairytale she's always dreamed of living.
The other Earth Sign cast members are Virgo Morgan and Capricorns Javier and Phil. (No Taurus cast members this season, alas, but plenty of Taurus moons.)
"I struggle with trusting intentions and want to change those habits so I can find my freakin person. I 100% believe I will find my soulmate through astrology," Phoebe says about breaking down her walls.
The other Fire sign cast members are Leos Danae and Chris R. and Sagittarius singles Adrianna and Chris J. (Alas, we didn't have any Aries in the mix!)
Water: Noel (Pisces)
"I'm super excited about the social experiment," Noel says, adding that he is looking for someone family oriented, but she needs to be super special for him to want to settle down.
The other Water sign cast members are Cancer Jasmine R., Scorpios Theresa and Darren; and Pisces Ana, Caleb and Chris E.
The Astrology of Cosmic Love, Episode 1
Sun Signs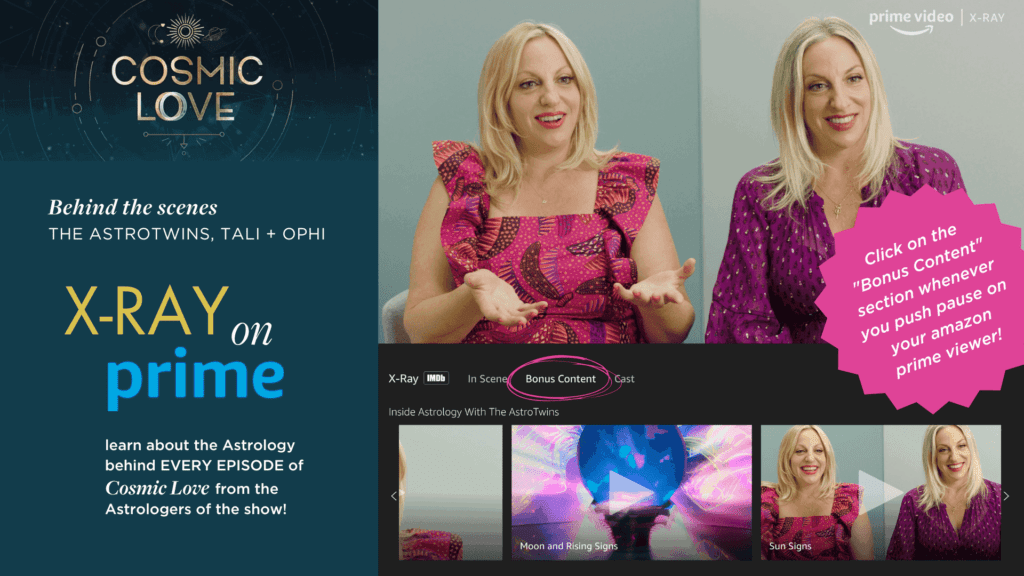 The focus of Episode 1 is on Sun signs.
Everyone has a Sun sign, also known as your zodiac sign. Most of us know our Sun sign, but if you are unsure you can use a Sun sign calculator on Astrostyle.com to find out which one you are and then learn your sign's traits. You just need to know your birth date, time and location to learn your Sun sign!
The Sun is the core of your astrological profile. It's the essence of who you are, your personality. It's how you radiate in the world and how other people see you.
During Episode 1, The Astro Chamber reveals to Connor, Maria, Phoebe and Noel what the basics of their signs, turn-ons and turn-offs. They also learn tips for how to start the soulmate-scouting process and to avoid their typical "blind spot" mistakes.
All zodiac signs fall into the categories of the four elements:
Air (Gemini, Libra, Aquarius)
Earth (Taurus, Virgo, Capricorn)
Fire (Aries, Leo, Sagittarius)
Water (Cancer, Scorpio, Pisces)
The social experiment of Cosmic Love: Is compatibility driven by your heart or your chart?
Compatibility in astrology can go far beyond the matching of Sun signs or the elements. The AstroTwins studied the charts of each cast member to see how the singles blended with each other using deeper astrology tools that will be revealed across the Season's episodes. As you watch how it all unfolds, you can also learn about yourself!
Not all the cast members of Cosmic Love came into this process knowing more than their Sun signs. A few even were skeptical astrology could be used for making love matches, but they kept their minds open to the possibilities. Noel says "I get a chance to find true love. It's a relief to know I have four perfect astrological matches to choose from.
Any two Sun signs can make it work, though. Astrology is a "GPS" for your love life. You can learn a lot about yourself and a potential partner with astrology, but the rest is up to you!
Who gets matched in Cosmic Love Episode 1?
During Episode 1, the Elements meet their first matches!
Common zodiac matches for the Element's zodiac signs:
While there's no such thing as a "bad" match, there are sign combinations that can be challenging. You can deep dive on this topic, learn about the aspects, the distances between zodiac signs. See which zodiac signs are a good match for you.
What happens in The Astro Chamber?
The voice of The Astro Chamber, which reveals the astrology of The AstroTwins, lets the Elements know this is where they'll get their guidance throughout Season 1. In addition to matchmaking, the goal is to challenge the Elements so they can ultimately end up with their Cosmic Love!
Noel quips: "I don't know what's going on, but this ball is talking to me and it's mad weird. What the hell did I get myself into?! But if this magical ball can lead me to the love of my life, then I'm willing to give it a try!"
The Elements are surprised to learn that their first dates are not matched for them, but that they get to choose from the cast they met at the mixer, based on their first impressions.
They are encouraged to choose who they believe is their first match. They'll learn later if they selected their first dates wisely, based on astrology.
The Elements' first dates
The dates are pleasant and have mixed results. The singles left behind at the house speculate how the dates are going and express some disappointment they weren't chosen! Some express feelings of jealousy when the couples return from their dates, especially if they felt their had connections with the Elements from the get-go.
The Elements begin to look inward, to confront their dating habits and wonder if their first date choices follow old patterns.
Did the Elements choose their first dates well, according to astrology?
The Astro Chamber reveals the first astrological matches in the "Celestial Sanctuary" area outside the Cosmic Love house. The first matches are waiting to surprise the Elements as they each approach the Sanctuary!
The singles not chosen for first dates by the Elements or The AstroTwins for Episode 1 still have a chance to be matched in future episodes! Three more matches will be revealed for each Element.
What's coming up on Cosmic Love: Season 1, Episode 2?
Second matches are revealed for the Elements, and there's a group date!